Best enjoyed when shared, these pitcher drinks are perfect for your socially-distanced garden catch-up with friends and family.
Try this most delightful selection of cocktail pitcher recipes. Fruity, sweet and a little sour, there is a concoction for every taste.
Pineapple Rum Punch Pitcher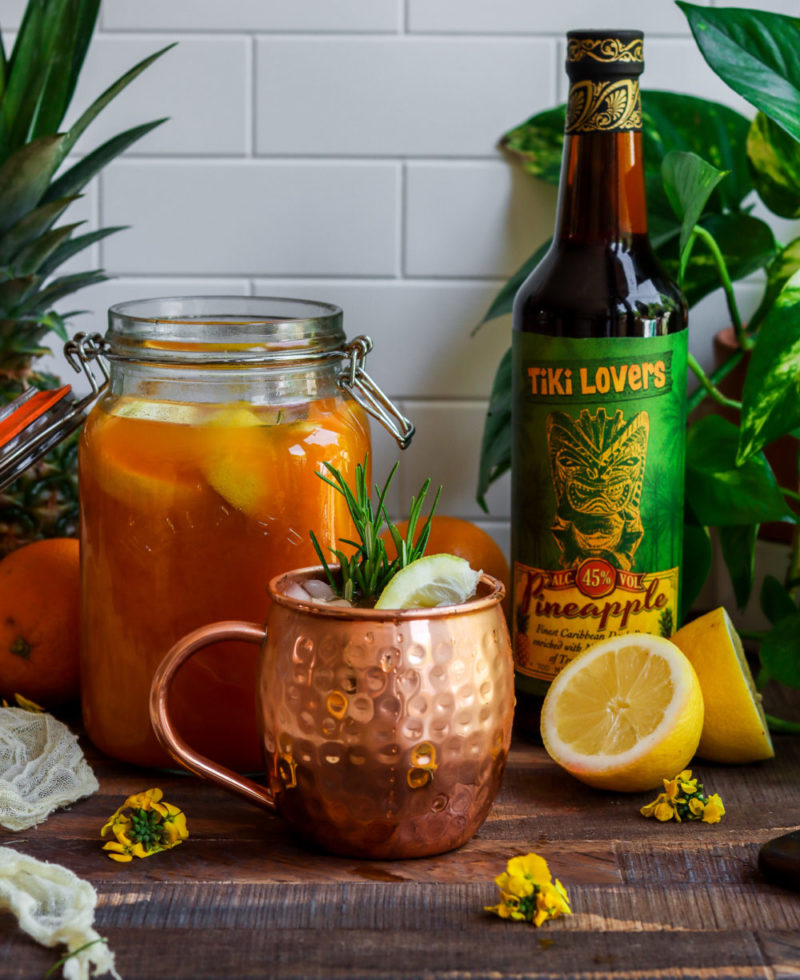 Ingredients
2 cups Pineapple Juice
1 cup orange juice
1 cup The Bitter Truth Pineapple Tiki Rum
1 Orange – sliced
1 lemon – sliced
1 lime – juiced
2 discs from a Fresh Pineapple – cut into cubes.
Ice
A sprig of Rosemary to garnish
Combine the pineapple, orange and lime juice with the rum, pineapple cubes and a few slices of orange and lemon.
Stir in pitcher before chilling for at least three hours — allow as long as possible for the flavours to marry with one another.
Now serve over ice with a slice of lemon and a sprig of rosemary.
Rumango Kiwi Punch Pitcher
Ingredients
1 cup Goslings Black Seal Rum
2 cups of mango nectar
The juice from one JAZZ Apple
4 kiwi fruits (green or golden)
½ cup White Heron British Cassis
2 limes
Ice
Mint leaves
Peel all of the kiwi fruits before cutting just two of them into cubes. Put aside.
Smash the remaining two kiwis in the bottom of a pitcher with a few mint leaves.
Next, drop your kiwi cubes into the mix with one sliced lime. Juice your second lime and add to the jug.
Now add Goslings Black Seal rum. Stir in the mango nectar and British Cassis, before mixing well.
Chill for at least four hours.
When ready to serve, add more ice to the jug and serve in a wine glass.
Framboise Sangria Pitcher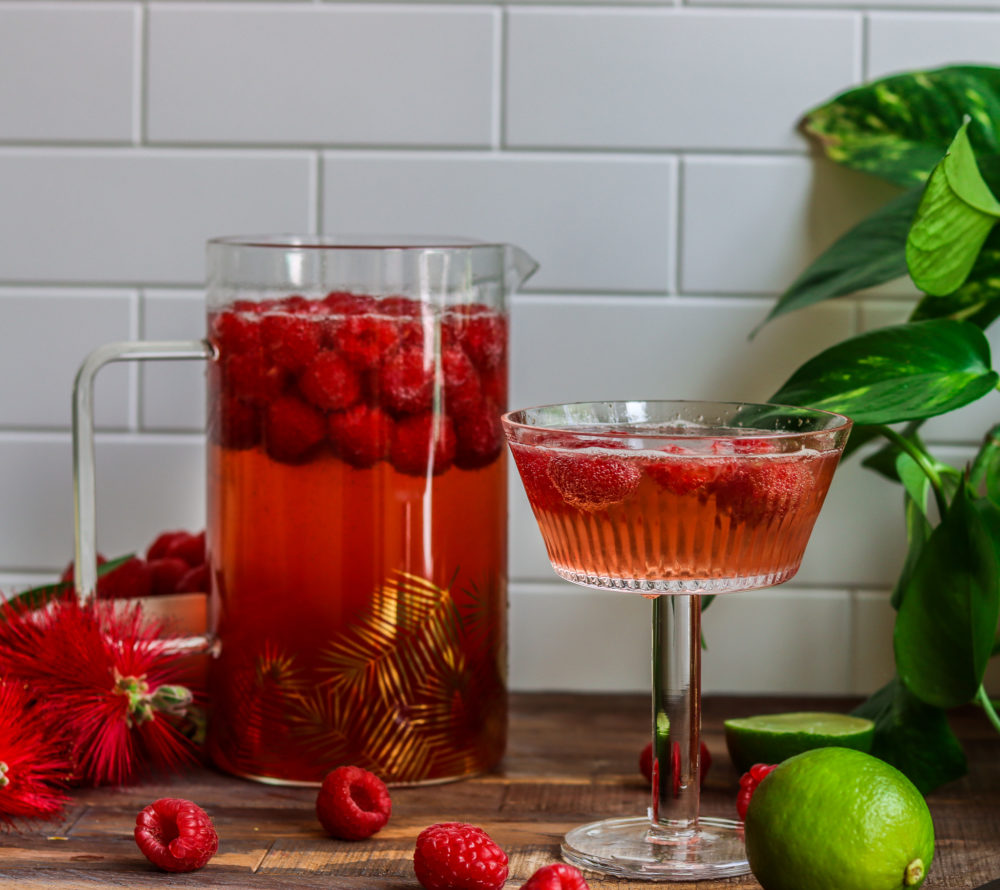 Ingredients
1 bottle Prosecco
1 ½ cups White Heron British Framboise
The juice of one lime
A punnet of raspberries
Put the raspberries in your chosen pitcher, add British Framboise and allow them to mingle for a few minutes.
Now add lime juice.
Make sure your Prosecco is nicely chilled and simply pour into the pitcher.
Serve immediately in martini glasses or Champagne flutes.
Strawberry Gin Smash Pitcher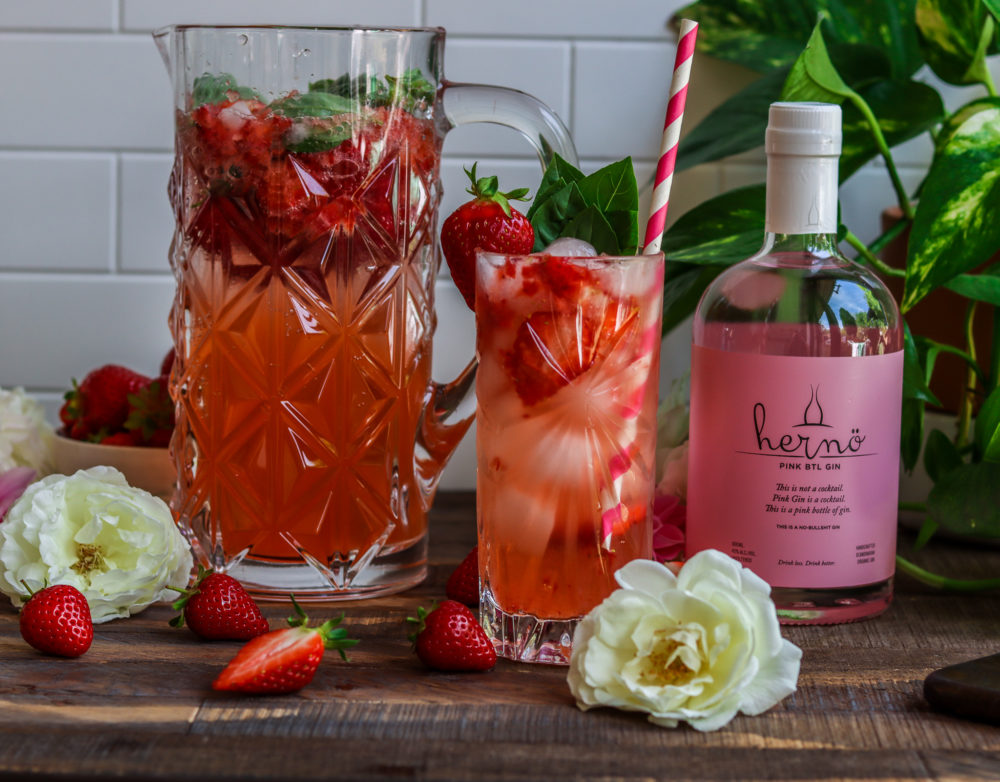 You'll need a cocktail shaker for this recipe.
Ingredients
2 cups Herno Pink BTL Gin
3 cups soda water
1 tbsp caster sugar
1 punnet of fresh strawberries
The juice of two limes
Ice
Fresh basil to garnish
Cut the limes into small pieces, add the sugar to your shaker and shake well to help release the oils from the peel and dissolve the sugar.
Strain into a jug and add half the punnet of strawberries, before smashing everything together.
Add ice to your pitcher with the Herno gin, the rest of the strawberries (sliced) and some basil leaves.
Gently stir the ingredients together, before topping up with soda water.
Serve in highball glasses with strawberries and basil to garnish.
For more fabulous cocktails for every taste, see our food and drink pages. Be sure to follow us on Facebook, Twitter and Instagram for more inspiration, too.