With bars and restaurants still a while away from opening again, there's no need to miss out on all the fun. With the summer sun burning brightly already this year, take to your garden to whip up this dreamy, sunshine cocktail. Packed with a generous splashing of Bathtub Gin and sensational passionfruit puree, you won't be disappointed.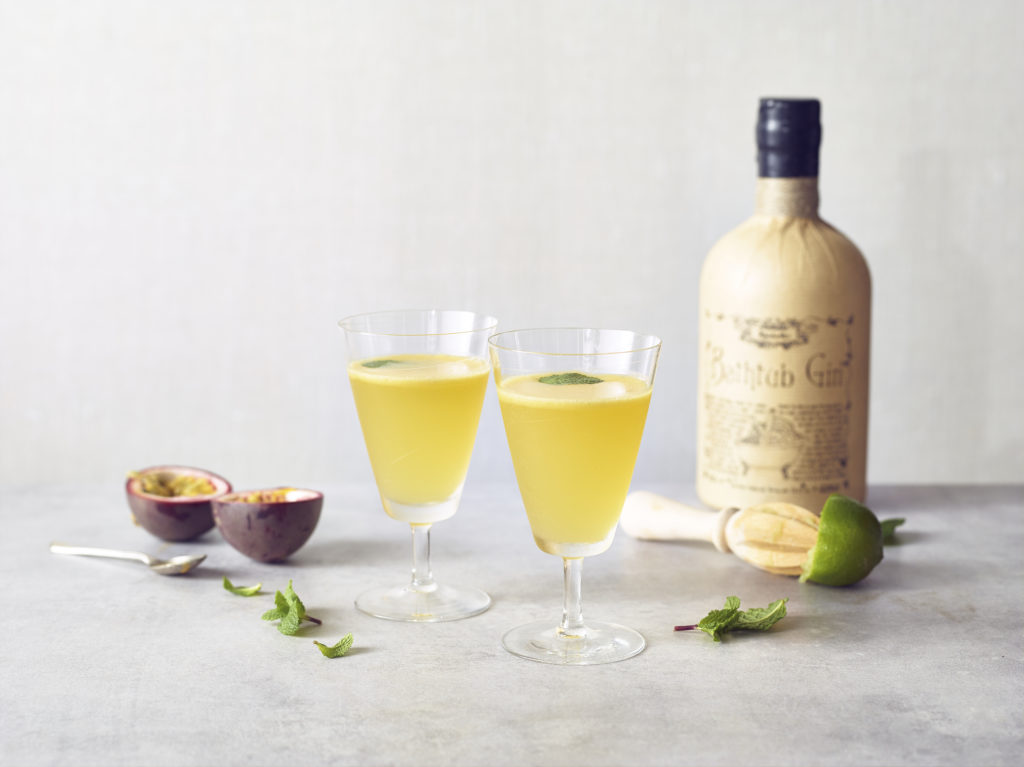 Passionfruit Southside
Ingredients:
50 ml Bathtub Gin
15 ml Lime Juice
10 ml Passion Fruit Puree
15 ml Simple Syrup (2:1)
4 Mint Leaves
Method:
Add all ingredients to a cocktail shaker, add ice and shake hard.
Double strain into a chilled cocktail glass.
Garnish with a mint leaf.
A tippling fact:
Why is it called Bathtub Gin? Bathtub Gin was born when the founders' searched for a fresher, bolder gin. After finding that nothing quite delivered the vibrant flavour they were looking for, they decided to handcraft their own. The result is a uniquely characterful gin, full of fresh botanical flavours that stand proud in any mixed drink – and work particularly well with tonic and a slice of juicy orange.
The secret to the distinct taste is a double infusion process, which adds extra layers of flavour and freshness as well as a touch of colour to the resulting gin. In homage to the historical methods that inspired the modern-day Bathtub Gin, every bottle is wrapped, strung and waxed by hand in the Kent HQ.
Others you won't be able to resist this summer
Have your cake – and drink it!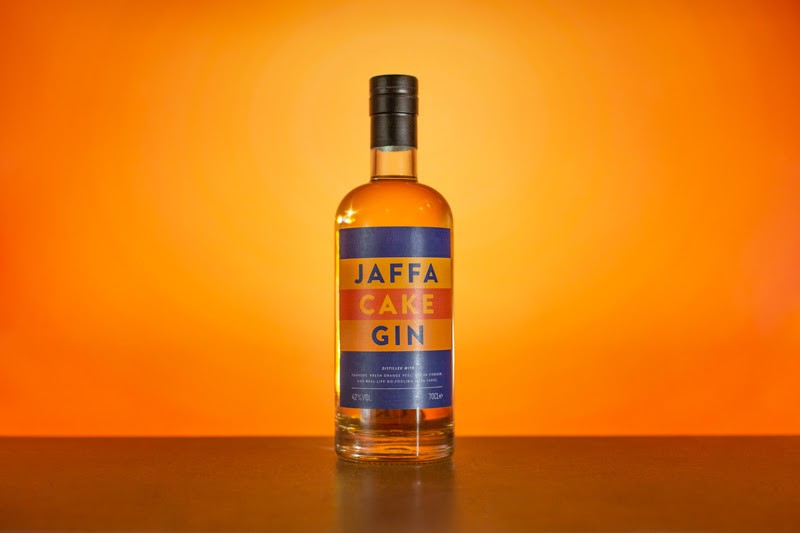 Love gin? Love cake? Well you're in for a real treat.
The brand new Jaffa Cake gin is distilled with oranges, fresh orange peel, cocoa powder and real-life Jaffa Cakes, and it's an absolute treat. We served ours with soda water and ice only, so not to infringe on the cake flavours, and we highly recommend. As you bring your glass to your nose there's an undeniable rich, earthy chocolate aroma, and the first tasting notes that come through is orange peel and zest, followed by, what can only be described as… cake. Sweet, creamy, vanilla sponge cake.
It's not a lie to suggest you feel as though you've had a Jaffa Cake. Give it a whirl – a fun addition to your gin collection. £27.95, www.masterofmalt.com/gin/jaffa-cake-gin
Don't believe us? Here's the science bit…
Nose: Zingy orange (marmalade-esque) is swiftly overtaken by a rich and earthy chocolate undertone. Hints of vanilla-rich cake and just a touch of almondy-goodness. A solid backbone of juniper brings up the rear.
Palate: Jaffa cakes! Perhaps not surprising, but the resemblance is uncanny. Nice balance and great poise. The flavour never oversteps the mark – this is still resolutely 'a gin'. Delicately sweet – not sickly or in any way liqueur-like.
Finish: The orange-y palate fades into unctuous hot cocoa, and a note of bitter dark chocolate remains to the last, ably shored up by the piney tang from the juniper.
Bringing gin home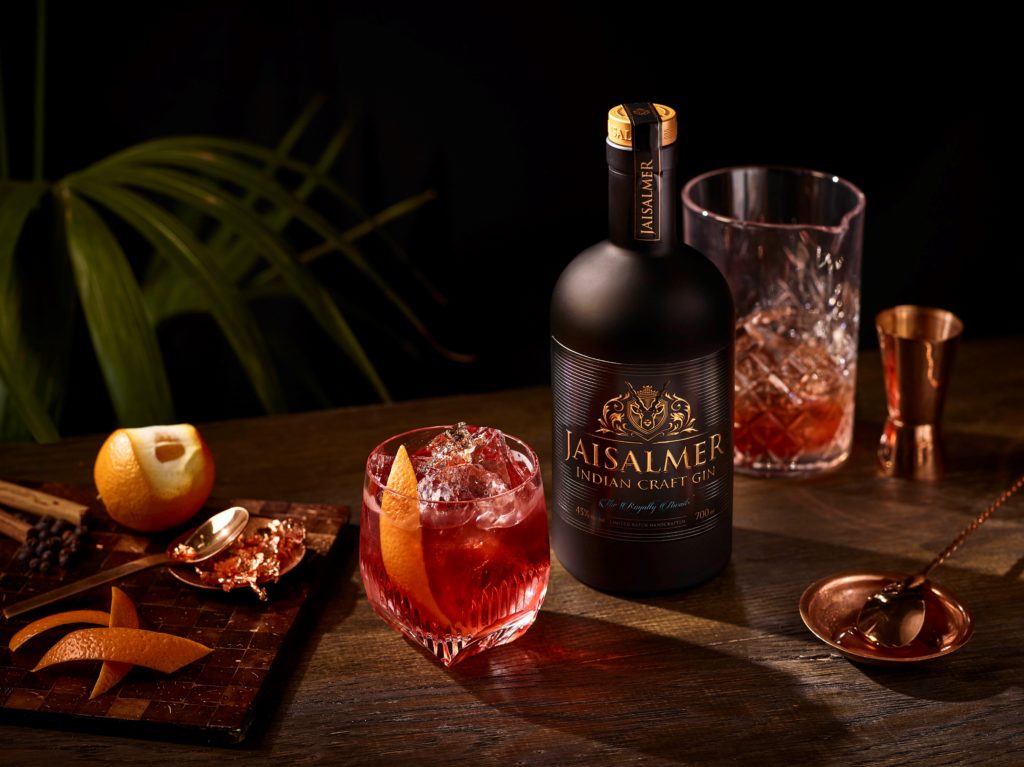 Given that the humble G&T was created in India, it's only right that we pay homage to this and give the Jaisalmer Indian Craft Gin a whirl. In the 1820's, officers from the British Army, in an attempt to ward off malaria, mixed quinine with sugar and water creating the first Indian Tonic Water. The addition of gin made the drink more palatable, thus creating the G&T.
Jaisalmer Indian Craft Gin – 'The Whole of India in One Bottle' is a triple-distilled spirit, handcrafted in a traditional copper pot still in small batches by Master Distiller Anup Barik at Rampur, one of India's oldest distilleries, located in the foothills of the Himalayas.
Jaisalmer Indian Craft Gin encapsulates the rich heritage of the Indian City of Jaisalmer, which is described as the jewel in India's crown. The recipe combines the ancient knowledge of herbs and spices, vibrant juniper berries and hand-picked botanicals from all four corners of India. Anup wanted to retain the classic gin flavour using juniper berries whilst adding a refreshing twist with Indian botanicals. Simply beautiful, this feels like an exquisite, luxurious gin experience, worth savouring over fine conversation. £34.95, www.thewhiskyexchange.com
Gin not your thing?


Summer always brings with it a whole host of light and refreshing drinks options – especially for those who like their alcohol with a little bit less of a kick. Ideal for a sunny BBQ, give the new fragrant summer range from Echo Falls a go for fresh, light, summery flavours. At just 5.5% alcohol, the seasonal range – Melon & Mint, and Raspberry & Lavender – are delicious with lots of crushed ice and fresh fruit. These botanical fusions will go a long way to impress family and friends and look how beautiful the bottles are. £4.50, NISA
For more cocktail recipes, see here.