These dessert recipes are sweet, fruity and tangy — everything that a sweet treat should be. Packed with chilli-chocolate, sour apricots and caramelised bananas, these are sure to keep you warm on the coolest of evenings.
Keep reading to enjoy Horlicks dessert recipes, fresh out of their newest book, Horlicks Moments to Share Recipe Book.
Chilli-chocolate mousse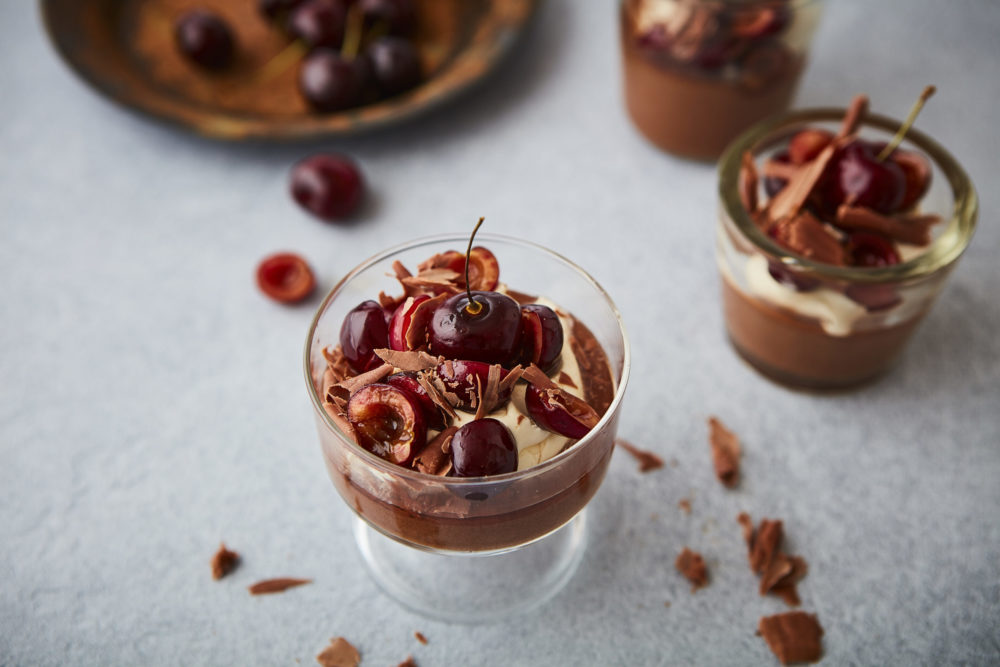 Ingredients
SERVES 8
160g 70% dark chocolate
100g fresh cherries, pitted
150ml whole milk
25g Horlicks Chocolate
65ml double cream
1 egg
½ tbsp kirsch liqueur
A squeeze of lemon juice
A pinch of chilli flakes
Whisk the egg in a bowl until thick and glossy and set aside.
Melt the chocolate in a bowl over a pan of simmering water.
Heat the milk, double cream and Horlicks Chocolate in a saucepan over a medium heat until it comes to a boil.
Pour the warm cream mixture over the whisked egg and then add the melted chocolate and the chilli flakes, mixing gently until well combined. Once fully mixed, pour into glasses and cool.
Halve the cherries, adding a splash of kirsch and a squeeze of lemon, then leave to marinate for at least 30 minutes.
When ready to serve, whip the cream into soft peaks.
Add a dollop of cream and a spoonful of cherries onto the chocolate mousse and serve.
Banana bread cupcakes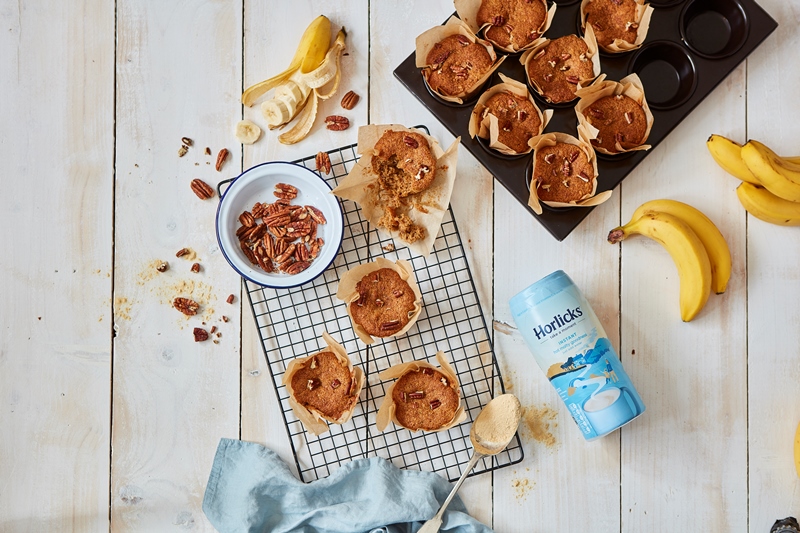 Ingredients
MAKES 12
4 ripe bananas
200g self-raising flour
100g golden caster sugar
75g unsalted butter
60g chopped pecans
50g Horlicks Light
2 large eggs
100ml semi-skimmed milk
1 tbsp maple syrup
1 tsp vanilla extract
1 tsp bicarbonate of soda
1 tsp baking powder
½ tsp cinnamon
Preheat oven to 170°C.
Mash the bananas, vanilla, cinnamon and maple syrup in a bowl and keep to one side.
In a different bowl, mix together the Horlicks Light, flour, bicarbonate of soda, baking powder and pecans (keeping a few back to top the muffins).
In another bowl, cream together the soft butter and sugar until light and fluffy.
Add the eggs one at a time to the creamed butter with a spoonful of flour mix and beat until smooth.
Add the remaining flour and then add the banana mix.
Mix together until it forms a smooth batter. Line a muffin tin with cupcake cases and spoon in the batter. Sprinkle with the remaining broken pecans.
Cook for 20 minutes, remove from the oven and leave to cool on a wire rack.
Sticky apricot bread & butter pudding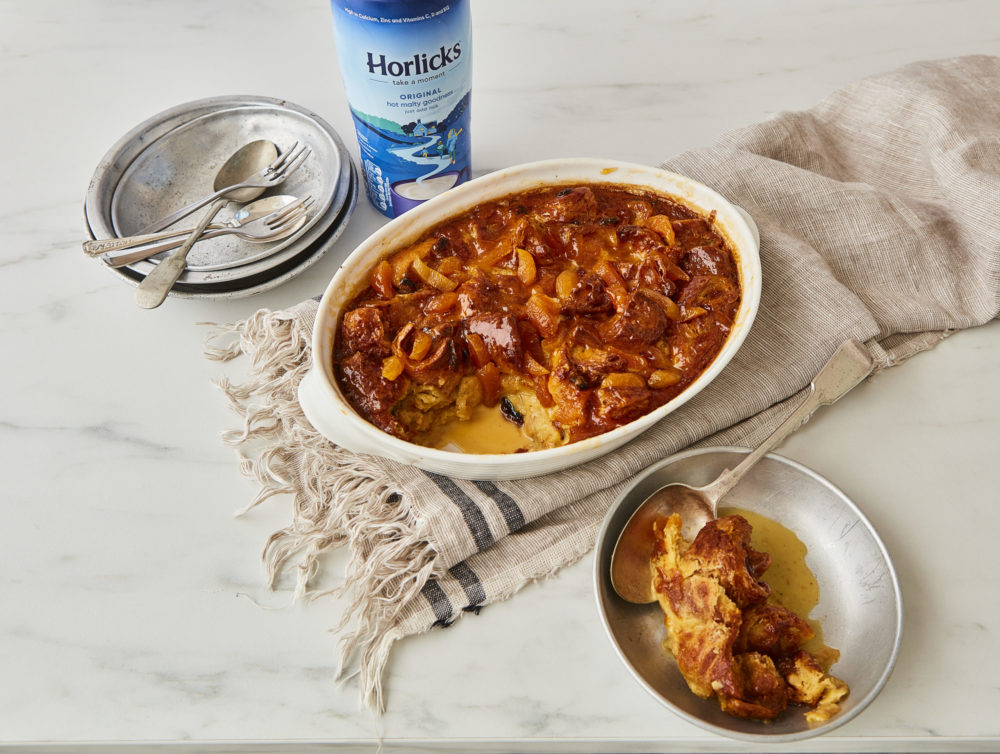 Ingredients
SERVES 6
3 croissants (stale ones are perfect!)
50g Horlicks Original
50g caster sugar
50g dried apricots, sliced
3 eggs
150ml milk
150ml double cream
1 orange, juice and zest
1 tsp vanilla essence
1 tbsp apricot jam
2 tbsp water
Preheat oven to 160°C.
Dice the croissants into 5cm squares.
Place in croissants in a buttered baking dish tray and add the juice and zest of the orange. Add the sliced dried apricots.
Beat the eggs in a bowl and whisk in the sugar.
In a saucepan, bring the Horlicks Original, milk, cream and vanilla to the boil. Remove from the heat and pour over the beaten eggs and sugar to form a custard.
Pour the custard over the diced croissants and bake in the oven until just set, approximately 20 minutes. The middle should still be soft custard.
Melt the jam with water in a small saucepan to form a glaze. Brush the glaze on top of the pudding and bake for a further 5 minutes.
Find all of our flavour-packed recipes in the Platinum food & drink pages – from delicious desserts and savoury meals, to kids' treats and unique bakes, we have it all. Be sure to follow us on Facebook, Twitter and Instagram for more vegan inspiration, @PlatinumMagUK