Wow your guests with these deliciously festive recipes.
Not only do they taste good, they're easy to make — and look incredible, too.
Prosecco brined turkey breast with Brussels sprouts and speck
SERVES 4-6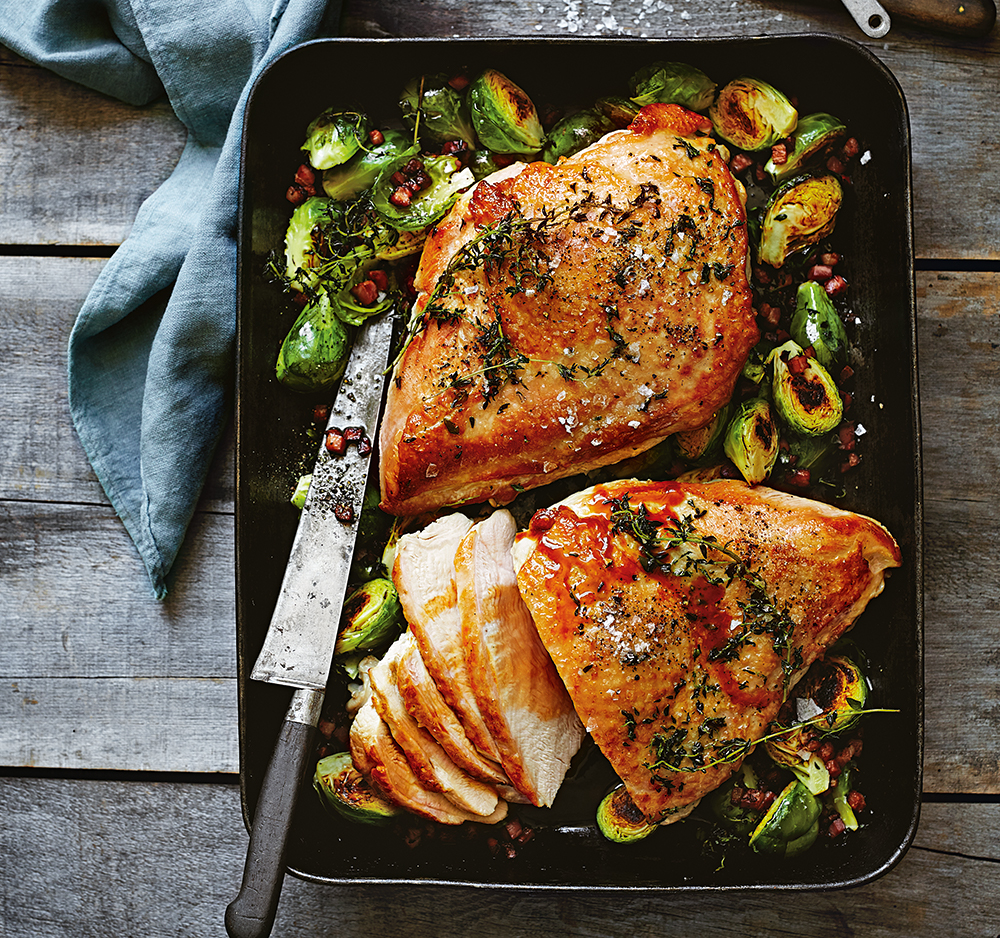 75g rock salt
45g light brown sugar
2 sprigs tarragon
2 bunches thyme
1 lemon, thinly sliced
1.25 litres water
750ml prosecco
2 x 1.5kg turkey breast fillets, skin on
1 tablespoon extra virgin olive oil
Sea salt and cracked black pepper
350g bacon, chopped
500g Brussels sprouts, halved
1 bunch thyme, extra
For the garlic butter
Put the dry ingredients in a medium saucepan with the water and boil over a high heat for 4 minutes, stirring to dissolve the salt.
Pour the liquid into a large non-reactive container. Add the prosecco and another 500ml of water.
Loosen the skin from the turkey breasts. Lower the turkey, skin-side down, into the brine and refrigerate for 2 hours.
Place the butter, garlic and lemon rind in a small bowl and mix to combine.
Remove the turkey from the container, discarding the brine, and pat dry with kitchen paper.
Spread the garlic butter under the skin.
Place the oil in a large heavy-based frying pan over medium heat. Add 1 turkey breast to the pan, skin-side down and sprinkle with salt and pepper. Cook until golden brown.
Remove from the pan and repeat with the remaining turkey. Return both turkey breasts to the pan, skin-side up. Add the remaining 250ml of water, cover with a tight-fitting lid and cook for 20 minutes.
Remove and loosely cover with aluminium foil and reserve the cooking liquid.
Wipe the pan and return to medium heat. Add the speck and cook for
4 minutes, then allow to rest.
Serve turkey with sprouts and crispy bacon.
Superfood apple beetroot salad
SERVES 4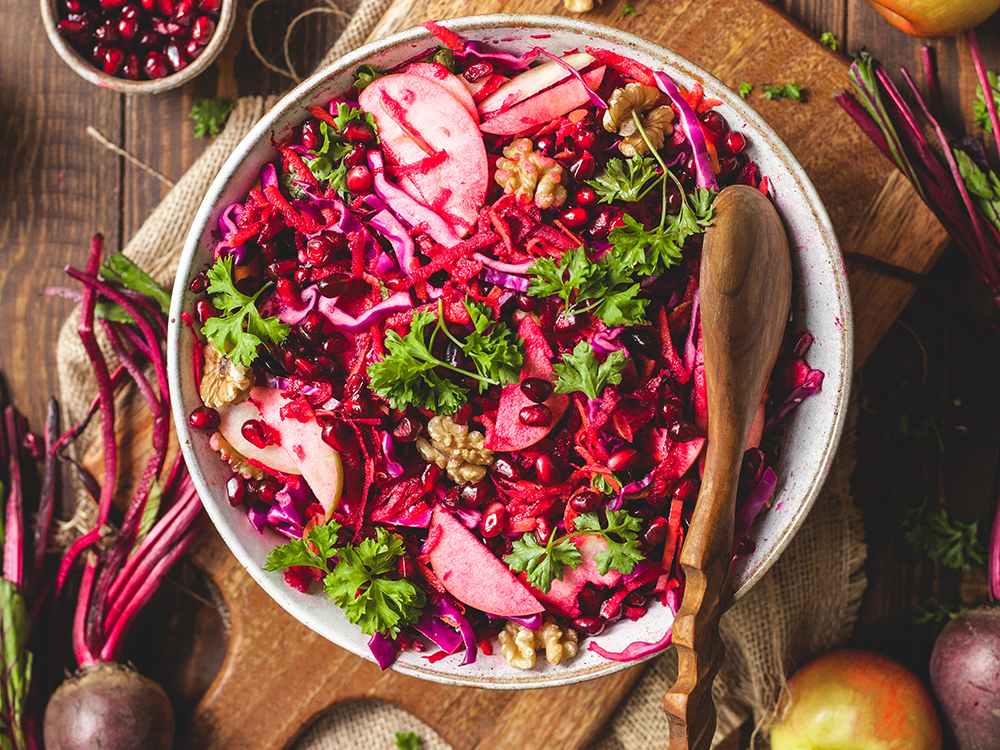 4 apples, grated or finely sliced (we left the peel on)
½ red cabbage, finely sliced and shredded
2 carrots, grated
2 medium beetroots, peeled and grated
1 cup pomegranate seeds
1 cup walnuts, chopped
Large handful parsley, finely chopped
4 tbsp chia seeds
For the dressing
6 tbsp olive oil
3 tbsp apple cider vinegar
Juice half to one lemon, to taste (we used one lemon)
Salt and pepper, to taste
Toss together all ingredients for your salad in a large bowl.
Whisk together the ingredients for twhe dressing, adding more or less lemon juice to taste. Season.
Drizzle the dressing over the salad just before serving, then toss to combine. Eat immediately.
Brussels sprouts and parsnip gratin
SERVES 6-8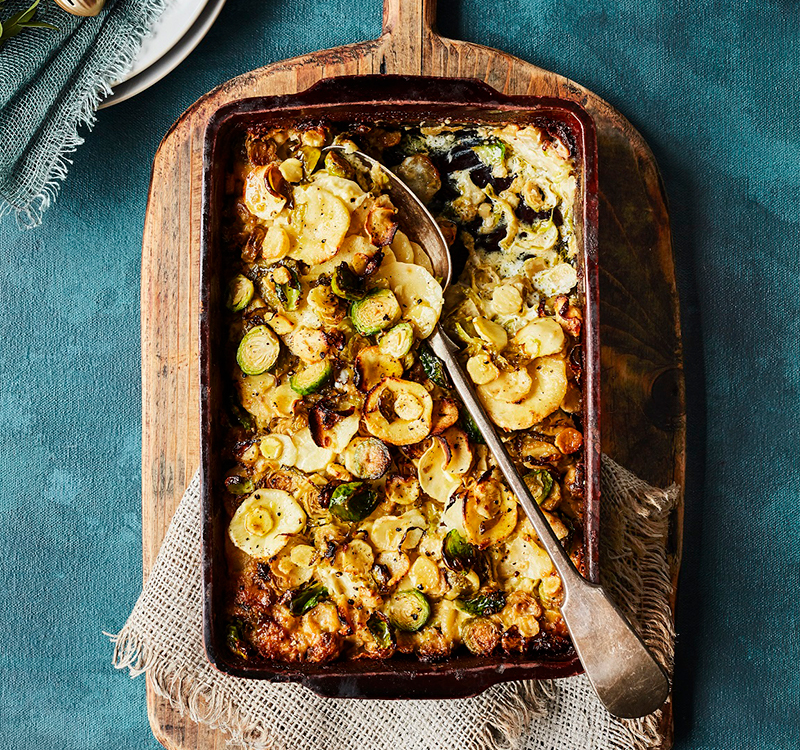 Unsalted butter, softened, for greasing
500g parsnips
500g Brussels sprouts, trimmed 300ml double cream
200ml full fat crème fraîche
4 garlic cloves, crushed
4 bay leaves
1 1⁄2 tsp sea salt
Preheat the oven to 200°C, gas mark 6; grease a deep 30cm x 20cm baking dish. Trim the parsnips and slice as thinly as possible. Trim the Brussels sprouts, reserving any pretty leaves that detach, before slicing the rest (they don't have to be too thin). Layer up in the prepared dish.
Put the cream, crème fraîche, garlic and bay leaves in a saucepan and bring to a simmer. Remove from the heat and stir in the salt and plenty of freshly ground black pepper.
Pour the cream over the vegetables, pressing them down in the liquid, so they're just covered. Arrange the bay leaves on top, then cover the dish tightly with foil. Bake for 25-30 minutes, until the veg is almost tender.
Remove the foil and cook, (press down again, if needed), for 10-15 minutes more, or until set on top and browning at the edges.
Leave to cool for 5 minutes before serving, remove the bay leaves and scatter with the reserved Brussels leaves, if preferred.
Find all of our festive recipes in the Platinum food & drink pages – from delicious desserts and savoury meals, to kids' treats and unique bakes, we have it all.