Looking to mix up your festive menu this year?
These Christmas dessert recipes are sweet, zingy and indulgent — everything that the most wonderful time of the year should be.
Dona Hay's Chewy caramels with salted peanuts
MAKES 50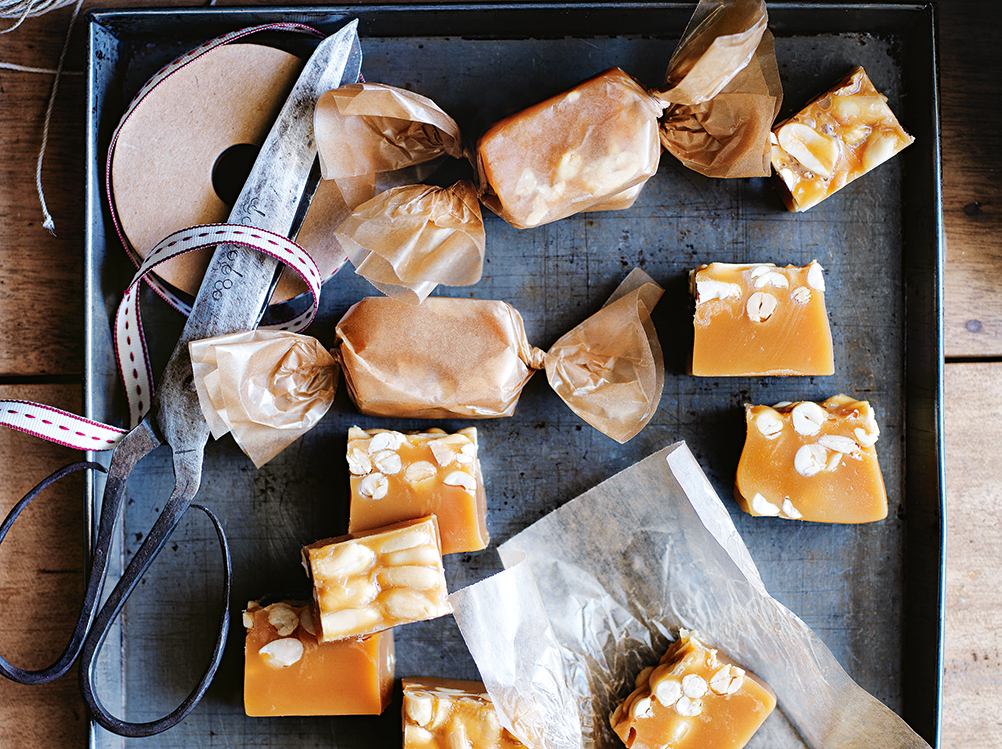 420g salted peanuts
1.1kg granulated sugar
1.125 litres single cream
350g golden syrup
100g unsalted butter, chopped
Line a 20cm x 30cm slice tin with non-stick baking paper. Sprinkle the base with half the peanuts and set aside. Place the sugar, cream, golden syrup and butter in a large saucepan over high heat and stir with a metal spoon until the butter and sugar have melted.
Reduce the heat to medium and cook, stirring, for 20–25 minutes or until the temperature reaches 122°C on a sugar thermometer.
Working quickly, pour the caramel into the tin and carefully sprinkle with the remaining 210g of peanuts.
Allow to cool completely at room temperature for 3–4 hours. Refrigerate for 25–30 minutes or until firm.
Turn the caramel out onto a board and, using a large sharp knife, cut into pieces. Wrap each caramel in brown wax paper, twisting the ends to seal.
Keep refrigerated and bring to room temperature to serve.
Baked apples with cinnamon stuffing and orange syrup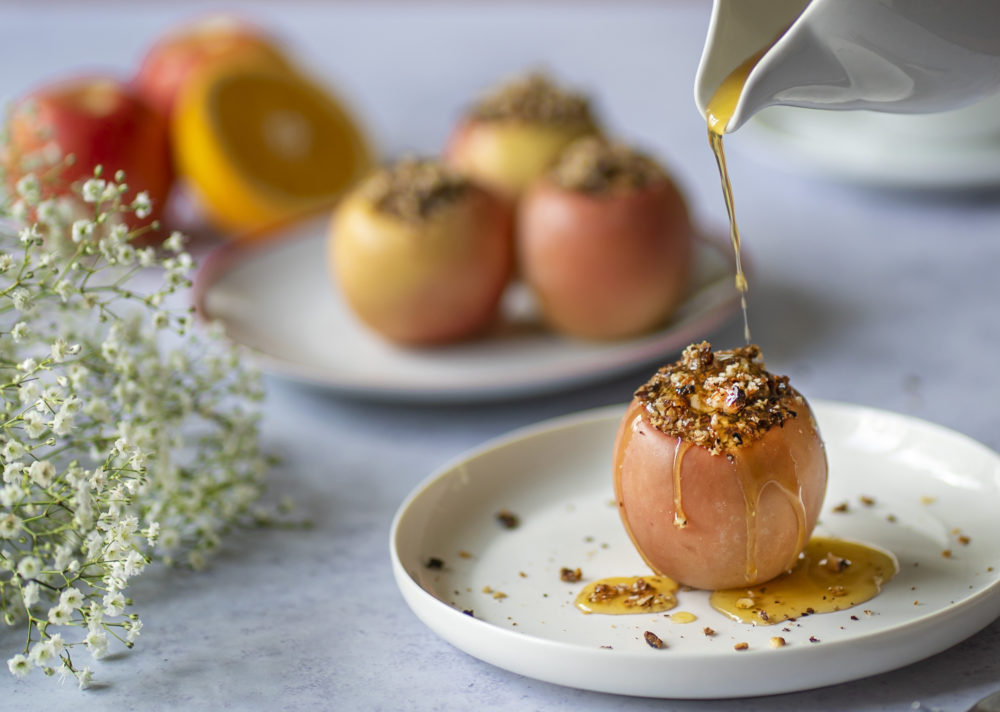 4 apples
¼ cup hazelnuts
¼ cup dates (You can use prunes or apricots too)
½ tsp cinnamon
1 tsp vanilla extract
For the orange syrup
Juice from 2 big oranges
¼ cup date/rice/maple syrup
Line a baking tray with baking paper and preheat your oven to 180 degrees.
Wash and core the apples. Using a sharp knife carefully cut out the core, then use a spoon to scrape out the bottom of the core.
Put the cored apples on the prepared baking dish.
Make the filling by processing the hazelnuts, dates, cinnamon and vanilla extract in a food processor until coarsely chopped.
Spoon the filling into the apples until it's about to overflow.
Bake apples for around 30 minutes, or until they are tender when pierced with the tip of a sharp knife.
Set baked apples aside and make the orange syrup by squeezing the juice from oranges into a small saucepan. Add in the sweetener and simmer over medium heat until reduced by half. You should have a syrupy like texture.
Serve the apples with the orange syrup and enjoy!
Chocolate Christmas cake with quince glaze
SERVES 12-14
260g pitted prunes
1½ teaspoons bicarbonate of baking soda
250ml boiling water
240g dried currants
180ml rum
85g unsalted butter, softened
1 teaspoon vanilla extract
260g light brown sugar
1½ tablespoons finely grated orange rind
6 eggs
225g self-raising flour, sifted
35g cocoa powder, sifted
1½ teaspoons ground cinnamon
½ teaspoon ground allspice
150g dark chocolate, melted
FOR THE GLAZE
300g store-bought quince jelly
50g dark chocolate, finely chopped
Preheat oven to 160°C (325°F). Grease a 2.75-litre bundt tin. Place the prunes, bicarbonate of soda and water in a medium bowl, mix to combine and allow to stand for 10−15 minutes. Using a hand-held stick blender, blend the mixture into a puree and set aside.
Place the currants and rum in a small saucepan over high heat, stirring, for 5–6 minutes.
Place the butter, vanilla, sugar and orange rind in the bowl of an electric mixer and beat for 10−12 minutes or until combined. Scrape down the sides of the bowl. Add the eggs, one at a time, beating well after each addition. Add the flour, cocoa, cinnamon, allspice, chocolate and the fruit mixtures. Beat to combine.
Pour the mixture into the tin and bake for one hour or until cooked when tested with a skewer.
Allow to cool in the tin for 10–15 minutes.
To make the chocolate quince glaze, place the quince jelly in a small saucepan over medium heat and whisk until melting.
Add the chocolate and whisk to combine. Bring to the boil and cook, whisking, for 2–3 minutes or until thickened.
Place the cake on a cake stand or plate and pour the glaze over just before serving.
Find all of our festive recipes in the Platinum food & drink pages – from delicious desserts and savoury meals, to kids' treats and unique bakes, we have it all.