These recipes will add a touch of class to your next picnic; a collection of unique takes on the dips, sharing dishes and sweets that we know and love.
Shared by Second Nature, these recipes are fresh, clean and sure to be crowd pleasers.
Beetroot hummus
SERVES 4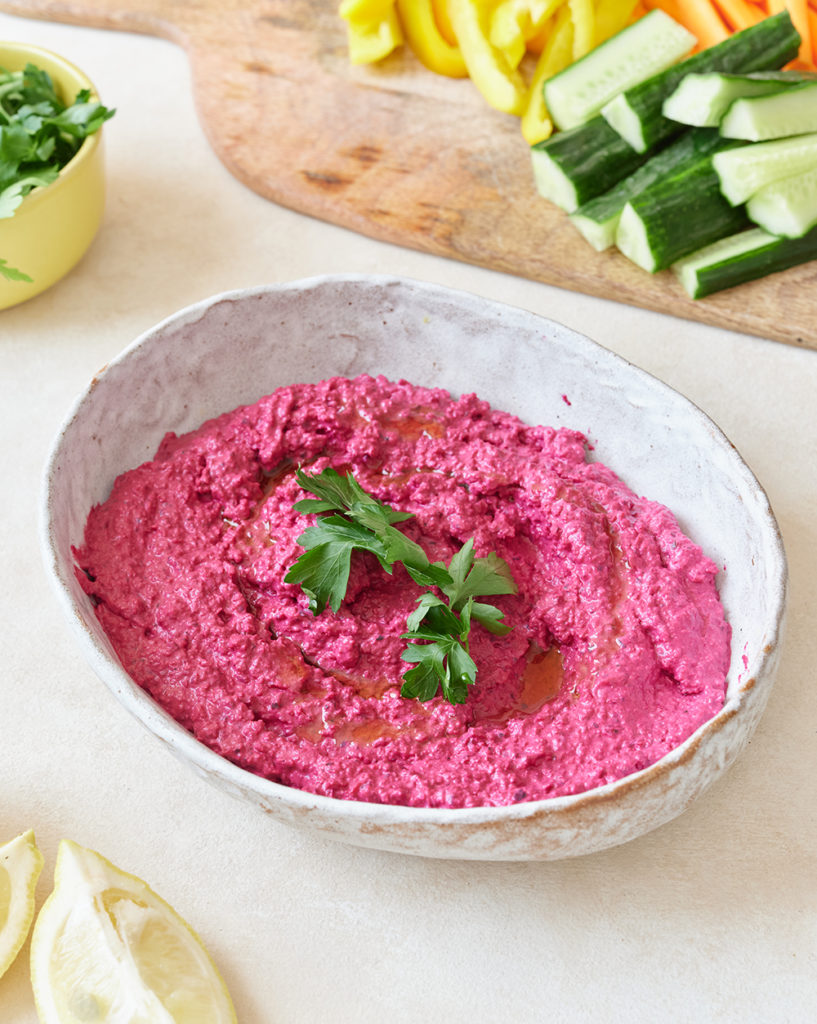 400g chickpeas, rinsed and drained
2 large cloves garlic, peeled
300g cooked beetroot
1 tbsp tahini paste
2 tsp cumin
2 tbsp lemon juice
2 tbsp extra virgin olive oil
1 small handful fresh parsley or mint, roughly chopped to serve
Put all the ingredients in a food processor or blender and season well with salt and pepper.
Blend or blitz until smooth.
Adjust seasoning to taste and blend or blitz again.
Second Nature special tip
For a smoother or thinner consistency, you can add more extra virgin olive oil or water. Our beetroot hummus is best served with veggie sticks or seeded crackers.
---
Chicken tikka skewers
SERVES 2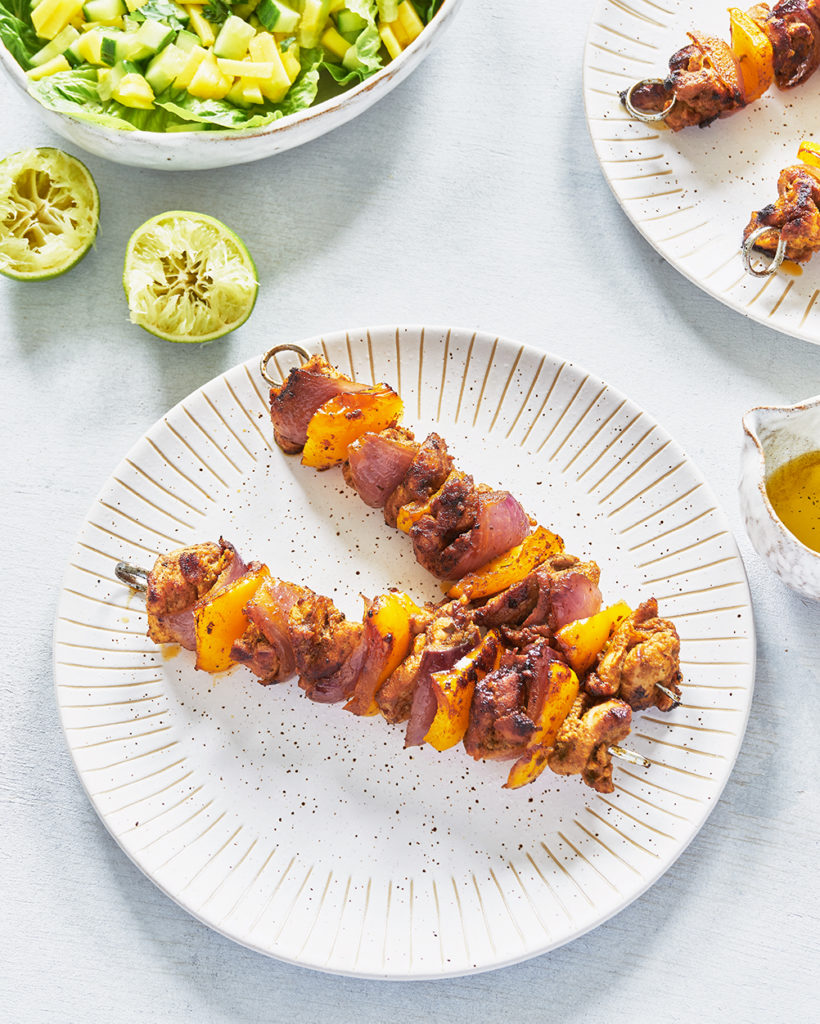 500g chicken thighs, skinless and boneless
2 tbsp tikka paste
1 tbsp coconut cream
1 mango cheek, diced
½ cucumber, diced
1 head romaine lettuce, chopped
1 small handful fresh coriander, roughly chopped
1 bell pepper, cut into large chunks
1 small red onion, cut into large chunks
1 lime, juiced
2 tbsp olive oil
Cut the chicken thighs into bite-size pieces. Place them in a small mixing bowl and cover with the tikka paste, coconut cream, and salt and pepper.
If using wooden kebabs, oil them lightly and set aside.
Prepare all the salad ingredients while the chicken is marinating.
Start layering the kebabs with the chicken, onion and peppers. Make sure the top and bottom both chicken to ensure the kabab stays together.
Heat one tbsp olive oil in a large non-stick grill pan, or saucepan, over high heat.
Keep an oil splatter top nearby, or another saucepan to cover the skewers, as they will splatter.
Cook the kebabs until golden, or for roughly ten minutes.
Add the other tbsp of oil, lime juice and salt and pepper to a small dish to dress the salad as desired.
---
Savoury muffins
SERVES 4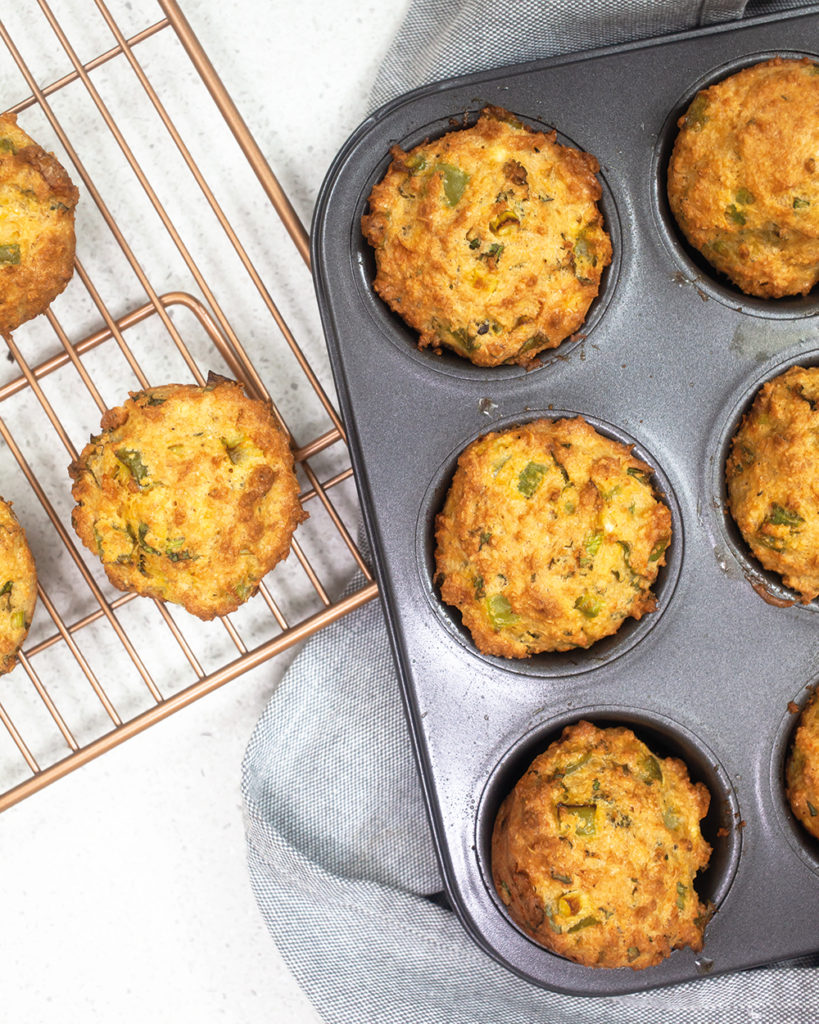 6 eggs
200g ground almonds
60g fine oats
60 ml milk
50g butter, melted and cooled
½ tsp baking soda
½ tsp baking powder
1 tsp ground paprika or dried chilli flakes (optional)
1 large handful kale, finely sliced
1 large green pepper, finely diced
5 spring onions, finely sliced
100g feta, crumbled
Preheat the oven to 180°C/Gas 7.
Generously butter a 12 cup muffin tin or line it with baking paper and set aside.
Break eggs into a large bowl and mix well with a fork or whisk.
Add the ground almonds, oats, milk, cooled butter, baking soda, baking powder, paprika (if using), generously season with salt and pepper, and mix well.
Using a large spoon, lightly mix in the kale, pepper, spring onion and feta. Evenly divide the mixture into the muffin tin and bake for 15 minutes.
Second Nature special tip

Get creative with the filling in these muffins by trying your favourite cheese and vegetable combos. They're a great way to use up leftover vegetables in the fridge!
---
Scotch eggs
SERVES 5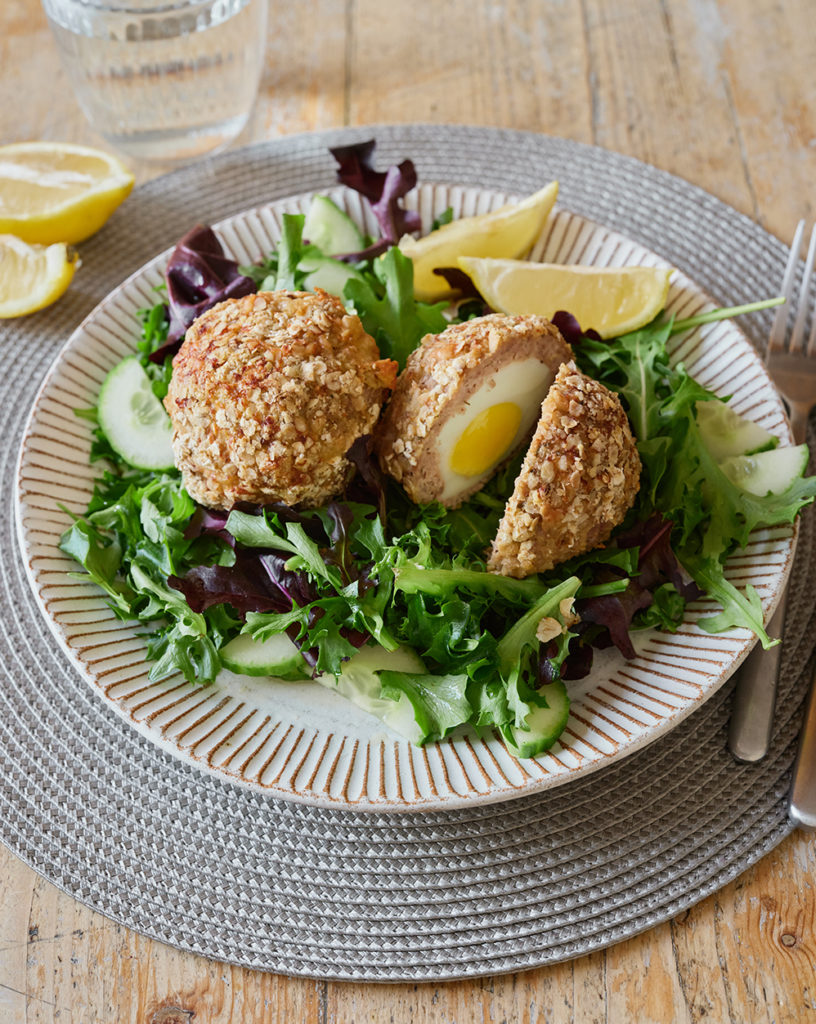 6 eggs
50g oats or Panko breadcrumbs
25g Parmesan, grated
500g minced pork
½ tsp nutmeg
1 tsp dried thyme
Preheat the oven to 200°C /Gas 6. Line a baking tray with aluminium foil and set aside.
Bring a saucepan of water to boil on medium to high heat. Once the water is boiling, use a spoon to gently place five eggs in the water.
Boil eggs for seven minutes and then immediately place in a bowl of water and ice till cool.
Peel the eggs and place aside to continue to cool down.
In a shallow bowl or plate, mix together the oats and parmesan.
In a separate shallow bowl, whisk the remaining egg.
Combine the pork mince, nutmeg and thyme in mixing bowl until well combined. Season generously with salt and pepper.
Divide pork mixture evenly into five portions (or use a digital scale to weigh 100g portions).
Take one portion, flatten in your palm, place boiled egg in the middle and mould the pork mixture around the egg until it's sealed.
Roll the mince covered egg in egg mixture to coat and then roll in oat and parmesan mixture until completely covered. Place on baking tray and repeat for remaining eggs.
Place eggs on the baking tray and cook in oven for 20-25 minutes or until crumbs are lightly golden brown and pork mince has gone white.
Serve either fresh from the oven, or refrigerate for a day and serve cold. Serve with ½ plate of non-starchy vegetables.
---
Sweetcorn fritters
SERVES 6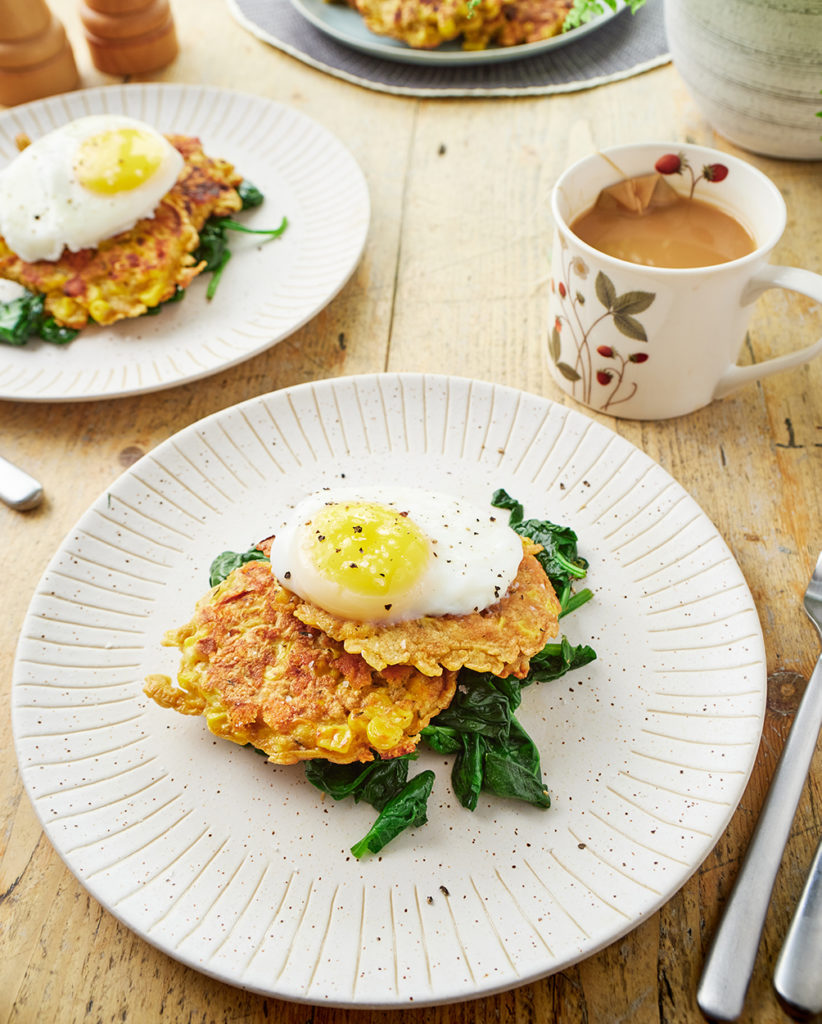 80g fine oats
½ tsp ground paprika
½ tsp dried thyme (optional)
198g of corn, rinsed and drained
5 medium eggs
80g cheddar cheese, grated
1 tbsp extra virgin olive oil
Add all the ingredients except the oil to a large bowl and mix well. Store in the fridge for 15 minutes or overnight if you have time until sticky.
Add ½ tsp of the oil to a large frying pan, over medium heat.
Fry four of the fritters at time for two to three mins each side.
Eat hot or cold, and store leftovers in the fridge.
Second Nature special tip
Try it with smoked salmon, poached or scrambled eggs, spinach, and avocado for a healthy take on a Sunday breakfast. If you enjoy a bit of spice, try adding one additional tsp to paprika and one tsp of dried chilli flakes.
---
Tzatziki
MAKES 500ml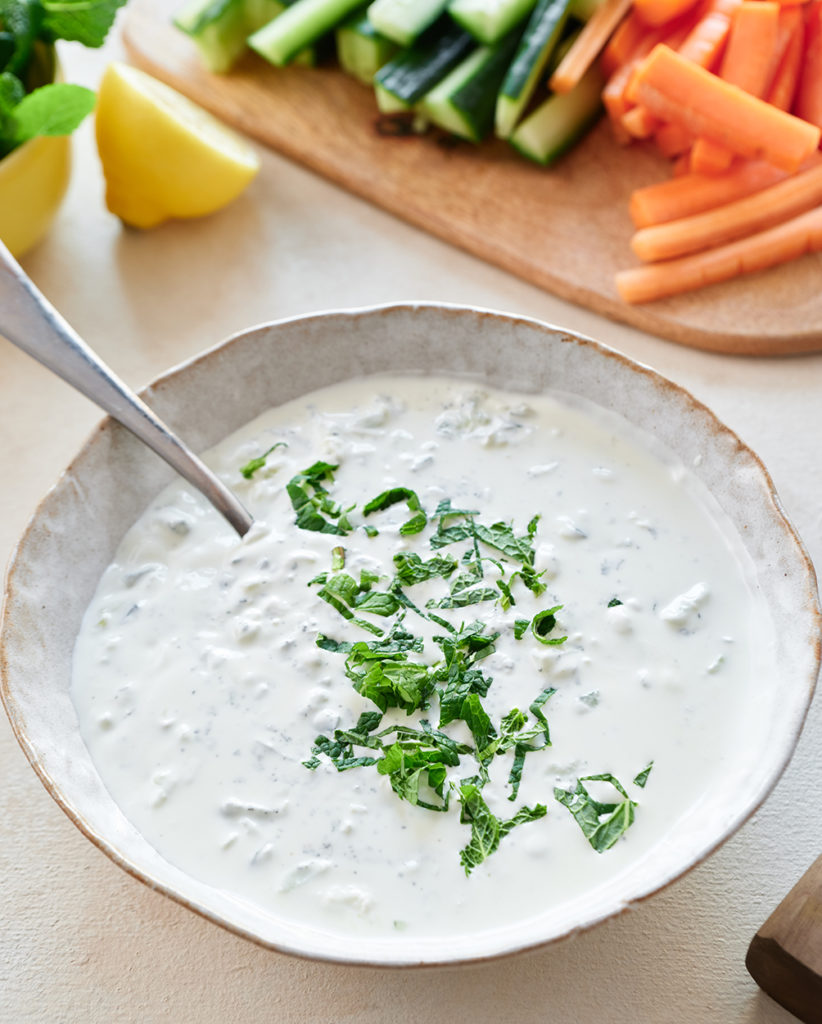 ½ cucumber, peeled, deseeded, and sliced
400ml plain natural or Greek yoghurt
½ lemon, juiced
2 garlic cloves, finely diced or minced
½ tsp dried mint or 10 mint leaves, finely chopped
Slice the cucumber lengthways and remove the seeds by running a teaspoon down the middle. Grate the cucumber on a coarse grater and sprinkle generously with ½ tsp of salt. Mix and put aside.
Let the cucumber sit for ten minutes. Then squeeze any further liquid out of the cucumber by pressing with the back of a wooden spoon.
In a medium bowl, combine the yoghurt, lemon juice, garlic and mint. Add the drained cucumber to the yoghurt mixture and a little black pepper. Mix well and serve.
Subscribe to Platinum today and get every issue delivered to your door. Or find your local stockist, here. Head to our food and drinks archive for more delicious leafy green recipes and fabulous bakes like our vegan celebratory biscuit bakes.