Pancake Day is the perfect excuse to cook up some well-earned treats.
We've put together three of our favourite recipes from some very talented bakers, that you can enjoy. They're vegan, packed full of flavour and healthy — there's nothing better than a guilt-free pancake.
Banana cream pancakes with coconut and rolled oats
by Purition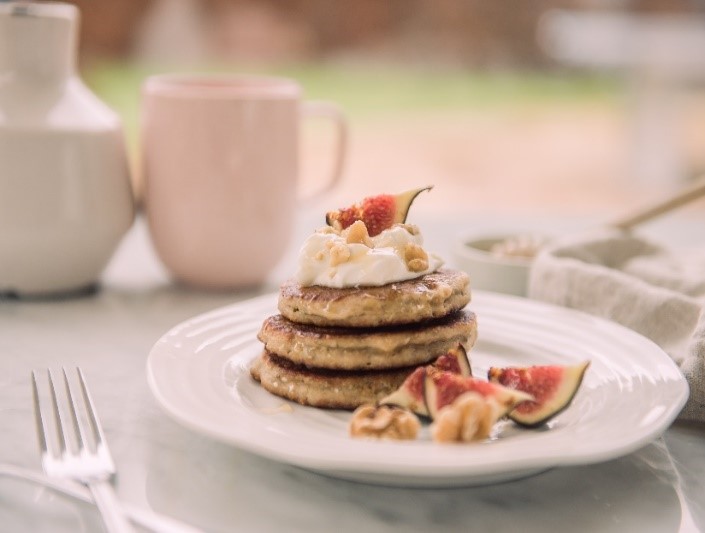 Make these pancakes your own by decorating with some sour or tangy fruits to offset their creaminess — we recommend slices of grapefruit or passionfruit. Oh, and a drizzle of honey will complete the dish perfectly.
Ingredients
20g Purition protein powder (any flavour)
1 large (or 2 small) very ripe bananas
35g rolled oats
Blitz the oats in the bullet to make a smooth oat flour.
Add Purition and the oat flour to a bowl. With enough mashed banana, bring the mixture together – if too dry, add a splash of nut milk to loosen the mix.
Melt a little coconut oil to a pan over a medium heat.
Add small ladles of mixture to form the pancakes. Allow pancake to cook on a low-medium heat, flip and cook the other side.
Serving suggestions from Purition
Top with a dollop of coconut yoghurt, a handful of walnuts, figs and maple syrup.
---
Blueberry pancakes
by Shane Simple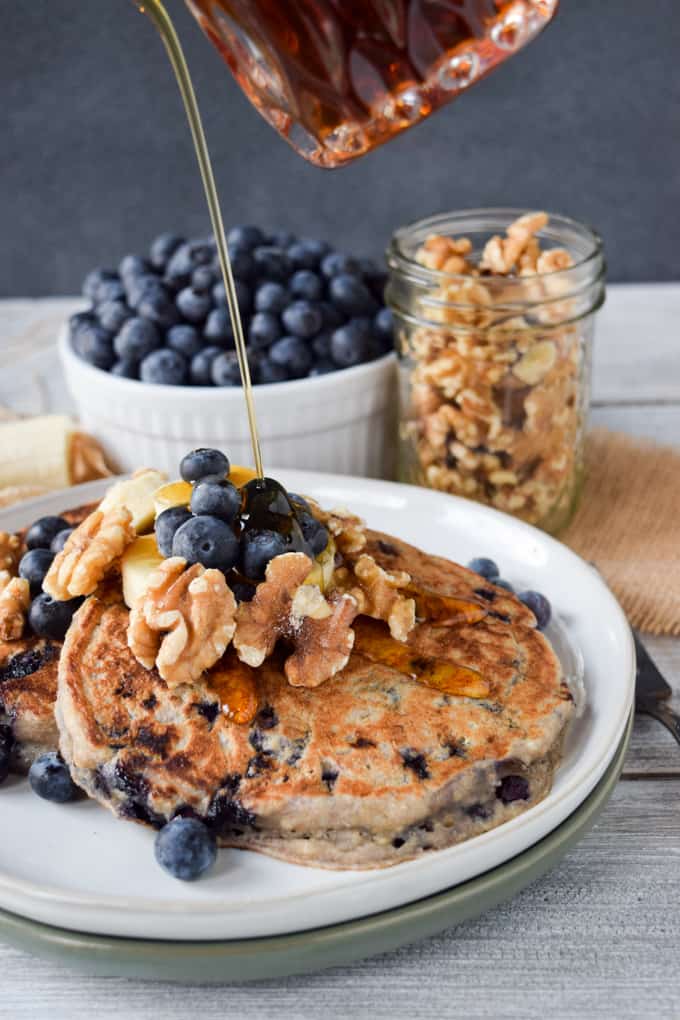 The fluffy pancakes are extremely easy to make — perfect for a quick treat, or a Pancake Day cooking project with grandkids. Hearty, healthy and free from dairy, oil, and eggs. Low-fat, vegan, plant-based and, most of all, delicious.
Ingredients
1 cup whole wheat flour
1 cup oat flour (see Notes below)
2 Tbsp. ground flax seed (flax seed meal)
1 Tbsp baking power
1/2 teaspoon salt
1 cup water
3/4 cup unsweetened almond milk
2 Tbsp. unsweetened apple sauce
2 medium sized bananas mashed
1 cup frozen or fresh blueberries
Recommended toppings
Fresh blueberries
Shredded coconut
Sliced bananas
Chopped walnuts
Maple syrup
If you have a non-stick griddle, preheat to 350 degrees. If using a nonstick skillet, heat on medium.
Add all dry ingredients to a large mixing bowl and whiskto combine.
Place all wet ingredients, except for bananas and blueberries, into another bowl and mix well.
Add the wet mixture to the dry ingredients and mix until well combined, but do not over mix. Leaving some lumps is just fine.
Add the bananas and blueberries to the batter. Mix well.
Once cooking surface is ready, lightly spray a large skilletwith cooking spray if needed.
Pour ¼ cup of batter for each pancake. But, if you're like me and want your pancakes the size of manhole covers, allow ½ cup of batter per pancake.
Cook until you start to see the pancake bubble or the edges start to crisp up a bit. These pancakes are dense so they may not bubble like most recipes. I usually let them cook for about a minute then flip and cook for another 30 seconds or so. But, every stove top and griddle is different.
---
Vegan spinach and mushroom crepes with almond cheese
by Domestic Gothess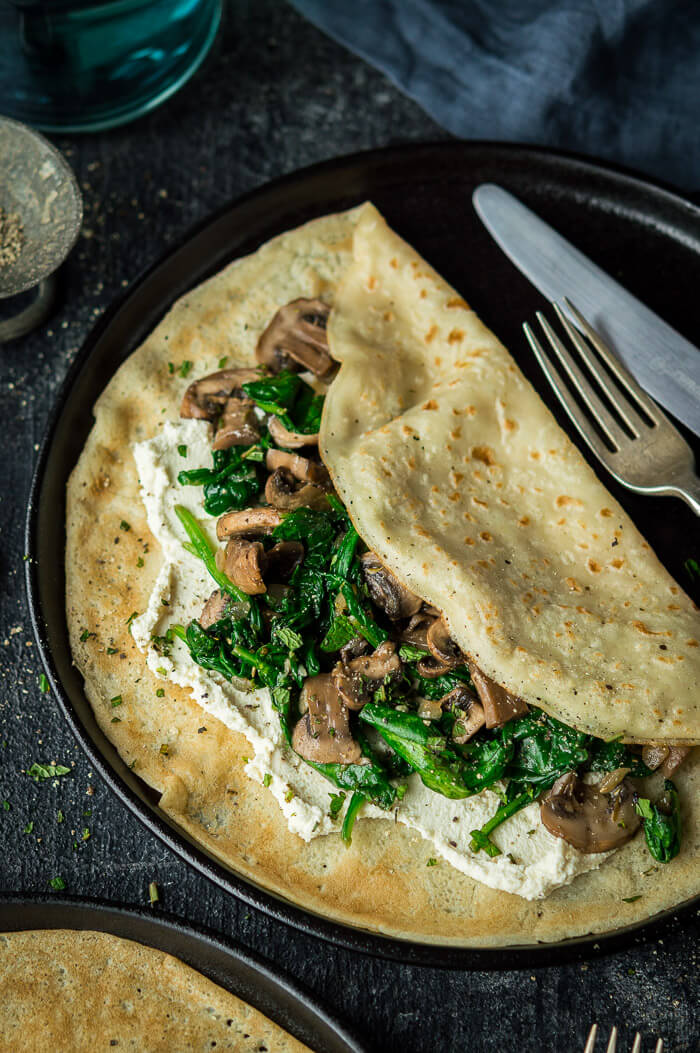 These very special pancakes are packed full of flavour. The saltiness in the cheese and freshness of the veggies will make it hard to believe they're vegan and healthy at all.
Ingredients
125g plain flour
20g chickpea/gram flour
10g cornflour
¼ tsp salt
300 ml unsweetened non-dairy milk (soy or oat is best)
1 tbsp sunflower or olive oil
Filling:
1 tbsp olive oil
1 shallot or small brown onion finely chopped
250g chestnut mushrooms sliced
1 clove garlic crushed
¼ tsp dried thyme
180g baby spinach
Salt and pepper
Vegan almond cheese
Start by making the pancake batter. Whisk together the plain flour, cornflour, gram (chickpea) flour and salt in a bowl.
Gradually whisk in the milk to avoid lumps, then whisk in the oil.
Set the batter aside to rest while you prepare the filling. (Or you can place it in the fridge overnight).
Gently fry the chopped shallot in the oil until it is soft then add the sliced mushrooms, crushed garlic and dried thyme and continue to cook until the mushrooms are soft.
Add the spinach and cook until it has wilted then season well with salt and pepper.
To cook the crepes, heat a non-stick frying pan over a medium heat and grease with a little oil.
Pour a ladleful of the batter into the middle of the pan and lift up and swirl the pan to spread the batter out to the edges.
Cook until the top is set and the crepe has started to curl up a little at the edges then carefully flip it over using a spatula and cook for a couple more minutes until the underside is browned. Slide onto a plate and repeat with the rest of the batter. You will get about 4-5 crepes.
To serve, spread some of the almond cheese generously over one half of the crepe, top with some of the mushroom spinach mixture, fold in half and eat right away.
Find all of our flavour-packed recipes in the Platinum food & drink pages – from delicious desserts and savoury meals, to kids' treats and unique bakes, we have it all. Be sure to follow us on Facebook, Twitter and Instagram for more vegan inspiration, @PlatinumMagUK