Sweet potato can be super-nourishing and versatile when paired with the right ingredients.
This unique sweet potato recipe can be prepared and on the table within minutes. For the best results, stick to fresh ingredients and follow the three simple directions closely. If you're not a fan of sour cream, you can swap it in for Tzatziki. If you want a little extra texture, add some par-cooked parsnips for added sweetness and crunch.
Burrito Bowl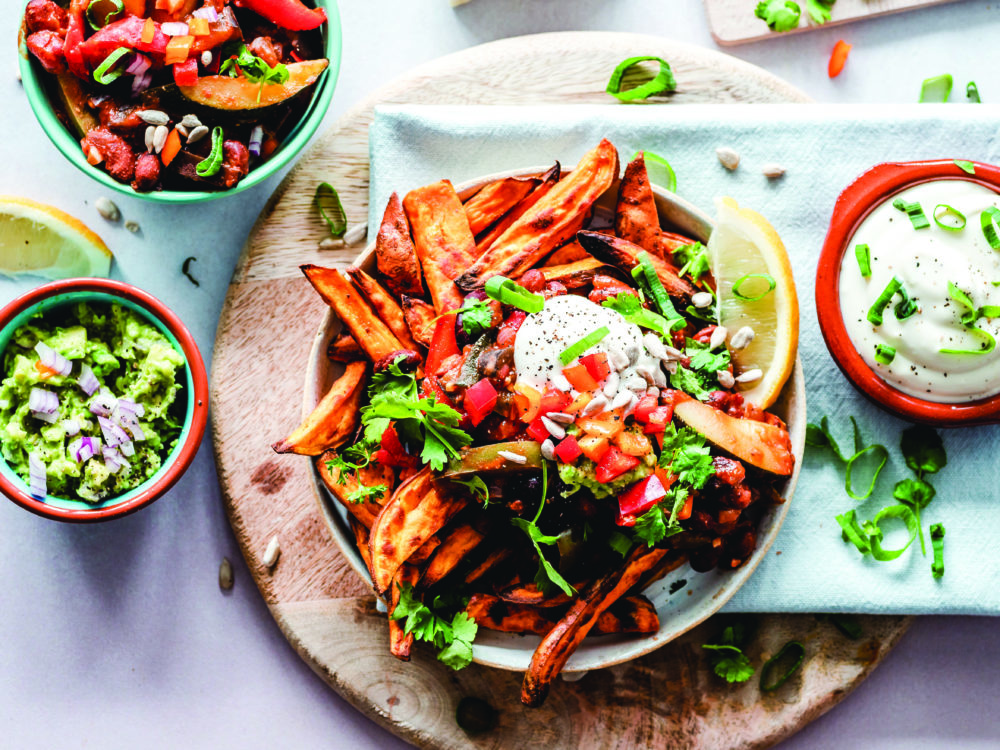 2 portions
2 large sweet potatoes
Paprika, cumin and garlic powder
1 red bell pepper
Spring onion
Coriander
Sunflower seeds
Sour cream
Preheat oven to 200°C/ gas 6. Chop sweet potatoes into wedges and microwave for five minutes.
Transfer into a roasting tin with the spices, pour over a tablespoon of olive oil and bake for another five minutes.
Place the roasted wedges in bowls and top off with remaining veg, seeds, coriander and a dollop of sour cream.
Got a little extra time? Try making your own guacamole.
4 ripe avocados
1 medium tomato (seeded and diced)
1/4 cup onion (peeled and diced)
1 fresh serrano (or jalapeño chile, seeded and diced)
1/4 cup Mexican crema (or sour cream)
1/8 cup cilantro leaves (coarsely chopped)
1 tablespoon lime juice (fresh squeezed)
Salt and pepper (to taste)
Peel the avocados, and remove their pits. Mash the flesh of two them with the back of a fork or other mashing utensil. Dice the other two into 1/4-inch to 1/2-inch cubes.

Mix the mashed avocado with the diced chile pepper, onion, and cilantro. Fold in crema or sour cream and lime juice. Add salt and pepper to taste.

Fold the diced avocado and tomato into the mashed avocado mixture.

Use immediately or cover with plastic wrap (making sure the plastic completely touches all surfaces of the guacamole so that air exposure is minimized) and consume within a few hours.

Serve your delicious creamy-chunky guacamole with totopos (tortilla chips) as an appetizer, offer it as a sauce on tacos or tortas, or use it as a side dish/garnish for grilled meats or chicken.
For more Mexican recipes and healthy eating guides, take a look at our food & drink section – you won't be disappointed!