Cater to all tastes and dietary requirements with these delicious gluten free recipes from Promise Gluten Free.
Ready for the irresistible culinary delights of the festive season? Look no further — these deliciously nutritious recipes have you covered.
MAKES 4
These delicate hor d'oeuvres are a great way to start your Christmas dinner.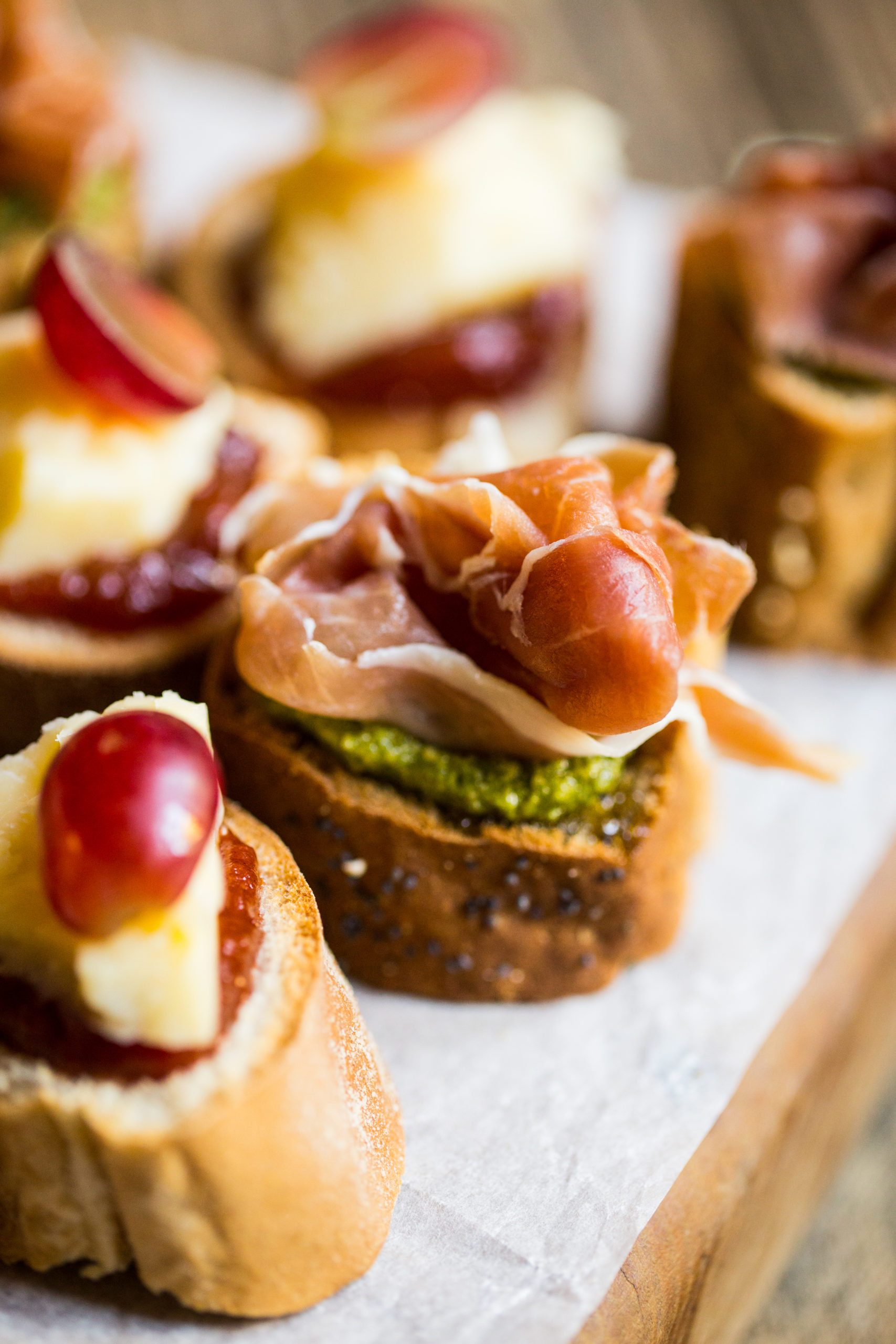 Ingredients
2 Promise Gluten Free Multi Seeded Rolls sliced into chunks
2 Promise Gluten Free White Rolls sliced into chunks
1 handful of grapes slices in half
6 slices of Parma ham
Half a block of your favourite cheddar cheese
1 tsp of pesto / relish for each piece of bread
Slice the white and brown rolls.
Place on a baking tray.
Bake at 356 degrees F for 15 minutes.
Top a selection with a tsp of pesto and parma ham.
Top the rest with relish, cheddar and sliced grapes.
Piled-high turkey leftover casserole 
MAKES 6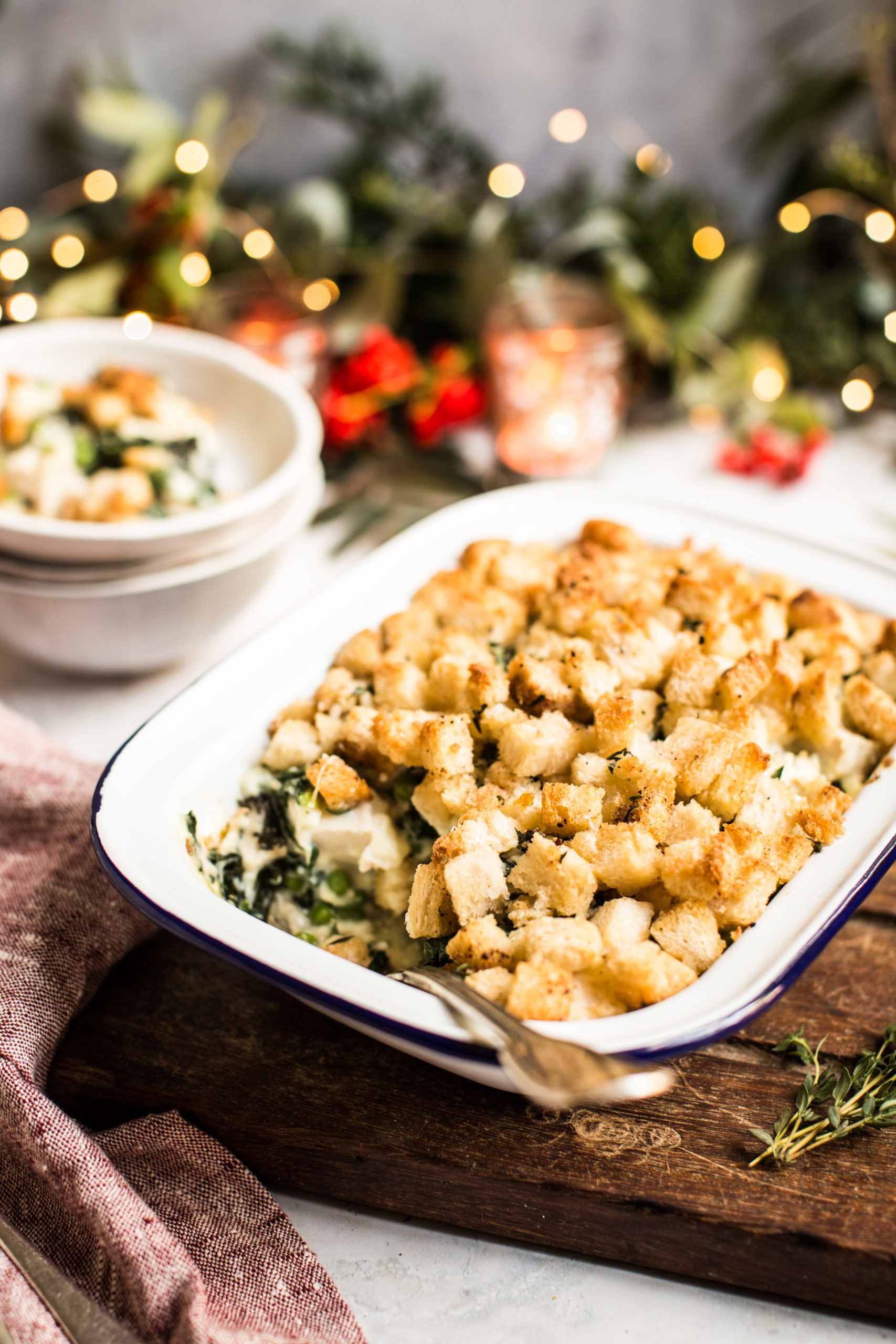 Ingredients
½ loaf of Promise Gluten Free White Bread
2 tbsp corn flour
2 tbsp milk
400ml milk
1 cup of frozen peas
1 cup of frozen spinach
1 handful of kale
2 cups of leftover turkey
1 sprig of thyme
2 tbsp melted butter
Mix cornflour with milk to make a paste then whisk remaining 400ml of milk in a saucepan.
Heat over a gentle heat whisking constantly until it comes to the boil.
Mix defrosted spinach, peas and kale and leftover turkey in an ovenproof dish and season with salt and pepper.
Decrust half a loaf of white bread and cube the slices of bread, toss with 2 tbsps of melted butter and a sprig of thyme.
Bake for 30 minutes at 200/ 375 degrees.
Ultimate turkey and brie leftover toastie
MAKES 1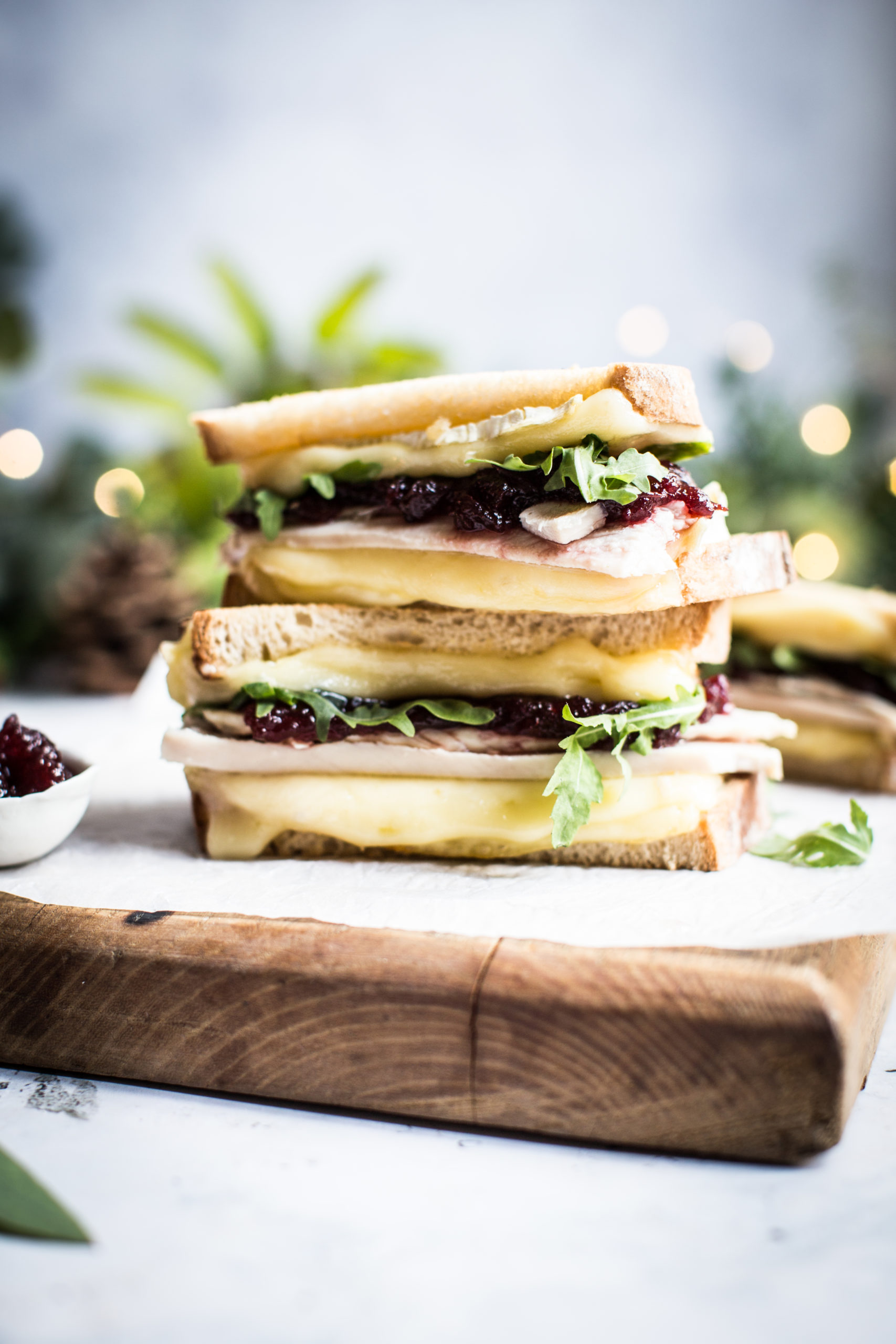 Ingredients
2 slices of Promise Gluten Free White Loaf
Leftover turkey slices
Rocket salad
Cranberry sauce
Butter
Brie
Butter the bread & slice in half and cover in a slice of brie.
Melt the brie in the oven at 180 for 5 minutes until soft and melted.
Top with turkey slice, rocket and cranberry.
White loaf cranberry and sweet potato turkey stuffing 
MAKES 4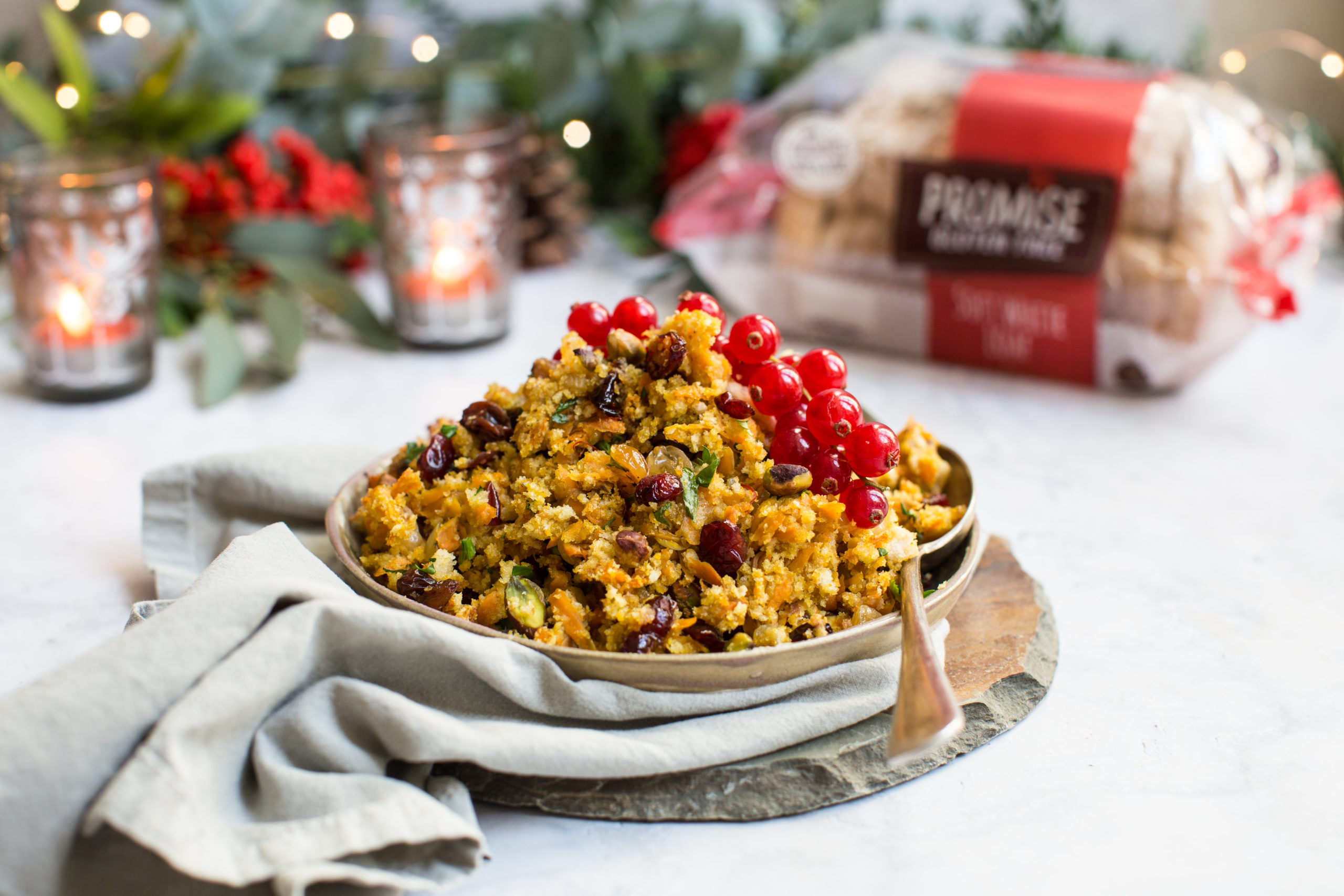 Ingredients
1 loaf of Promise Gluten Free White Loaf Breadcrumbed
2 tbsp olive oil
30g unsalted butter
1 medium onion finely chopped
2 small sweet potatoes grated
Pinch of saffron threads, soaked in 3 tbsp hot water
100g of dried cranberries
75g of shelled pistachios roughly chopped
1 handful of chopped flat-leaf parsley
1 bunch of red currants for decoration
Heat the oil and butter in a saute pan with a lid.
Add the onions and fry over a medium heat for 5 minutes until softened. Add grated sweet potatoes and cook for another 3-4 minutes.
Add breadcrumbs, sweet potatoes, parsley and saffron with its soaking water. Season with salt and pepper.
Bake at 180 / 356 degrees for 15-20 minutes until golden brown.
Stir in breadcrumbs, cranberries, pistachios and herbs and serve.
Top with red currants for decoration.
MAKES 4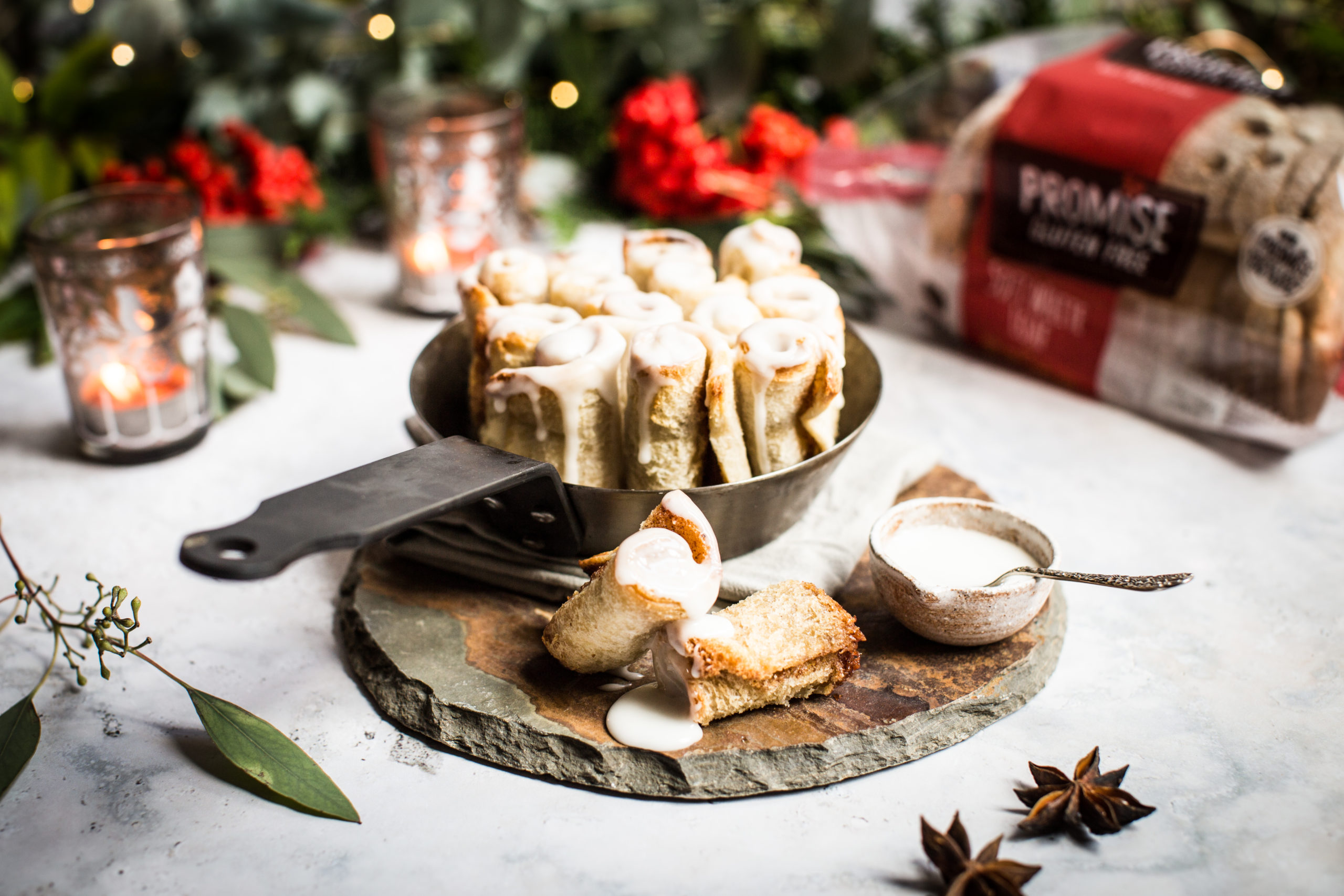 Ingredients
12 slices of Promise Gluten Free soft white bread
½ cup of melted butter
Cinnamon sugar
Powdered sugar (optional for glaze)
Preheat oven to 200/375 degrees.
Cut the crusts off the pieces of bread. Roll very thin with rolling pin.
Mix the cinnamon sugar with softened butter (or vegan butter if preferred).
Brush both sides of the bread with melted butter and then sprinkle one side with cinnamon sugar.
Fold each side of the bread into the centre, then roll up.
Place onto greased baking sheet or tin.
Bake for 15-20 minutes until they start to turn golden.
Add powdered sugar to the leftover melted butter for glaze and drizzle over the top.
Subscribe to Platinum today and get every issue delivered to your door. Or find your local stockist, here. Head to our food and drinks archive for more cocktails and recipes.