Platinum's fabulous summer issue features the fashionable and ever-fabulous, Trinny Woodall.
The Platinum experts are back with insights into the worlds of food, drink, health, style and tech. Our favourite cook and author, Valentina Harris takes on artisan food, whilst Dr Dawn considers whether our metabolic rate really does influence our weight and Adele Parks reveals her top picks for bookworms.
Here's a few of our highlights from this month's sparkling issue. If you're looking for your own copy, you can find your local stockist, here.
On the cover
"I always look into the future."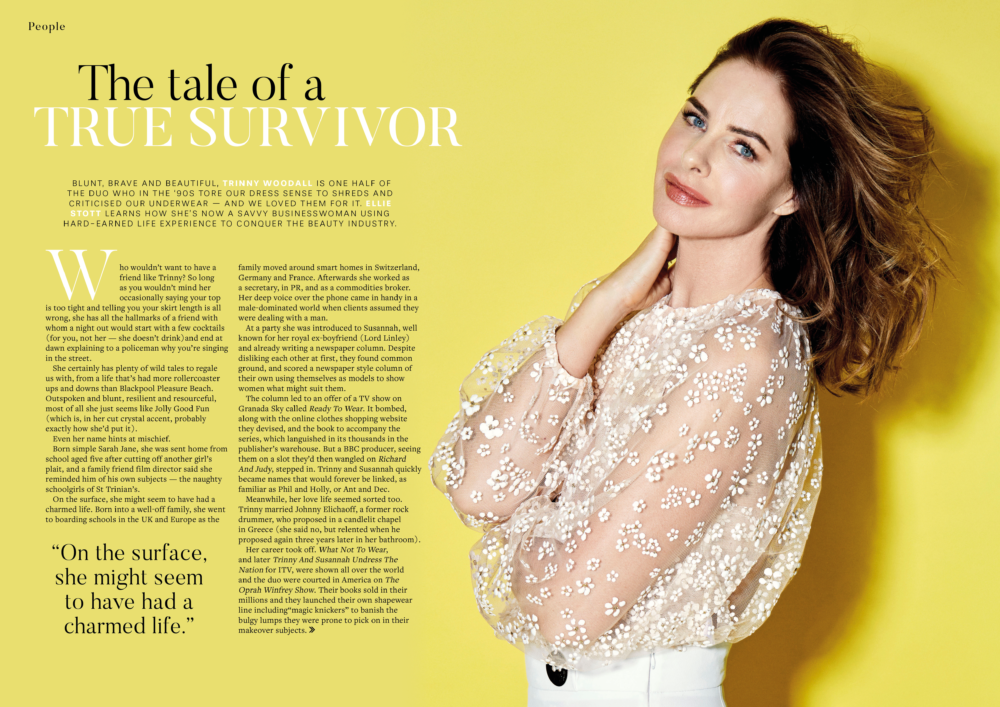 Blunt, brave and beautiful, Trinny Woodall opens up about becoming a savvy businesswoman and how she used her hard-earned experience in on-screen styling to begin conquering the beauty industry.
Stories from amazing women like you are what motivate us to stay strong and passionate when times are tough. More than one third of NHS workers are 50 and above — many of whom were called back to the frontline amidst the coronavirus outbreak. Gemma Calvert speaks to some of the women who have braved everything to re-join the NHS and save lives.
Health
Use our health pages to get back on track with resilience, strength and calm. We have expert mental health advice that will help you continue to live by the power of joy and hope. Our six steps to self-care give you the essential coping mechanisms you need for when the going gets tough.
Beauty Get glowing with Caroline Hirons. Dry and dehydrated skin are common problems — especially when stuck in recycled air at home. The beauty guru and This Morning expert guides you through her favourite products and shares some useful skincare tricks.
Homes & Gardens
"It is important to sit back in your outdoor space and enjoy all of your efforts. Make time to sit outside, be at one with nature and relish a joyful June." Join BBC Gardner's World presenter, Mark Lane, in his mission to create stylish and impactful gardens this summer. "Florence Nightingale once said fresh air was the best cure — fresh air and the feeling of life going on. Watching the butterflies and bees and birds taking a bath in the central basin is beautifully therapeutic." Jekka McVicar talks about her award-winning landscape designs and why she is known as the Queen of Herbs.
Great reads
"He's retiring and I'm dreading it." When your partner retires, you'll have a lot more time together… which sounds like a good thing, until it's not. Siski Green explores post-retirement and "too much togetherness" syndrome. Expect some good laughs and interesting perspectives. Have you ever considered the mood-altering power of the moon? In this issue, we look at self-care from a new-age perspective. Alison Graves explores whether we should be basking the beam of the moon… or if this trendy phenomenon is just a touch of lunar lunacy.
Join Platinum's reader panel to help shape and influence content within your magazine. Want every issue delivered to your door? Subscribe today and get a FREE Prai Beauty Firm & Lift night cream on us.