Sue Lee is founder of vintage-inspired independent studio, Pennychoo, and has designed a special card for our frontline NHS heroes.
It's easy to feel helpless and frustrated while coronavirus changes around us. Pennychoo's founder, Sue Lee, wanted to do something to help. She chose to express her gratitude for NHS heroes in the best way she knows how — through art.
The result is an endearing, rainbow-coloured card featuring illustrations of the people that make up our NHS — all ages, genders and nationalities. Sue says:
"Our NHS heroes and care home champions come from all over the world, each as committed as the last. It was important that my illustration showed that.
"Pick a hospital and send a Pennychoo card to the ICU department — to the cleaners, or kitchen staff; the people on the front desk and those working remotely. How about a local GP surgery or pharmacy? Paramedics, or staff in a local care home? Every single person who keeps working is risking their life for us — they're all heroes, so let's tell them."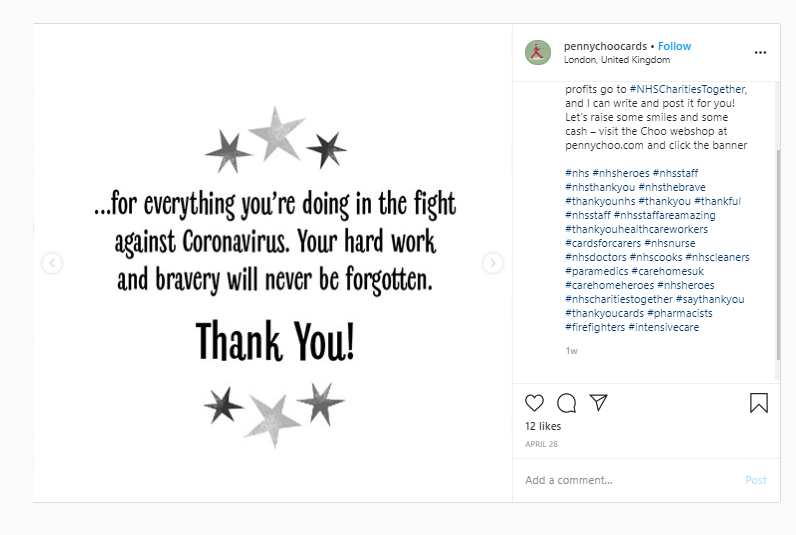 If you're stuck for what to say, the message inside reads "…for everything you're doing in the fight against Coronavirus. Your hard work and bravery will never be forgotten. Thank You!"
A wonderful example of the things we can do to show gratitude and take care of one another through these tricky times. Would you like to send one of your own? The cards costs £2.50 with 100% of profits going to NHS charities. If you're self-isolating, the price of a first class stamp will be added at point of sale. Sue will then write and post the card on your behalf.
Find Pennychoo on Instagram and purchase your own, here.
Learn about our #TogetherWeCan campaign here and start empowering those around you to join forces and focus on life's best bits.