Premium pet food brand, Natural Instinct, has just launched Canine Fitness at Home — an online exercising series that keeps your furry friends fighting fit.
With dog walks limited to once a day, it has never been more important to ensure dogs are exercising and utilising their muscles. Founder of Flexipaw Fitness, Alison Pearce, has just launched easy-to-follow, effective and free workouts for pets.
"It's important to try to manage our dogs' physical and mental health during this time. Their routine has changed too," Alison reminds us. "Not getting the same level of exercise may result in hyperactivity, muscle loss, weight gain and with some dogs, compulsive or destructive behaviour."
The series of four videos will cater for all breeds, no matter the size or fitness level and the workouts will include circuit training, gym sessions and calming stretches.
Usual mentally stimulating behaviours such as running, digging, sniffing, playing and foraging are what keep your dog's mental health strong. It is easier to overfeed your pets when you're in each other's company all day every day, too — when their faces go all bug-eyed, it's difficult not to hand them a treat or three… But it's important we look after their health just as we would our own. Alison explains, "exercises at home will help to give your dog a routine, maintain your dog's weight and build muscle strength ready for when we can go back out on those long walks. Spending quality time with them in this way will build on your already strong bond and you'll find they will thrive from the 1-2-1 interaction."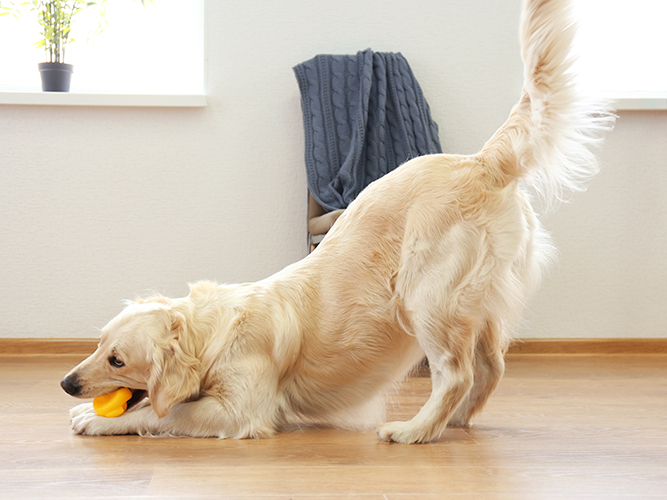 Games in the classes focus on brain and body exercises for your pup, but are great fun for you to do with them, too. They're available now, so jump on your laptop now and find Natural Instinct on YouTube and Facebook to take part.
Pet food brand, Natural Instinct team up with Flexipaw Fitness to provide home workouts for dogs. To view Natural Instinct's Canine Fitness at Home Series, simply visit the brand's Facebook.
We have plenty of other pieces to keep you and your dog entertained during this tense time. Try these tips on how to keep your pups happy at home.