Launching May 4th, the Hope & Bloom x Fearne Cotton collection is lighthearted and colourful. Delicate patterns and subtle hues of pink, yellow, green and blue are sure to bring joy to any room.
The Hope & Bloom collection embodies Fearne Cotton and her lighthearted and eclectic style with a blend of fresh colours and calming patterns.
Comprising five new wallpaper and fabric designs in an array of timeless colourways, Vintage Fearne, Hope & Bloom, Twiggy, Move & Flow and Pondering Peonies explore the blossoming and romantic beauty of wild spring florals.
Vintage Fearne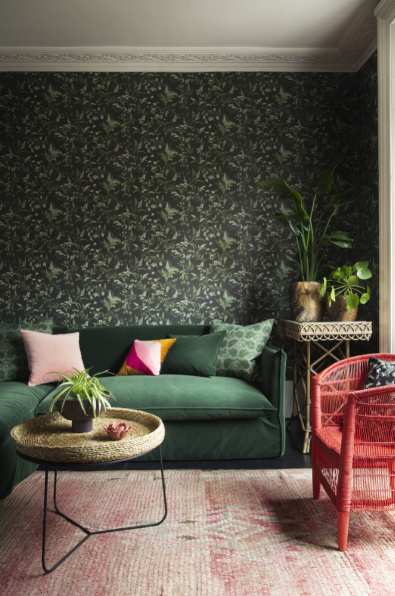 A refreshing take on fierce botanicals, this intricate fern design injects a burst of summer foliage into the home and evokes a fresh forest feel.
Available in six colourways — night sky black, dusky grey, dusky pink, duck egg blue, spring green and winter blue.
Fearne says, "I have a couple of beautiful fern tattoos, so wanted to incorporate the feel of those into this collection. Living so close to a big park, I love to watch the ferns change colour and shape throughout the year. I chose the varying colour palette to give each wallpaper a completely different feel and as a nod to the changing seasons."
---
Hope & Bloom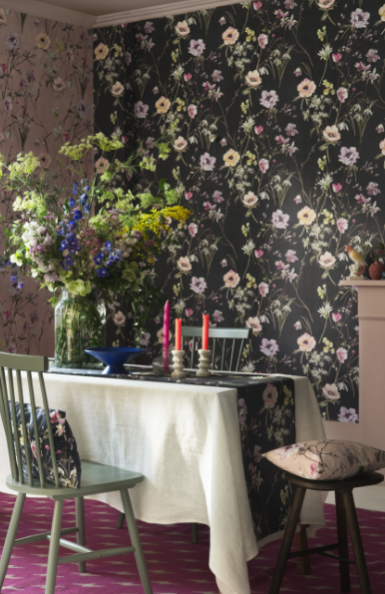 Chaotic and colourful, Hope & Bloom is inspired by the beauty of wild scattered flowers.
Showcasing a variety of fresh florals bursting with romantic colour, this design illustrates spring in all its glory.
Available in seven colourways: navy, cream, evergreen, sunny yellow, dusky grey, dusky pink and vintage brown.
Fearne says, "I adore this vibrant print. It leaps off the page with bold colour and shifting florals. I love how all the shapes work together — a jumbled mass of meadow flowers fighting for space. I can't wait to adorn my hallways with this design so I can feel hopeful every time I walk in the door."
---
Move & Flow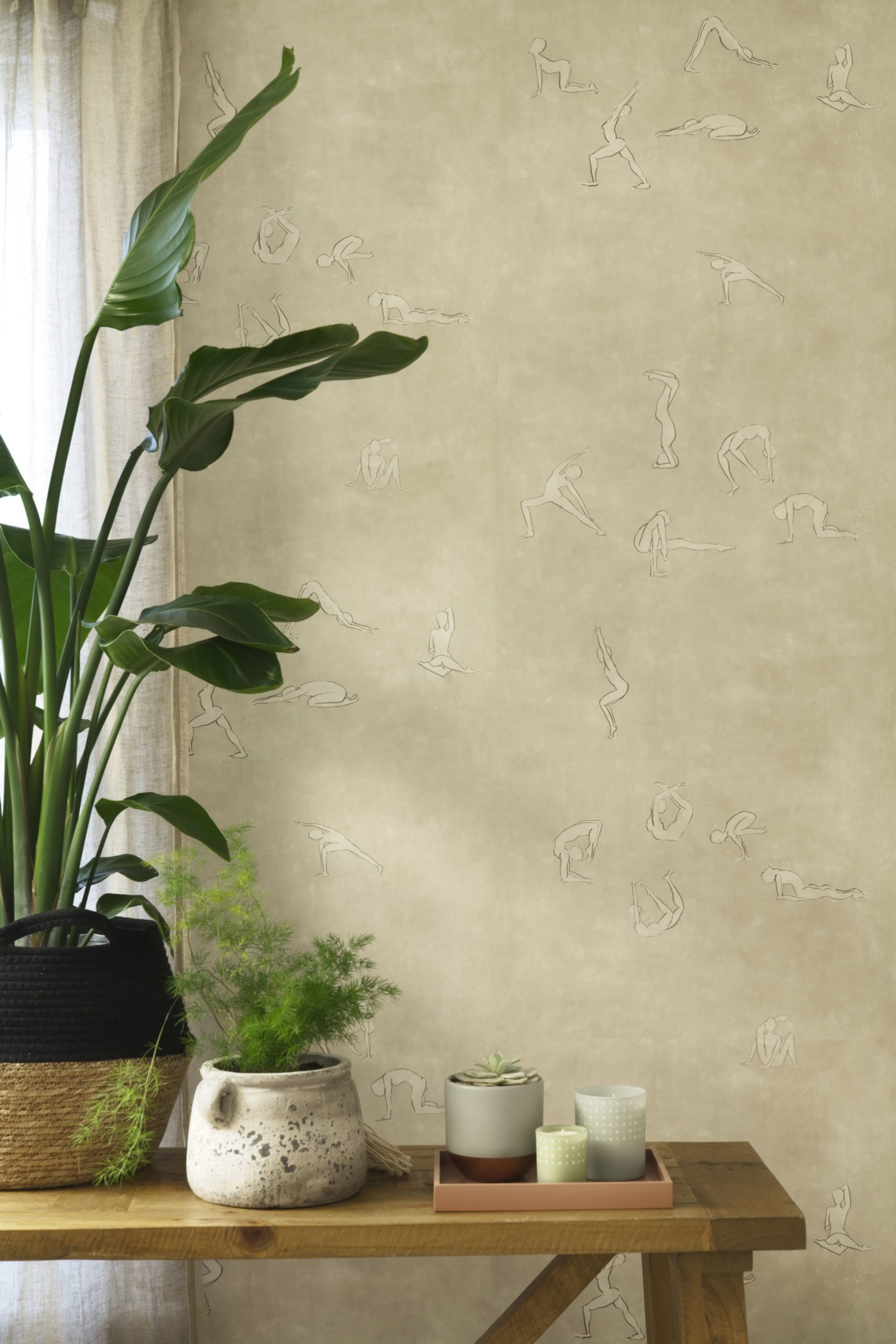 Relaxing and fluid, Move & Flow is a calming pattern consisting of sketched yoga poses scattered randomly throughout the design. Available in blush and cream colour palettes.
Fearne says, "With a huge love of movement and stretching, I wanted to incorporate some of my favourite moves into this design. Using a water paint pen, I used simple lines to create these figures moving and flowing across the paper — it's unique and fun."
---
Pondering peonies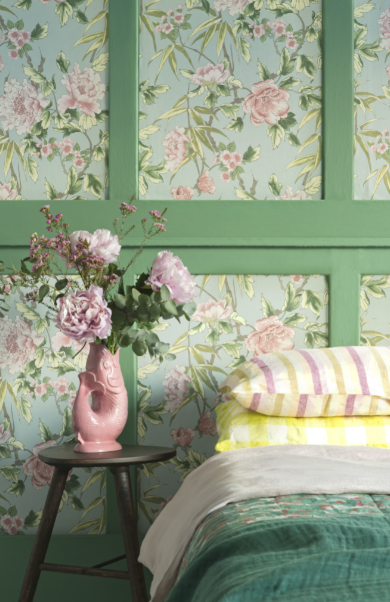 This kitsch design is inspired by Fearne's favourite flower, the peony.
Bold and elegant, with a twist of retro '70s, this unique design has an element of 'granny punk' that will bring a touch of floral fun to any home.
Available in six colourways: dusky pink, duck egg, cream,  evergreen, tangerine and navy, and sunny yellow.
Fearne says, "Peonies are my favourite flowers. They're so big and sumptuous and get prettier the more in bloom they are. I love the bold shapes and fearlessness of this design. It boasts vintage glamour and will add decadence and joy to any space."
---
Twiggy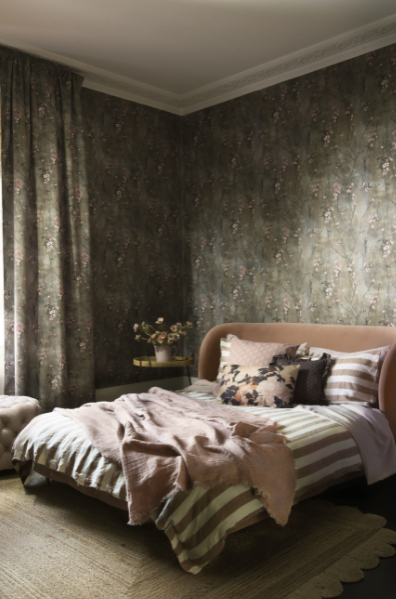 Delicate and minimalist, this intricate hand-painted design is inspired by the colours found in nature and the calming warmth of Fearne Cotton's favourite time of year: spring.
Twiggy is a subtle and sophisticated take on bringing the outdoors in. Available in six colourways: burnt orange and blush, vintage brown and blush, evergreen, pale blue, pink on cream, and dusky grey and cream
Fearne says, "Inspired by spring and the first signs of warmth and hope, the Twiggy design combines the softness of blossom with the delicate shape of the twigs."
Subscribe to Platinum today and get every issue delivered to your door. Or find your local stockist, here. Be sure to have a look at our beauty and style archives for more inspiration.