Facemasks can act like the saviour of any skin woe — simply put them on and you'll feel relaxed and hydrated in minutes.
Now more than ever, it's important to do small things to keep the feeling of normality and routine ongoing. Whilst the coronavirus has halted normal life, there are acts we can do to feel like our everyday selves — like taking care of our skin.
Experts have said keeping a feeling of routine is paramount during these unprecedented times. What's more, staying inside for longer periods of time can have a knock-on effect to our skin — not to mention the effect of anxiety, depression and other mental health conditions. Dirty keyboards, home cleaning, less oxygenation and artificial light can all cause issues.
Some may see skincare as a trivial thing in the grand scheme of things — but how we look is firmly fixed to our identity, helping with a sense of self and confidence. What's more, you can care about larger issues whilst also caring about skincare. That's one of the fantastic things about being human — we're complex beings. And for some, a skincare routine is the small pocket of time they have to themselves to help relax, which can help reduce stress.
Here, you'll find easy-to-create DIY facemasks at home to create a spa-like experience. From glowing skin to fighting pollution, these masks have got you covered. And if you're looking for something more, we have masks from brands we love below too.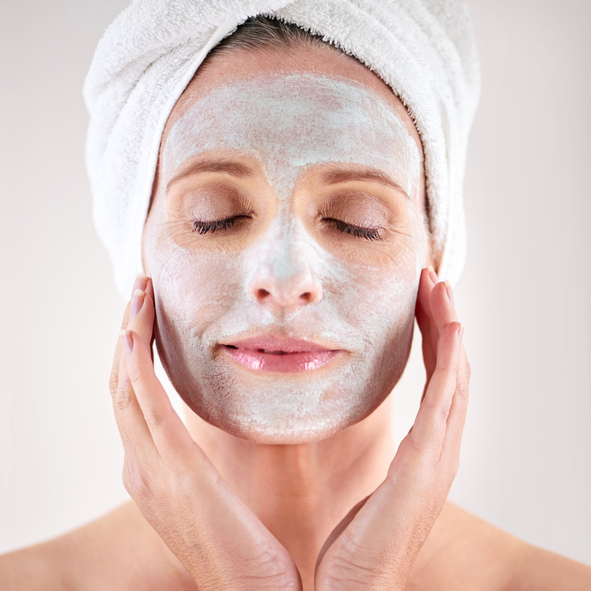 For glowing skin:
Ingredients:
1 tbsp cacao powder
1/4 papaya flesh
Squeeze of aloe vera
Directions:
Mix all ingredients together, apply to clean, dry skin and leave for 10 minutes.
Wipe off with cotton pads or tissue and rinse any excess.
For hydrated skin:
Ingredients:
1/2 avocado
1 tbsp honey
Handful of oats
Directions:
Mash avocado and mix all ingredients together.
Apply to clean dry skin and leave on for 15 minutes max, avoiding eye area.
Wash off with warm water and moisturise as usual.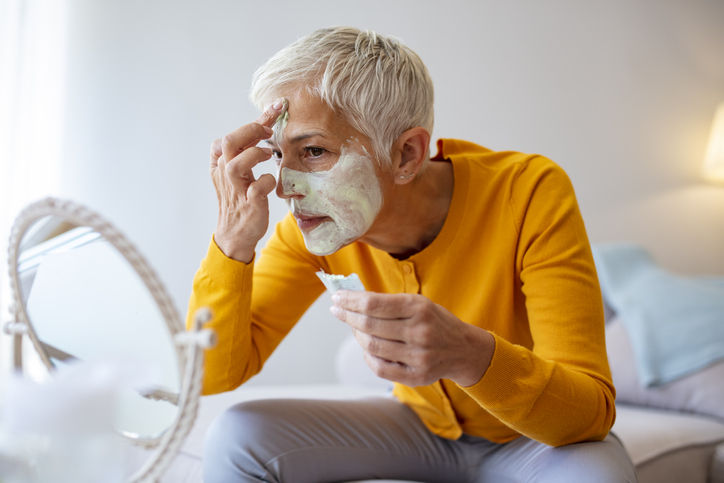 For brightening skin:
Ingredients:
1 tbsp natural, plain yoghurt
1 tbsp honey
1 tbsp turmeric powder
Directions:
Mix all ingredients together and apply to clean, dry skin.
Leave for 10 to 15 minutes, wash off and moisturise as usual.
For fighting the effects of pollution:
Ingredients:
Handful of ground almonds
2 tbsp. olive oil
1tsp. Matcha green tea powder
Directions:
Mix together ingredients and leave on clean skin for up to 10 minutes.
Before rinsing off with warm water, massage the facemask into skin to exfoliate dead cells and remove everything that might be clogging the pores.
Shop your facemasks
This peeling solution mask is simple to use with incredible result. Using AHA and BHA acids to exfoliate skin to reveal a brighter, glowing complexion in just ten minutes at an affordable price. Use on a clean face and slowly build up your tolerance. For those with sensitive skin, this might not be for you due to the ingredient properties.
This mask is luxury at its finest — the buttery soft balm helps boost radiance, gradually reduce the appearance of imperfections whilst increasing cell turnover for that sought-after glow. It also smells divine — we just wish OSKIA did this scent in a candle!
We know you're busy — so that's why we love this mask that does all the hard work whilst you sleep. Soothing away signs of fatigue whilst restoring elasticity and suppleness thanks for Fresh's black tea complex. Perfect for those who suffer from dry skin, looking for a hydration boost.
Looking to decongest our skin and wipe away imperfections? Then this is for you. It helps smooth out your skin whilst minimising pores, for a more glowing complexion.
For more skincare tips, find them with Platinum.