Everything you need to know about the Platinum giveaway and how to enter.
Here's a chance to WIN products from Hada Labo Tokyo – the UK face of Japan's top selling skincare brand, which delivers multi-layer hydration to give skin back its youthful plumpness and glow.
Hada Labo has long been beloved of beauty insiders, who have imported the products direct from Japan. But now, it has been reborn as Hada Labo Tokyo and presented with packaging and formulations designed for the EU market.
Hada Labo Tokyo is offering FOUR lucky Platinum readers the chance to win a set of four products worth more than £65.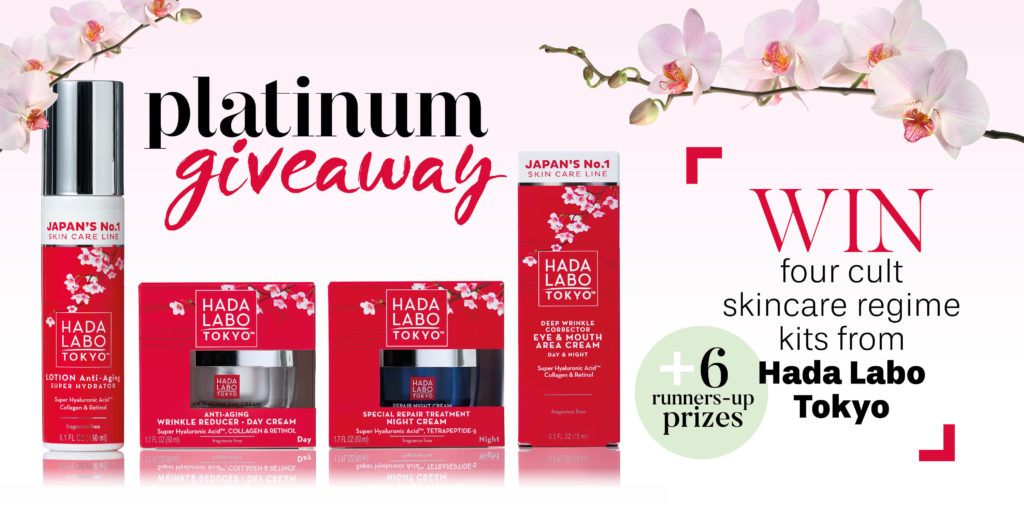 Winners will receive Super Hydrator Anti-Ageing Lotion, the Anti-Ageing Wrinkle Reducer Day Cream and the Deep Wrinkle Corrector Eye & Mouth Area Cream. All with Super Hyaluronic Acid, collagen and retinol. And the Special Repair Treatment Night Cream with Super Hyaluronic Acid and Tetrapeptides.
What's more, six runners-up will receive a bottle of Super Hydrator Anti-Ageing Lotion, worth from £17.45.
Hada Labo Tokyo is available on Amazon and at Superdrug in-store and online.
Hada Labo Tokyo uses different types of hyaluronic acid* — there are four in the Super Hydrator Lotion — to ensure that the molecules, which can retain up to 2,000 times their weight in water, don't just work on the skin surface, but deeper into the skin.
The two lotions are just part of the Hada Labo Tokyo range now on sale in Superdrug stores and online at www.superdrug.com — and at £17.45 for a generous 150ml bottle these hydrating heroes are not just effective, they are also very affordable. A bottle of Super Hydrator Lotion sells in Japan every two seconds!
Follow each step for your chance to WIN
– Like and comment on our Facebook or Instagram post, telling us what product you can't wait to try first.
– Tag three friends on the post you think will love the range
– Share the post and tag us so we can see!
Winners MUST be following Platinum Magazine on social accounts and the winner will be randomly selected then contacted on 15th July 2020. UK Only. Competition closes July 10th at 12pm. Go go go ✨
For full competition T&Cs, visit platinum-mag.co.uk/competition-terms-and-conditions
#PlatinumMagGiveaway #getthelaboglow
Find out more about keeping skin looking, healthy, plump and glowing at https://www.gettheglowuk.com/
*Hyaluronic acid occurs naturally in the body, but as we get older, the quality and amount of HA we produce diminishes and one of the results can be dehydrated-looking skin. But the multi-layer hydration technology used in Hada Labo Tokyo products, along with advanced formulations, can help skin regain a more youthful-looking glow.