These stylish sequin dresses will add a touch of sparkle to a long winter.
We regularly receive messages from readers who find sequins a daunting prospect. Lots of ladies are worried that a sequin dress is confined to the wardrobes of Generation Z. In actual fact anyone can wear sequins regardless of body type, or age. We've some top tips on how to nail the look and a round up of some of our favourite dresses in the shops now.
Choose the cut of your sequin dress carefully
Some women are worried that a sequin dress can be unflattering. However, a V-shaped neckline elongates the body making you appear taller and slimmer. A wrap-style dress is universally flattering as it cinches in the waist and disguises tummies.
Pare down your beauty look
A sequin dress is a showstopper so pare down your beauty routine and let the sparkle be the focus. Instead try to play up one feature – eyes or lips.
Go nude
Well not literally! But a shoe in a similar tone to your skin is the perfect accompaniment to a sequin dress as it will lengthen your legs. A simple strappy sandal, or a plain court shoe will have a similar effect.
Consider your skin-tone
If you have a warm skin-tone gold colours will suit you. If you have a cooler skin tone silver metallic colours work well, meanwhile blush and nude coloured metallics tend to suit all skin-tones.
Opt for minimal accessories
A simple chain or bracelet is the perfect accessory for your look. Anything too big, bright and bold can be overwhelming. Really you don't need accessories if you are wearing sequins.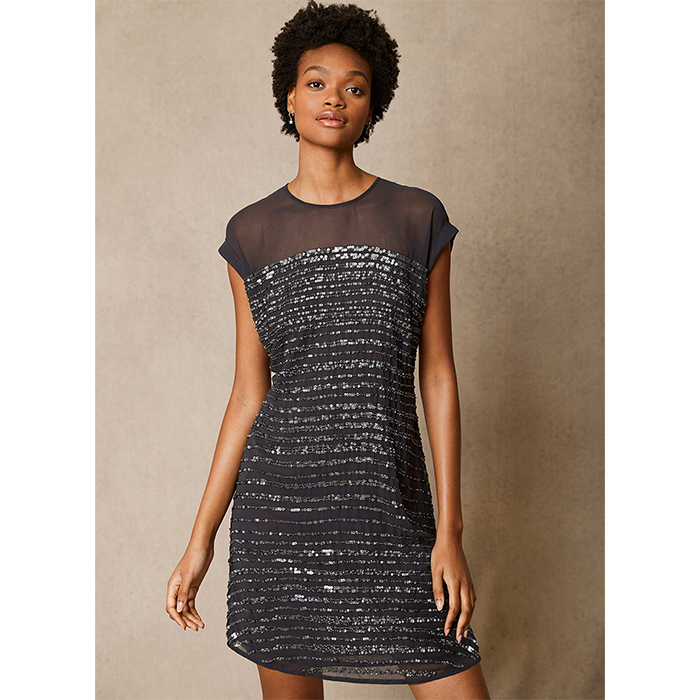 For more style tips click here.