It's been the lockdown trend with no sign of stopping. Louise Ramsay speaks to Dottie Monaghan on how to crusade through the journey of going grey.
To dye or not to dye? It's the question so many of us ask ourselves when those grey hairs start to shine through.
During the past six months, lots of us have been staying in at home longer than before. Months without a hairdresser appointment may have spurned you to grow out your greys, or maybe you're standing on the proverbial edge, wondering 'is it worth it?'
There's no denying that growing out greys takes patience, especially when we're talking about growing out from the roots. For some of us, growing our greys might be an all over process from root to tip. For others, it could be more salt and pepper look or specific parts of the hair coming through grey, like streaks.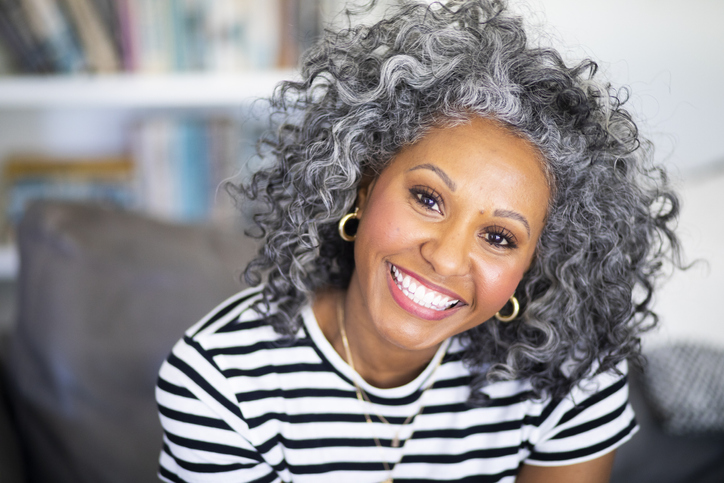 Platinum's resident beauty and hair expert Dottie Monaghan says, "I personally find all hair colour interesting. We need to stop thinking of grey hair as being a negative stage, or as being any different in any way to other tones and colours we may have had in the past.
"I have been lucky as my hair is now going grey but mostly at the temples, causing it to look as though I have two stripes. But I'm enjoying how it's looking at the moment and am happy to see how it develops. If at any stage I feel it's not how I want to look, then I will have a rethink much the same as I have always done — not because I feel pressured into hiding my grey hair."
You wouldn't be alone with your grey hair.
On Instagram #greyhair has more than 2.3m tags and the #greyhairmovement is growing day by day. The actress Jane Fonda debuted her grey hair at the 2020 Oscars at 82-years-old — and her stylist, when told, thought she was joking. At 82! Whilst the term 'silver fox' hasn't yet translated over to women, there's no denying the incredible grey hair revolution is getting bigger and bigger. But where do you start?
Dottie Monaghan has some tips for that tricky in-between stage. "Making the decision to let your hair show the natural beauty of being grey is a very personal and individual decision," she says. "Whether you plan to grow coloured hair out or to let it grow naturally grey from the start, make a plan.
"After all no one wants to spend six months hating their hair while they move on to the next stage. Plan ahead as to how you will approach this — perhaps chat with your hair stylist and set out a start, middle and end. It will help you visualise each stage and anticipate different looks."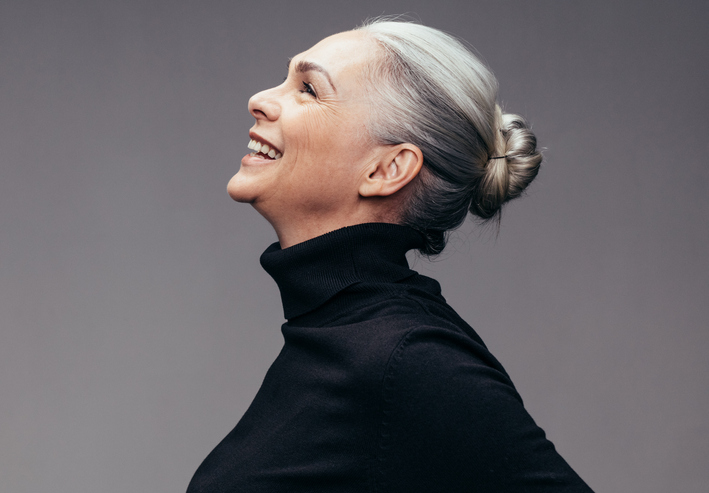 The first step is typically growing out your roots, but this doesn't have to make a 'badger' effect. Try a colour correction. A colour correction isn't just for a bad dye job — you can have a colour correction done to try match your hair closer to your greys, easing the transition process. Then, it's a road of highlights if you're looking to blend the hair, rather than go full grey in one sitting.
Dottie says, "Low-lights are a great way to blend in the grey if you're growing out coloured hair and avoid the harsh line. Not all hair products will work together in harmony, so before you try and do a home colour, check it is comparable with the one you already use.
"Depending on your hair colour, if you have low lights put though the grey area of hair stick to a similar tone. This way, it will look more gradual and natural. Have less put in every time you have them done and result in it taking longer to go completely grey, but it will give a more natural look."
You may find your grey highlights look a little brassy from time to time, as the highlighted areas of your hair may start to turn yellow because the grey toner washes out. Dottie advises, "Grey hair can take on pollution from the environment, it can become yellowish or look dull. There are lots of products on the market to strip out the pollution and shampoos, or rinses which will tone or brighten the hair. But be careful if using a purple shampoo, as this can also leave a purple stain."
Grey hair can also involve a new haircare routine. "Some grey hair can become coarse, in which case you will need to apply a more intense conditioner. However, in other times your grey hair can become very soft and fine, which will be in need of a volumising shampoo," Dottie says.
Like many things, attitude is everything to pulling off a new look. If you've been feeling a tug on your shoulder or looking for a sign, believe this to be it. Go grey and proudly so! It's a sign of ageing but when is that ever a negative thing? At Platinum, we know you're ageing in style — so why not let grey hair be a part of that?