It's the centre of your living room, so you want to get it right. Dulux share their expert advice on choosing a sofa colour.
Choosing a sofa is a key part of decorating any living room, especially now we spend more time at home — working, relaxing and socialising. Buying a sofa is one of the biggest investments in a new home, and it will likely become the centrepiece of the room.
The experts at Dulux share their top tips when it comes to picking a sofa colour to get the best out of the big decision.
Sofa colour combinations: a general rule of thumb
The sofa colour should work with and complement the overall interior décor of the room. The main two options are a neutral or an accent sofa colour.
Neutral colours are a popular choice for sofas as they're easy to match up with a range of palettes. So they're practical for future renovations and change of overall colour scheme.
A grey sofa, like this one by French Connection for DFS, the sofa partner of Dulux, fits perfectly with the warm tones of reds, pinks or oranges. Featured below is Soft Stone, a warm neutral with delicate pink undertones.
4 ways with sofa colours
Warm neutrals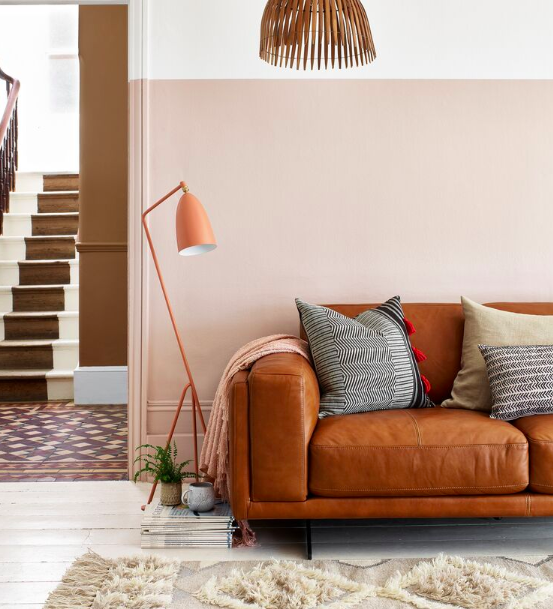 Warm amber and golden tones give the living space a sense of laidback positivity. A tan leather sofa paired with warm neutrals such as Dulux Just Walnut and Dulux Soft Stone can be a great way to achieve a warm, cosy feel. For an extra snug atmosphere in the winter months, we recommend accessorising with oversized cushions, casual throws and a shaggy carpet.
Tranquil Hues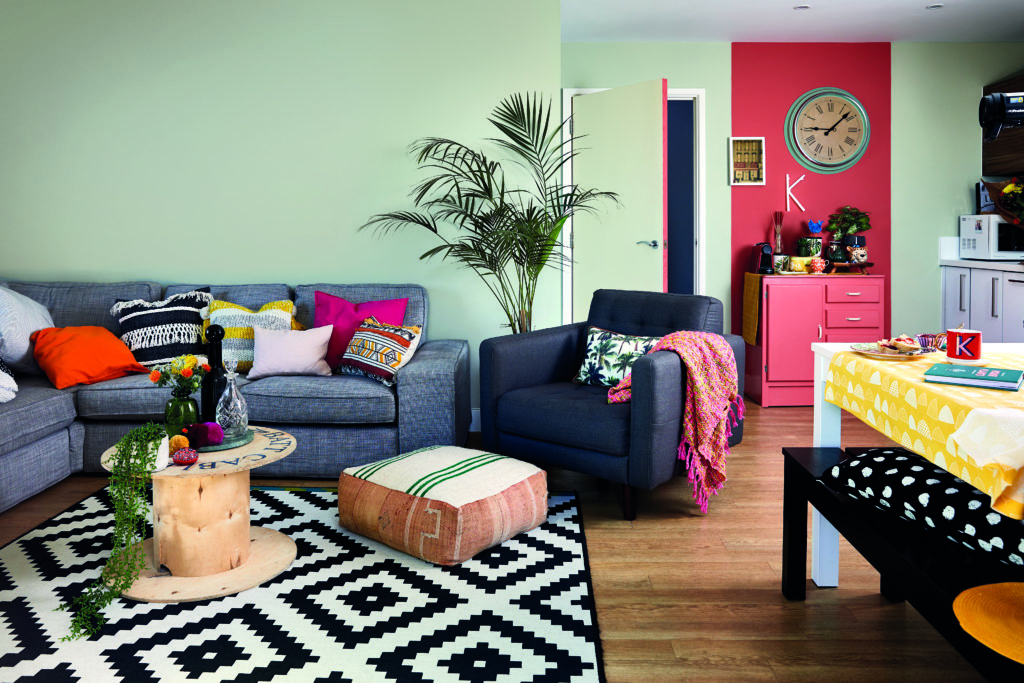 Our homes need to work for us and offer peace and tranquillity. Calming natural colours such as Dulux Colour of the Year 2020, Tranquil Dawn, work well for a peaceful setting in flats or houses on a busy street so the hectic vibe stays outside.
The natural green hue pairs well with a neutral grey sofa which leaves room for multiple colour accents through accessories. Perfect for those who like updating often.
Beige canvas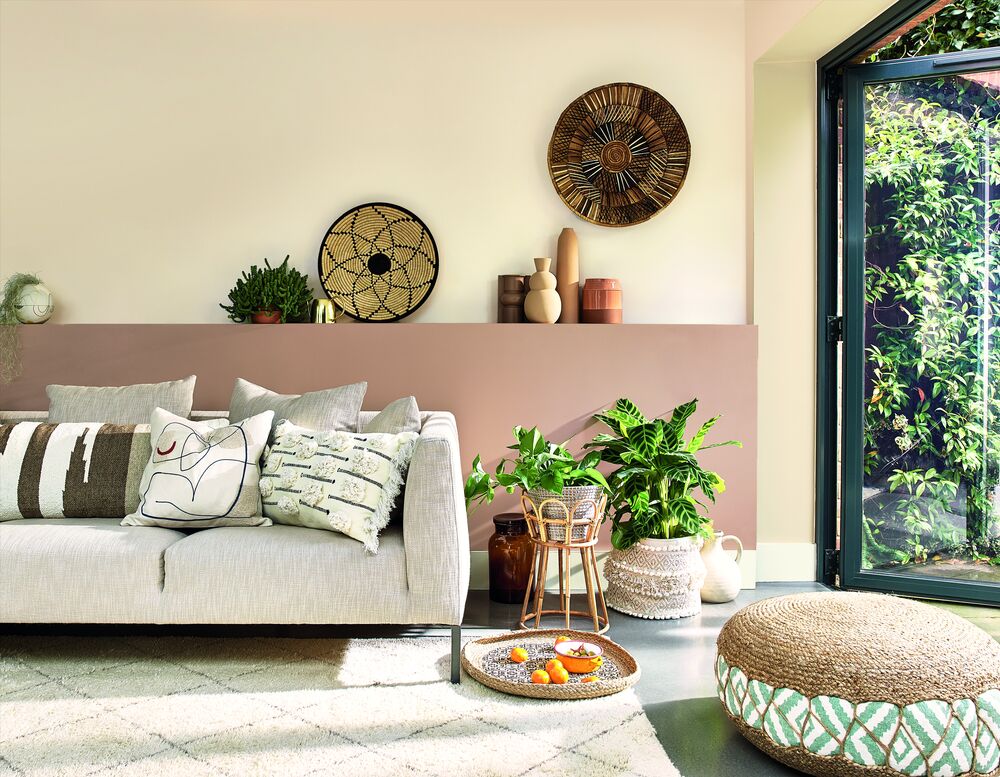 Who says beige has to mean boring and ordinary? Playing with different shades like Dulux Summer Linen and Dulux Cookie Dough, with a bit of greenery added to the mix works magic for creating a modern, boho vibe. A simple square-sided sofa in a neutral grey ties the palette together, offering the perfect backdrop for treasured belongings and beautiful artwork.
A pop of colour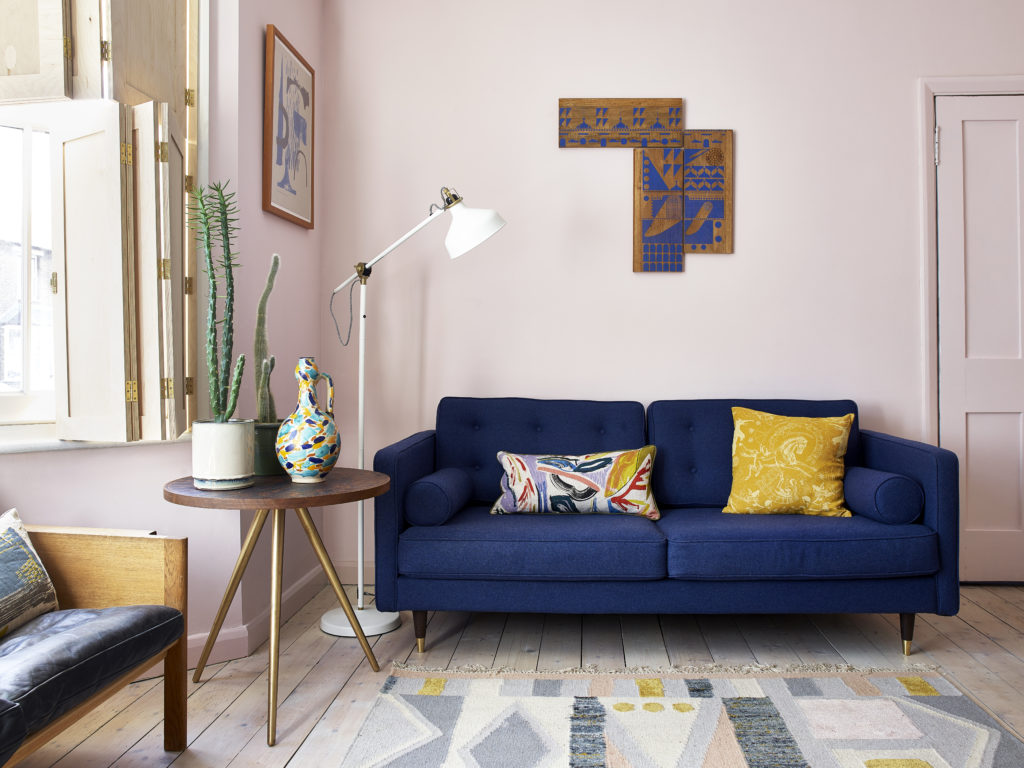 Choosing a sofa colour is a chance to add a pop of colour to an otherwise neutral or minimalistic room. A deep sapphire sofa can be the starting point for a room that feels understated yet colourful. A dusky pink on the walls such as Dulux Sicilian Summer 6 will soften the scene, allowing bright pops of colour with your accessories