The fourth episode of Changing Rooms saw Laurence Lewellyn Bowen transform Sarah's bedroom into an ultra-feminine space with stencilled wall panelling and a sumptuous pink headboard. This is how to paint your own chest of drawers, with a little help from the experts at Dulux.
By dropping in shades of dusky pink and icy pale blue with the syrupy tones on the wall, Laurence proved that just as Coca Cola makes an excellent mixer, so does the colour brown.
To complete the look, Laurence gave an old chest of drawers a new lease of life — transforming it into a showstopping feature.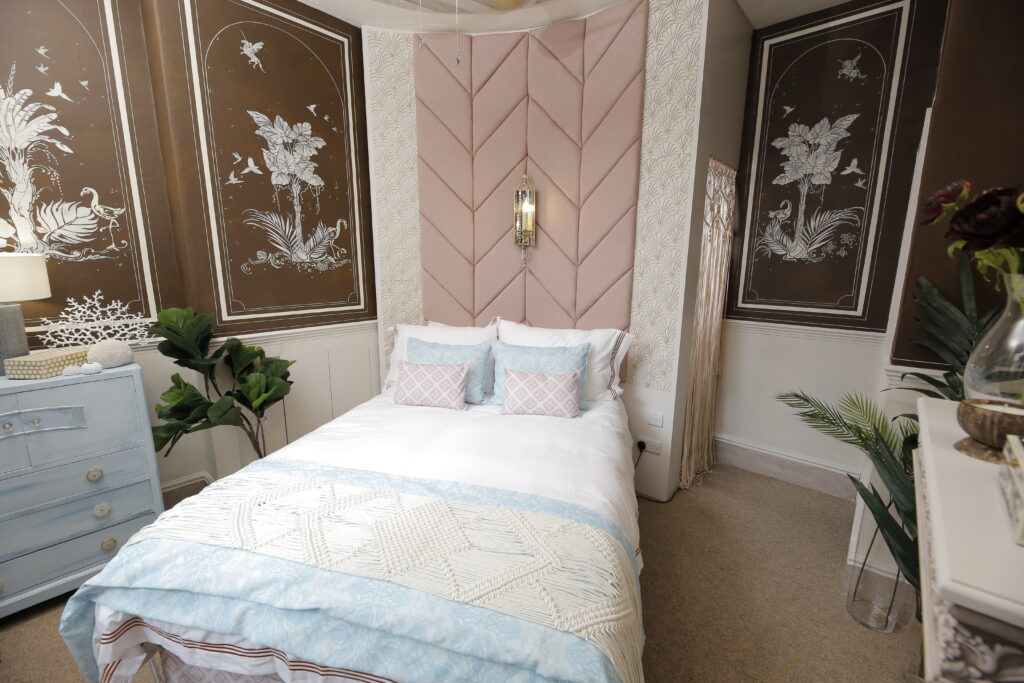 With just a couple of coats of paint, you too can upcycle your furniture. Not only is it a thrifty way of creating a new-look item, it means you're saving something that might otherwise have been thrown away — always a good feeling!
It's easy to feel daunted when it comes to painting furniture but, with the right paint to hand, it's much easier than you think. All it takes is some lovely colours, a little bit of elbow grease and a spare afternoon.
Colour scheme: Nordic Sky, Glacial Spring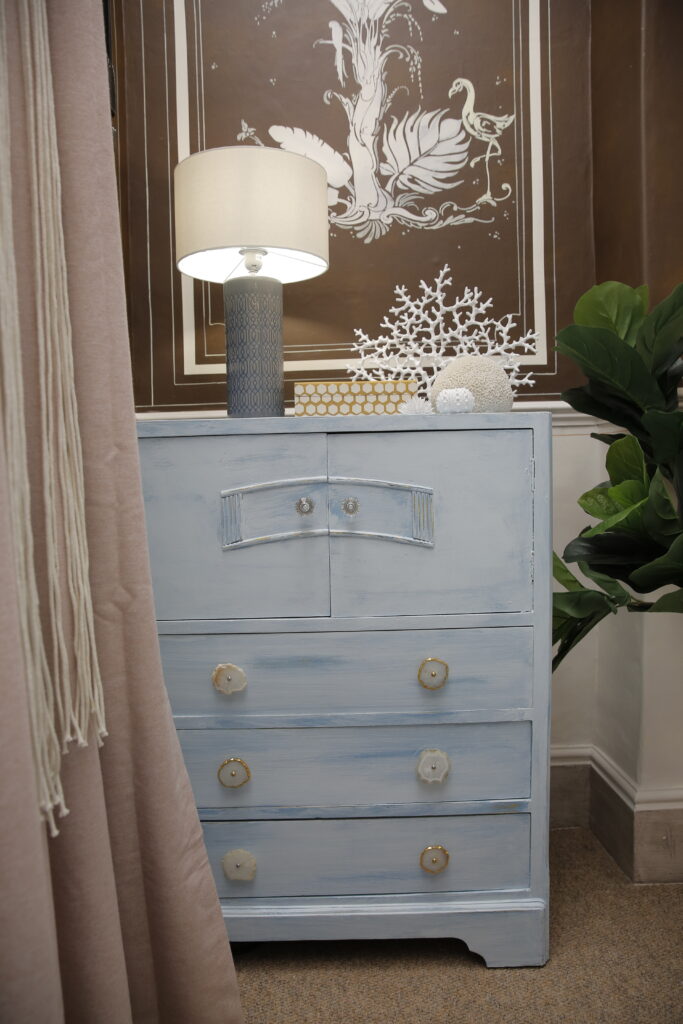 What you need
Primer (for bare wood or melamine furniture)
Paint in a dark and a lighter colour
Fine surface sandpaper
Sugar soap
Cean cloths
1 bucket of clean water
Rubber gloves
Dust brush
Vacuum cleaner
Small radiator roller with glossing sleeve
2 x 2" good quality acrylic brushes
1 litre plastic paint kettle
Mixing brush (round fitch)
Dust sheets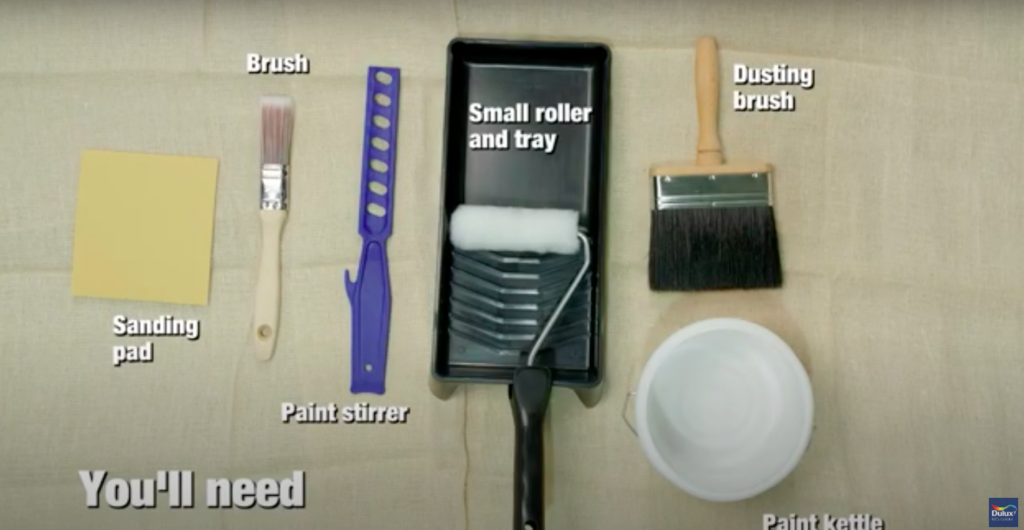 Prepare
Lay down the dust sheets.

Remove the knobs or handles from the chest drawers if they're not integral (put them in a jam jar for safekeeping)

If the surface of the furniture is very dirty or damaged, pop on your rubber gloves and clean it with sugar soap. Rinse well with water on a clean, damp rag, and allow to dry

Lightly sand the surface of the chest of drawers (body and drawer fronts), then remove dust with a dust brush (and vacuum cleaner)

If you're working with bare wood or melamine furniture, apply a primer undercoat, such as Dulux Primer For Difficult Surfaces. Leave to dry, lightly sand again and remove dust. If the furniture is already painted, it needs no undercoat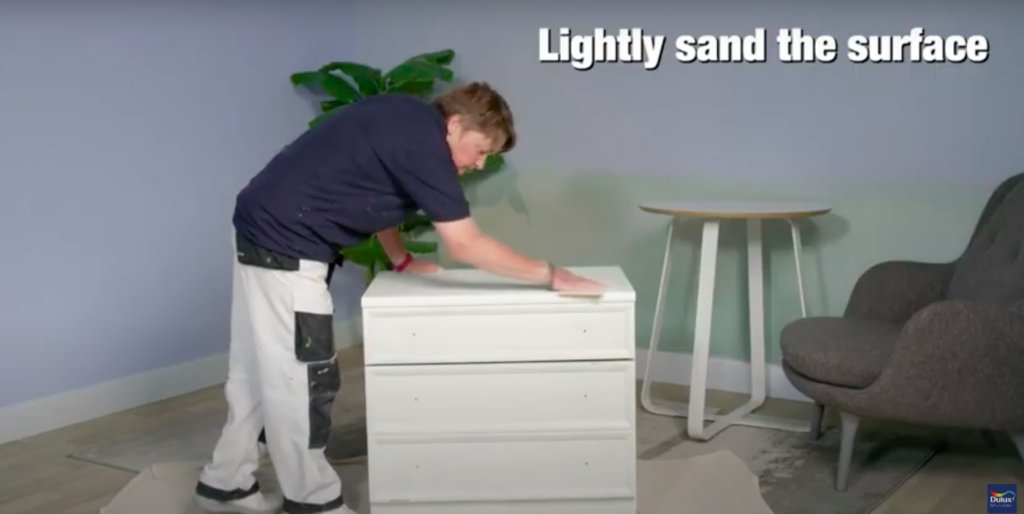 Paint
Stir your darker paint and paint the top and the sides of the chest, using a small glossing roller for flat surfaces and a brush for any fiddly bits and mouldings

Paint the drawer fronts. Leave the chest to dry

Pour your lighter paint into the paint kettle, stir and paint over the chest

While still wet, use a dusting brush to drag the surface, allowing the darker colour to show through slightly

Allow to dry, lightly sand and replace drawer knobs or handles

Ta-da!
Pro tip
Sand lightly and remove dust between coats for a perfect smooth finish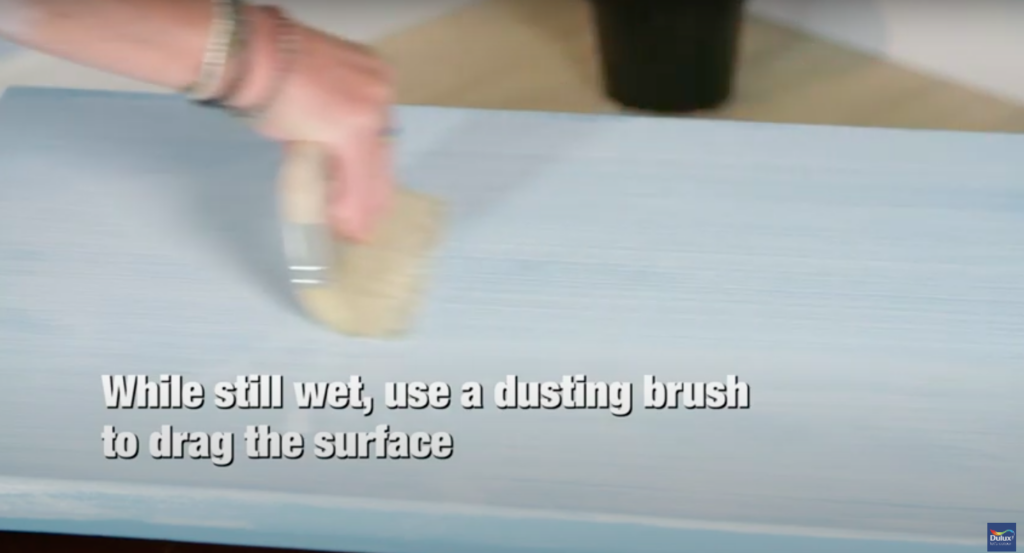 Try these video tutorials for more guidance on how to upcycle and reupholster your pre-loved furniture:
Changing Rooms continues next Wednesday at 8pm on Channel 4. Catch up on the series so far on All 4.