Adventurer Alice Morrison talks to Louise Ramsay about trekking through the Sahara desert and the resilience of the human spirit.
Close your eyes and imagine you are in the desert. Think of the miles and miles of sand, the heat on your face, the winds whipping around your hair and body. Are you walking, or travelling by camel? And are you picturing palm trees and an oasis in between the sand dunes? For explorer Alice Morrison, travelling across endless sand is her reality — and climate change is posing a threat.
Alice is a seasoned adventurer. In March, 2019, she was the first woman to walk the length of the Draa River in Morocco, an incredible 1500km distance. She ran the toughest foot race in the world, the Marathon des Sables, and has cycled from Cairo to Cape Town as part of the Tour D'Afrique. But her next challenge was more gruelling, as Alice and her team trekked across the Sahara in an attempt to record the effects of climate change.
"Desertification — where previously fertile land becomes desert — is one of the greatest environmental challenges of our time and climate change is making it worse," says Alice. The team has been following the Sahrawi people, who have been victims of the devastating effects of climate change, as land they used for farming became swallowed up by desert.
"I was walking across the Sahara Desert, which has been a desert for millennia. But even in deserts, you can usually find some water in some areas. I had three guides with me, and the guides and I had six camels. We were walking, so the camels were there to carry food and water. During the expedition, we were walking from well to well, but to put that into context, a well could be 200 kilometres away — which is a ten-day walk. We can't actually carry enough water for ten days. So we were trusting that the areas we were walking to would have some.
"That part of Sahara we were travelling in has completely dried out, so the nomads have had to adapt. Now, they truck their water in and store it in plastic bags that hold 60 metric tonnes of water — they're enormous.
"They would kindly give us water when we passed them. However we did get to the stage where we were very, very low. We were under constant water stress — we were doing a half marathon of distance every day, working hard, so it was stressful. Imagine not washing your hair for three weeks because your water level is low. Being limited by water is not something many of us ever have to experience, but it compounds the stress of surviving in a desert.
"What's more, the environment you're in is very hostile — there is no getting away from it. Nature is trying to kill us. The only way to survive is with the help of fellow humans. To share water, to help where you can. We wouldn't have been able to continue if we couldn't get the help of those nomads, as we would have been out of water.
"It shows the incredible ability of the human spirit to help out those in need."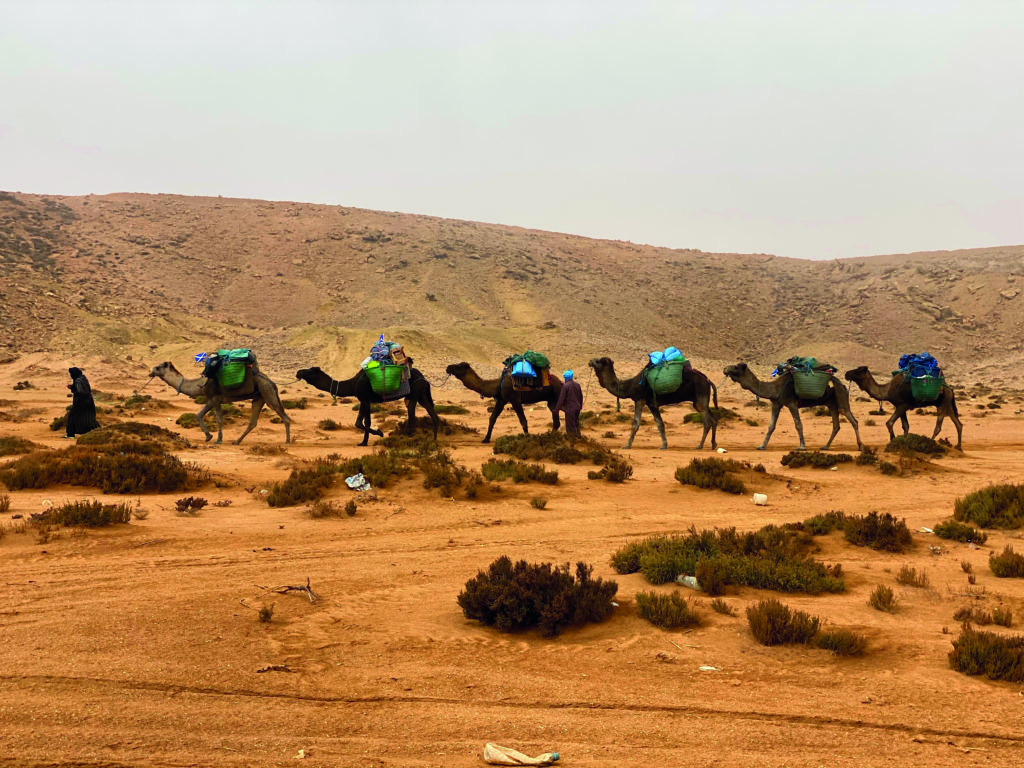 In the midst of these tough circumstances, where even basic necessities were few and far between, Alice did have some small pleasures to share.
"The middle of the trek was the hardest, but it was also my favourite. And it's because there is nobody or nothing there. There's no sign of life. The landscape is completely flat — it's like walking on top of the world. And you know you're one of the very few people who have ever done it. It might be that where your foot lands, you're the only person on the planet ever to have walked there. Isn't that incredible?" she laughs.
"Sweet tea is an amazing cure after battling sandstorms throughout the day. The sand whips your skin, gets in your clothes and your teeth and your body aches from the long treks. To know, as you battle through that experience, there is a hot cup of sweet tea at the end and a chance to relax is so comforting and warming. Setting up camp and being able to eat and even make conversation was a joy — talking through sandstorms is impossible!"
Adventurer Alice is no stranger to challenges or pushing her body, and mind, to the limit as her previous challenges attest. But for this journey, it was about much more.
"I chose to do the trek, as I wanted to walk across the Sahara and test myself in one of the toughest environments on Earth. And what's more, I wanted to see first-hand the effects of climate disturbance on the environment.
"The Sahara is the biggest hot desert in the world, covering 11 countries in Africa. And it's grown by 10% in the last 100 years. While this may not sound like much, it's massive. And what I saw is that everything is dried out, even for a desert, and I wanted to see how the people who live there are adapting to these new challenges."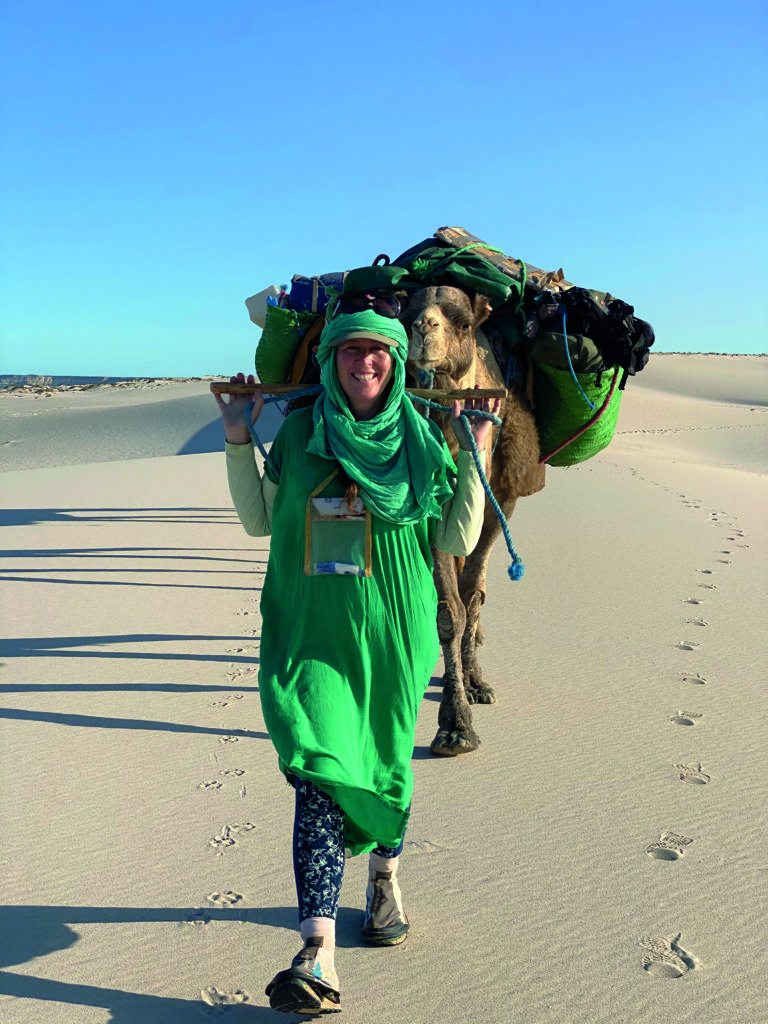 You can also see Alice sharing her explorations on TV — she has previously worked with the BBC on a travel docu-series. "The shows the BBC produce are fantastic," she enthuses. "When I did my show, I felt completely supported to do that in the best possible way. It was the most interesting, the most true. We teamed up with an amazing director and cameraman for the series. Being able to share my expertise in Morocco, where I live, as well as my knowledge and ability to speak Arabic for the TV show was fantastic.
"The magic of travel shows is that you're able to share with people your travels and discover new things. You're able to communicate your love for a place of your own knowledge and take people with you on an incredible journey, where they're inspired to do their own thing or learn about a new culture."
Regarding her next challenge, Alice is optimistic and determined to see it through.
"The future? There's so many things I want to do. I'd love to try and get to know the real people of Saudi Arabia, and the country. There are so many fantastic people we don't know about and I would be interested to explore there. There are more dreams, places I'd love to visit, but at the current moment that isn't possible. I travelled to Syria before the current situation and it was this beautiful, amazing country with the most incredible treasures. Maybe one day I'll return. But who knows."
Alice was once described as 'Indiana Jones for girls', a nod to her history as an adventurer. So it's probably fair to say adventure is part of her DNA. Six weeks after her birth in Edinburgh, Alice and her parents, Jim and Fredi, boarded a ship and set sail for Africa. Until she was eight, she got to explore the African bush and roam the foothills of Uganda's Mountains of the Moon.
That incredible thirst for adventure has clearly never left her. Alice shares her expertise on BBC iPlayer in Morocco To Timbuktu.
You can subscribe to Platinum here.