In honour of Blue's 50th anniversary, Joni Mitchell has released a collection of previously unreleased outtakes and demos from the album.
As declared by Emma Thompson in Love Actually, she's the singer who taught women how to feel with her raw, beautiful and intense songs of love and loss.
And now, Joni Mitchell's esteemed alum Blue celebrates its 50th anniversary, in all of its angst-filled glory. No other album showcases more vulnerable and tender than Blue which includes the masterpieces California, River and A Case of You. Here, she details the depths of her twenty-something life, filled with heartache and soul-stirring decisions.
First released in 1971, it placed Mitchell on the path to become one of the most significant musicians of her generation. And now Joni Mitchell's Blue is considered one of the greatest albums ever created, sitting toward the top of both the Rolling Stone's and Pitchfork's best albums list.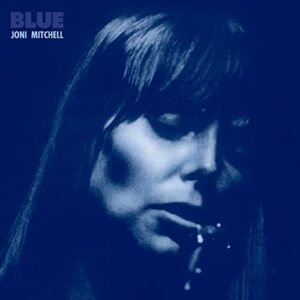 And for its 50th anniversary, she has released a collection of previously unreleased outtakes and demos from the album. Dubbed Blue 50 EP, it will be included on Joni Mitchell Archives Vol. 2: The Reprise Years (1968-1971), which charts the years leading up to Blue and will include a full a full 1968 Ottawa coffee house performance recorded by Jimi Hendrix and a 1970 BBC concert featuring James Taylor. We can't wait for its release when it arrives in October via Rhino Records.
Blue is an album of many things and one is love — and the loss that it can bring.
Once asked what love really is by the The Guardian, Mitchell replied, "I just occasionally would fall into it, or thought I did. I'd have a strong, palpitating attraction to somebody; that's what I called love, I guess.
"It's still the same. I make the same mistake over and over again, and I'm just a fool for love. I've loved quite a few people, and by that I mean I really feel happy in their company.
"That's pretty much it — the joy of someone's company. That's what I call love."
Image credit: Instagram