Captain Sir Tom Moore went viral last year after raising £32 million for the NHS by walking 100 laps of his garden in the lead up to his 100th birthday.
For those of you who don't know, Captain Sir Tom Moore, popularly known as Captain Tom, was a British Army officer, philanthropist and centenarian known for his achievements raising money for charity during the Covid-19 pandemic.
The centenarian had been battling pneumonia for some time, but passed away after contracting coronavirus last week.
In April 2020 at the very beginning of national lockdowns, the then 99-year-old accepted a challenge from his family — to raise £1,000 for the NHS and affiliated charities by walking 100 laps of his garden.
In his first ever interview, he predicted that, "one small soul like me won't make much difference."
Since then, he has been titled a national treasure and a hero. Captain Tom received personal greetings from the prime minister, as well as an RAF flypast in his 100th year and a GQ magazine cover.
The veteran was knighted last July by the Queen at Windsor Castle for his achievements. Fully suited and booted he attended the ceremony with a zimmer frame in hand, wearing his army medals with pride — it's no wonder he captured the hearts of millions.
A very unique occasion, Buckingham Palace said it was the first time the ceremony had been held in the strictly socially-distanced format. "Her Majesty very much enjoyed meeting Captain Sir Tom and his family at Windsor last year," said a statement.
"Her thoughts, and those of the Royal Family, are with them, recognising the inspiration he provided for the whole nation and others across the world."
Some of our favourite stars have taken to social media to express their condolences, too. Of Captain Tom's death, Ruth Langsford said, "What an incredible man you were. A shining light in a very dark time."
Carol Vorderman said, "You gave us smiles and joy and pride in all generations."
Even the White House took to Twitter to show their appreciation for the centenarian, saying, "We join the United Kingdom and the world in honouring the memory of Captain Sir Tom Moore."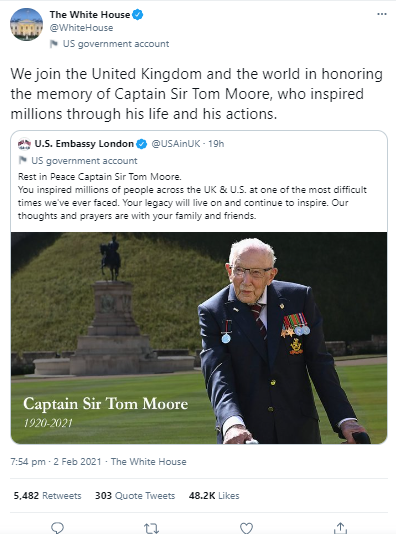 In a statement, his daughters Hannah and Lucy said, "It is with great sadness that we announce the death of our dear father, Captain Sir Tom Moore.
"We are so grateful that we were with him during the last hours of his life; Hannah, Benjie and Georgia by his bedside and Lucy on FaceTime. We spent hours chatting to him, reminiscing about our childhood and our wonderful mother. We shared laughter and tears together.
"The last year of our father's life was nothing short of remarkable. He was rejuvenated and experienced things he'd only ever dreamed of."
Captain Tom's positivity, motivation and uplifting nature reached people all over the world, his triumphs proving that even in the most trying of times, it is possible to find your light and use it to help others. A notion that we'd do well to remember every once in a while.