A book full of ideas, quotes and acts of kindness to bring you a little spark of joy on those more difficult days.
Ali Catterall is an award-winning journalist, filmmaker and editor, who has written for the Guardian, Time Out and GQ, among others. Ali recently witnessed the ultimate act of kindness when he found his birth father after 50 years and was welcomed into his family with open arms.
Kitty Collins (not her real name) works in publishing. In her spare time, Kitty loves to read, watch movies and reality TV and devour all things pop culture. While going through treatment for cancer this year, Kitty has seen true acts of kindness from family and friends as they stepped up to support her.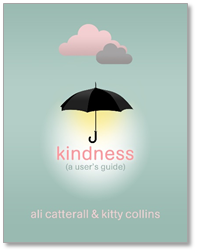 In the introduction to their uplifting book, the co-authors say, "Kindness is free, readily available, instantly drawn at source. The key to unlocking the answer to the question "how to be kind" is beautifully, maddeningly, gloriously Zen. 
"It is to truly understand that kindness is attained by being kind — habitually, graciously and without expectation of reward. And then we might really start to rebuild a better and more compassionate world."
This is a book full of inspirational ideas, quotes and stories of acts of kindness at a time when we need it most. These empowering acts will inspire you to make a real difference to your life and the lives of others. 
Inside you'll find 52 stories, one for every week of the year, about famous — and not so famous — acts of kindness, from Jacinda Ardern's empathetic leadership during the Covid-19 pandemic and Marcus Rashford's determination to support underprivileged children to other real-life stories about George Michael, Princess Diana, The Sex Pistols and more.
There are also suggestions for acts of kindness that you can carry out yourself with advice from people like Kamala Harris, Beyonce and RuPaul.
As Dolly Parton says, "If you see someone without a smile today, give 'em yours."
Out July 8th | Hardback | £7.99 
Join Platinum's reader panel to help shape and influence content within your magazine. Sign up to our newsletter for weekly updates on all things Platinum. Want every issue delivered to your door? Subscribe today.