Keen to start (or return to) running but not sure how to get going? Hannah Ebelthite has the lowdown on taking your first steps — and why it's so good for your health.
Running is fun, free and a fantastic way to get fit. You can do it anytime, anywhere, inside and out, whatever the weather. Physical or mental health issues, disability, age, size or fitness level needn't be a barrier — yet the idea of joining the 7.1 million Brits who regularly enjoy this form of exercise can feel pretty daunting.
Perhaps you've run in the past, but gotten out of the habit, or lost your conditioning and your confidence. Maybe you attempt to jog, but can't seem to get far. Or perhaps you'd love to try but worry you're too unfit, too heavy or have left it too late to start? Whatever your story, rest assured, you can become a runner.
The health benefits
Running can help you to lose weight, shape up and increase your cardiovascular fitness. It lowers resting heart rate and blood pressure, reducing your risk of heart attack and stroke — important because our cardiovascular disease risk increases as our oestrogen levels decline. Regular exercise can lower risk of type 2 diabetes and some cancers (including breast cancer), too.
Running boosts metabolism by creating lean muscle mass — something else that naturally wanes with age — so you'll look slimmer and be firmer and more toned all over. And because it's a weight-bearing exercise (unlike swimming or cycling), it protects and increases bone density, reducing risk of osteoporosis. By improving balance and co-ordination, your risk of falls in later life is lowered.
Regular runners will tell you it boosts their energy levels and helps them to sleep better. For some, it's known to help manage ongoing menopausal symptoms like fluctuating energy and hot flushes and can even be useful for digestion. And if you have existing conditions such as osteoarthritis, osteopenia, joint or back pain, running is often not just possible, but helpful, too — just be sure to get the OK from your doctor.
As for the mental health benefits? That 'runner's high' is no myth. It releases feelgood endorphins that make you happier — even euphoric. Studies show that running and similar forms of exercise can be as effective as antidepressants and talking therapies for mild to moderate depression and anxiety — and those effects are boosted if you do it outdoors, in nature. According to the charity Women in Sport, taking part in sport and trying new activities like running can help women of menopausal and post-menopausal age redefine themselves and feel part of something through a time of change in their life.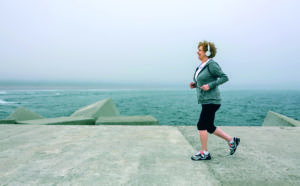 What you'll need
There's no need to splash out on fancy trainers, but if you're going to stick with running, it's worth visiting a specialised running shop (such as Sweatshop or Runner's Need). Staff can assess your gait and select a pair that offers the right cushioning and support for your running style, terrain, mileage and budget.
Your only other must-have is a good, high-impact sports bra. Even the most flat-chested women can damage the Cooper's ligaments that support the breasts by running without one — leading to pain during and after running. You can run in any clothes you find comfortable, but most runners favour sportswear in technical fabrics that wick sweat away and keep you cool and dry.
When it comes to gadgets, a simple stopwatch can track your time as you start out (or use your phone). Many activity trackers can be synced to GPS apps that also log your route, mileage, pace and heart rate.
If you really get the bug, you might like to invest in a running-specific GPS sports watch.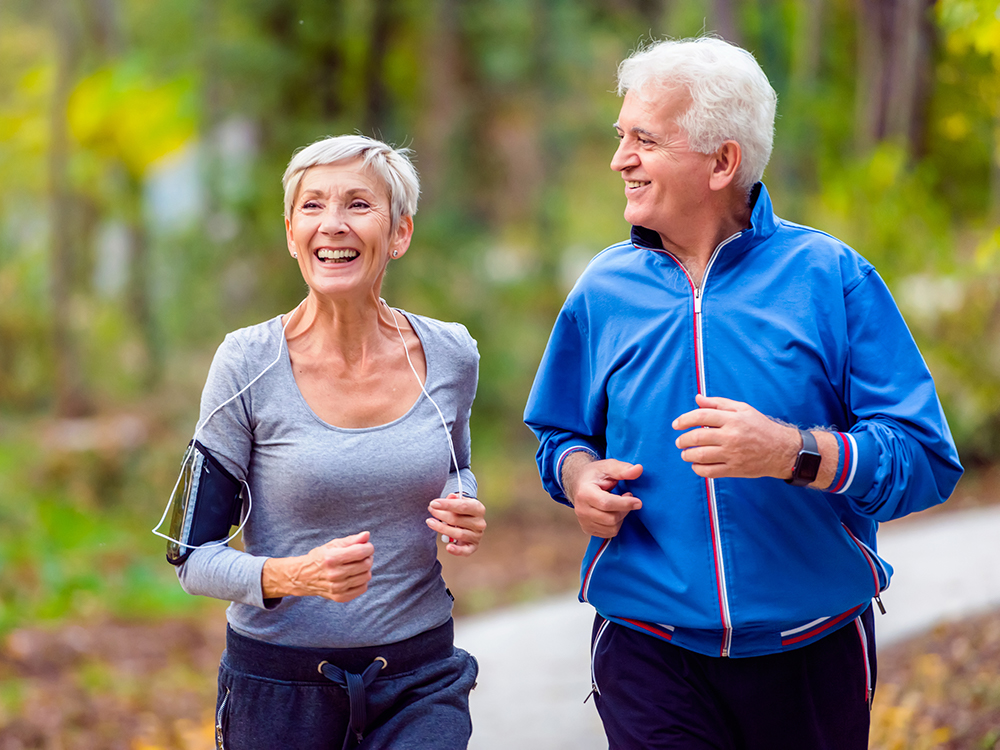 First steps
Running is a high-impact sport and it's easy to overdo it at first and get injured, which will put you off. Consider yoga to aid your running. It can lead to less run-induced injuries, boost flexibility, aid better performance and help you to develop stronger abdominal and lower back muscles.
Running coaches and fitness trainers alike recommend starting with a run-walk programme — even if you already consider yourself fit from other sports like cycling or swimming.
There are plenty online, in books, apps or podcasts you can download (such as nhs.uk/livewell/c25k), which progress you safely over 8-10 weeks until you can run for 30 minutes or 5km without stopping.
Safety precautions include taking your phone when you run and carrying some form of ID. Choose well-populated, well-lit routes, and tell someone where you're going. Vary your routes and make sure to run facing oncoming traffic.
Making it a habit
Studies show the more enjoyable an activity is, the more likely you are to stick with it. Running with others is a brilliant way to make it sociable and safe. There are lots of ways to do this, from getting together with like-minded friends to joining a club or Run Together group (runtogether.co.uk), usually for a very reasonable fee.
Your local running shop may run a couch-to-5K course or be able to recommend clubs nearby. It's not just about the company — you'll be able to learn from coaches and more experienced runners, discover new routes and do specific training sessions, designed to improve technique, strength, pace and distance.
Another brilliant resource is Parkrun, a global community meeting every Saturday morning in hundreds of parks around the UK and further afield, to run (or walk) a timed 5km route. It's not a race, but your time is logged so you can strive to beat it if you like. Visit parkrun.org.uk to register for free and find your nearest event.
Above all, congratulate yourself after every single run for doing something incredible for your health and wellbeing. Yes, it can feel hard at first, but stick with it and you'll be amazed as your fitness — and even happiness — soars.