From revolutionary beauty and skincare company Reverse Life comes the new anti-ageing miracle, Reverse Life collagen.
A natural berry flavoured liquid supplement that provides a 10,000mg dose of hydrolysed marine collagen per 25ml serving. Plus a selection of essential vitamins and a high quality hyaluronic acid to pack a skin-saving punch. Designed to keep skin and connective tissues plump and elastic so that the results really show on your skin. Collagen works to bind skin cells together and a lack of it in our dermis can result in loss of elasticity and lines and wrinkles, but sadly our natural stores of collagen begin to reduce from as early as our thirties.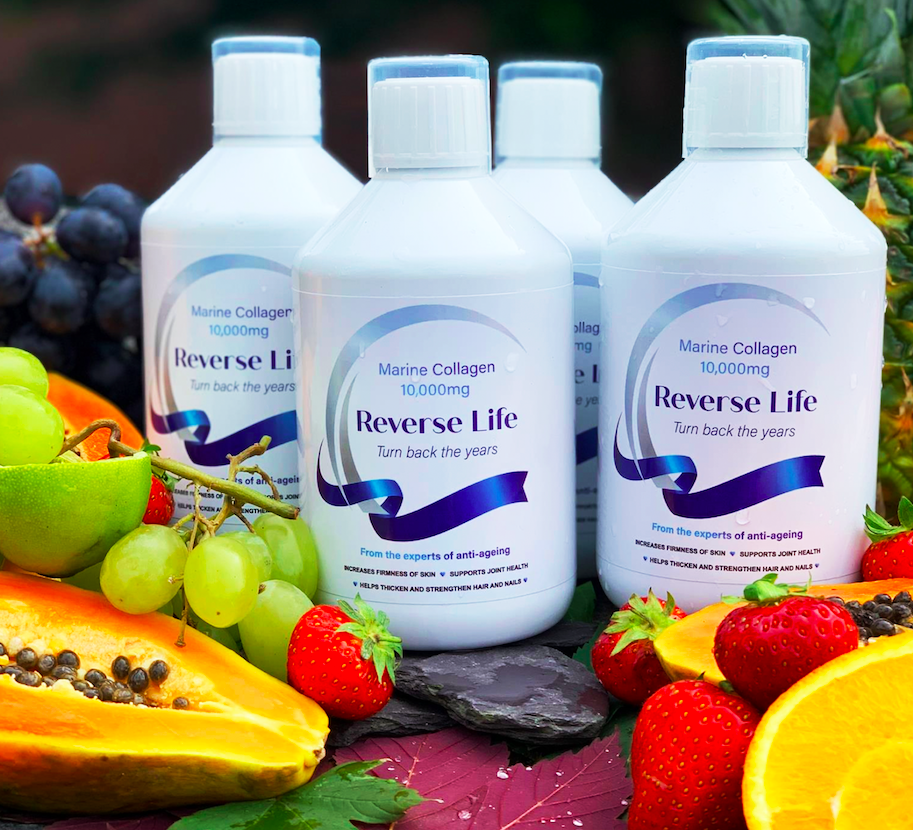 Regular intake of high-quality collagen – which is full of important amino acids – can also provide other benefits such as improved digestion, mobility, increased wound healing and hair growth.
Reverse Life Collagen has been created and tested in a Swedish laboratory, is approved by the Swedish Health Authority and meets EU quality standards. The non-GMO formulation includes only natural fruit flavours and colours and is free from gluten, yeast, soya, nuts, eggs, wheat and sugar.
---
25ml daily for optimal effect and to see results after 14 days.
Reverse Life Collagen is available to buy from www.reverselife.co.uk. Follow @reverselife_ on Instagram for information, offers and advice.
---
Words from women who have tried and tested.
Claire, 51
After just 10 days of taking Reverse Life I noticed that my skin felt thicker and plumper. And after two weeks, the lines under my eyes and around my mouth had softened a lot. I am now three weeks in and
really can't believe the difference it has made.
Sonia, 80
I have been taking Reverse Life for the past three months and have seen a marked improvement on several levels. I am no longer in severe pain from my rheumatoid arthritis. I can move around more easily. My nails – which have always been a problem – are healthier and my nurse tells me that my skin has improved dramatically. 12 months ago, I had a bad fall and the wound refused to heal but I've noticed since taking this collagen that the wound on my leg has started to make an improvement. I am so pleased and will continue to take this indefinitely.
Gina, 60
For the past eight weeks, I have been taking Reverse Life and have started to see an improvement in the fine lines on my face and a big improvement of the condition of my hair. Hair loss has been a great concern of mine now that I am 60 years old and don't have the thick hair I once had. But I'm very impressed with the thickness and condition of it now. Taking Reverse Life Collagen is now one of my main priorities because I am so pleased with the results.
Subscribe to Platinum today and get every issue delivered to your door. Or find your local stockist, here.