We are strong believers in loving the skin you're in, but it's always good to strive for optimum health. Almased give you guidance on how to use their No.1* meal replacement to maintain a healthy metabolism after numerous lockdowns.
Investing in your health and wellbeing, and losing a few lockdown pounds, could be easier than you think with Germany's number one meal replacement for healthy, sustainable weight loss.
Trying new trends and weight loss products can be a risky business, so stick to sources you can trust. Almased is a safe and scientifically sound way to mix up your diet, recalibrate your immune system and boost energy after lockdowns.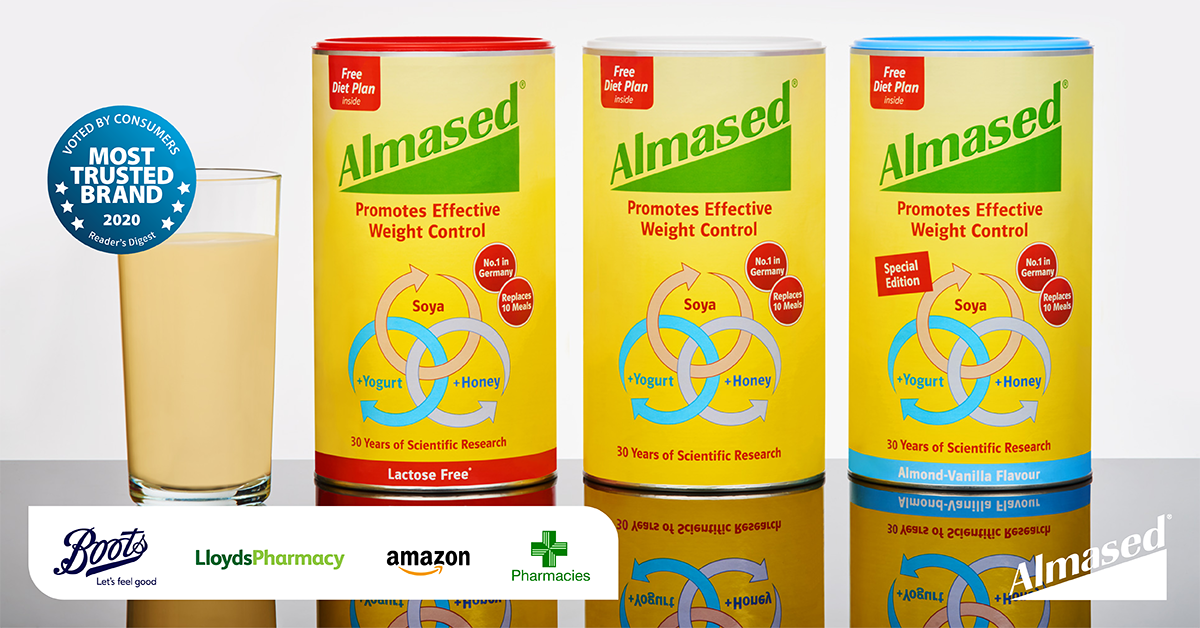 Here's your meal replacement lowdown.
What is Almased?
Voted 'Most Trusted Weight Loss Brand, 2020' by Readers Digest consumers, it's the ideal formula for effective weight loss, permanent weight maintenance or supporting your general wellbeing.
Almased is supported by more than 30 years scientific research and trusted by millions of healthy customers worldwide.
What's in it?
Almased is a high-protein, calorie-controlled meal made with a natural, fermented blend of three high-quality ingredients; non-GMO soya, premium yogurt and enzyme-rich honey.
The health and immune-boosting product also contains important nutrients, essential amino acids and enzymes for easy digestion. Almased is packed full of antioxidants and essential vitamins and minerals to support a healthy immune system1 for everyday health.
'Almased Original' and the special edition 'Almond-Vanilla' contains 100% natural flavours working with more hunger-beating protein than any other meal replacement in the UK.
What about my dietary requirements?
Almased is also gluten-free, non-GMO, vegetarian and highly beneficial for those with Diabetes due to its low glycaemic index and exceptionally low glycaemic load.
In keeping with the wholesome and clean nature of the brand, Almased is free from fillers, unnatural flavours, preservatives or stimulants and contains only naturally occurring sugars, so customers can be assured that the body is receiving the highest quality nourishment throughout the weight loss process.
It's all about balance
Incorporating Almased into a balanced diet will kick-start your return to healthy eating, support healthy weight loss and long-term weight maintenance. It's easy to prepare, nourishing and perfect for any lifestyle.
Almased can be used to replace any daily meal but if you want to follow a regular eating pattern then Almased 14-Day Plan and Long-Term Plan Both can be tailored to help achieve any weight loss or wellbeing goal.
Full range includes: Almased Original, Almond-Vanilla, Single Servings, Lactose-Free, Shaker and Wellness Tea.
Can I trust it?
Today, over 30 years of extensive clinical testing has been conducted on the product. Past and present research has explored the effect Almased has on body weight2, satiety2, the retention of muscle mass3 and blood sugar management4.
These factors — particularly the retention of muscle — all influence metabolic activity and show the absolute effectiveness Almased has in achieving and maintaining weight loss in addition to its many other benefits.
The science behind it
Recent scientific studies have shown that when compared to a normal 2,000 calorie diet, Almased resulted in a greater number of calories being expended over 24 hours, increased fat burning and a greater amount of body fat loss5.
Such scientific achievements have resulted in Almased being published in leading global medical journals, such as the European Journal of Clinical Nutrition, The Journal of Human Nutrition and Dietetics and The American Journal of Clinical Nutrition. It's no wonder Almased is a number one selling product in weight loss!
A few words from happy customer, Olga Thomas in London.
"Almased is the only product that has helped me achieve my ideal weight in a healthy and natural way. Within three months of using Almased I had reached my target weight loss of one stone. Because of my work as a composer, I am frequently in the public eye.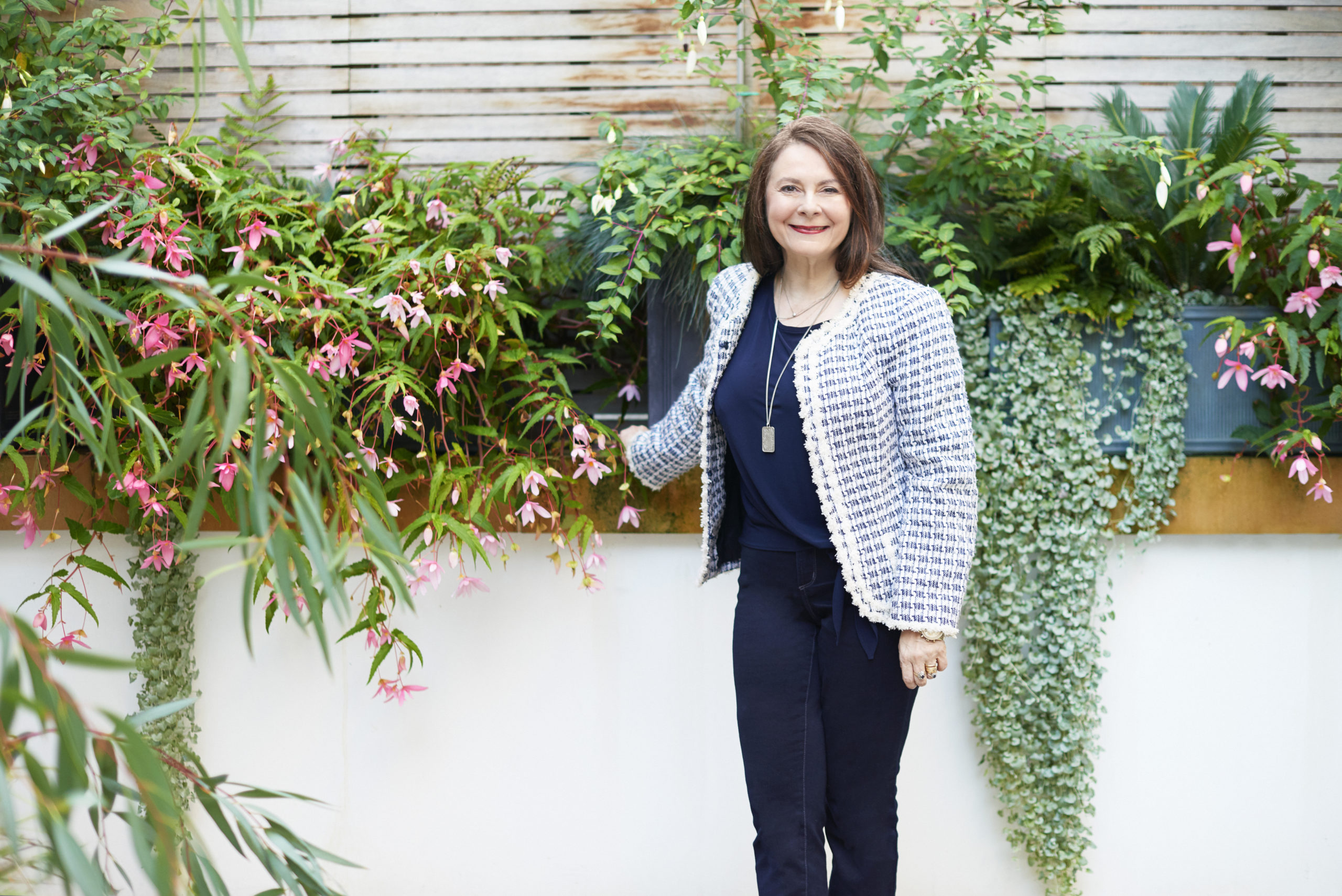 I find Almased fits perfectly into my busy work and social engagements and I continue to use it as a daily supplement to help maintain my healthy weight and general wellbeing. Almased is a truly remarkable product!"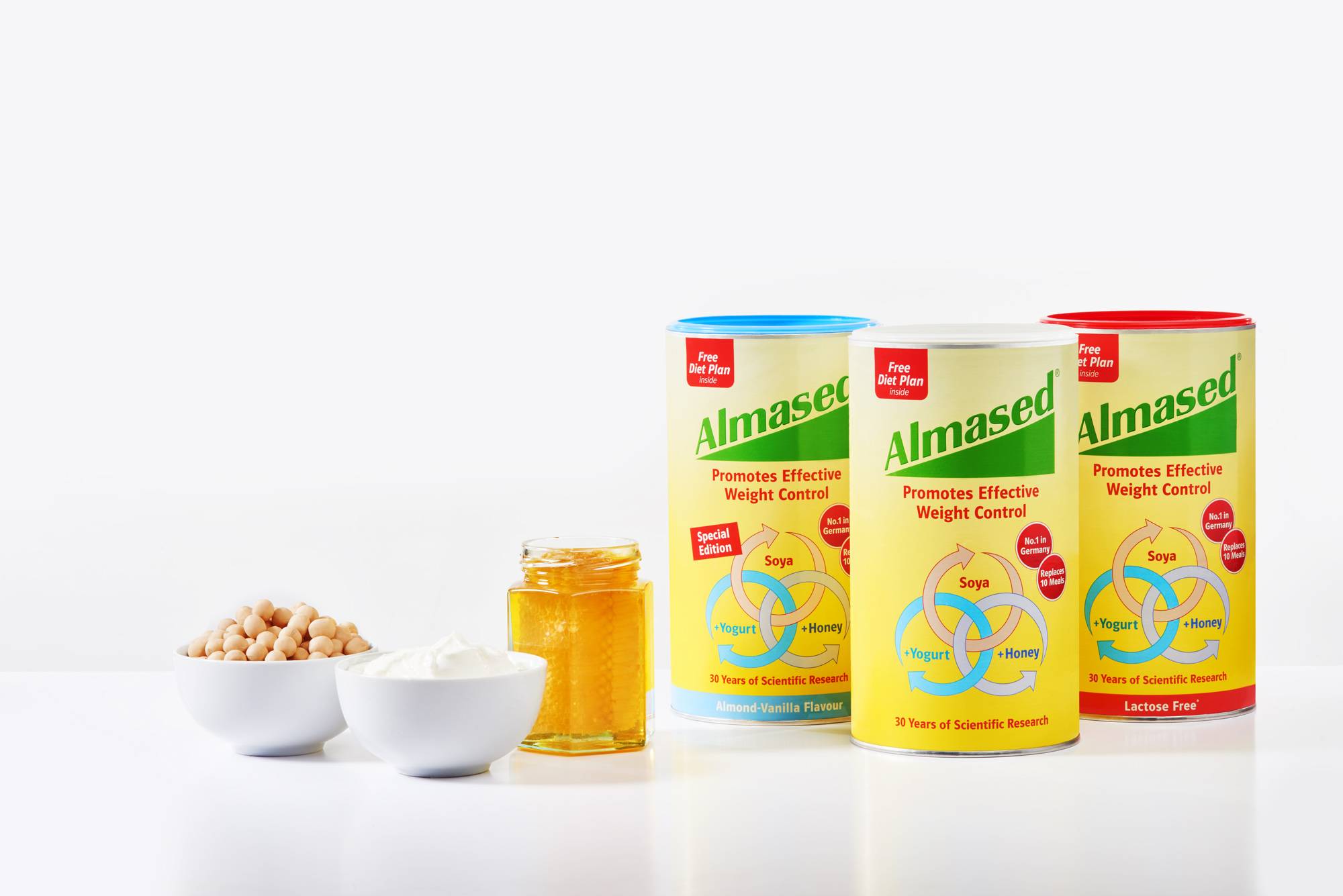 Find out more about Germany's No.1 meal replacement at almased.co.uk. Like on Facebook and follow Twitter and Instagram. Available to buy from Boots, Lloyds pharmacy, Amazon and independent chemists.
*Euromonitor International (2020). 1. Vitamin C and Zinc contribute to the normal function of the immune system. 2. König, D et al (2008). Annals of Nutrition and Metabolism; 52(1):74-78. 3. Deibert, P et al (2004). Intl. Journal of Obesity; 28(10):1349-52 4. Kempf, K et al (2017) Diabetes Care; Jul 40(7): 863-871. 5.Oliveira, C et al (2020). American Journal of Clinical Nutrition; 00:1–12. † Reader's Digest. Trusted Brands 2020, Germany.