A selection of delicious seasonal recipes created around one show stopping ingredient – walnuts.
Trio of California Walnut Bites
SERVES 4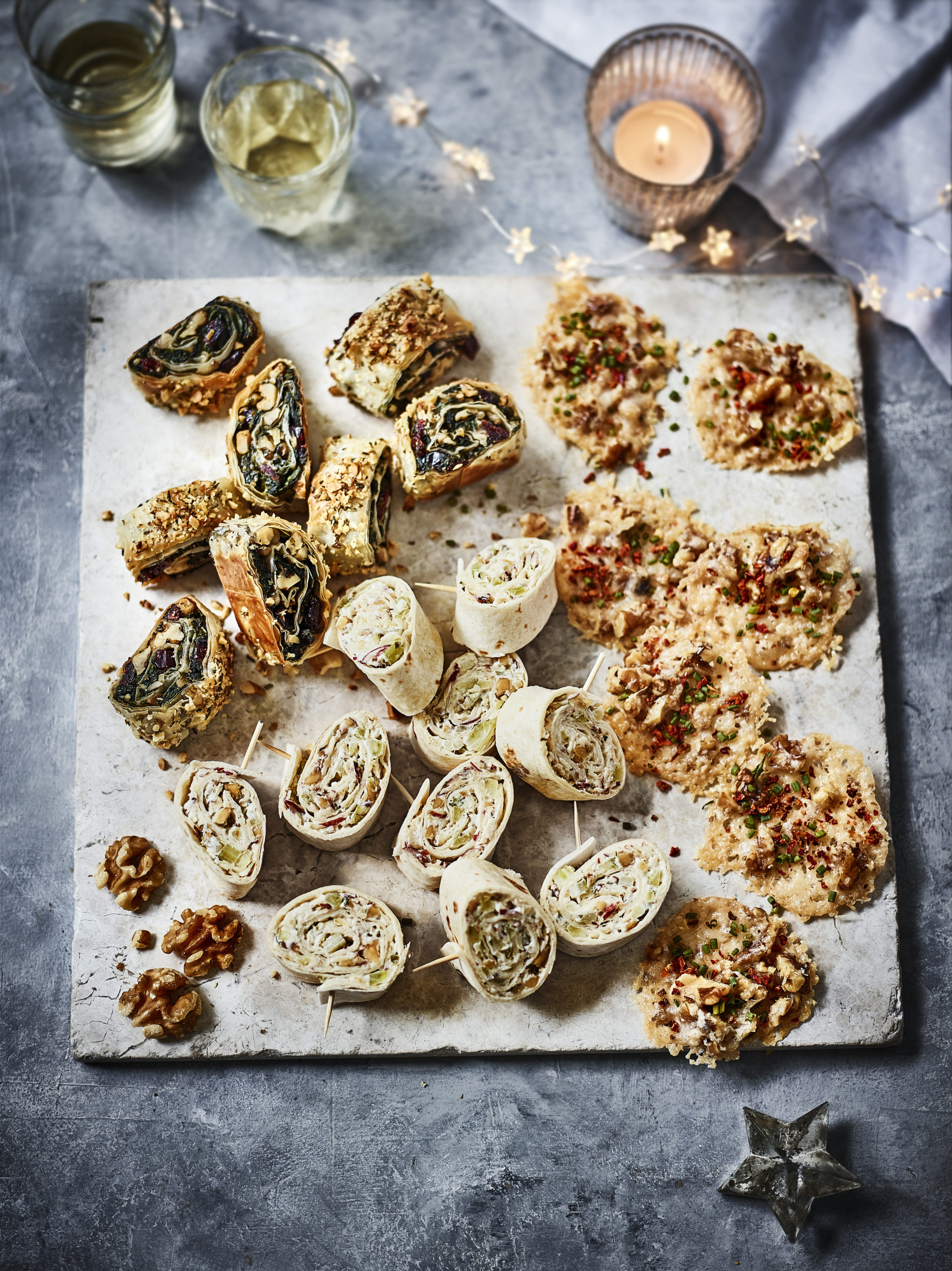 Parmesan walnut clusters
100g grated Parmigiano Reggiano, finely grated
50g California Walnuts, roughly chopped
1 tbsp chopped chives
2 tsp dried red bell pepper flakes
Walnut, cranberry & spinach bites
350g spinach
50g dried cranberries
75g California Walnuts, chopped, plus 25g for sprinkling
25g garlic and herb cream cheese
3 sheets filo pastry (100g)
25g butter, melted
2 sprigs rosemary, leaves finely chopped
Waldorf wraps
100g garlic and herb cream cheese
1 stick celery, finely diced (70g)
35g California Walnuts, chopped
1 small red apple (150g)
2 tortilla wraps (125g)
Preheat the oven to 200oC, gas mark six.  Line two large baking trays with baking parchment.
For the clusters, mix together the Parmigiano Reggiano and walnuts.  Place eight large tablespoonfuls onto each tray and bake each for five minutes until golden.
Allow to cool before transferring to a cooling rack. Sprinkle with chives and pepper flakes.
Meanwhile, for the spinach bites, microwave the spinach for up to three minutes until just wilted, squeeze out the excess liquid and chop.
Mix the spinach with the cranberries, walnuts and cream cheese in a large bowl and season.
Brush one sheet of pastry with butter and lay another sheet on top, repeat with the remaining sheet.
Spread the spinach filling evenly over the pastry and roll up from the long edge into a long sausage shape.
Brush all over with butter and roll in the remaining finely chopped walnuts mixed with the rosemary.  Cut into 16 pieces and place on a large tray, bake for 15 minutes until golden.
For the Waldorf wraps, mix together the cream cheese, celery and walnuts. Grate the apple and squeeze out excess juice then stir into the mixture and season.
Spread over the two wraps and roll up. Cut the ends off and then cut each wrap into eight, secure with cocktail sticks if required.
Serve the trio of bites on one large serving platter or three separate smaller platters.
---
For the main
Great served warm with soup or cold leftover Christmas meats.
Sprout, Pepper & California Walnut Stir Fry
SERVES 4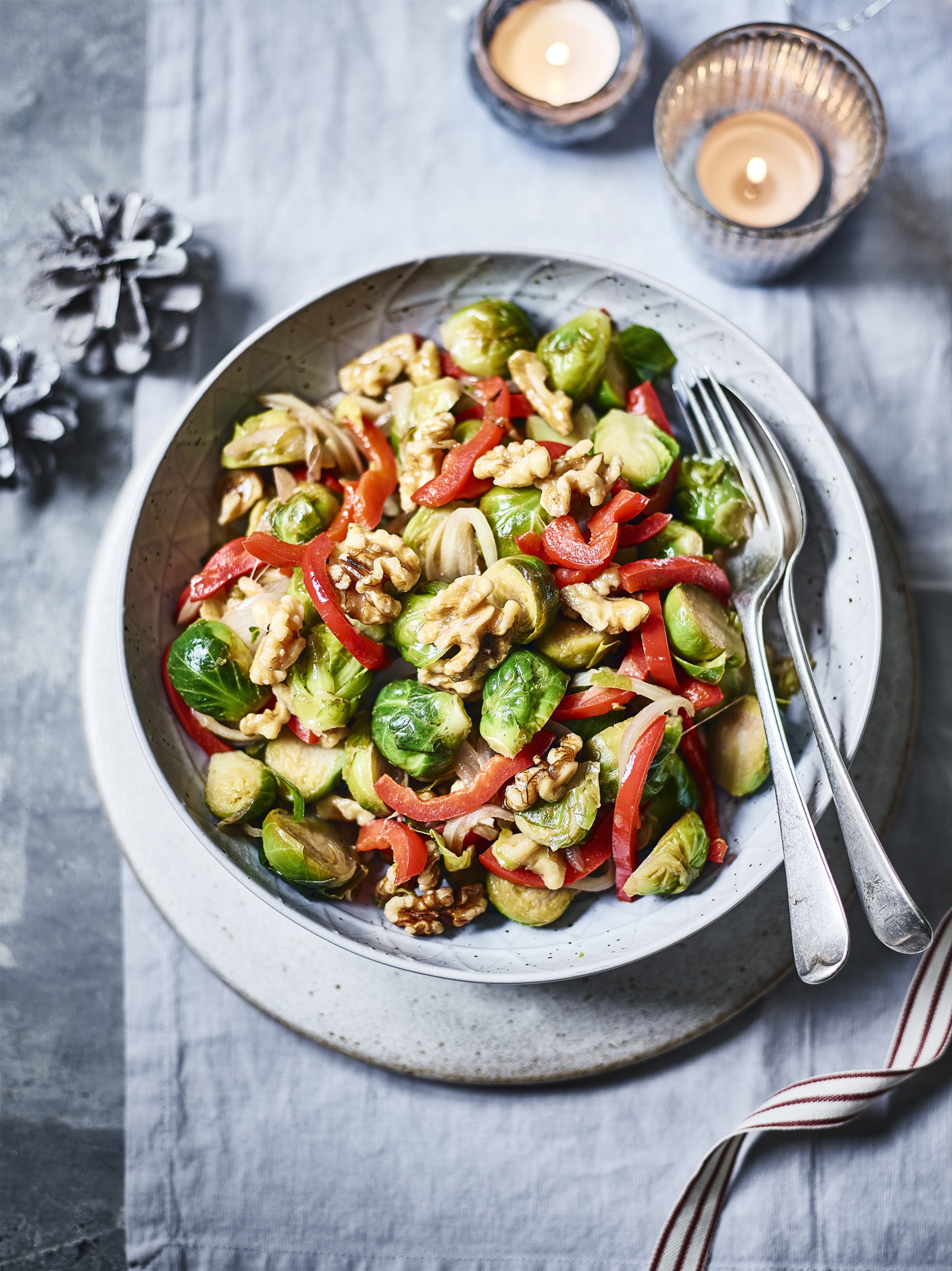 1 tbsp olive oil
1 onion, sliced (180g)
1 red pepper, sliced (180g)
500g Brussels sprouts, halved
100g California Walnuts
2 tbsp redcurrant jelly (50g)
Heat the oil in a large frying pan and fry the onion and pepper for up to five minutes. Add the sprouts and walnuts and continue to fry for five minutes.
Stir in the redcurrant jelly with two tbsp water until melted and season.
For the dessert
Individual Clementine & California Walnut Tiramisu
SERVES 6-8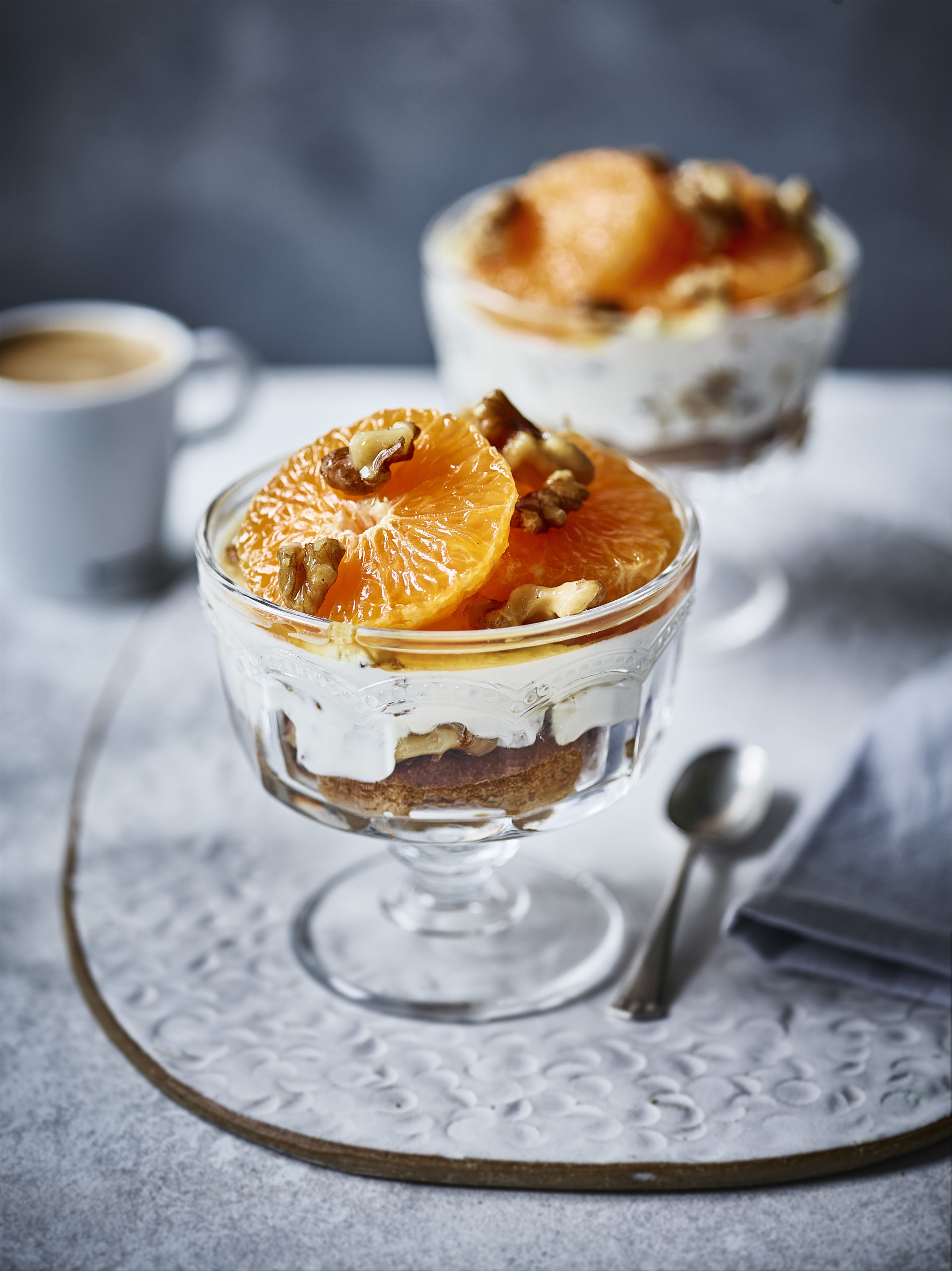 For the caramelised clementines
100g caster sugar
6 Clementines, peeled and each sliced into 3 (445g peeled weight)
25g California Walnuts
1 tbsp coffee granules (5g)
8 trifle sponges (175g)
200g mascarpone
200ml double cream
100g natural yogurt
100g caster sugar
75ml Marsala wine
100g California Walnuts, roughly chopped
For the caramelised clementines, place the sugar and 150ml water in a medium saucepan and heat gently until the sugar has dissolved.
Bring to the boil and simmer for up to five minutes until pale caramel in colour, remove from the heat and add 100 millimetres of boiling water.
Place the clementines in a shallow bowl with the walnuts and pour over the caramel sauce, set aside to cool.
Meanwhile, dissolve the coffee in 200ml boiling water, allow to cool before dipping in the trifle sponges, placing them in the base of eight small tumbler glasses or dishes.
Whisk the mascarpone, cream, yogurt and sugar in a large bowl until thickened, whisk in the Marsala and then stir in the walnuts, spoon over the sponge bases and chill.
Just before serving spoon over the clementine slices and juices.
Subscribe to Platinum today and get every issue delivered to your door. Or find your local stockist, here. Head to our food and drinks archive for more recipes.