Veganuary is the perfect time to mix up your diet and start cooking with plant-based products. Trust us when we say, cooking without milk and butter doesn't mean eating without flavour.
Try these vegan alternatives for some of the nation's most-loved desserts. They're easy to make and packed with flavour — no one will ever know they're vegan.
1. Cheesecake with salted caramel fudge sauce
By Alison Andrews, Loving It Vegan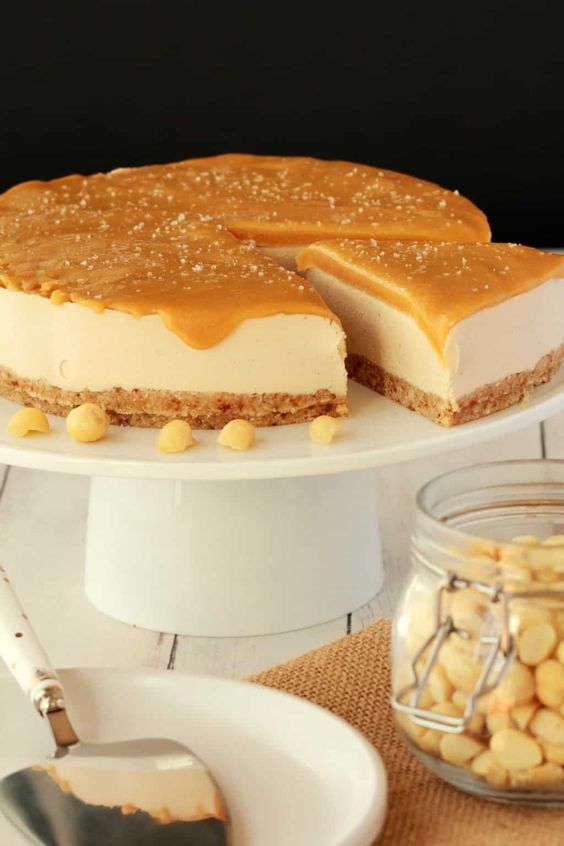 For the crust
150g macadamia nuts
88g pitted Medjool dates
80g dried dessicated coconut
For the filling
450g raw cashews
180ml water
180ml maple syrup
120ml coconut oil
60ml fresh squeezed lemon juice
1tsp vanilla extract
For the caramel sauce
120ml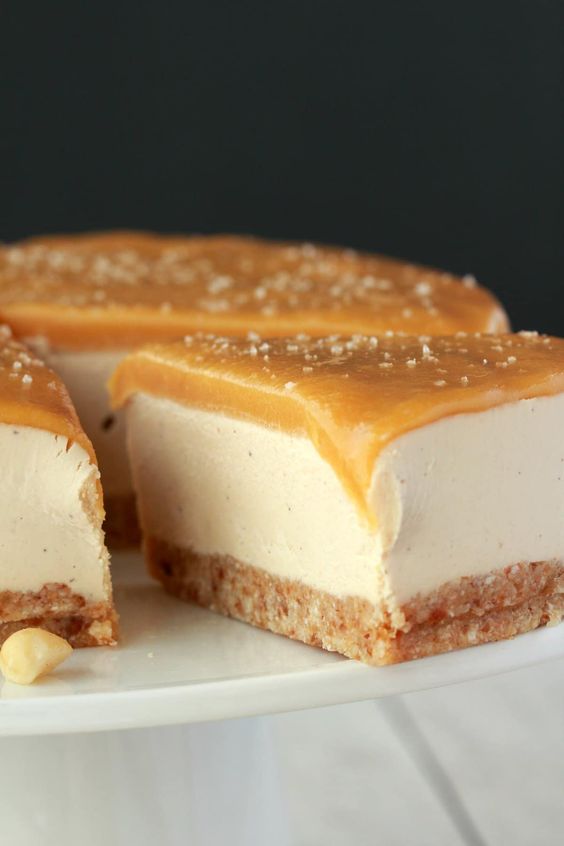 Spray an 8 inch round springform pan with non-stick spray and line the bottom with parchment paper. Set aside.
Add the macadamia nuts, pitted dates and dried coconut to the food processor and process until it starts to form into a sticky dough. It will start off crumbly, keep going until it starts to clump together in sticky clumps. Transfer to the springform pan and smooth it down into a pie crust. Use the back of a spoon to press it down into a neat flat layer. Place into the freezer to set.
Take your soaked and rinsed cashew nuts and place them into the blender jug. Add the water, maple syrup, melted coconut oil, lemon juice and vanilla extract and then blend everything together until very smooth. Stop and give your blender a break as needed as this is a lot of volume to blend up. Pour this over the macadamia crust and smooth down with the back of a spoon. Return to the freezer to set completely – about 4-6 hours.
When the cheesecake has completely set, remove it from the springform pan and put it onto a cake stand to do your topping.
Add the melted coconut butter, maple syrup, vanilla extract and sea salt into a bowl and stir it together into a caramel sauce. Spread this out over the top of the cheesecake, working quickly, as the sauce thickens and sets quite fast when in contact with the cold cheesecake.
Decorate the cheesecake with sprinkles of sea salt and some macadamia nuts.
Allow the cheesecake to thaw at room temperature for at least 30 minutes before serving.
Once the cheesecake is thawed, keep it stored in the refrigerator or freezer*.
Find Alison on Instagram @lovingitvegan
---
2. Vanilla cake with berries and jam
By Hannah Hossack, Domestic Gothess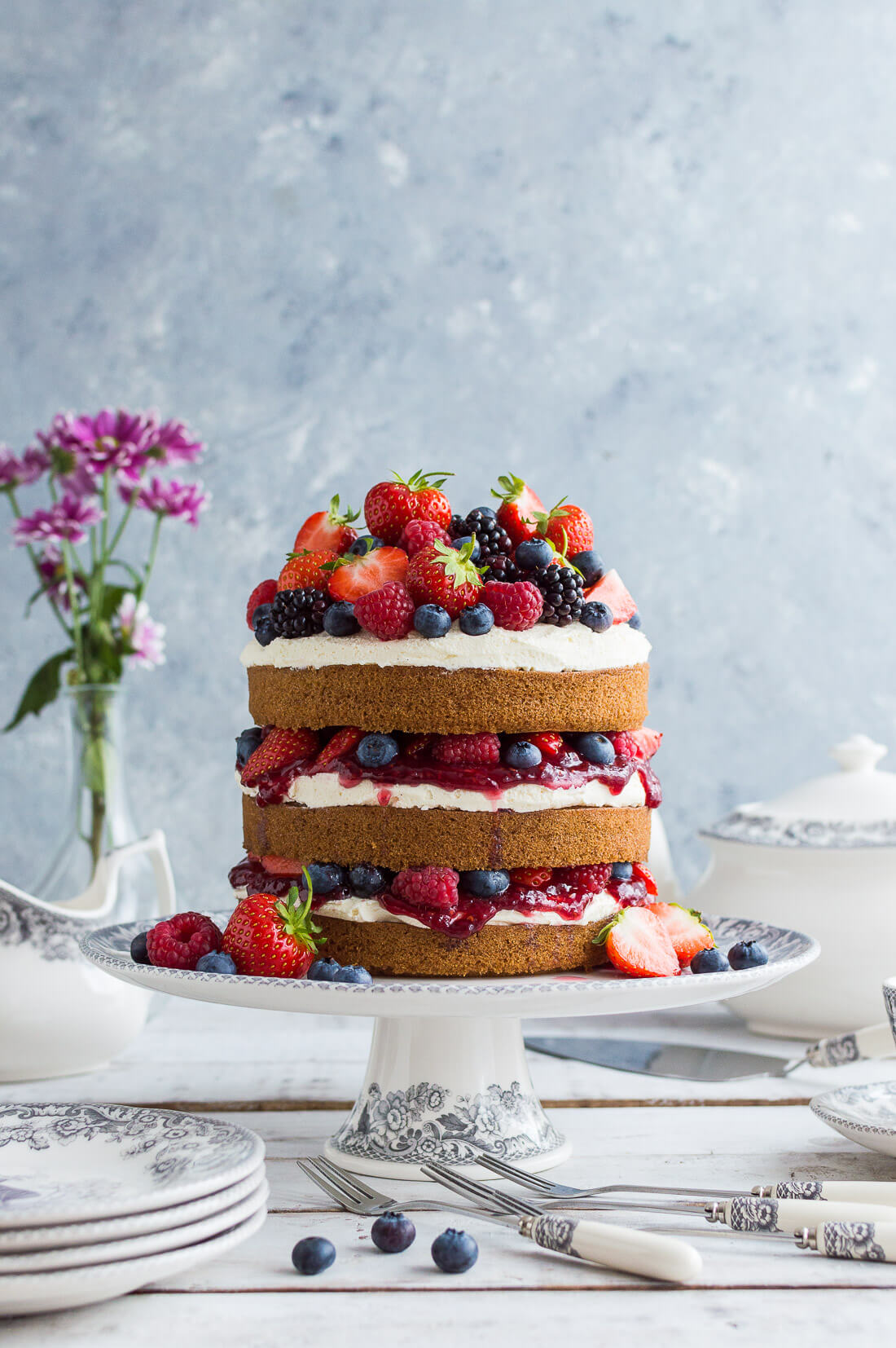 Ingredients
Vanilla Cakes
360 ml unsweetened plant milk
1 1/2 tsp white wine vinegar
250 g caster (superfine) sugar
1 Tbsp vanilla extract/vanilla bean paste
150g vegan spread melted
280g plain flour
30g cornflour
1 tsp baking soda
3/4 tsp baking powder
Vanilla Buttercream
75 g vegan spread (the solid kind in a stick is best – I used Stork) cold
75 g vegetable shortening (such as Trex) cold
300g icing sugar sifted
1 tsp vanilla extract/vanilla bean paste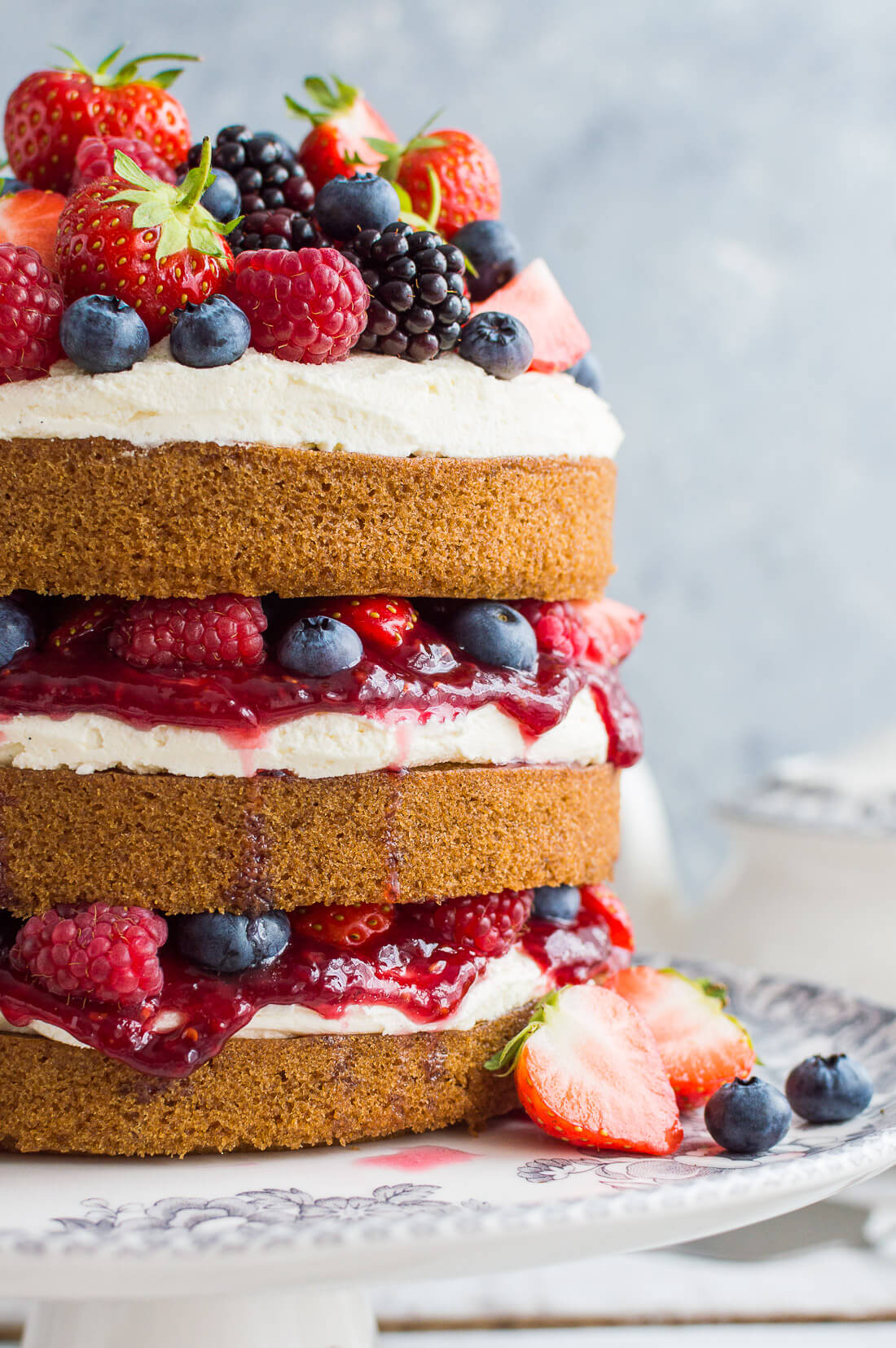 Vanilla Cakes
Preheat the oven to 180C/350F/gas mark 4. Grease three 15cm/6 inch round cake tins and line the bases with baking parchment (or use two 20cm/8 inch tins instead).

In a large jug, whisk together the plant milk, vinegar, caster sugar, vanilla extract and melted vegan spread.

In a large bowl, sift together the plain flour, cornflour, baking powder and bicarbonate of soda.

Gradually whisk the wet ingredients into the dry until smooth but be careful not to overmix.

Divide the batter between the tins (I use a scale to make sure they are even). Bake for 25-35 minutes until golden and a skewer inserted into the centre comes out clean.

Leave to cool in the tins for 10 minutes then carefully turn the cakes out onto a wire rack and leave to cool completely.
Vanilla Buttercream
Place the vegan spread and vegetable shortening in a large bowl and whisk with an electric mixer until very smooth.

Add the sifted icing sugar and the vanilla extract. Mix on a low speed until combined then turn the mixer up to a high speed and whisk for a couple of minutes until light and fluffy.

Trim the tops of the cakes if needed. Place one cake layer on a cake stand and spread over some of the buttercream. Spread over a thin layer of jam then scatter over a handful of berries.

Place another cake layer on top and repeat. Place the final cake layer on top and spread with buttercream but not jam. Decorate with berries and serve. Best eaten on the day it is assembled.
Follow Hannah on Instagram @domestic_gothess
---
3. Cardamom banana loaf
By, Lucy & Lentils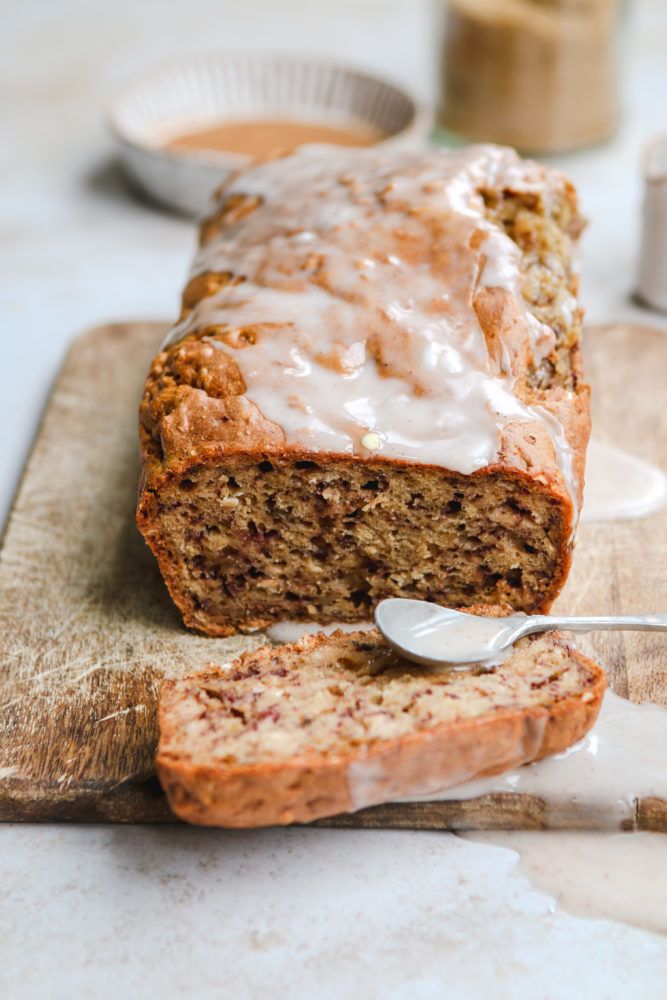 Ingredients
Dry Ingredients
215g cups plain flour
35 g cup fast oats
35g cup brown sugar
2 tsp cardamom
1/4 tsp bicarbonate soda
1 1/2 tsp baking powder
pinch salt
Wet ingredients
3 Overripe bananas
170 g oat milk
1 tsp apple cider vinegar
For the icing
1/4 cup powdered sugar (icing sugar)
2 tsp ground cinnamon
water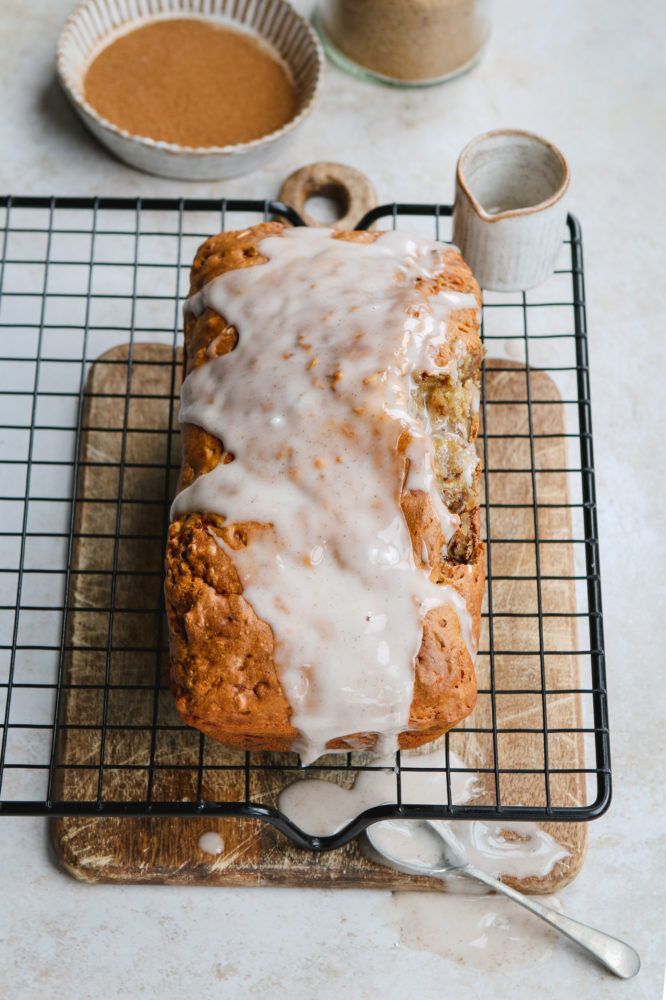 Preheat the oven to 180ºC
Start by adding the oat milk and apple cider vinegar to a cup, whisk and leave to slowly bubble whilst putting the other ingredients together
In a large mixing bowl, add all of the dry ingredients together and stir until fully combined
In a smaller bowl, mash the bananas then add the oat milk then fold into the dry ingredients
Make sure no hidden pockets of flour are in the mix (I did this once and ended up with a volcano like rise in the middle)
Pour into a greased loaf tin and bake for 35 minutes
Cover with tin foil and bake for a further 25 minutes or until you can stick a knife in and remove it clean.
To make the icing 
Simply add 1 tsp of water to the powdered sugar and cinnamon, give a thorough mix, then slowly add more water, drop by drop until you reach your preferred consistency.
Follow Lucy & Lentils on Instagram @lucy_and_lentils
---
4. Millionaire's shortbread with peanuts (gluten free)
By Emilie Iggiotti, Aime & Mange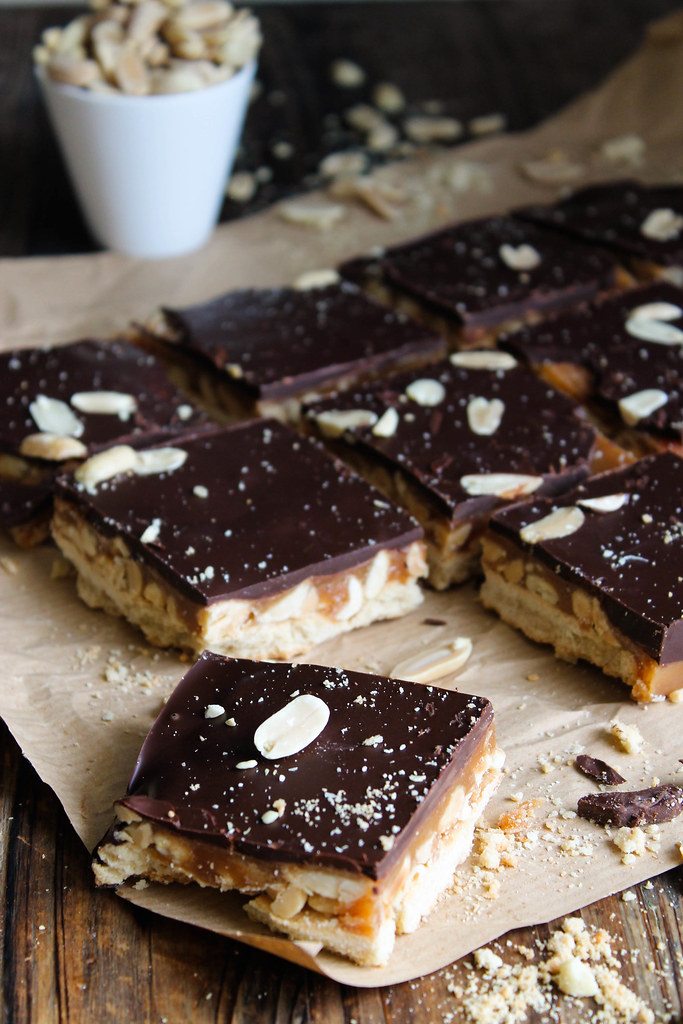 For the base
110 g coconut flour
100 g wholemeal rice flour
170 g vegetable margarine
60 g whole cane sugar
1 teaspoon of baking soda
1 pinch of fleur de sel
For the peanut caramel
250 g unsalted roasted peanuts
300 g blond cane sugar
25 cl coconut cream
1 vanilla pod
2 pinches of fleur de sel
For the chocolate
340 g of good 70% dark chocolate
1 teaspoon of coconut oil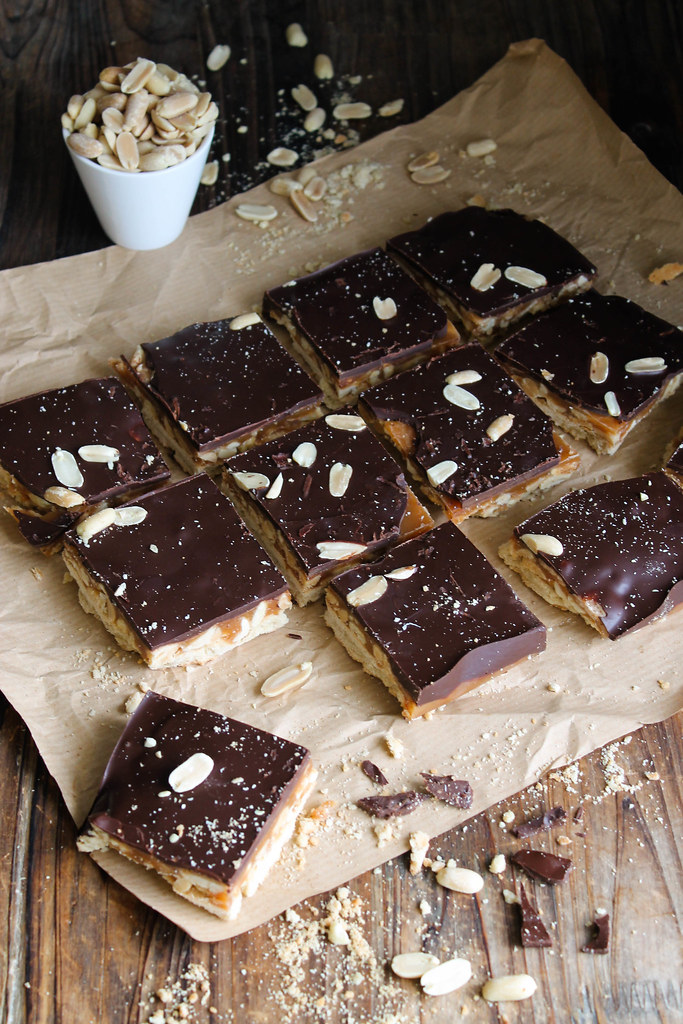 Preheat the oven to 180 °.
Sand the margarine, the flours, the sugar, the bicarbonate and the salt together with your fingers to obtain a homogeneous dough. Line a square pan with parchment paper and add the shortbread dough. Prick with a fork. Bake for 5 minutes then lower the oven to 150 ° and cook for 35 min. Let cool and then spread the peanuts on top.
Bring the coconut cream to a boil, make a dry caramel with the sugar. When the caramel is golden, add the coconut cream off the heat, stirring well. Then add the fleur de sel and cook again until a thick caramel coats the spoon. Pour the caramel over the cooled shortbread and cool for at least 30 minutes.
Melt the chocolate in a bain-marie with coconut oil and pour over the cooled caramel layer. Equalise the surface and keep cool before cutting.
Follow Emilie on Instagram @aimemange
---
5. Marbled black sesame chocolate Bundt cake
By Hannah Che, Hannah Chic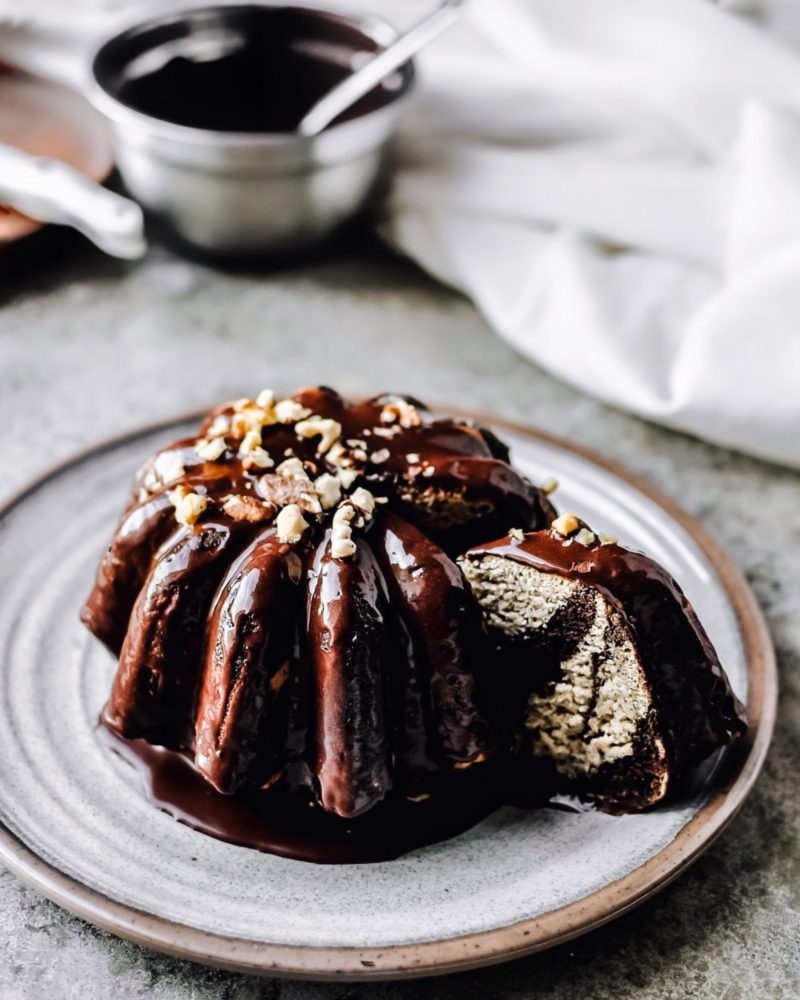 Banana cake layer
1
1/2 cups all purpose flour
¼
tsp
each nutmeg, cinnamon, and salt
3
very ripe bananas, mashed
Black tahini and chocolate layer
2
1/2 cups all-purpose flour
1
tbsp
+ 1 tsp baking powder
1
very ripe banana, mashed
3
tbsp
black sesame tahini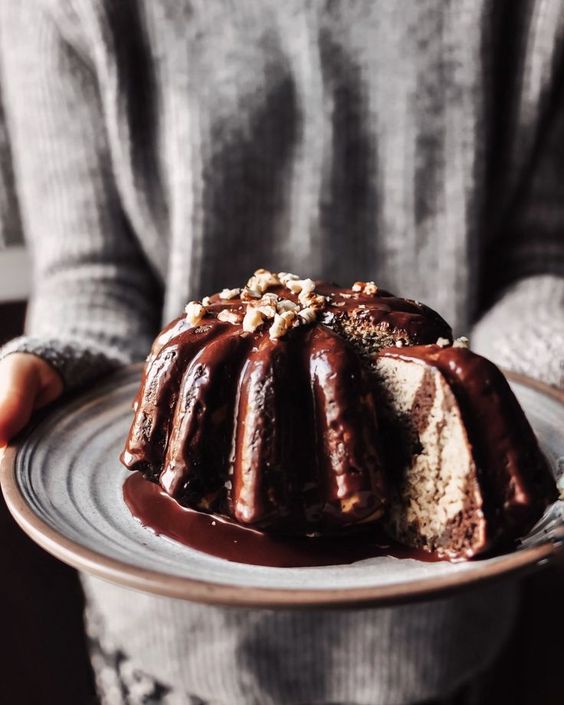 Preheat oven to 350F and grease bundt tin(s). Mix two batters separately: for each recipe, combine dry ingredients in a large bowl and wet ingredients in a separate bowl, then pour wet into dry and fold until incorporated (don't over-mix).
Using a spoon, drop spoonfuls of each batter into the cake tin, alternating colors each time, and then swirl with a toothpick to achieve the marbled effect.
Bake in the oven for 30-35 minutes, or until a toothpick inserted comes out clean.
---
6. Two minute apple crumble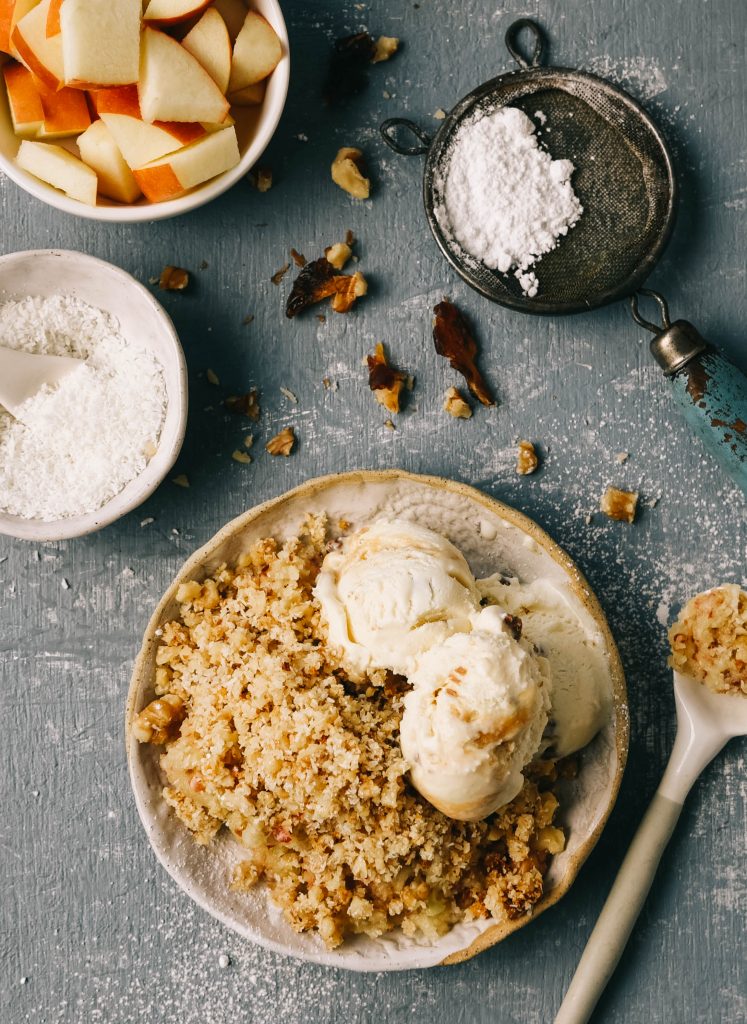 For the crumble
1 cup of walnuts
1/2 cup coconut
2 tablespoons coconut oil
1 tablespoon honey
1 pinch of salt
For the apples
4 apples, cored and quartered
8 Pitted Medjool Dates
1 teaspoon cinnamon
1 teaspoon vanilla extract
Method
Pulse the crumble ingredients in your  processor and blend until the mixture resembles a well textured crumb. Pour the mixture into a bowl and set aside.
Place the apple ingredients into your processor and blend until the mixture is finely chopped. Divide the apple mixture between four microwave safe dishes and top with even amounts of crumble. Microwave each serve for 60 – 90 seconds.
Eat. Enjoy.
Follow Wholefood Simply on Instagram @wholefoodsimply
Find all of our flavour-packed recipes in the Platinum food & drink pages – from delicious desserts and savoury meals, to kids' treats and unique bakes, we have it all. Be sure to follow us on Facebook, Twitter and Instagram for more Veganuary inspiration, @PlatinumMagUK