Mix up your Christmas dinner this year with these festive Asian-inspired dishes.
These recipes bring the best of British, Korean and Chinese flavours together to make a menu unlike any other you've served at this time of year.
Kung Po turkey with oriental stuffing
SERVES 6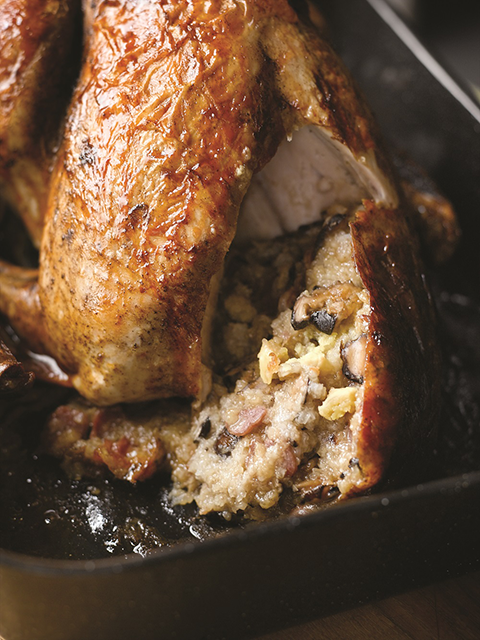 Stuffing ingredients
2 tbsp peanut oil
85g Chinese sausage or chorizo, finely sliced
28g dried sliced mushrooms, soaked and chopped
1 tbsp Wing Yip light soy sauce
1tbsp Wing Yip oyster sauce
1 tsp ginger juice from grated fresh ginger
2 tbsp black rice vinegar
228g jasmine rice, washed and drained
170ml vegetable stock
Turkey ingredients
1 turkey
1 cocktail stick
2 tsp five spice powder
Salt for seasoning
6-8 star anise
2-3 cinnamon sticks
185ml jar Wing Yip Kung Po sauce
Method
Heat peanut oil in a wok and fry sausage and mushrooms.
Lightly season with soy and oyster sauces, and ginger juice and black vinegar. Remove from heat.
Add rice and stir-fry for two minutes.
Remove rice mixture and place in a different pot.
Add vegetable stock. Cook on a medium-high heat initially and, when holes appear in the rice, turn the heat down to the lowest setting, cover and allow to continue cooking in its own steam for approximately ten minutes.
When rice mixture is cooked, allow to cool and then stuff the neck of the turkey, pressing firmly into place. Secure the neck flap with a cocktail stick.
Rub body of the turkey with five spice powder and season the skin with salt. Place star anise and cinnamon inside the cavity and cook to instruction on packaging.
30 minutes before the turkey is ready, remove and baste in a thick layer of Wing Yip Kung Po sauce.
Continue cooking and once cooked, remove from oven and serve.
Turkey Bibimbap
SERVES 2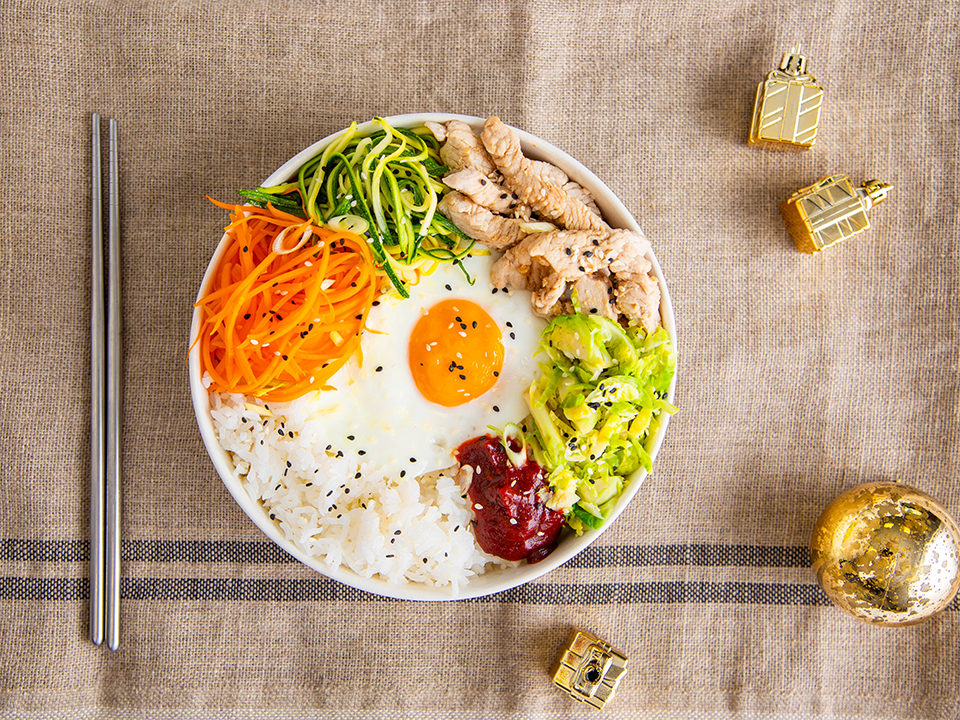 Ingredients
200g rice
80g Brussel sprouts, finely shredded
100g courgette, finely shredded
100g carrots, finely shredded
200g turkey meat
2 tbsp Wing Yip light soy sauce
1 tsp garlic, minced
1 tsp Wing Yip sesame oil
2 tbsp vegetable oil
2 eggs
2 tsp Korean hot pepper paste, or 'gochujang'
1 tsp black sesame seeds
Method
Cook the rice and keep warm in a rice cooker.
Sauté the Brussels sprouts, courgette and carrots individually.
Mix turkey meat with the soy sauce, garlic and sesame oil and gently fry in one tbsp vegetable oil until piping hot.
Fry two eggs in remaining one tbsp of vegetable oil, keeping separate in the pan.
To assemble, fill each bowl with rice and place the toppings separately on the rice, with one tsp of the hot pepper paste on each bowl and then the egg on top.
Garnish with a sprinkle of black sesame seeds.
Mince pie dumplings
MAKES 36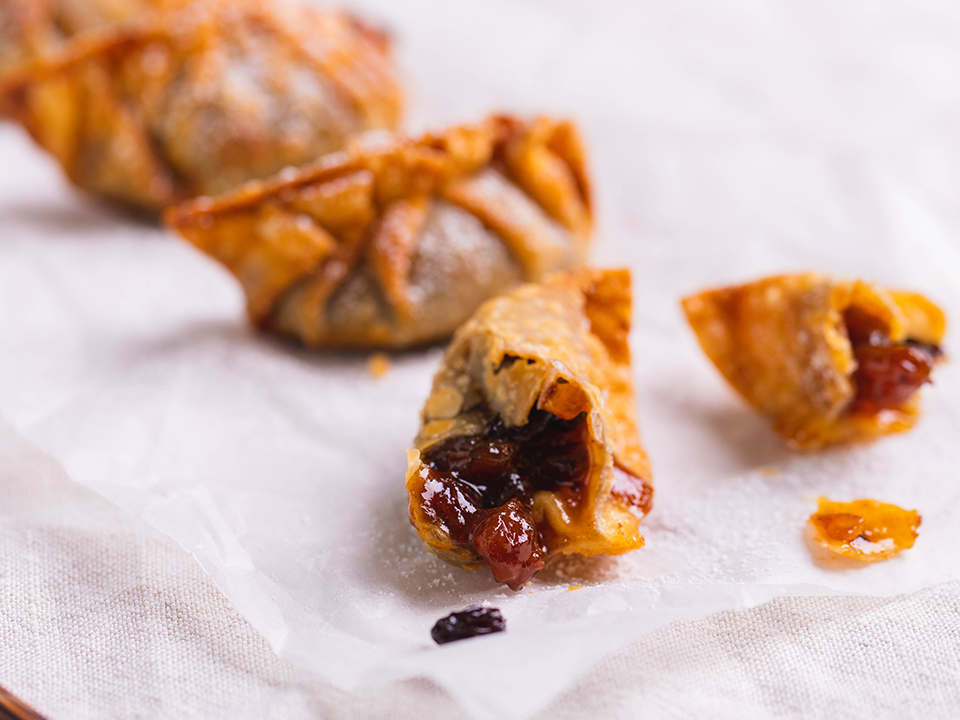 Ingredients
36 gyoza wrappers
200g mincemeat
Vegetable oil for deep-frying
1 tsp icing sugar
Method
Before you start making the dumplings, get yourself setup with a large plate or tray which is loosely covered with clingfilm and a small bowl of cold water. You'll need either some clingfilm or a damp cloth to cover the unused gyoza to stop them drying out.
Take one tsp of the mincemeat and place in the centre of the gyoza wrapper.
Lightly wet the edge of the wrapper using the cold water and then close the dumpling using any technique you like.
To pleat, hold the wrapper in half and pinch firmly in the centre. Then take half a centimetre of the top side of the wrapper and fold it towards the centre. Pinch to close.
Repeat twice until you reach the edge of the dumpling.
Repeat this on the other side.
You should end up with six pleats across the top of the dumpling.
Take the dumpling and lightly press down on the work surface to create a flat bottom and place onto your large plate or tray and cover loosely with clingfilm.
Repeat step two until you've either used all of your filling or made all 36 dumplings.
Heat the vegetable oil in a fryer or a wok to 180°c — use a thermometer to check.
Fry six dumplings at once for up to four minutes until crispy and golden brown.
Remove from oil using a slotted spoon and place onto kitchen paper.
Keep warm in low heated oven until you're ready to serve with a dusting of icing sugar.
Thai fried pineapple and turkey rice
SERVES 2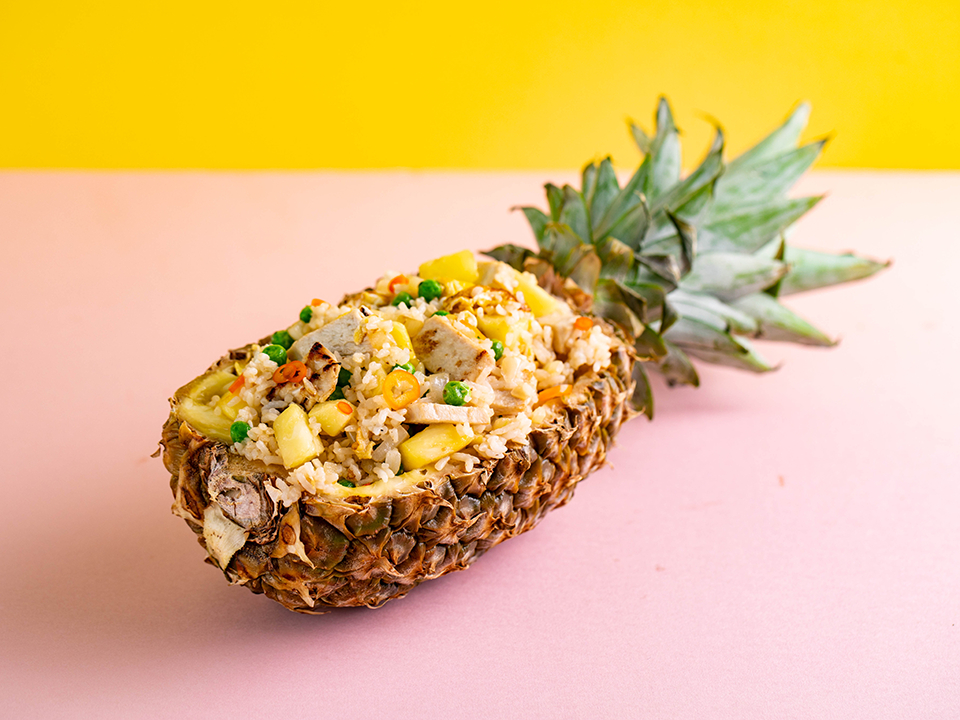 Ingredients
2 tbsp oil
½ onion, finely diced
2 cloves garlic, minced
200g leftover turkey meat, diced or shredded
200g tinned pineapple, drained and roughly diced
1 red chilli, thinly sliced
2 eggs
400g cooked rice, cold
100g frozen peas
2 tbsp Wing Yip light soy sauce
1 tbsp Wing Yip oyster sauce
3 tbsp Mai Siam sriracha sauce
Method
Heat oil in a wok over medium high heat and add onions.
Fry until brown and add garlic.
Stir fry for one minute.
Add the leftover turkey and pineapple to the wok. Stir for up to three minutes.
Add red chilli to the wok and stir.
In a small bowl lightly whisk the eggs.
In the wok, make a well in the centre of the meat and vegetables and pour eggs into the well.
Let the eggs cook for 30 seconds and lightly mix to start scrambling them. When the egg is cooked, stir through the meat and vegetables.
If the rice is clumped together, wet your hands and gently rub between your hands to loosen and then add to the wok.
Keep stir frying to evenly distribute the meat and vegetables through the rice. Add the peas to the wok and stir fry for up to two minutes.
In a small bowl whisk together the soy sauce and oyster sauce and pour over rice. Keep stir frying to ensure that all of the rice mixture is coated with the sauce.
Once everything is piping hot, serve immediately. Drizzle over the sriracha sauce to your liking.
Subscribe to Platinum today and get every issue delivered to your door. Or find your local stockist, here.