Who knew eggs could be so versatile?
These unique takes on classic breakfast dishes prove that you can do a lot more with eggs than just frying, scrambling and poaching.
Sweet potato and kale frittata
SERVES 4
You can wrap this up and save for up to two days after cooking. Just trickle some olive oil and mixed herbs to liven it up after chilling in the fridge, and crumble some feta cheese over the top for a little extra flare.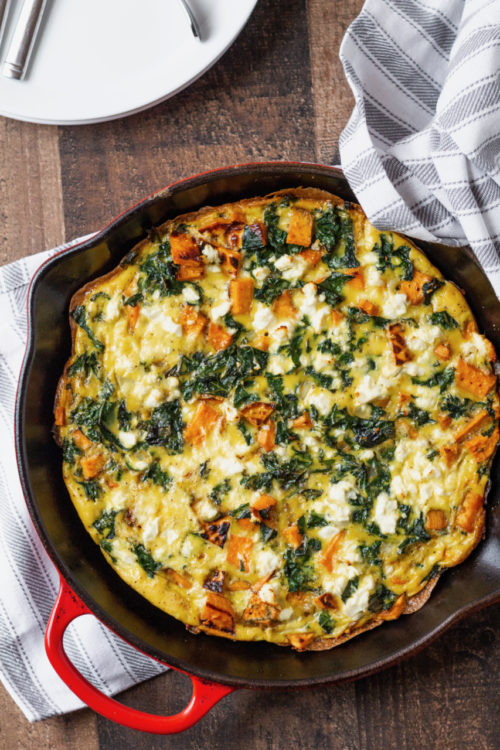 Ingredients
6 eggs
1 tsp salt
1 tsp pepper
2 sweet potatoes, diced
2 tbsp olive oil
120g fresh Kale, chopped
½ red onion
2 cloves garlic
100g of chopped spinach
Method
Preheat oven to 175 degrees Celsius.
Whisk together the eggs, salt and pepper.
Sauté sweet potatoes in one tbsp of hot oil in an ovenproof non-stick skillet or frying pan for ten minutes or until potatoes are tender. Take out of skillet and put to the side.
Throw Kale into the same skillet and sauté with red onion and garlic. Do so for up to four minutes until kale is slightly wilted and stocks are softened.
Add potatoes back into skillet and pour egg mix evenly on top of your veg.
Cook in pre-heated over for up to 15 minutes.
Serve over spinach leaves and a light sprinkling of olive oil.
Recipe courtesy of Vegetarian Times, powered by betternutrition.
---
Sunny-side peppers
SERVES 2
These light bites are nutritious and clean, making for a delightful little alternative to the classic egg and toast.
Ingredients
1 large bell pepper (or 4 small)
1 tbsp vegetable oil
4 large eggs
8 parsley leaves, finely chopped
Method
Slice pepper horizontally to make four thick rings and removes seeds.
In a non-stick skillet or frying pan, heat vegetable oil to medium heat.
Place the peppers in for two minutes and flip.
Crack one egg into each slice of pepper and cook egg to preference.
Lift from the hob and season with a pinch of salt and pepper before serving with a sprinkling of fresh parsley.
Recipe courtesy of coolbeanncooking.com
---
Baked eggs with tomato and green pesto
SINGLE PROTIONS
These little ramekin breakfasts can be added to a ketogenic menu if you are looking for low carb recipes. It's quick and packed full of healthy fats.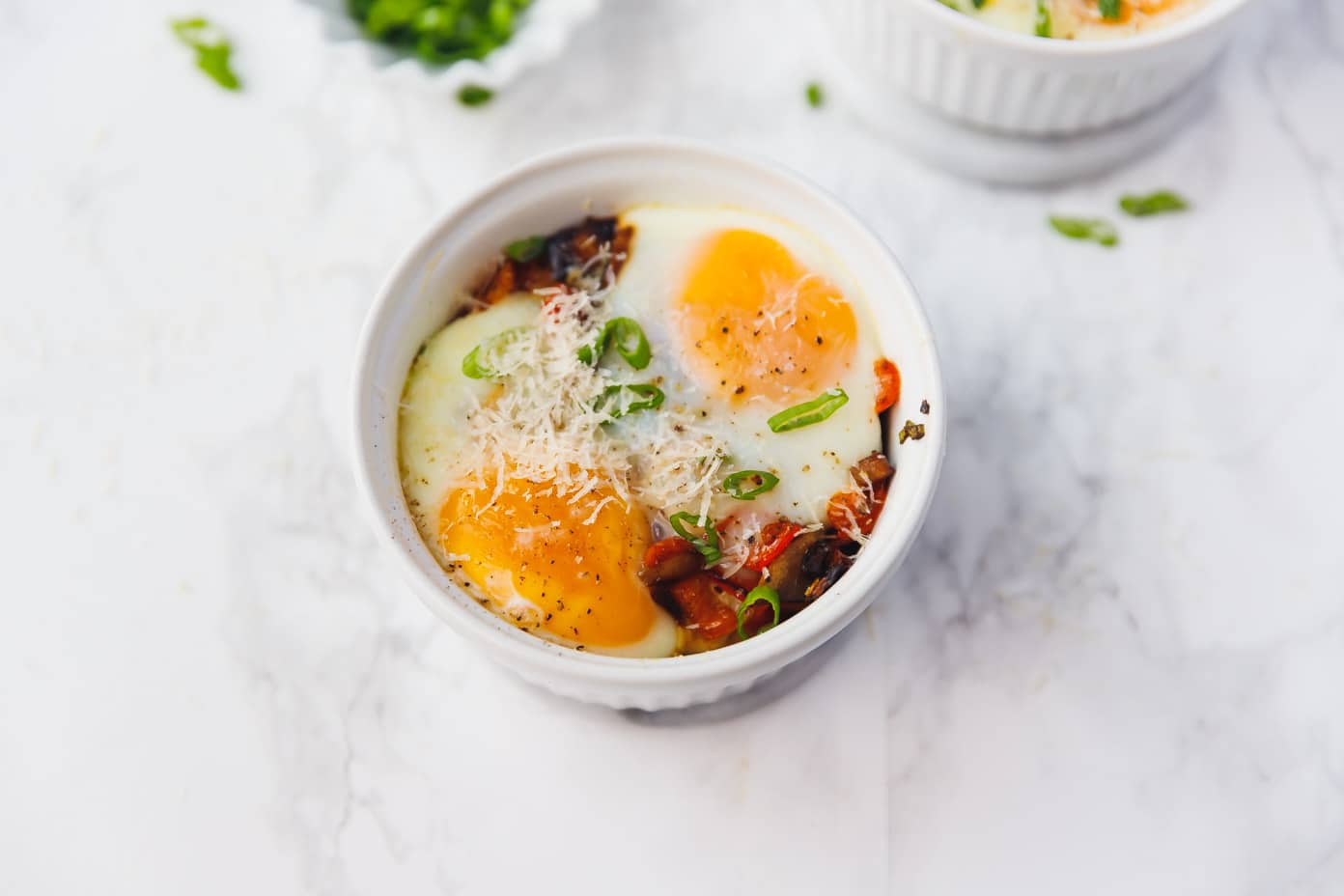 Ingredients
2 eggs
3 cherry tomatoes, sliced
2 tsp green pesto
½ tbsp butter
½ tsp parmesan cheese, grated
1 pinch salt and pepper
Method
Pre-heat oven to 220 degrees Celsius.
Spray ramekin with cooking oil, or brush with a thin cover of vegetable oil.
Add chopped tomatoes and one whole egg.
Add pesto on top of the egg with some butter and half of the parmesan cheese.
Place into a baking dish filled half way with water so that ramekins heat evenly in the oven.
Bake for around 15 minutes until egg white is set, but yolk is still runny.
Serve in ramekin with a little sprinkling of grated parmesan and cracked black pepper.
Recipe courtesy of Edyta at Eating European.
Find all of our flavour-packed recipes in the Platinum food & drink pages. From delicious desserts and savoury meals, to kids' treats and unique bakes — we have it all.