A cake that's healthy? It's time to get started on this vegan chocolate cake.
We're all looking for ways to be healthier and look after our planet more. Vegan recipes have been growing in popularity in recent years, showcasing the fantastic alternatives to our regular baking ingredients.
During lockdown, we saw flour and other baked goods quickly go out of stock, as the nation turned their time in quarantine into a baking feast. That's why it's a fantastic idea to diversify our baking skills and see what we can do with many different ingredients.
Try this vegan chocolate cake — you'll be delighted at how chocolatey it truly is. A real crowd pleaser.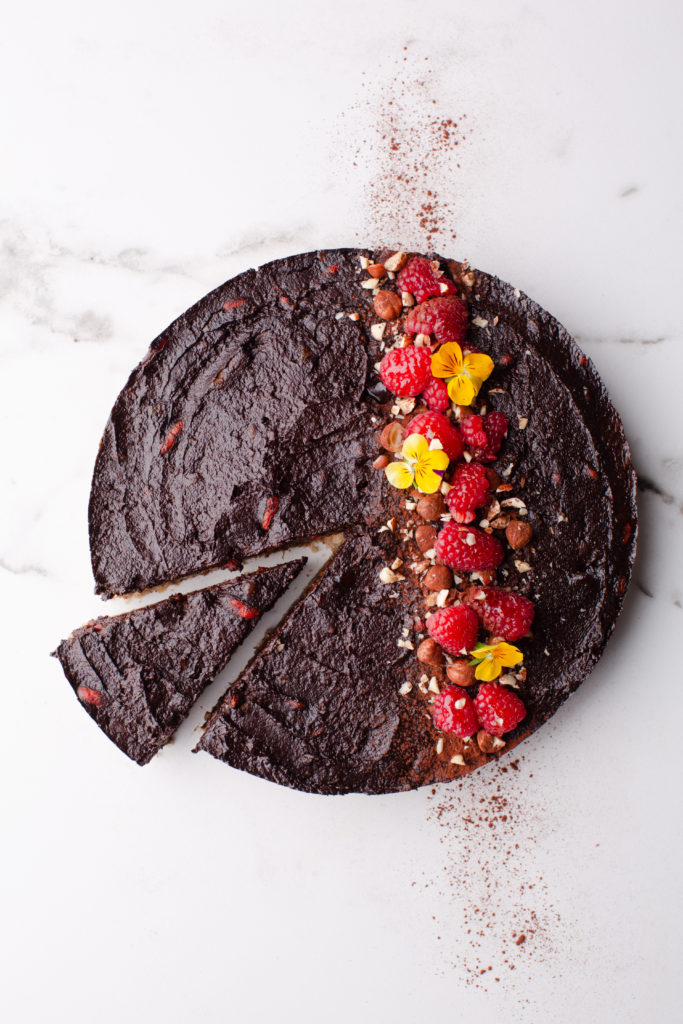 Vegan Chocolate Cake
Ingredients:
175g hazelnuts
1 tbsp coconut oil
3 tbsp pure maple syrup plus an extra 2 tbsp (preferably amber syrup for its rich taste)
Pinch of salt
135g dried dates, pitted and halved
4 avocados, peeled, stone removed
100g cocoa powder
45g dried goji berries
Handful of raspberries and edible flowers for garnish
Method:
To make the hazelnut base, blend the hazelnuts into a fine texture then add coconut oil, 3 tbsp of maple syrup and salt.
Bring together to form a spreadable consistency.
Spread this mixture into the base of a round spring form tin and leave to chill in the refrigerator overnight.
In a food processor, blend the dates and 2 tbsp of maple syrup into a smooth paste and add the avocado flesh. Pulse until smooth.
Pour blender contents into a bowl and stir in cocoa powder and goji berries. Combine well together.
Remove set hazelnut base from the refrigerator and spoon and spread over the date and avocado mix.
Smooth and level out using a palette knife and leave to refrigerate overnight to fully set.
Dress with the raspberries and edible flowers. Slice using a warmed knife when ready to serve.
Prepare the tart in advance to take the stress out of entertaining and store covered in the fridge.
Recipe courtesy of Maple From Canada.