Try these delightful Easter desserts this weekend — you'll be surprised by how delicious (yet easy) they are.
Easter is the perfect time to get together with family and friends and enjoy a springtime feast. Snowdonia Cheese Company has some delicious recipes guaranteed to impress your Easter guests.
Rhubarb & Gin Tart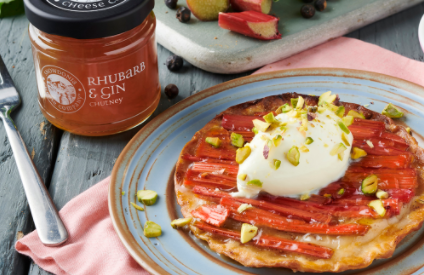 Time: 50 mins
Serves: 4 people
Ingredients:
320g ready-rolled puff pastry sheet
240g fresh young rhubarb (with leaves removed, washed, dried and cut to fit tart bases)
1 tbsp demerara sugar
1/2 tsp ground ginger
1/2 tsp ground cinnamon
2 tbsp Rhubarb & Gin Chutney
25g natural shelled pistachios, finely chopped
4 heaped dessertspoons of mascarpone cheese
Method:
Preheat oven to 200°C/gas 6.
Mix rhubarb, sugar, cinnamon and ginger in a bowl until evenly coated.
Cut pastry into four rounds and place on baking tray. Pinch pastry around the edge and brush with beaten egg.
Place rhubarb on each tart, leaving a crust around the edge.
Bake for 20 minutes until pastry is puffed.
Spoon the Rhubarb & Gin Chutney over each tart and bake for 5 minutes until golden brown.
Place a dessertspoon of mascarpone on each tart, sprinkle over the pistachio nuts and serve immediately.
Spiced Apple & Amber Mist Strudel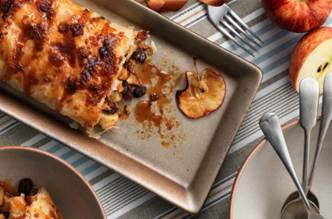 Time: 45 mins
Serves: 6 people
Ingredients:
4 large sheets filo pastry
Melted butter
150g Snowdonia Amber Mist cheese (crumbled)
4 cooking apples
40g Brown sugar
75g raisins
Cinnamon
1 egg (beaten)
Method:
1. Peel, core and slice the apples and cook with brown sugar until soft.
2. Prepare filling by mixing together the cooked apples, raisins, cinnamon and crumbled cheese.
3. Layer up the sheets of pastry with melted butter between each layer.
4. Place filling down the centre of the pastry, making sure there is space around sides to seal strudel.
5. Brush edges with beaten egg, fold in ends then roll gently.
6. Gently press down and place on a dampened baking sheet.
7. Brush lightly with egg and lightly sprinkle with cinnamon and brown sugar.
8. Bake in a hot oven until pastry is crisp and golden.
9. Serve with whisky cream and enjoy your Easter desserts!