Don't kiss summer away quite yet!
Take advantage of our pleasantly warm September days and fire up the grill instead. Thanks to the popularity of staycations this year, barbecuing and at-home entertaining are now the UK's No1 summer home leisure activity, with three out of four households now owning some type of barbecue grill and it's not over yet. BACARDÍ Rum has teamed up with award-winning food shop, kitchen, and delivery service Juici Jerk to give the iconic British BBQ a Latin-Caribbean twist and transport your tastebuds to the tropics. Featuring bold and smooth BACARDÍ Spiced, the kits are on hand to help you enjoy the next few weeks of summer weather without any of the stress of planning.
Available to pre-order today on Juicijerk.com, the limited-edition BACARDÍ x Juici Jerk BBQ Kits will be available nationwide for £55 with another drop on Friday 24th September, just in time for an Indian summer in the UK. Orders must be placed at least 24 hours ahead of the scheduled delivery dates. We're ordering ours, that's for sure! Platinum's Deputy Ed, Ali's, fave BBQ food is anything spicy, so this will hit the spot.
The tasty kits contain fresh ingredients to create the ideal barbecue feast, plus a bottle of BACARDÍ Spiced and all the ingredients to mix up delicious BACARDÍ Grilled Pineapple Swizzle cocktails – the perfect sweet yet bold refreshment with pineapple and lime flavours (tip – try a grilled slice of pineapple from the barbi!), guaranteed to balance out the kick from the spicy food.
The BBQ kit menu features a selection of Latin-Caribbean themed barbecue food including jerk chicken tacos and sweet pepper chimichurri, and a bottle of limited edition BACARDÍ Spiced & Honey Sauce to really spice up the flavours of your get-together.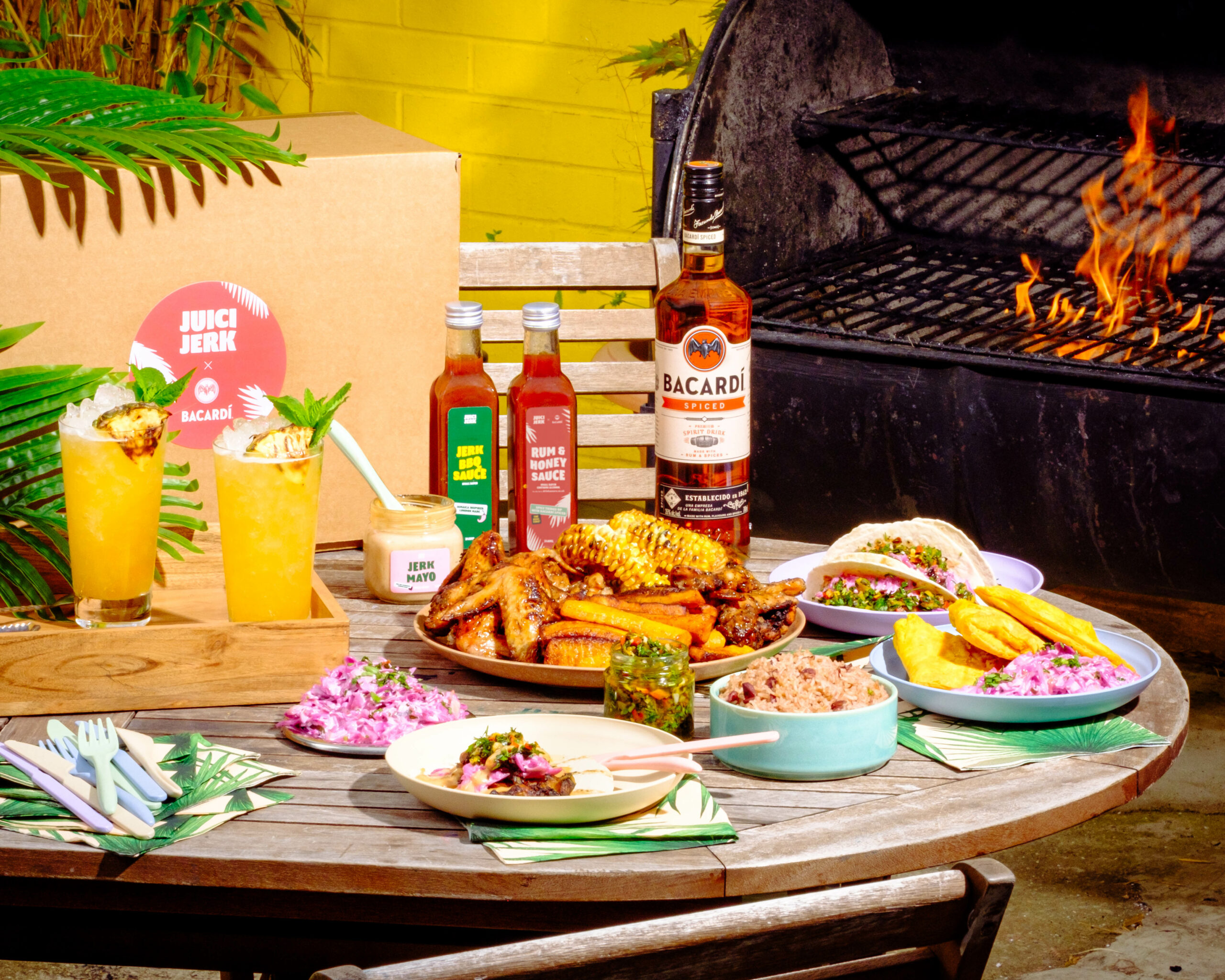 Your BACARDÍ x Juici Jerk BBQ Meal Kit Contents are:
Latin-Caribbean fusion menu:
Jerk Chicken Wings
Mini Patties (Vegetable & Beef)
Jerk Chicken Tacos
Rice and Peas
Caribbean Slaw
Plantain
Corn Ribs with Fresh Parsley
Sweet Pepper Chimichurri
Limited Edition BACARDÍ Spiced & Honey Sauce 250ml
Jerk BBQ Sauce 250ml
Mayo 200ml
Drinks:
X1 70 cl bottle of BACARDÍ Spiced
Cocktail ingredients to create the BACARDÍ Grilled Pineapple Swizzle
Lime juice
Pineapple juice
Bottle of Angostura Bitters
Pineapple wheel
Mint
Recipe card
Late-summer cocktails – yes please!

BACARDÍ Grilled Pineapple Swizzle
INGREDIENTS:
50ml BACARDÍ Spiced
25ml Lime juice
20ml Simple syrup (x2 parts sugar, x1 part water)
25ml Pineapple juice
2-3 dashes of Angostura Bitters
METHOD:
Add all ingredients to a glass or jug, fill with 2/3 crushed ice, stir and then top with more crushed ice.
Garnish with a mint sprig and a slice of grilled pineapple.