We all know that having the correct diet is the foundation of a healthy life. Support Stroke Awareness Month this May by filling your body with the right nutrients. These recipes are a great place to start.
Having too much fat and sodium in your diet, the majority of which we consume as salt, can increase your risk of having a stroke. We paired up with LoSalt, the UK's leading reduced sodium salt, in the name of Stroke Awareness Month to create some delicious recipes that are low in fat and in sodium — eating healthy has never been so tasty.
Thai prawn noodle soup
SERVES 2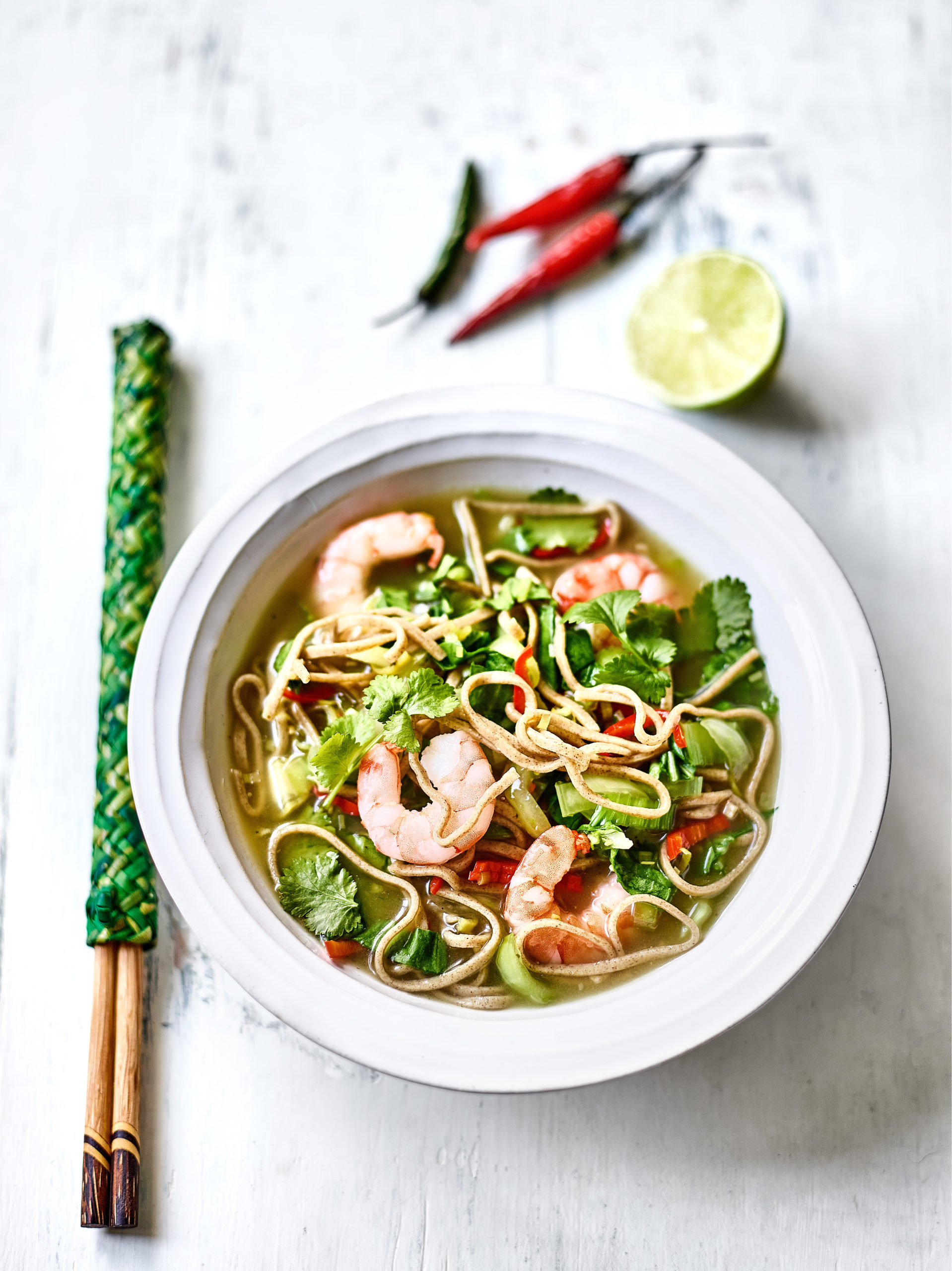 2 low salt organic vegetable stock cubes
1 lemongrass stalk, halved and thinly sliced
1 red chilli, deseeded and thinly sliced
300g pak choi, shredded
100g wholewheat noodles
150g raw king prawns
14g coriander, leaves only
1 tsp fish sauce
1 tsp LoSalt
Place the stock cubes and 800ml boiling water in a large saucepan and bring to the boil.
Add the lemongrass, chilli, white parts of the pak choi and noodles and simmer gently, and then cover for five minutes.
Add the green parts of the pak choi, king prawns, coriander, fish sauce and LoSalt, cook for two minutes until the prawns are pink and cooked through.
Serve in two soup bowls.
Cooking tip
Try using egg noodles or folded rice noodles and replace the prawns with roasted shredded chicken.
Lemon cod with oat crumb and spinach
SERVES 2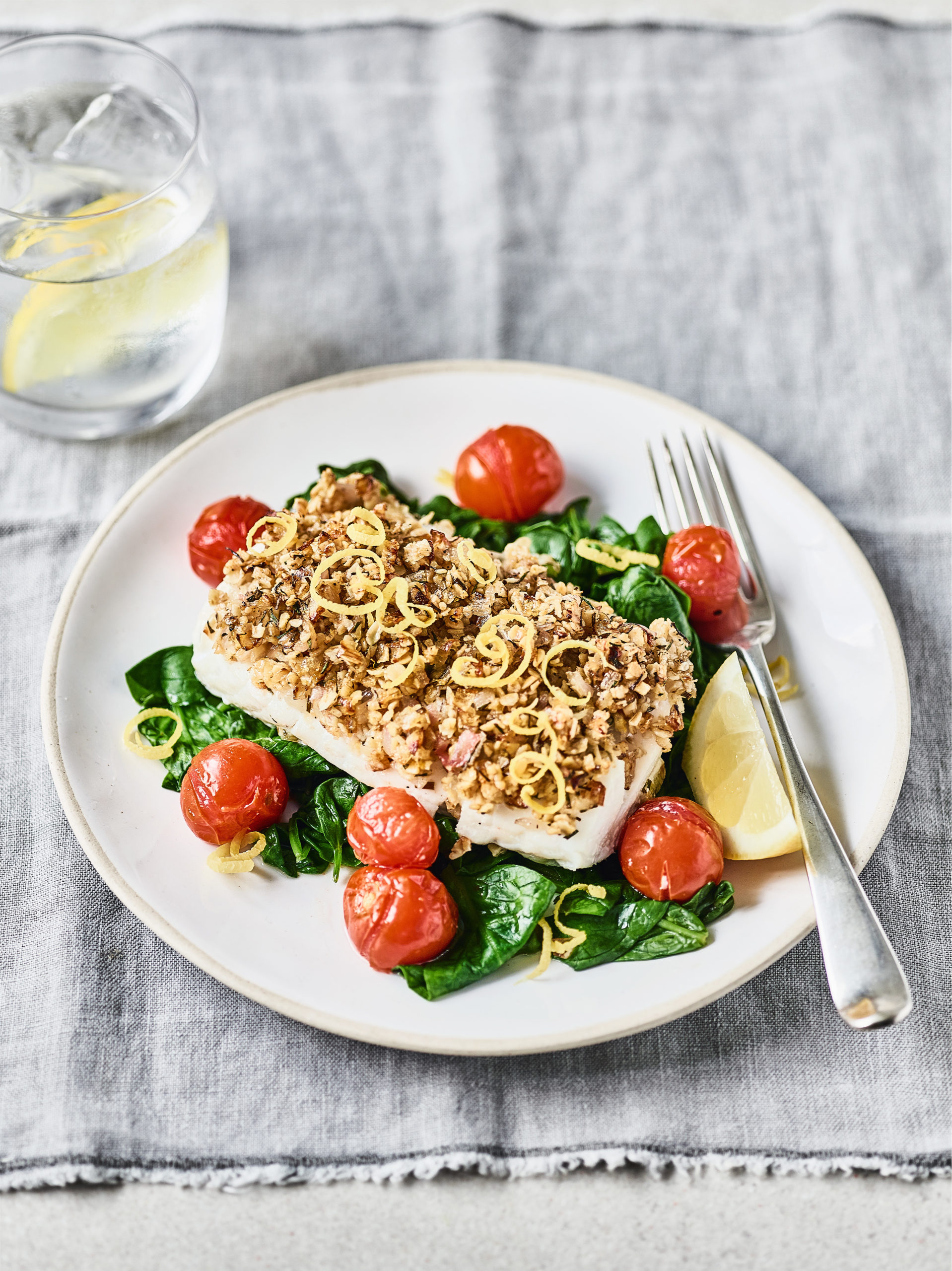 ½ tbsp olive oil
3 shallots, finely chopped (100g)
25g oats
2 tbsp chopped chives
1 tsp LoSalt
1 lemon
2 cod loins, approx. 200g each
200g cherry tomatoes
250g spinach
Preheat the oven to 200oC/Gas 6.
Line a baking tray with foil.
Heat the oil in a small frying pan and fry the shallots for four minutes until golden.
Add the oats and cook for two minutes.
Stir in the chives, LoSalt, lemon zest and juice of half a lemon and season with black pepper.
Press the oat mixture on top of the cod loins and place on the prepared tray.
Add the cherry tomatoes.
Bake for 15-20 minutes or until the cod is cooked throughout.
Place the spinach in a large bowl with a splash of water, cover with clingfilm and microwave on high for three minutes until just wilted.
Divide between two plates and top with the cod and tomatoes.
Serve with the remaining lemon, cut into wedges.
Cooking tip
Sprinkle the oat crumb on sea bass, haddock or salmon instead of cod.
Beetroot bourguignon
SERVES 4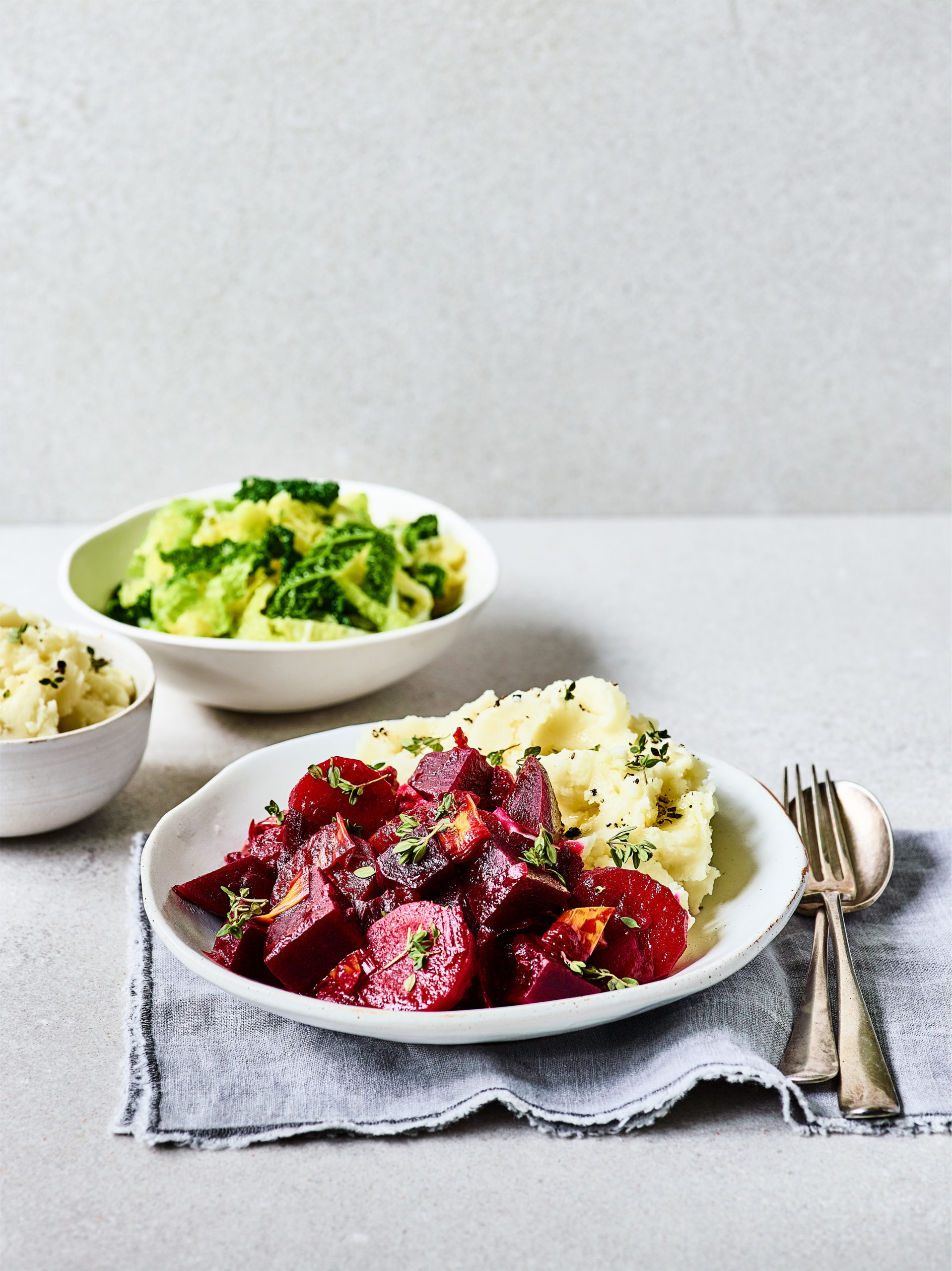 1 tbsp oil
180g onion, chopped
180g carrot, sliced
170g leek, thickly sliced
600g raw beetroot, peeled and diced
3 sprigs thyme, plus extra for garnish
150ml red wine
1 low salt organic vegetable stock cube
400g can chopped tomatoes
½ tsp LoSalt
Heat the oil in a large saucepan and fry the onion, carrot, leek, beetroot and thyme, cover and simmer for ten minutes.
Stir in the wine and cook until reduced by half.
Dissolve the stock cube in 300ml boiling water.
Add the tomatoes, stock and LoSalt and season with black pepper.
Cover and simmer for 40-45 minutes, stirring occasionally until tender.
Serve with mash or rice sprinkled with extra thyme leaves.
Cooking tip
Great to cook in advance and ready to reheat. Freeze in individual portions for a quick vegan supper.
Poached pears with walnut chocolate sauce
SERVES 4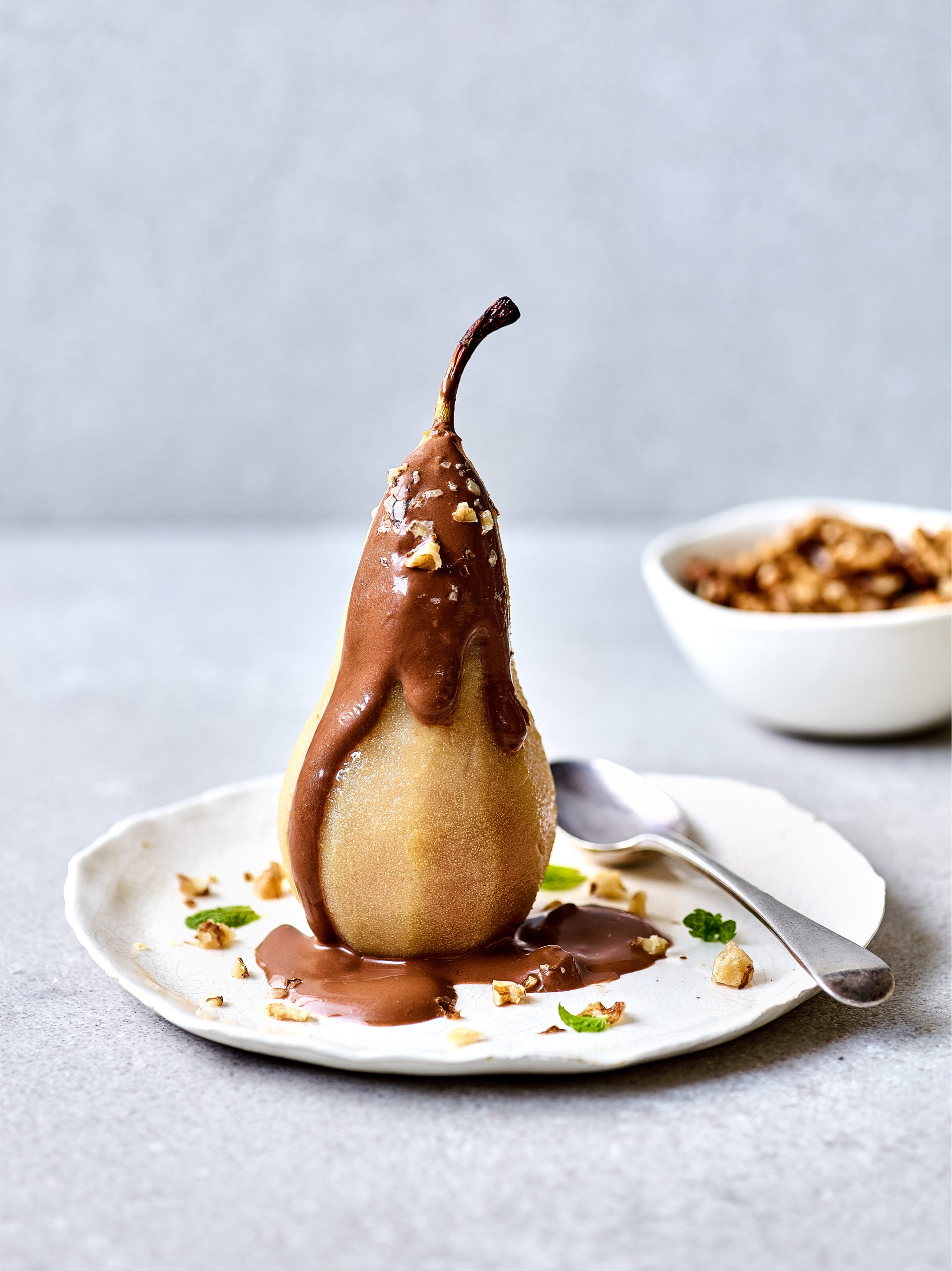 4 ripe pears, approx. 675g
200ml apple juice
25g 70% dark chocolate
1½ tbsp walnuts, roughly chopped
50g fat free natural yogurt
¼ tsp LoSalt
Peel the pears leaving the stalks on and trim the bases so that they sit upright.
Place in a medium saucepan and add the apple juice and 400ml water, bring to the boil and simmer for 10-15 minutes or until tender.
Remove pears from the cooking juice and set aside, reserving the juices.
Meanwhile, place the chocolate and two tbsp of the cooking juices in a bowl over a saucepan of simmering water to melt.
Remove the bowl and stir in the half the walnuts, the yogurt and LoSalt.
Place the pears on dessert plates, drizzle over the chocolate sauce and sprinkle with remaining walnuts.
Cooking tip
Try using peaches or nectarines and sprinkle with pistachio nuts.
Join Platinum's reader panel to help shape and influence content within your magazine. Want every issue delivered to your door? Subscribe today.