The ninth month of the Islamic calendar is here and with it comes Ramadan. A time for reflection, prayer and community, we thought we'd share some delicious Halal food boxes that can help make meal-planning a little easier under remaining Covid-19 restrictions.
Ramadan 2021 is looking a little different than last year. Lockdown restrictions may be lifting, but for Muslims who celebrate the month, Covid-19 rules may mean planning meals a little differently. As well as possibly taking part in online events to meet family, friends and the wider community.
These food boxes are delivered to your door, making the meal planning task a little easier. Not only including savoury ingredients, there's the odd treat on offer, too.
Morrisons Ramadan Essentials food box
£33, Morrisons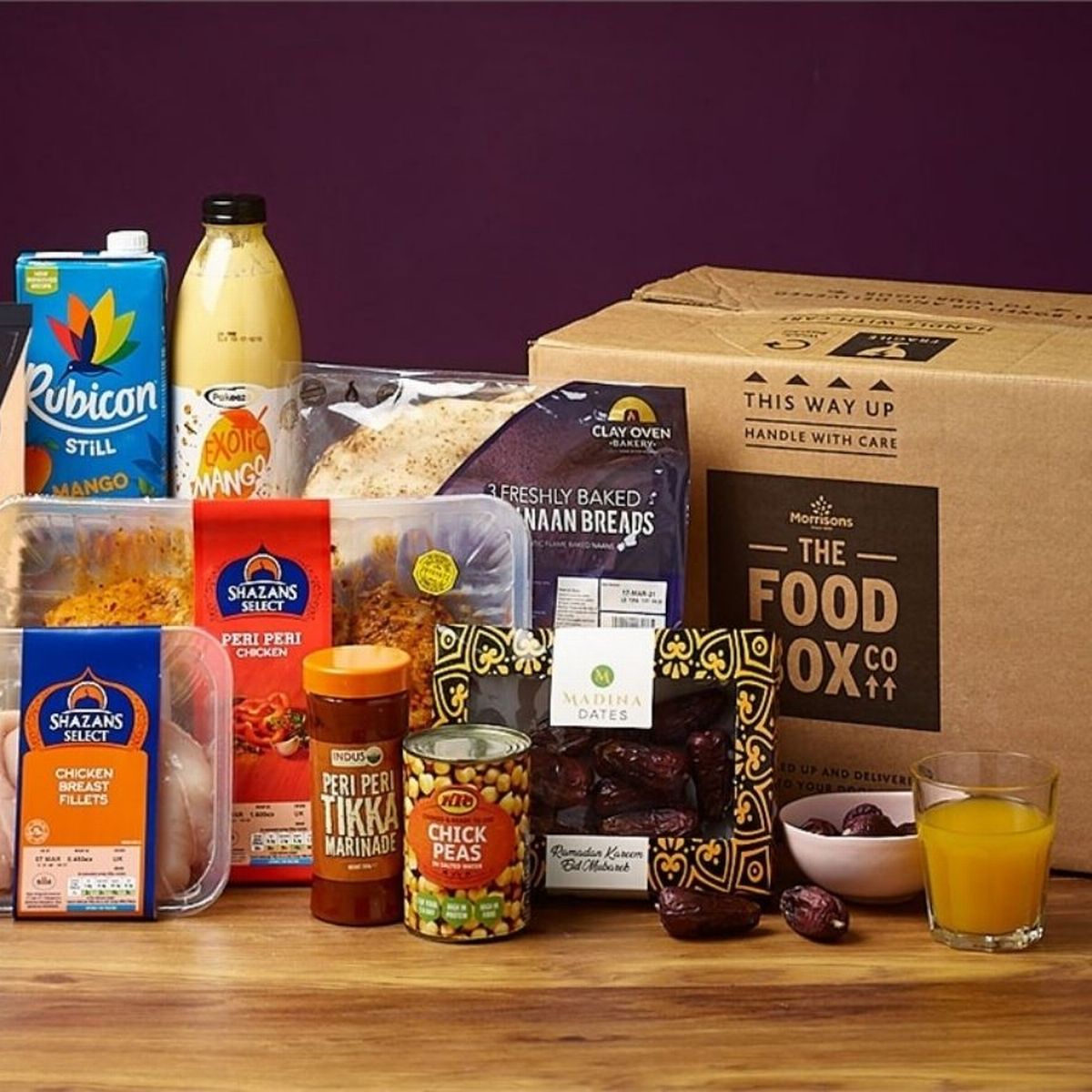 Morrisons introduced the Ramadan Food Box last year in response to the coronavirus pandemic. This year, even though lockdown restrictions are easing and more people are shopping in stores, demand for food boxes and home-delivery services remain strong.
Priced at £33, the Ramadan Essentials Food Box can be ordered online via Morrisons food boxes website. The cost of the box includes next day, if ordered before 3pm. or nominated day delivery by courier or within a one-hour timeslot of your choosing.
Noor Ali, World Foods Buying Manager at Morrisons said, "Many of our customers are still choosing to shop online, whether for convenience or because they are still shielding. Our Ramadan Essentials Box contains products we know our customers love and will help them create tasty dishes throughout the month of Ramadan."
Morrisons Ramadan Essentials Food Box is available to order now from Morrisons Food Boxes website morrisons.com/food-boxes/box/ramadan-box
Includes:
The Clay Oven Bakery plain naan bread
KTC chick peas
Rubicon still mango deluxe
KTC Hot & Spicy fry mix
Laila piri piri sauce
Madina Anbarah Jumbo Dates gift box
Shazans chicken breast fillets
Shazan peri peri chicken platter
Lancashire Farm bio yoghurt
Pakeeza mango lassi
Indus chicken tikka marinade
---
Chox-Otic chocolate hamper
£36.50, Hay Hampers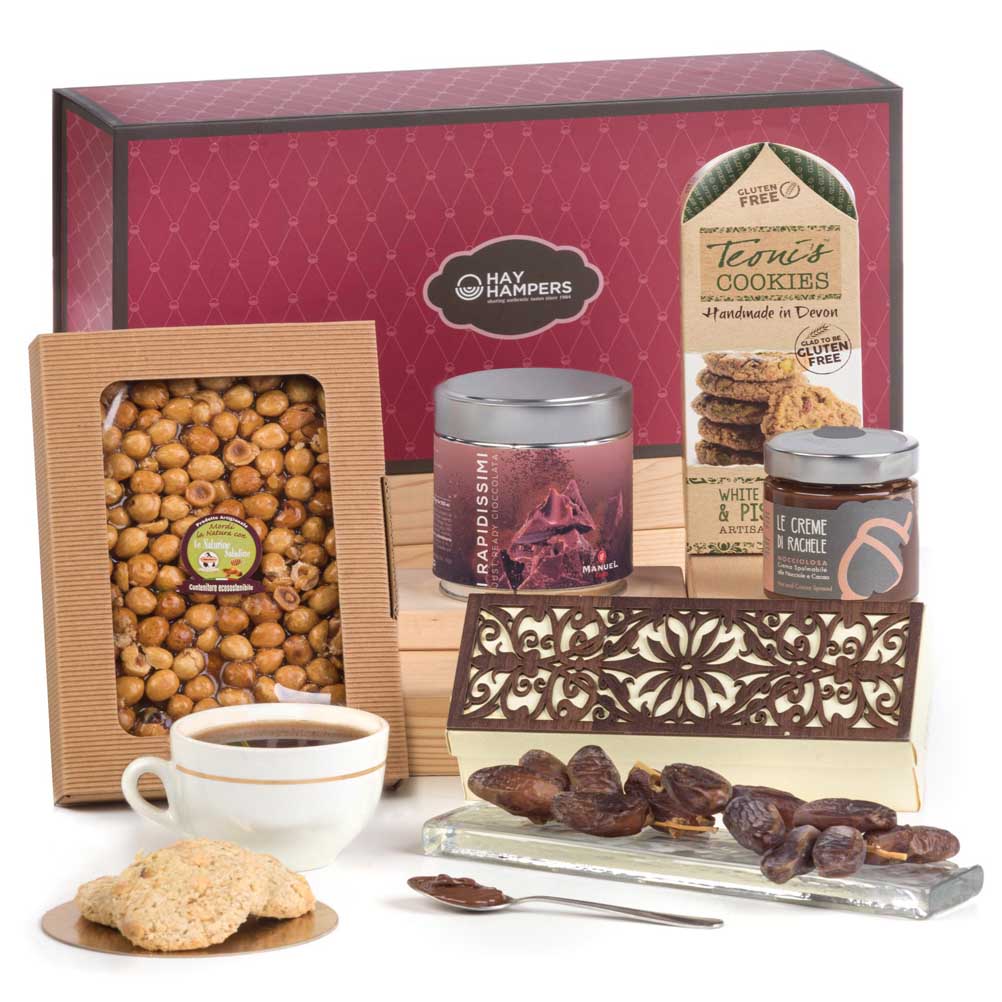 An exotic and Halal-suitable take on a chocolate hamper, this sweet gift takes influence from the flavours of the Middle East. With a hazelnut-rich chocolate spread, a box of juicy dates and some dried fruit and, or, nuts depending on the season. Not to mention a wonderful can of deeply rich hot chocolate drink and a box of white chocolate and pistachio biscuits, which also happen to be gluten-free!
Includes:
Dried fruit tray, Torre di Oricchio
Dates finest Medjoul, Zaytoun
Drinking chocolate, Manuel
Choc and pistachio gluten free cookies, Teoni
Chocolate spread Nocciolosa, Creme di Rachele
---
Exotic Luxury Wine, Savoury and Sweet Treats hamper
£68, Hay Hampers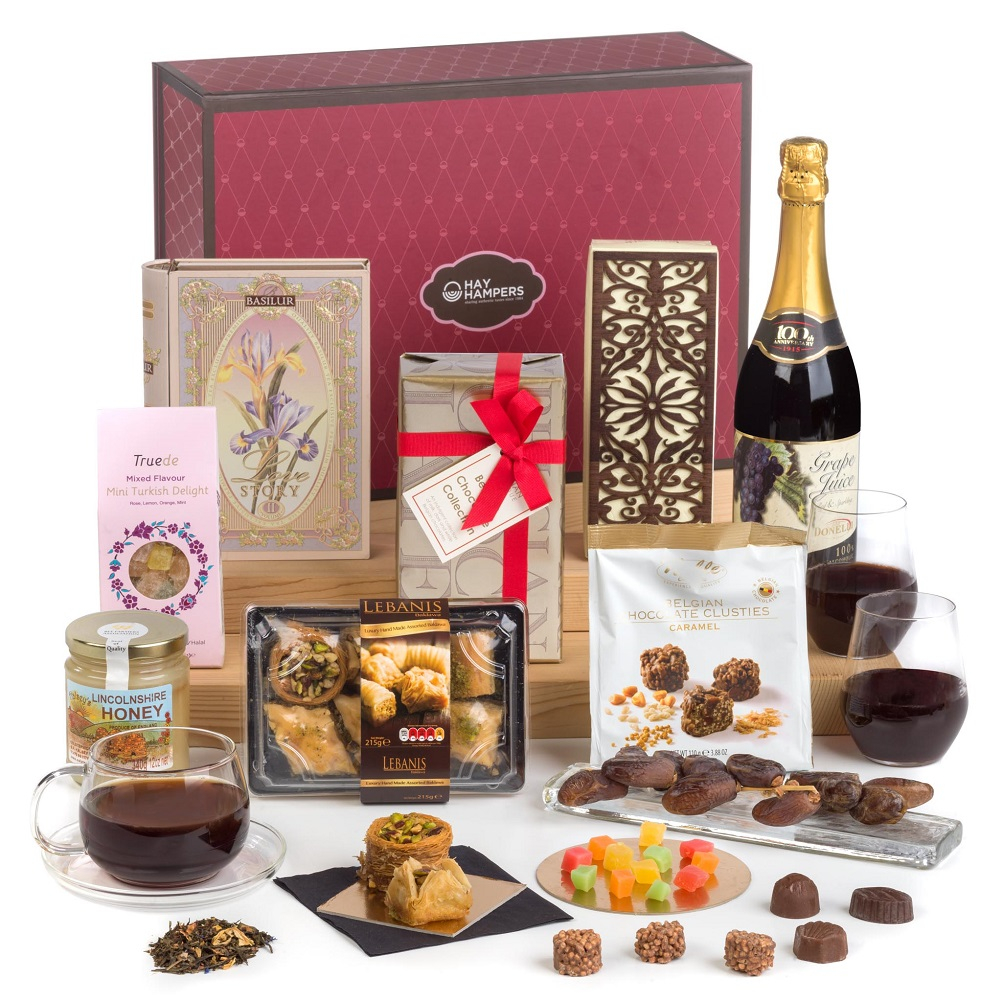 The largest of the Hay Hampers range of Eid hamper giftboxes. This gift contains a beautiful book-shaped tin of luxury tea, some celebratory sparkling juice, Belgian chocolates, a box of dates, some very special baklawa cakes, some chocolate clusters, Turkish delights and a very special jar of local honey. A beautiful gift to send to say happy Eid Mubarak to your nearest and dearest when you can't be with them to celebrate Eid-al-Fitr after Ramadan.
Includes:
Red sparkling grape juice, Donelli
Belgian chocolate Clusties, Noble Chocolates
Luxury Belgian chocolates gift box, Caluwé
Tea in Iris Book tin, Basilur
Turkish delight mixed flavour, Truede
Baklawa mixed, Cedar Baklawa
Lincolnshire honey, Brian R Halsey
Dates Finest Medjoul, Zaytoun
---
Yumbles Ramadan cookie letterbox gift
£15, Little Box of Goodies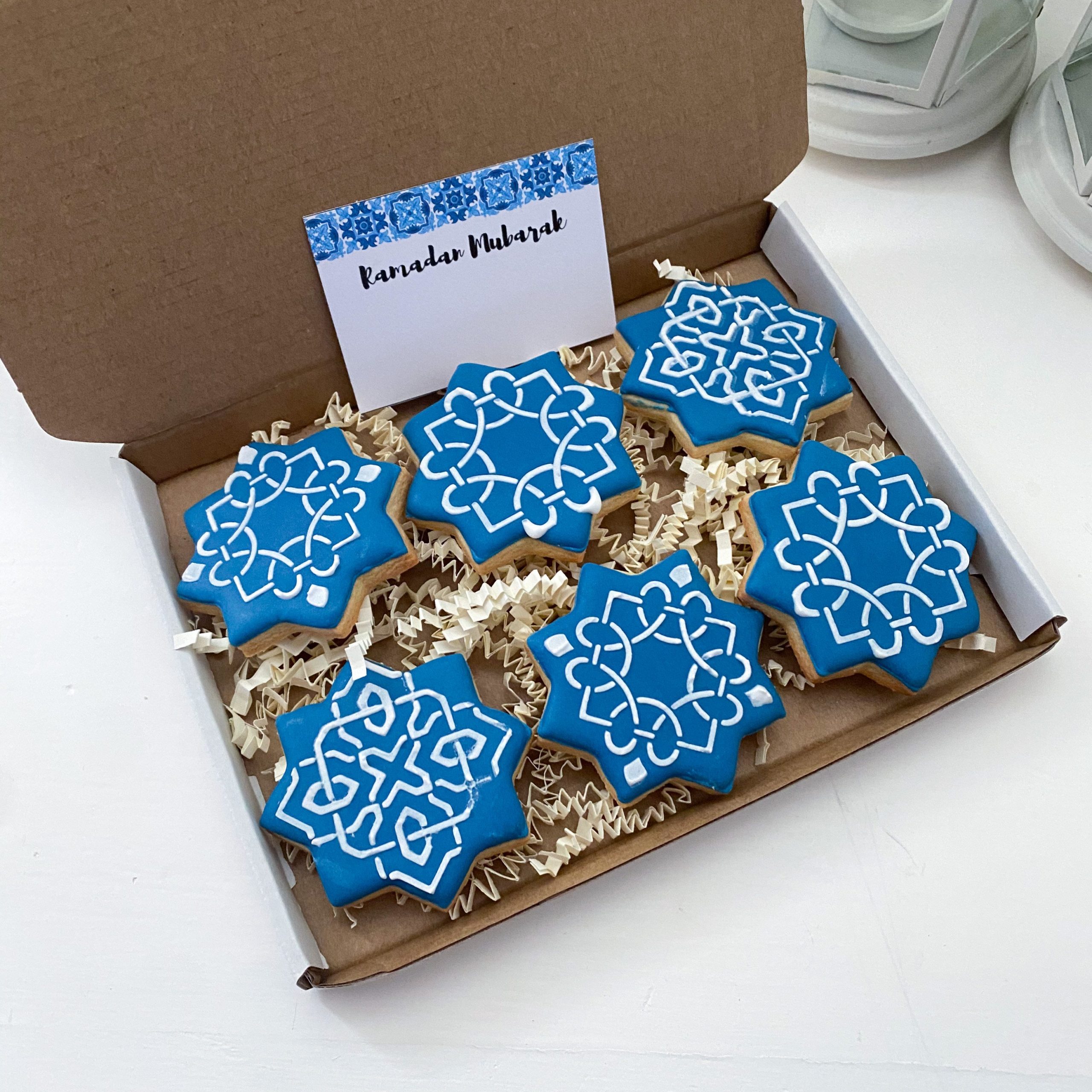 A set of six hand-made vanilla raspberry royal iced biscuits decorated in Ottaman blue and in a tile design.
The biscuits are best enjoyed within two days of opening but will keep in an airtight container (or in their individual bags) for up to four weeks and be just as yummy! Please note that the cookies are made in a kitchen that handles nuts – any known food allergies must be stated at time of order.
---
Ramadan Sweet Box 
£17.99-25.99, Halal Sweet Company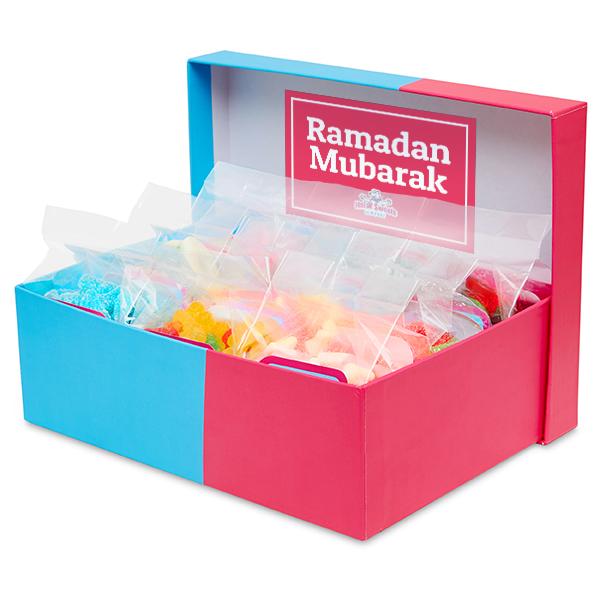 A prefect treat for kids, show them you care with the Halal Sweet Company Ramadan gift box. The Ramadan treat box is filled with soft, sour, sweet and fizzy delights – there's something for everyone in this mix. Add a personal message for an extra £1.49 and have delivered within three to five days. Perfect for a post-sunset treat, but will also keep as a celebratory gift come Eid-al-Fitr.
---
Belazu Middle Eastern collection 
£28, Wellocks at Home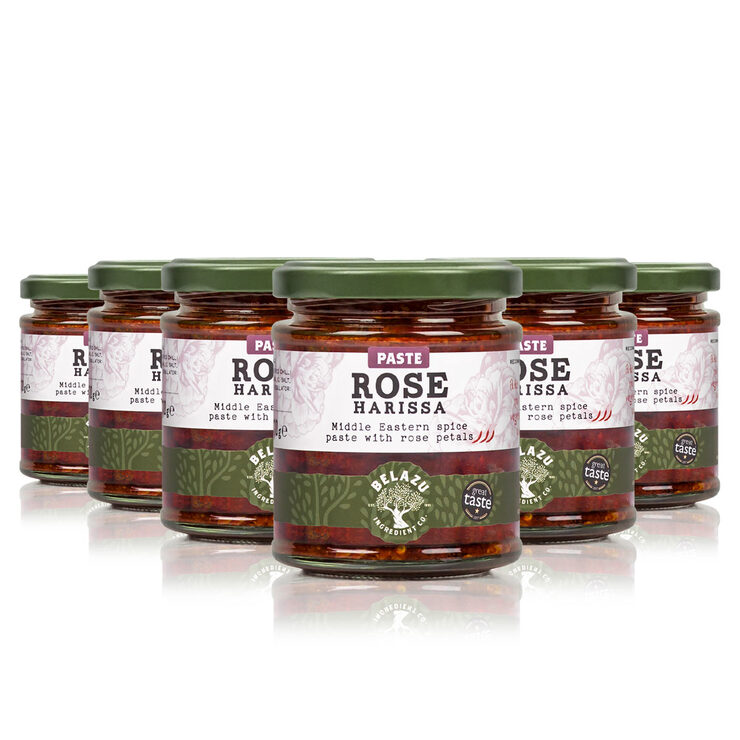 For Belazu, it's always been about the flavour – from the smooth, creamy texture of Tahini to the sweet smokiness of Harissa. In this collection, you'll find some of their most-loved products, all of which evoke the aromas you would smell walking through the bustling souks (markets) of the Middle East. From the slow-burning chilli heat of Rose Harissa to the bold herbal flavours of Zhoug and the deep yellow colour of Saffron, each of these ingredients will add a burst of flavour to your home cooking.
Includes:
• 500g tahini
• 170g rose harissa
• 500g barley couscous
• 1g saffron
• 220g Beldi preserved lemons
• 170g Shawarma paste
• 170g Zhoug
Subscribe to Platinum today and get every issue delivered to your door. Or find your local stockist, here. Head to our food and drinks archive for more gift ideas and delicious recipes like our vegan celebratory biscuit bakes.