Perfect for sharing, these are the ideal dishes for a Christmas spent with those closest to you.
And if you can't have loved ones sitting at your table this Christmas, you can package any of these treats and drop them off to their doors for enjoying later.
Chestnut, pancetta & rosemary sharing wreath
SERVES SIX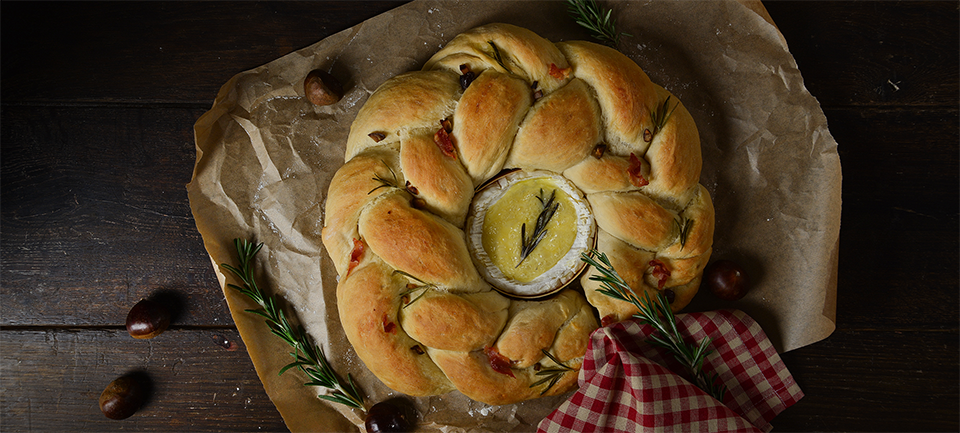 Ingredients
750g Carr's strong white flour
½ tsp sugar
3g fine sea salt
2 x 7g sachet of Fast Action dried yeast
460ml tepid water
70g vacuum packed chestnuts
80g thinly sliced pancetta
Olive oil
Rosemary sprigs
Camembert in a wooden carton
Method
Mix flour, sugar, salt and yeast together in a large bowl. Make a well in the centre of the mix and add water. Using your fingers, gradually mix all dry ingredients into the water until it makes a dough.
Remove dough from the bowl and put on a lightly floured surface.
Knead dough for five minutes then put into a clean bowl, cover with a warm, damp cloth and leave somewhere warm to prove for about 40 minutes, or until doubled in size.
Once proved, remove from the bowl and knead for another minute or two.
Split the dough into three equal pieces and stretch out so you have three strands that are approximately 90 centimetres in length and flatten slightly with your fingertips.
Chop chestnuts into small pieces and slice pancetta into five centimetre-long strips.
Scatter chestnuts and pancetta down the centre of each strand of dough — saving some for the top of your plait — then fold each piece of dough over so the chestnuts and pancetta are inside the dough. Loosely twist.
Place the strands next to each other in a line and join one end together. Plait dough and join at the other end.
Grease a large baking tray with olive oil and place the wooden carton from the camembert in the centre — leave the camembert in the fridge for now.
Carefully transfer the plait to the baking tray, placing around the carton (leaving one centimetre of space between the carton and the dough) to make a wreath and press the ends together to join.
Cover with a warm, damp tea towel and leave to prove in a warm place for 15 minutes.
Preheat oven to 200ºC.
Once proved, place the leftover chestnuts, pancetta and sprigs of rosemary on top of the dough.
Remove the top layer of rind from the camembert, leaving a one centimetre rim around the edge, and place in the carton on the tray with a sprig of rosemary in the middle.
Drizzle the dough with olive oil and place in a preheated oven for 25-30 minutes or until golden brown.
Festive panettone
SERVES 6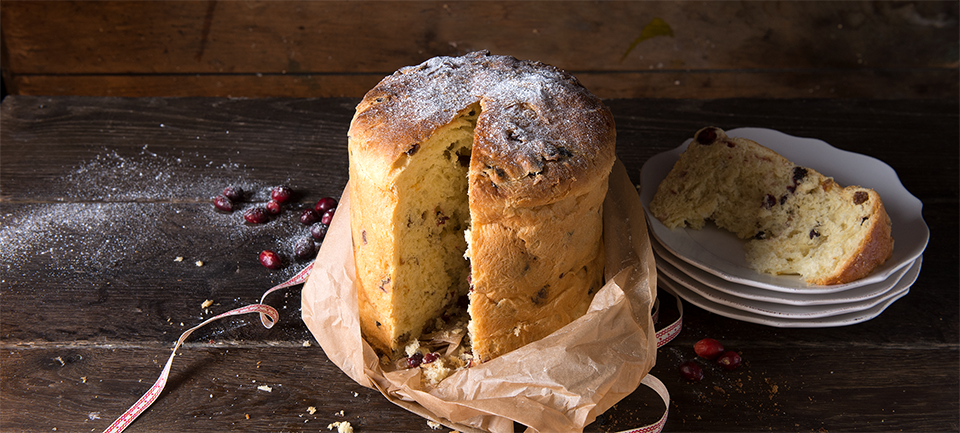 Ingredients
500g Carr's strong white flour
5g salt
50g golden caster sugar
2 x 7g sachets Fast Action dried yeast
150ml milk
5 eggs
250g unsalted butter
80g chopped glacé cherries
80g sultanas
80g currants
Demerara sugar to sprinkle
1 tsp Aroma Panettone Essential oil – if you can track it down, this adds a depth of traditional Italian flavour
Method
Mix flour, sugar, yeast, salt, eggs and milk in a mixer using a dough hook at slow speed for two or three minutes and then on medium setting for eight minutes to create a soft dough.
Add room temperature-softened butter and mix for another six minutes.
Then add the dried fruit and mix together.
Put the dough into a bowl, cover with clingfilm and prove overnight in a cold place or in the fridge to develop the complex flavours of the panettone.
When you are ready to cook the panettone, preheat the oven to 180ºC and brush the inside of an 18 centimetre panettone tin with melted butter.
With floured hands take the dough from the bowl, knead gently and shape into a ball, then put into panettone tin.
Prove dough in the tin at room temperature for two to three hours — it will rise to the top of the tin.
Egg wash the top of the panettone with a soft brush and place in the centre of the oven to bake for about 25 minutes. Then turn the oven down to 150°C and bake for a further 30 minutes. Check with a skewer as you go.
Take the panettone from the tin, sprinkle lightly with demerara sugar and allow to cool.
Wrap in baking parchment and tie with a ribbon for the perfect gift.
Cranberry and almond biscotti
SERVES 16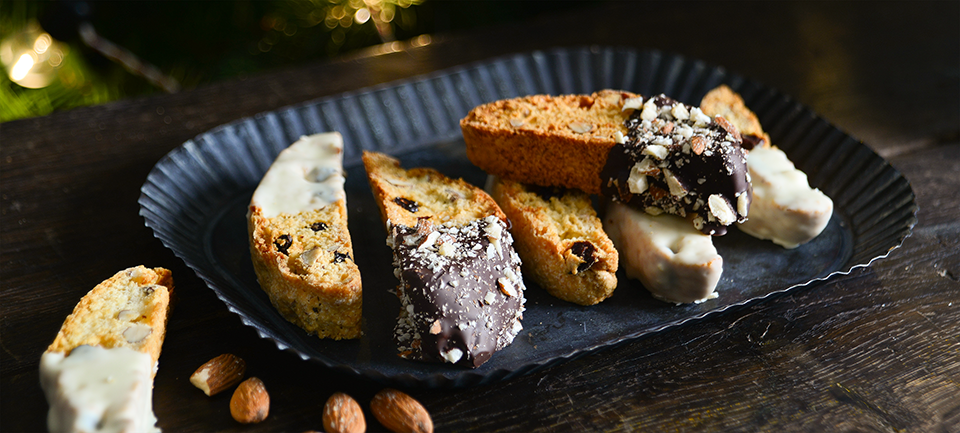 Ingredients
260g Carr's plain flour
1 tsp baking powder
Pinch of salt
150g granulated sugar
3 eggs, beaten
50g almonds, chopped
50g dried cranberries
½ tbsp almond extract
Method
Preheat oven to 160ºC and line a baking tray with parchment.
In a bowl, mix together the flour, sugar, baking powder and salt.
Gradually add beaten egg, (you may not need all of it) until it forms a dough.
Add almonds, cranberries and almond extract, mixing thoroughly.
Roll out on a floured surface and roll into a log roughly 35 centimetres long and eight centimetres wide.
Bake for 35 to 40 minutes and cool. Cut into approx. two centimetre-thick diagonal slices.
Place these onto the baking tray sliced side up, and bake for a further ten minutes on each side. Leave to cool on a wire rack.
Once cooled, you can decorate with chocolate and crushed nuts (as photographed).
Subscribe to Platinum today and get every issue delivered to your door. Or find your local stockist, here.