Celebrate Espresso Day 2020 with this delicious espresso martini from Coffee Direct.
In Turin, Italy, during the 19th century, Angelo Miriondo invented the first coffee machine that used steam and water to brew coffee. In 1901, Luigi Bezzera modified the coffee machine for individual servings in the home. His aim was to minimise the time employees took for coffee breaks and improve their productivity.
The beverage has come a long way since then. You can enjoy espresso as it is, or blend into a cappuccino, latte, macchiato or a cocktail for intensified flavour. Treat yourself to this delicious espresso martini recipe.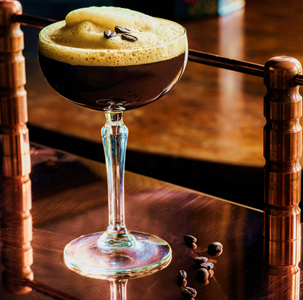 Espresso martini 
SERVES ONE
Ingredients
32ml vanilla vodka
36ml coffee liqueur
25ml sugar syrup
3 loose coffee beans
36ml freshly brewed espresso such as Golden Crema
Chill your martini glasses for approximately twenty minutes.
Place vodka, coffee liqueur, sugar syrup and freshly brewed espresso into a cocktail shaker or lidded jar with a handful of ice.
Shake vigorously for 40-50 seconds until well blended and chilled.
Strain the liquid into your glasses, drop three coffee beans into centre of froth and dust lightly with chocolate powder for decoration.
Need to know:
How to chill your martini glass
It's important to chill your martini glasses in the freezer or fill them with ice for at least 20 minutes before serving. This ensures that your glasses stay colder and fresher for longer. Don't forget to empty the ice out before you fill the glass up.
How to grind coffee for your espresso
A super fine grind is key for this recipe. The pressure of the pump mechanism means maximum flavour can only be extracted from finely ground coffee beans. You'll know if your grounds are too coarse if you find yourself with a weak and under-extracted brew.
How to get the perfect espresso flavour
Freshly brewed coffee is essential for the flavour and the martini foam; make sure it's the same quality and strength as your morning coffee. Cool your coffee prior to use, otherwise it will melt the ice and dilute the flavour. Experiment with different blends and see what works best.
How to garnish an espresso martini
The traditional way to garnish an espresso martini is with 3 coffee beans, representing health, wealth and happiness. Some have a preference to place a piece of orange peel over the surface of the martini; this can release essential oils which flavour the foam.
Subscribe to Platinum today and get every issue delivered to your door. Or find your local stockist, here.