Why do one style of chicken wings when you can do three? These delightful takes will sizzle at any social gathering.
Great in the oven or on the barbecue, these chicken wings are delicious all on their own or with coleslaw, corn on the cob and sweet potato wedges.
These three delightful marinades work well for any meat — and the BBQ sauce makes a wonderful dip too.
This recipe makes 100g which is enough to use as one serving for any meat or fish. Pound all the ingredients together using a pestle and mortar until you have a powdery consistency.
Makes 16 chicken wings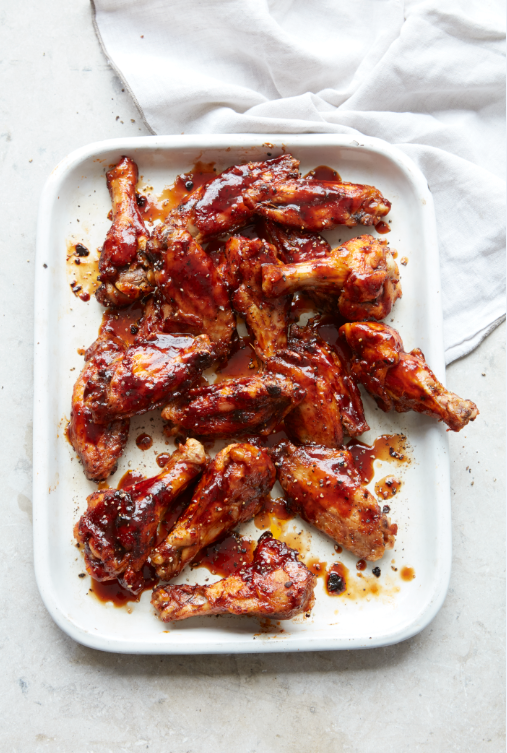 For the Ginger and Honey Marinade
Ingredients:
1 small red bird's eye chilli, finely chopped
1 clove of garlic, peeled and grated
2cm fresh ginger, peeled and grated
4 tbsp runny honey
3 tbsp soy sauce
1 tsp sesame oil
Pinch of flaked sea salt
Grind of black pepper
For the BBQ Sauce
Ingredients:
55g coconut sugar
50ml soy sauce
300ml tomato ketchup
Pinch of flaked sea salt
Grind of black pepper
To make the Spice Rub
Ingredients:
1 tsp Himalayan salt
1 tsp ground coriander
1 tbsp onion powder
1 tsp garlic powder
1 tsp smoked paprika
1 tsp ground cumin
½ tsp cayenne pepper
Grind of black pepper
¼ tsp dried chilli flakes
¼ tsp dried parsley
2 tbsp coconut sugar
Method:
Mix all the ingredients together in a shallow bowl then rub the marinade into the chicken wings to coat them well.
Leave for a minimum of 1 hour to marinate; the longer the better, so leave them in the fridge overnight if you are well prepared.
For the BBQ rub: Put the coconut sugar, soy sauce and tomato ketchup into a small saucepan over a medium heat and season with salt and pepper. Simmer for a few minutes to combine the flavours and ensure the sugar has dissolved.
Preheat the oven to 180°c/Gas 4.
Place your marinated wings on a baking tray.
Place the prepared chicken wings into the centre of the oven to cook for 30 to 35 minutes until browned and sticky or crispy, depending on the flavouring.
If they are large wings, they may still look pale, so just put them back in until they get darker. Once you think the wings are done, make a slit with a sharp knife to check that the juices run clear, so you know they are ready to serve.
Recipe courtsey of the The mymuybueno Cookbook from Justine Murphy, out now.