These delicious recipes are packed with flavor and very easy to bring together.
It's extremely important to make sure you're putting the right nutrients into your body. These recipes are rich in useful boosters that will help keep your immune system strong and better prepared to fight disease.
Kale, apple and cashew cheese salad
This vegan salad is crunchy, sweet and delicious. Split into three sections, this recipe will teach you how to make cashew cheese from scratch and bring together the perfect balsamic dressing.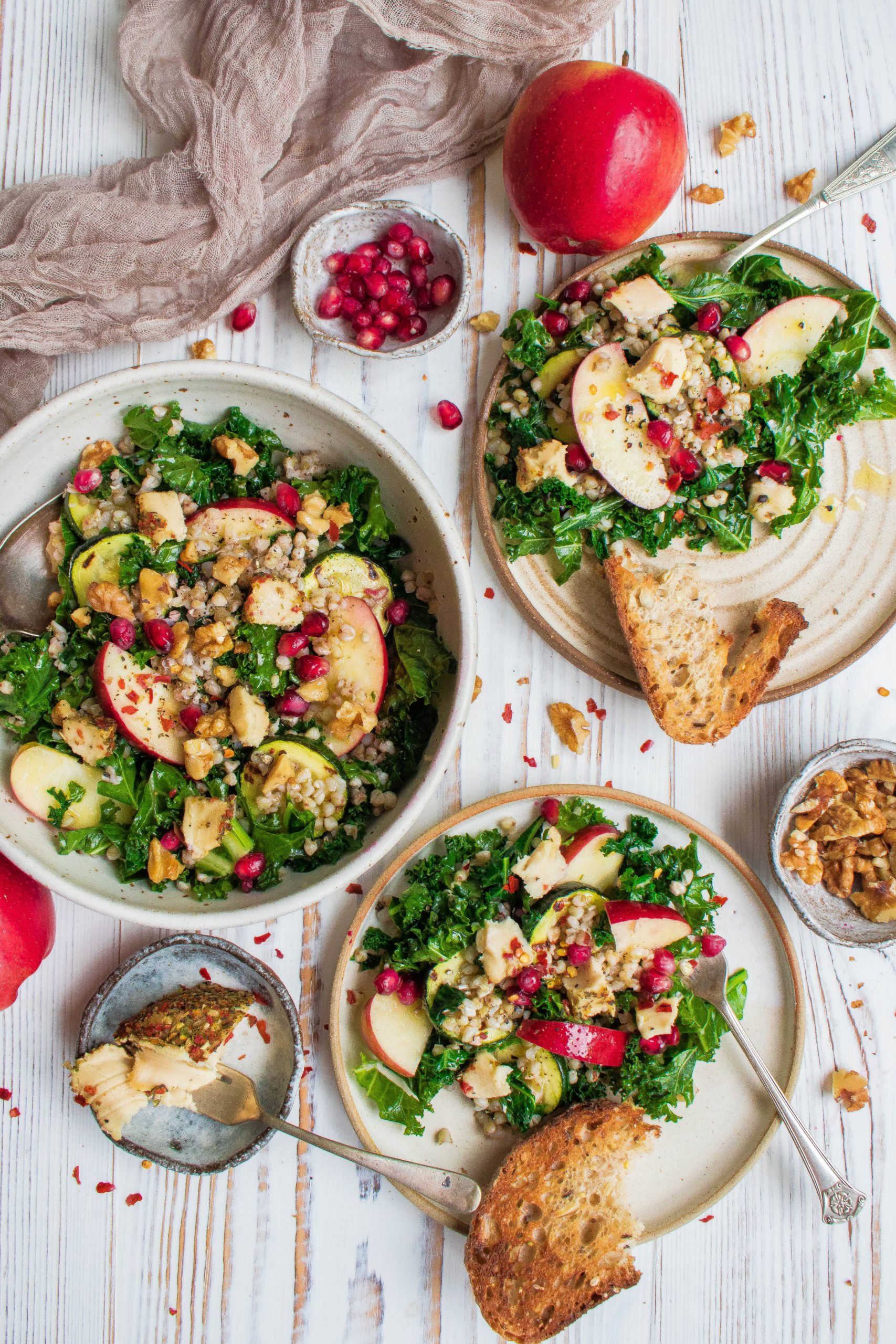 Dressing ingredients, whisked into a bowl
2 tablespoons of extra virgin olive oil
1 teaspoon of balsamic vinegar
1 teaspoon of lemon juice
1/2 teaspoon of maple syrup
A pinch of sea salt and black pepper
Salad ingredients
1 apple
83g de-stemmed kale, roughly chopped
150g of cooked buckwheat (you can also use quinoa)
1 pomegranate
1 courgette, cut into slices
A handful of walnuts
To make the salad start by mixing together the dressing ingredients. Pour the dressing over the chopped kale and with your hands massage the leaves until they start to wilt and soften. Leave it to one side.
For the cashew cheese
375g of cashews which have been soaked overnight
60ml of water
2 tbsp of nutritional yeast
1 teaspoon of miso paste
2 tbsp of lemon juice
Powder from 2 capsules of probiotics
1 tsp of onion powder
1 tsp of salt
1 tbsp of fresh chopped dill
To make the cashew cheese drain the cashews and place them in a food processor, add the water, nutritional yeast, miso paste, lemon juice, probiotics, onion and salt. Start blitzing and stop the food processor from time to time to scrape the sides. Keep blitzing until you have a smooth and creamy consistency.
Pour the cheese mixture into a double cheese cloth. Tie the cloth at the top around a wooden spoon or something similar that will keep it suspended from a deep mixing bowl. Cover it with a tea towel and leave it in a warm and dark place (I put mine on top of the fridge) for 16 hours.
Transfer the cashew cheese into the fridge and leave it for another 24 hours. The longer you leave it, the more it will have a "cheesy flavour".
The final touches
Grill and cook the sliced courgette onto the barbecue for few minutes each side. Add the grilled courgette to the kale together with the chopped apple, cooked buckwheat and pomegranate seeds. Mix everything together. Top with the chopped walnuts and dollop of the cashew cheese.
Spicy apple dahl
I know it might sound a bit weird using apple in a Dahl but it actually works so well! Using @jazzappleuk adds a natural sweetness to the dish, making it extra delicious. This is perfect for freezing so that you can always have a nutritious meal on hand.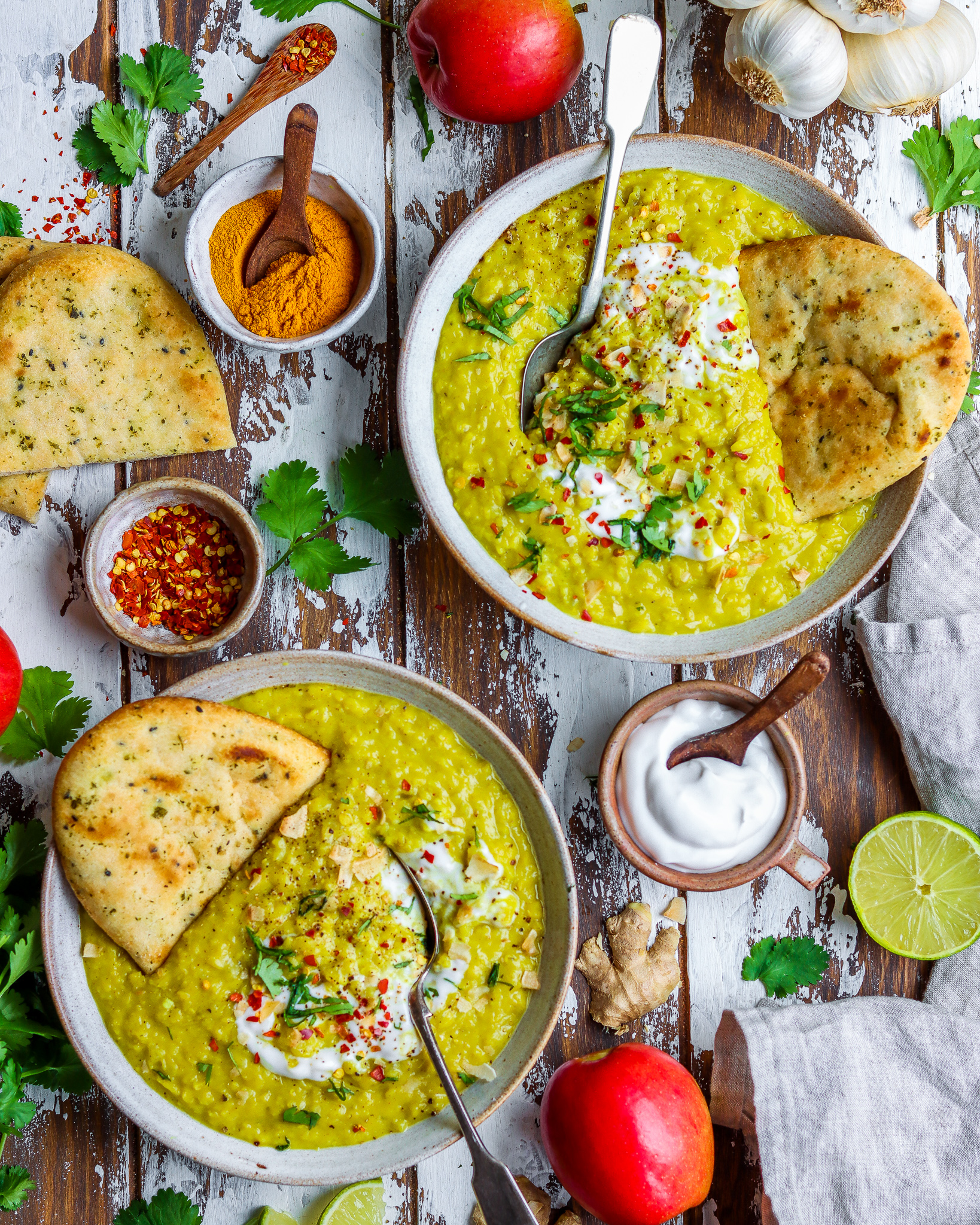 Ingredients
SERVES 4
1 tbsp of coconut oil
1 white onion – finely chopped
3 garlic cloves – crushed
A thumb piece of ginger – grated
A small piece of fresh turmeric – grated
1 tsp of curry powder
1 tsp of cumin powder
1/2 tsp of cayenne pepper
1 jazz apple – grated on the large holes of a box grater
200g of red split lentils – rinsed
1 can of coconut milk
Salt & pepper to taste
Serve with
A squeeze of lime juice, a dollop of coconut yogurt, some chopped coriander and a sprinkle of chili flakes.
Put coconut oil in a large pan and place on a medium heat. Once hot, add in the curry powder, cumin and cayenne pepper. Cook for few minutes making sure to keep stirring to prevent burning.
Add in chopped onions and cook for five minutes until caramelised.
Add in the grated ginger, turmeric and garlic and cook for another couple of minutes.
Add in the grated apple, lentils and stir to coat. Stir in the coconut milk and 2 cups of water and bring it to boil. Turn down the heat to a simmer and cook for 25-30 minutes until the lentils are soft and you have a creamy consistency.
Apple and watermelon mint cooler
This is the perfect drink to serve at a BBQ or al fresco dinner. It's refreshing and sweet, with a hint of zing from the lime juice. If you want to turn it into a cocktail just serve with 25ml of vodka.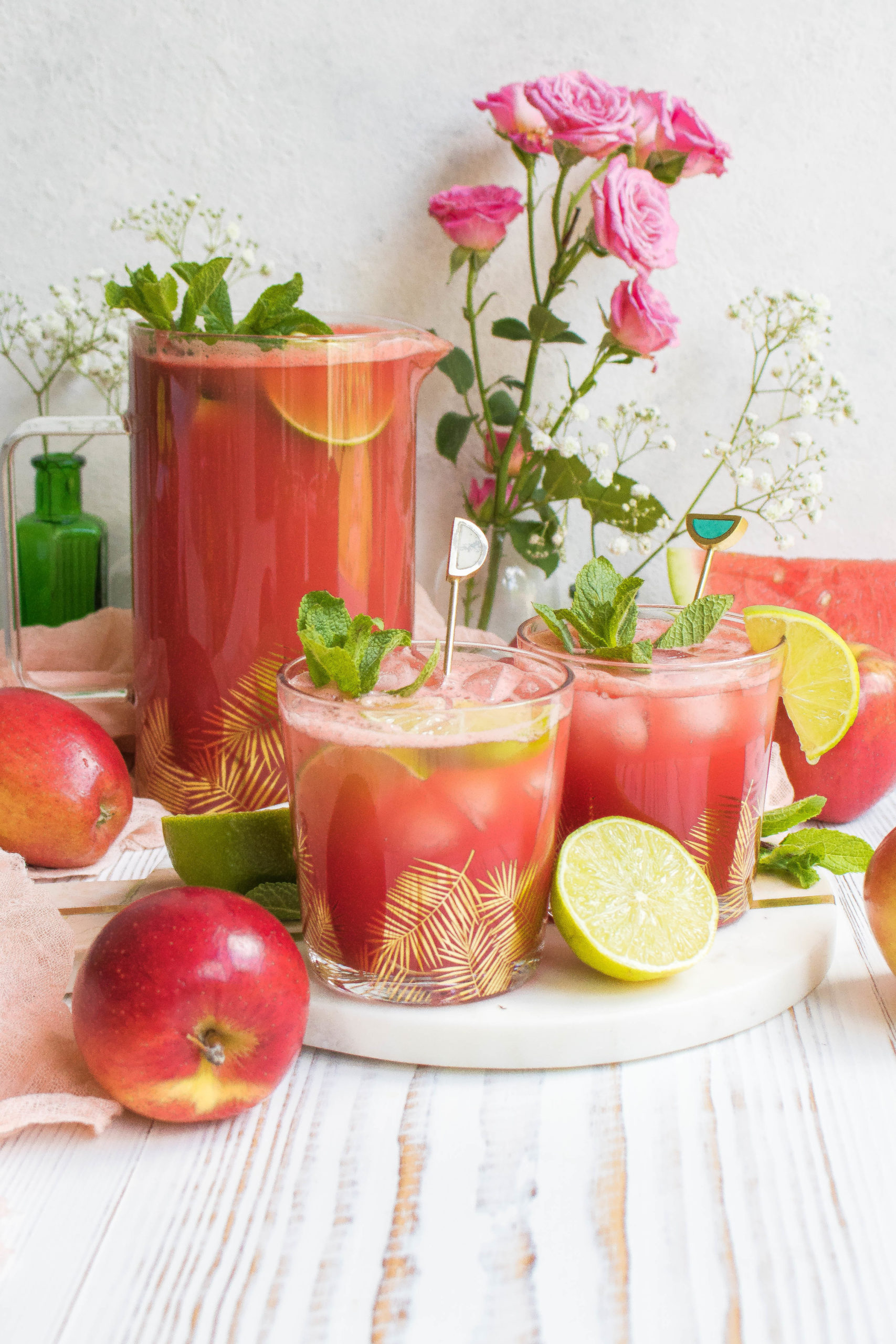 Ingredients
2 apples, core removed and chopped into pieces
1/2 a small watermelon, peeled
A handful of fresh mint leaves, with some put aside for decoration
1 lime, juiced
1 lime, sliced for garnish
Place the chopped apples, coconut oil and lemon into a blender until fairly smooth.
Using a muslin cloth, strain the juice into a large bowl (to avoid spilling everywhere).
Transfer to a jug and add lots of ice.
Hold the mint leaves in your hand and clap one hand over the other to release their taste.
Add into individual glasses alongside and few a slices of lime.
This drink is best served immediately. Do not store in the fridge for too long.
For more health advice and healthy eating guides, take a look at our health and food and drink pages.