Italian chef and Platinum expert, Valentina Harris shares some of her favourite Tuscan treats.
Here are three recipes that for me are quintessentially seasonal. Good food is always about much more than just feeding the body: it should feed your soul and your mood as well, and for me these dishes do just that as we hunker down for winter.
Coniglio alla Toscana
(Tuscan rabbit casserole)
This one is a truly ancient recipe, apparently dating back to the time of the Etruscans, and is a thoroughly tried and tested method of cooking rabbit, though the recipe also works well with jointed chicken. Serve it on a bed of soft, creamy polenta, as is traditional.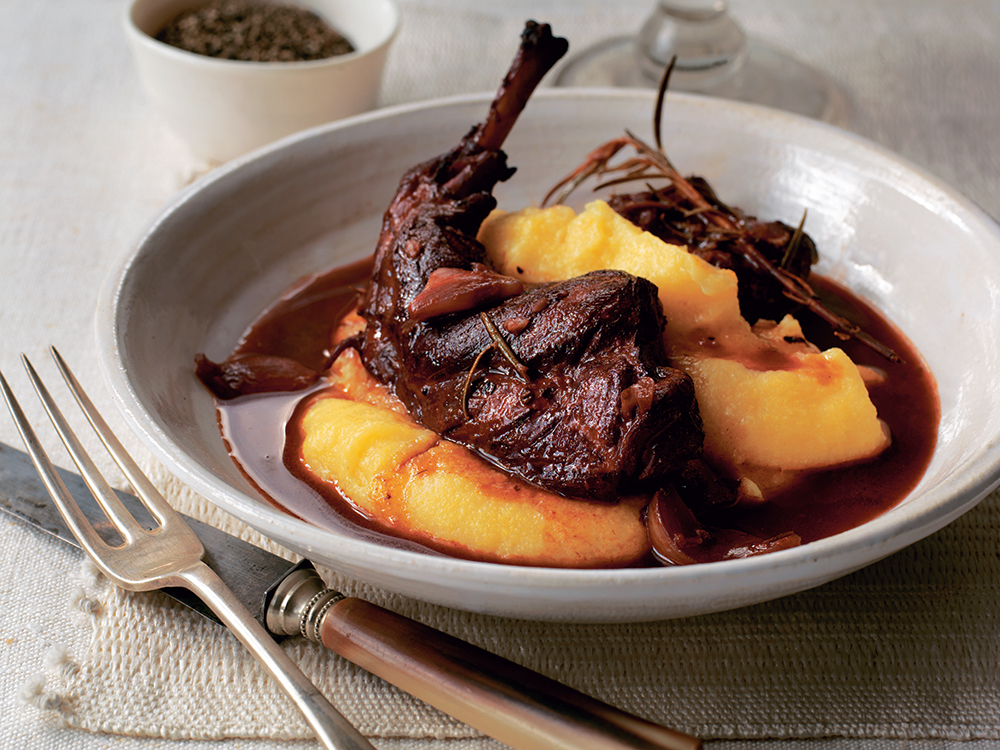 Ingredients
1 1/2 kg approx. rabbit joints
500 mls water mixed with 6 tablespoons strong red or white wine vinegar
6 cloves garlic, peeled
1/2 tsp ground black pepper
1/2 tsp sea salt
3 large sprigs rosemary
75 mls olive oil
1/2 bottle red wine
1 tbsp tomato puree
To cook
Wash and dry the rabbit joints, then soak them in water and wine vinegar for about an hour. This tones down the gamey flavour and will tenderize the meat.
Drain the rabbit joints and dry them carefully.
Chop 1/2 clove garlic and 1/2 sprig rosemary and mix it with the salt and pepper. Rub this mixture all over the rabbit joints.
Heat the oil gently in a pan with the remaining garlic and rosemary.
When the garlic smells pungent, add the rabbit joints and seal all over until brown. Add 1/2 bottle of red wine gradually, without allowing the cooking to stop.
Stir in the tomato puree and about ¼ litre warm water.
Cover and simmer gently until cooked — about 45 minutes, and serve with polenta or roasted potatoes.
We have many more beautiful features in our Food & Drink pages. Why not take a look at some of Italian chef, Valentina's other recipes while you're there?