As the weather changes, a little spice and heat from India is the perfect choice for delicious meals.
Let Dan Toombs, aka The Curry Guy, inspire you with his India-inspired savoury and sweet heat recipes.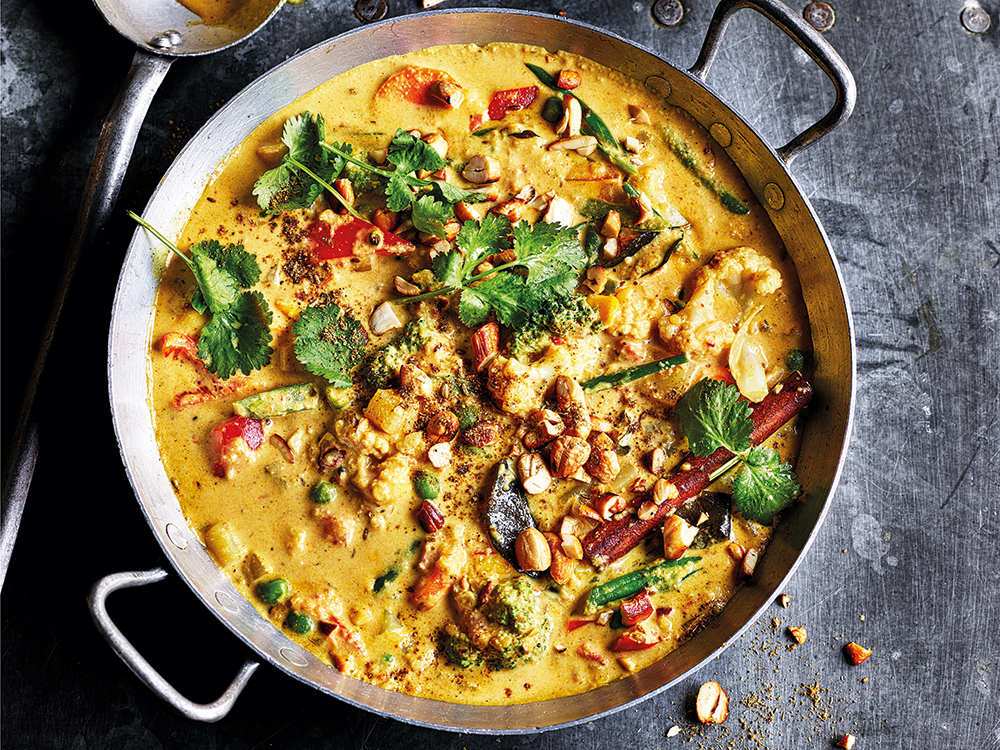 Ingredients
(Serves 4)
1 potato, cubed
12 cauliflower and/or broccoli florets
75g peas
75g sweetcorn
1 carrot, peeled, finely chopped
15 green beans, roughly chopped
1 small red pepper, roughly chopped
3 tbsp ghee or rapeseed oil
1 cinnamon stick
3 green cardamom pods, bruised
15 fresh curry leaves
2 onions, finely chopped
1 tbsp garlic and ginger paste
3 tomatoes, diced
1⁄2 tsp turmeric
125ml whisked plain yoghurt
Salt
3 tbsp finely chopped
coriander to serve
1 tsp garam masala, to sprinkle
For the korma paste:
2 tbsp chana dal (lentils)
1 tbsp cumin seeds
1 tbsp coriander seeds
200g coconut milk
30 cashews
2 tbsp sesame seeds
4 cloves of garlic
2 green chillies, roughly chopped
2 dried red chillies
1 tbsp sugar
10 black peppercorns
To cook
Parboil your cubed potato until almost cooked through, then add the rest of the vegetables and simmer them with the potato until just cooked through, but still quite fresh looking. Drain and set aside.
To make the korma paste, lightly toast the chana lentils in a dry frying pan until light brown, then transfer to a plate to cool. Roast the cumin and coriander seeds in the same way. They are ready when fragrant. If they begin to smoke, get them off the heat.
Place the lentils, cumin seeds and coriander seeds in a spice grinder with the other paste ingredients and grind to a smooth, thick paste.
To make the curry, heat the ghee or oil in a large saucepan that has a lid. When visibly hot, add the cinnamon stick and cardamom pods and temper these spices in the oil for about
30 secs before adding the curry leaves.
Temper the leaves for another 30 seconds, then add the chopped onions.
Fry the onions until soft and lightly browned, and then stir in the garlic and ginger paste.
Add the chopped tomatoes and turmeric and let this mixture all cook for another couple of minutes before adding your prepared korma paste. Toss in the par-cooked vegetables and about 250ml water to cover.
Stir well and place the lid on the top.
Cover and cook for a couple of minutes, until the sauce has thickened and the vegetables are fully cooked.
Pour in the yoghurt and cook for another 1 minute with the lid on.
To finish, season with salt to taste, garnish with the coriander.
Love this recipe? Search our Food & Drink pages to find two more parts to our delicious taste of India series.