Here is how to make delicious tasting elderflower cordial, perfect for those hot summer days.
Elderflower cordial is a tipple that works harder than its counterparts. Easy to make and a fantastic multitasking product. Try it diluted with sparkling water for a refreshing summer drink or incorporate it as an alcoholic spritz with gin. You can even create delightful bakes with elderflower cordial, from soothing jelly to an elegant panna cotta.
The real question is — what to make first? Let's start with the basics.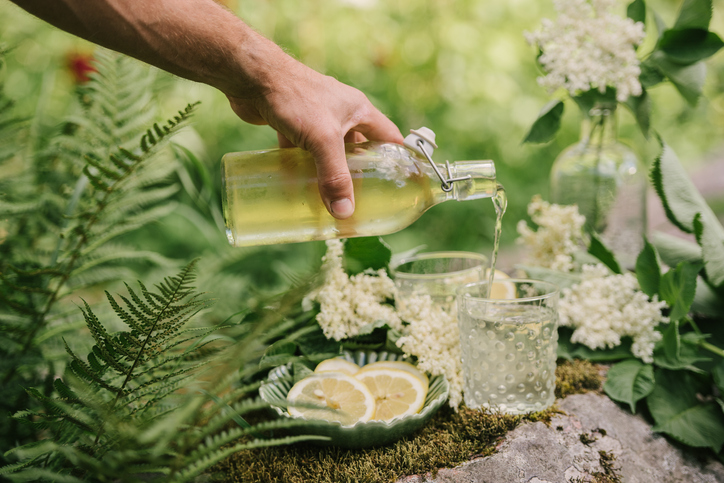 Elderflower cordial
Ingredient:
Approx. 20 heads of elderflower, well rinsed and inspected for insects
1 kg caster sugar
1 tsp citric acid (buy it from your local chemist)
3 lemons, –peel and juice
1.5 litres of water
Method:
Boil the water and add to a large pan with the sugar and citric acid, stirring until it's completely dissolved and the liquid is completely clear. Add the flowers, lemon peel and lemon juice. Stir well. Cover the pan with cling film and a tea towel and leave to stew for 24 hours in a cool place.
Using a sieve, lift out the majority of the flowers and lemon and press to release any excess liquid back into the pan. Rinse the sieve and line with a clean muslin cloth then strain the liquid into a clean bowl. Repeat if necessary, until you have a liquid entirely free of bits and pieces.
Wash the pan and bring the cordial to a simmer for 5 minutes, then leave to cool before pouring into sterilized jars or bottles with tight fitting lids. Store in the fridge.
To serve, mix one part cordial to four to six parts water. It's gorgeous with plenty of ice and fresh lemon slices.
Recipe courtesy of AO Life.