New research conducted by California Walnuts reveals that nearly 63% of people have not heard of omega-3 ALA (alpha-linolenic acid). Have you? These recipes can help you generate enough of this heart-healthy nutrient.
Despite being an essential fatty acid, omega-3 ALA cannot be made in our body. According to California Walnuts, eight in ten people weren't aware that it contributes to the maintenance of normal blood cholesterol levels and plays a valuable role in the prevention and reduction of heart disease in particular.
These five heart-healthy recipes will not only help keep your body strong, but they taste good too — reminding you that healthy eating isn't always synonymous with plain salads and porridge.
Muesli baked nectarines
SERVES 4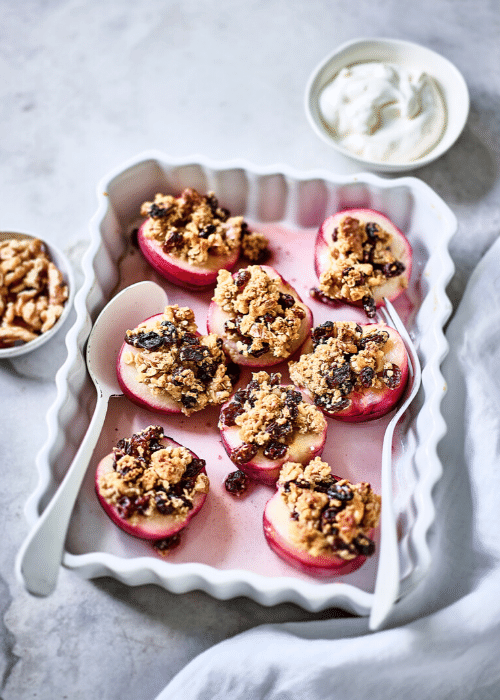 Ingredients
4 ripe nectarines, halved and stoned
50g California Walnuts, roughly chopped
50g raisins
25g oats
4 tsp honey
4 tbsp fat free Greek yogurt
Preheat the oven to 180oC / Gas 4.
Place the nectarine halves cut-side-up in a roasting tin so they fit quite snuggly.
Mix together the walnuts, raisins, oats and honey and spoon over the nectarines.
Add four tbsp boiling water to the bottom of the tin and bake for 20 minutes until tender and golden.
Serve with Greek yogurt.
Cooking tip
Do you have a sweet tooth? Swap the raisins for other dried fruit such as apricots, sultanas or dates.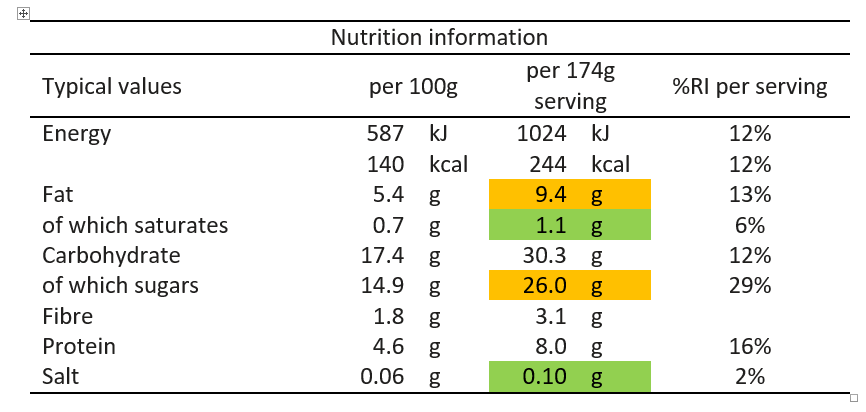 ---
Aubergine and walnut parmigiana
SERVES 4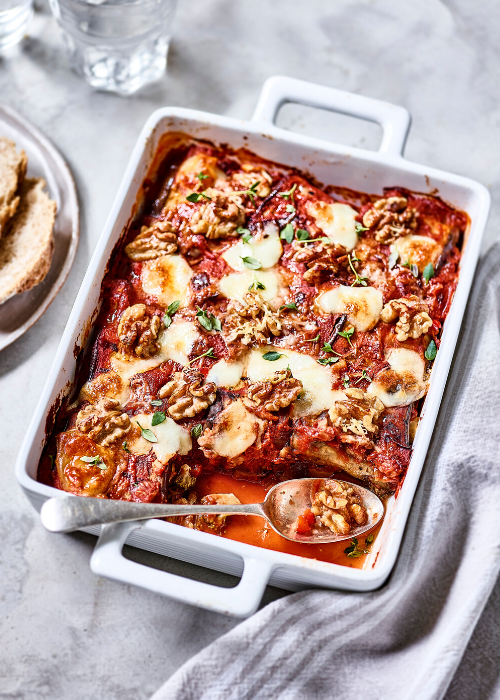 Ingredients
2 aubergines, thinly sliced lengthways
2 tbsp olive oil
1 red pepper, finely diced
100g broccoli florets, finely chopped
2 tomatoes, chopped
50g California Walnuts, finely chopped plus 15 whole Walnuts
125g pack reduced fat mozzarella, thinly sliced
400g passata
1 tbsp parmesan, finely grated
Preheat the oven to 200oC / Gas 6.
Brush the aubergine slices with a little oil and griddle or fry for two minutes on each side.
Add the remaining oil to a large frying pan and fry the pepper, broccoli, tomatoes and chopped walnuts for four to five minutes until softened. Season well.
Select the 12 largest aubergine slices and place half a slice of mozzarella in the centre.
Divide the filling between the slices and roll up, placing them seal side down in a greased ovenproof serving dish.
Finely chop any remaining aubergine slices and stir into the passata, pour this over the aubergine rolls and scatter over the remaining mozzarella (torn) and the whole walnuts.
Sprinkle with parmesan and bake for 30 minutes, or until golden and tender.
Cooking tip
Great served with a salad and crusty or seeded bread. Make this dish in advance and simply cook when needed.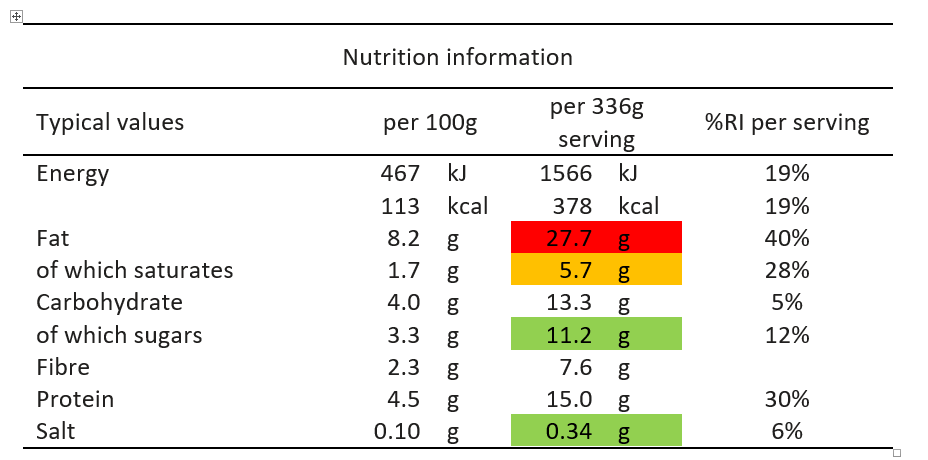 ---
Miso walnut and chicken stir fry
SERVES 4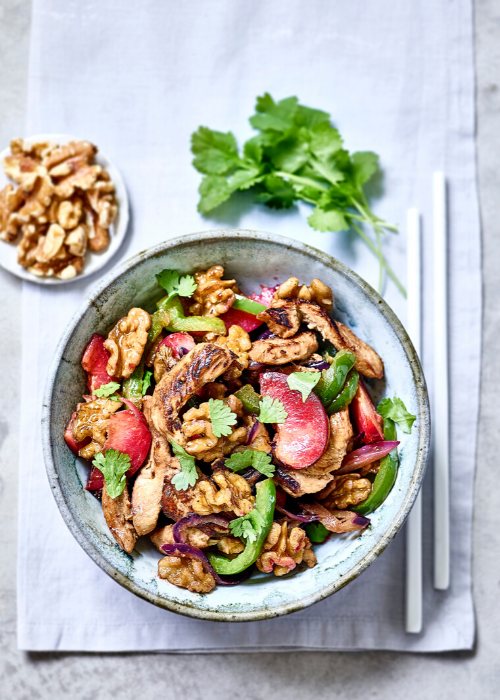 Ingredients
2 tsp white miso paste
2 tbsp light soy sauce
500g chicken breast fillet, sliced
1 tbsp toasted sesame oil
1 red onion, sliced
1 green pepper, sliced
2 large ripe plums, stoned and cut into wedges
Coriander leaves to garnish
Mix the miso with one tbsp soy sauce and stir in the chicken.
Heat the oil in a wok or frying pan and fry the chicken for three minutes then add the walnuts and onion and fry for a further three minutes.
Stir in the pepper and plums and cook for three minutes until softened.
Add in the remaining soy sauce off the heat.
Garnish with chopped coriander.
Cooking tip
Great served with rice or noodles. Try using hoisin sauce instead of the soy. This works well with pork fillet too.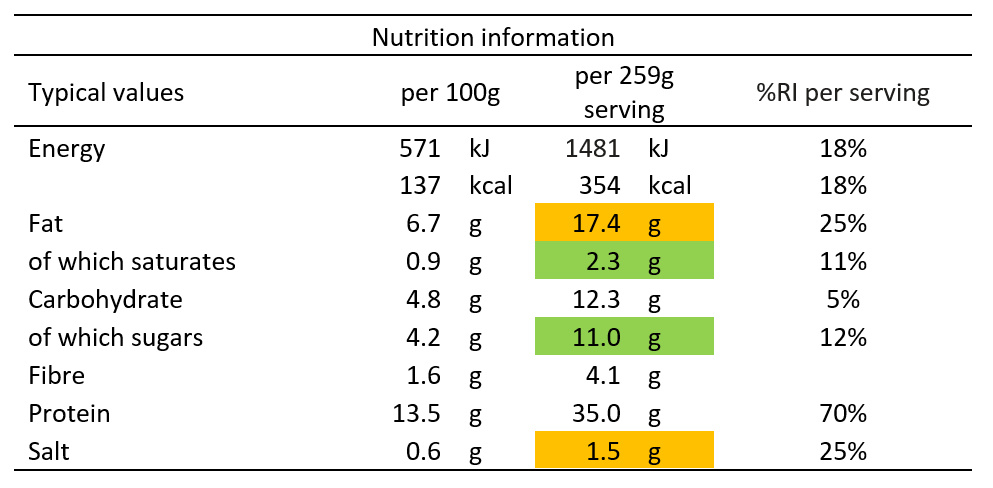 ---
Walnut tea loaf
SERVES 10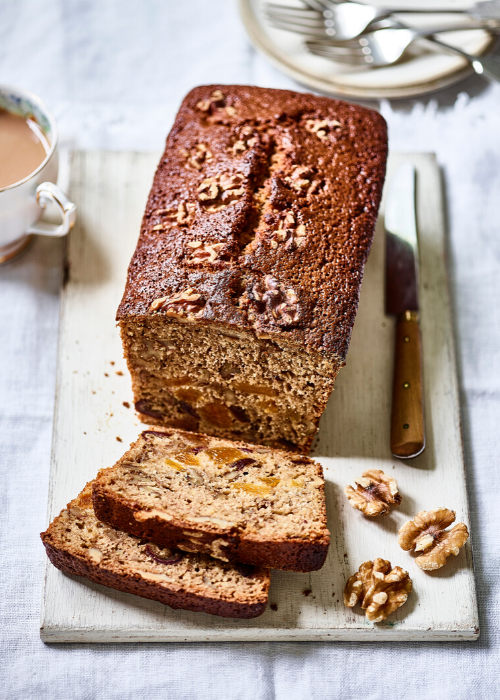 Ingredients
100g dried apricots, roughly chopped
75g dried figs, quartered
75g pitted dates, roughly chopped
2 Earl Grey tea bags
2 medium eggs
250g self-raising flour
200g light brown soft sugar
75g California Walnuts, roughly chopped plus 12 whole walnuts
Preheat the oven to 180oC / Gas 4.
Grease and line a one-kilogram loaf tin.
Mix together the fruit in a bowl and add the tea bags, pour over 300ml boiling water and leave to steep for 20 minutes, discard the tea bags.
Whisk together the eggs, flour and sugar in a large bowl and stir in the dried fruits plus all the liquid and the chopped walnuts.
Pour into the prepared tin, arrange the whole walnuts on top and bake for one hour or until a skewer comes out clean, cover with foil if the top begins to get too dark.
Allow to cool before removing from the tin.
Cooking tip
Any flavour tea bag will work just as well. Great for on the go breakfast or afternoon teatime.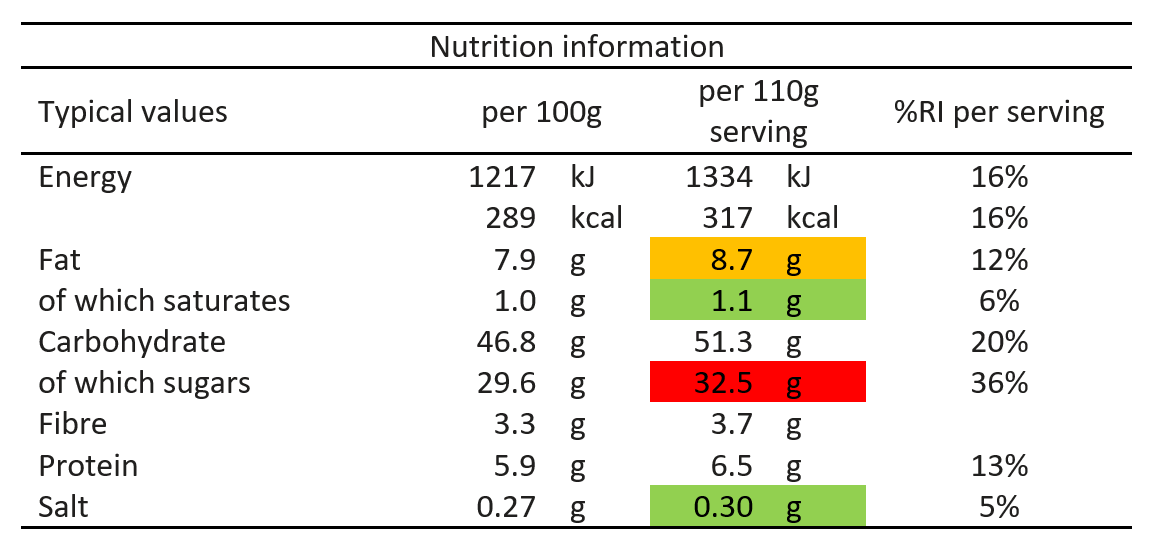 ---
Strawberry, walnut and date smoothie
SERVES 2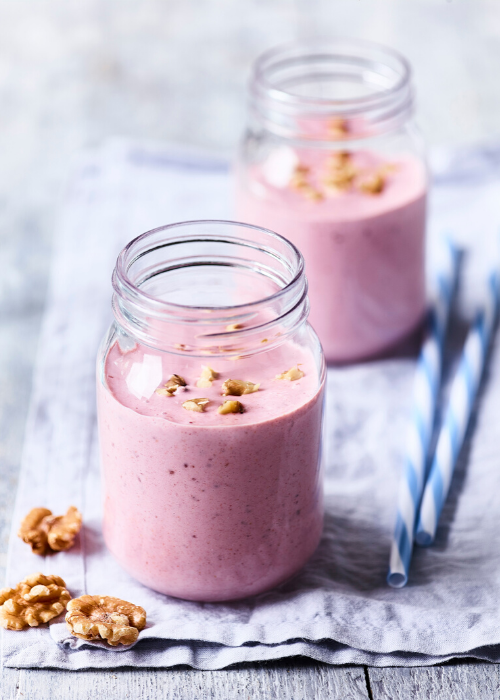 Ingredients
200g strawberries, halved
50g California Walnuts, plus extra to serve
3 pitted dates, roughly chopped
100g natural yogurt
100ml milk
Place all the ingredients in a smoothie maker or blender and blitz until smooth.
Pour into two glasses.
Serve sprinkled with extra chopped walnuts.
Cooking tip
Try raspberries or blueberries instead of strawberries or try adding pitted dates instead of prunes.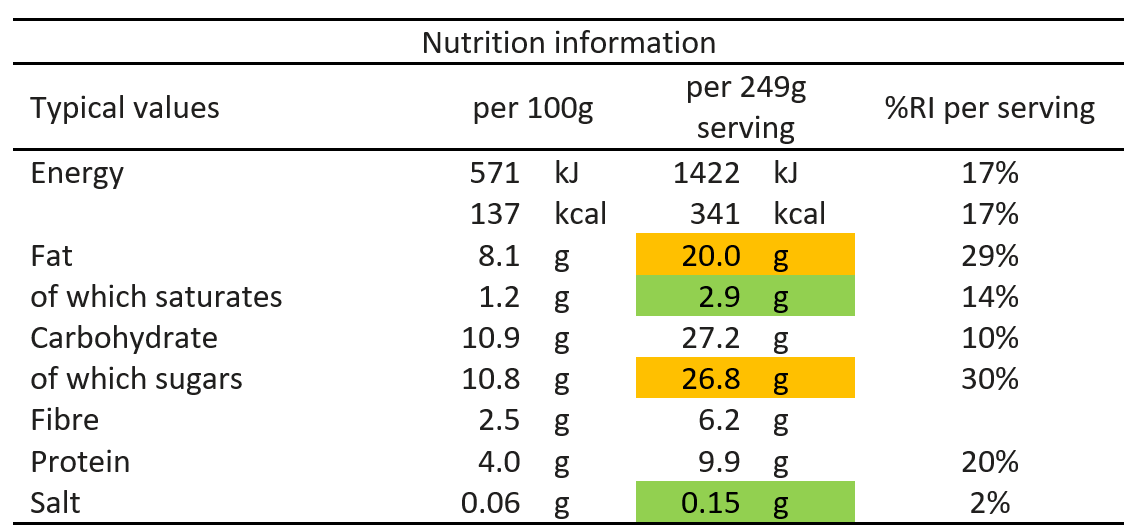 Subscribe to Platinum today and get every issue delivered to your door. Or find your local stockist, here. Head to our food and drinks archive for more bakes, cocktails and other recipes like our coffee-glazed doughnuts.