Whilst we may be unable to get our favourite takeaway, this fakeaway may be your new Friday night feast.
There's something so comforting about the British fish and chips — fresh fish that is flaky and coated in crunchy batter, chips salted well with lashings of vinegar and a serving of mushy peas. Best enjoyed by the seaside or a boat dock in the summer sun.
Now life has changed, we're all looking to keep some familiar comforts constant. Which is why Platinum has a delightful fish and chip fakeaway recipe for you. What's more, if you're looking to shake up the classic fish supper, try tempura battered fish with minty mushy peas.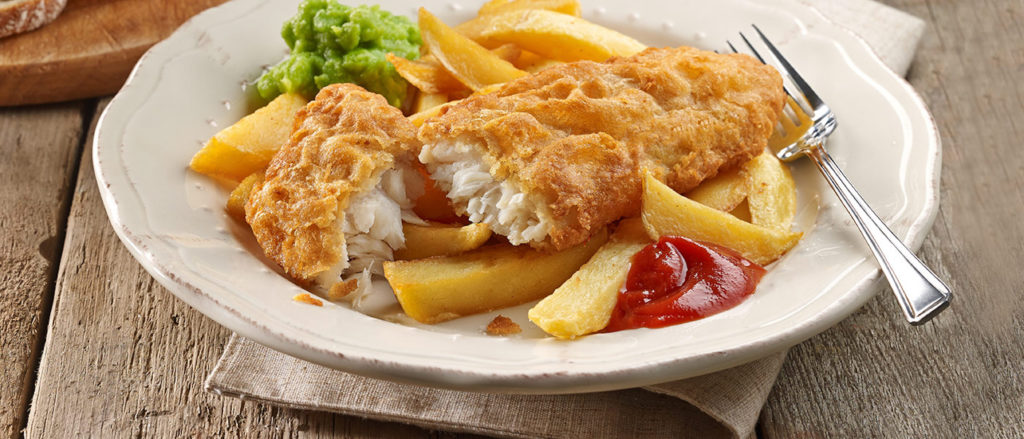 Classic fish and chips
Ingredients:
1x Pack of Young's Chip Shop Large Cod Fillets
For the mushy peas
200g frozen peas
20g butter
1 tsp white wine vinegar
1 tsp chopped tarragon
1 tsp chopped mint
For the twice cooked chips
2 large Maris Piper potatoes
Rapeseed oil for deep frying
Sea salt
Vinegar
Method:
Cook the Chip Shop Large Cod Fillets as per the instructions on the pack.
For the mushy peas, cook the peas in boiling water for 2 minutes and drain. Then, transfer to a blender or food processor.
Add the butter, vinegar andherbs & process for a short time until broken down but still retaining some texture.
Whilst doing that, begin your chips. Peel the potatoes and cut lengthways into roughly 1cm slices. Cut each slice into fairly thick chips and rinse in a colander under plenty of cold water. then pat dry with kitchen paper.
Heat the oil in a deep fat fryer to 130°C. Carefully lower the chips into the hot oil and fry for 10 minutes or until cooked but not browned.
Carefully remove the chips from the pan, set aside to drain on kitchen paper.
Raise the oil temperature to 190°C. Lower the chips gently into the fryer and cook for 4-5 minutes, or until crisp and golden-brown.
Remove from the fryer and drain. Serve sprinkled with sea salt and vinegar.
Serve up and enjoy.
Tempura battered fish fillets and wedges fakeaway
Ingredients:
1x pack of Gastro Tempura Battered Fish Fillets
For the roasted potato wedges:
2 large potatoes- scrubbed and cut into wedges
2 sweet potatoes – scrubbed and cut into wedges
1tbsp olive oil
1tsp smoked paprika
Sea salt and ground black pepper
For the minted mushy peas:
200g frozen peas
20g butter
1tsp white wine vinegar
1tsp tarragon, chopped
1tsp mint, chopped
Method:
Cook the Gastro Tempura Battered Fish Fillets as per pack instructions
Place all the potato wedges in a large bowl and sprinkle over paprika and drizzle over the olive oil. Then season and toss together so the potato wedges become evenly coated.
Transfer to a large baking tray and spread out to a single layer. Bake on the top shelf of the oven for 30 minutes until golden brown and crisp
Add peas to a pan of boiling water, bring back to the boil and simmer for 2 minutes.
Drain well, then place in a food processor or blender.
Add remaining ingredients and process briefly making sure to retain some texture.
Check seasoning and serve.