Renowned River Cottage group head chef, award winning author and food writer for The Guardian, Gill Meller, shares one of his favourite seasonal flatbread recipes for the ideal Naturalmat breakfast in bed.
Fried egg, potato and wild garlic flatbread
This potato and wild garlic flatbread recipe adds a little twist to your morning meal. Top with fried eggs and olive oil for a fabulous breakfast in bed feast.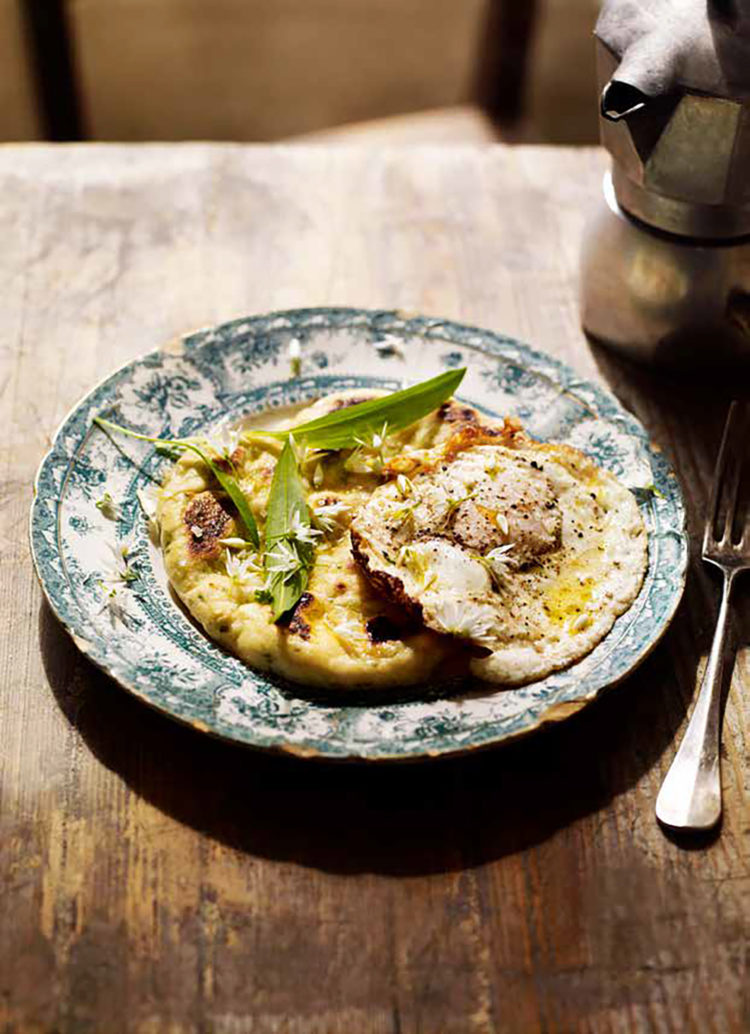 Ingredients
SERVES 8
200g potatoes, peeled and cut into chunks
Strong white bread flour, plus extra for kneading
1 large bunch of wild garlic leaves, finely chopped
2 tsp instant dried yeast
1 tsp fine salt
To serve
1 knob of butter
4 chicken or duck eggs
4 tablespoons extra-virgin olive oil, wild garlic leaves and chive flowers (or finely chopped and sprinkled)
Salt and freshly ground black pepper
Step 1
Bring the potatoes to the boil in a large pan of salted water. Cook for 15-25 minutes, until tender.
Drain in a colander, then leave for 15 minutes to allow the steam to evaporate. Mash until smooth.
Combine the flour, mashed potato, chopped wild garlic leaves, yeast and salt in a large bowl.
Stir in 250ml of water, or add bit-by-bit until the mixture forms a soft dough.
Turn the dough out onto a lightly floured surface and knead for about 5 minutes, until it feels smooth and elastic, sprinkling on a little more flour only if the dough feels very sticky.
Cover and set aside somewhere warm to double in size. This should take 2–3 hours.
Step 2
When you're ready, divide the risen dough equally into 8 pieces.
Flour your hands and roll each piece into a ball. You can either use a rolling pin to roll out little rounds or simply flatten the balls with your hands. Use plenty of flour, as the dough will be soft and sticky.
Heat a large frying pan over a high heat until hot.
Shake off any excess flour from one flat bread and lay it in the hot pan. After a minute or so, check the underside — if you can see dark brown patches, flip it over.
Cook the second side for 30–45 seconds, then remove and set aside to keep warm.
Repeat for all the flat breads.
Step 3
To serve, heat another large frying pan over a medium–high heat. Add the butter and, when bubbling, crack in the eggs and fry them to your liking. I prefer them easy-over, so I flip them for a moment.
Top the warm flat breads with the fried eggs.
Trickle over the olive oil and season with salt and pepper. (If I'm able to get hold of any wild garlic or chive flowers, I like to scatter these over at the last moment!)
Enjoy!
Naturalmat's hotel partner, The Salutation Inn, has transformed into a soup kitchen for the surrounding community and offers their rooms to key workers in the NHS. They'd like to invite you to help, by offering 10% off your next purchase — 10% of which will then be used to support Tom's Table at The Salutation Inn in their efforts. Activate both offers by entering code 500TC at the checkout.
Find all of our flavour-packed recipes in the Platinum food & drink pages – from delicious desserts and savoury meals, to kids' treats and unique bakes, we have it all. Be sure to follow us on Facebook, Twitter and Instagram for more culinary inspiration, @PlatinumMagUK