Inspired by spring, these Bottlegreen cocktails infuse the flavours of the hedgerows, using juicy blackberries, tart sloe berries and hand-picked elderflowers to create tipples that are sweet, tangy and vibrant.
Use Bottlegreen's brand new Juicy Bramble Cordial in your cocktails, their expert layering of complementary ingredients results in a deliciously rich and versatile flavour, creating a taste experience that is perfect for warmer evenings in the sunshine.
Keep scrolling for some modern takes on the classic bramble cocktail, including fresh ice lollies that are fun yet classy. The only thing left to do is find out which is your favourite.
Note: all recipes can be made alcohol-free, just swap out for alcohol-free alternatives or get creative and use grape, apple or even watermelon juice.
The classic bramble
MAKES 2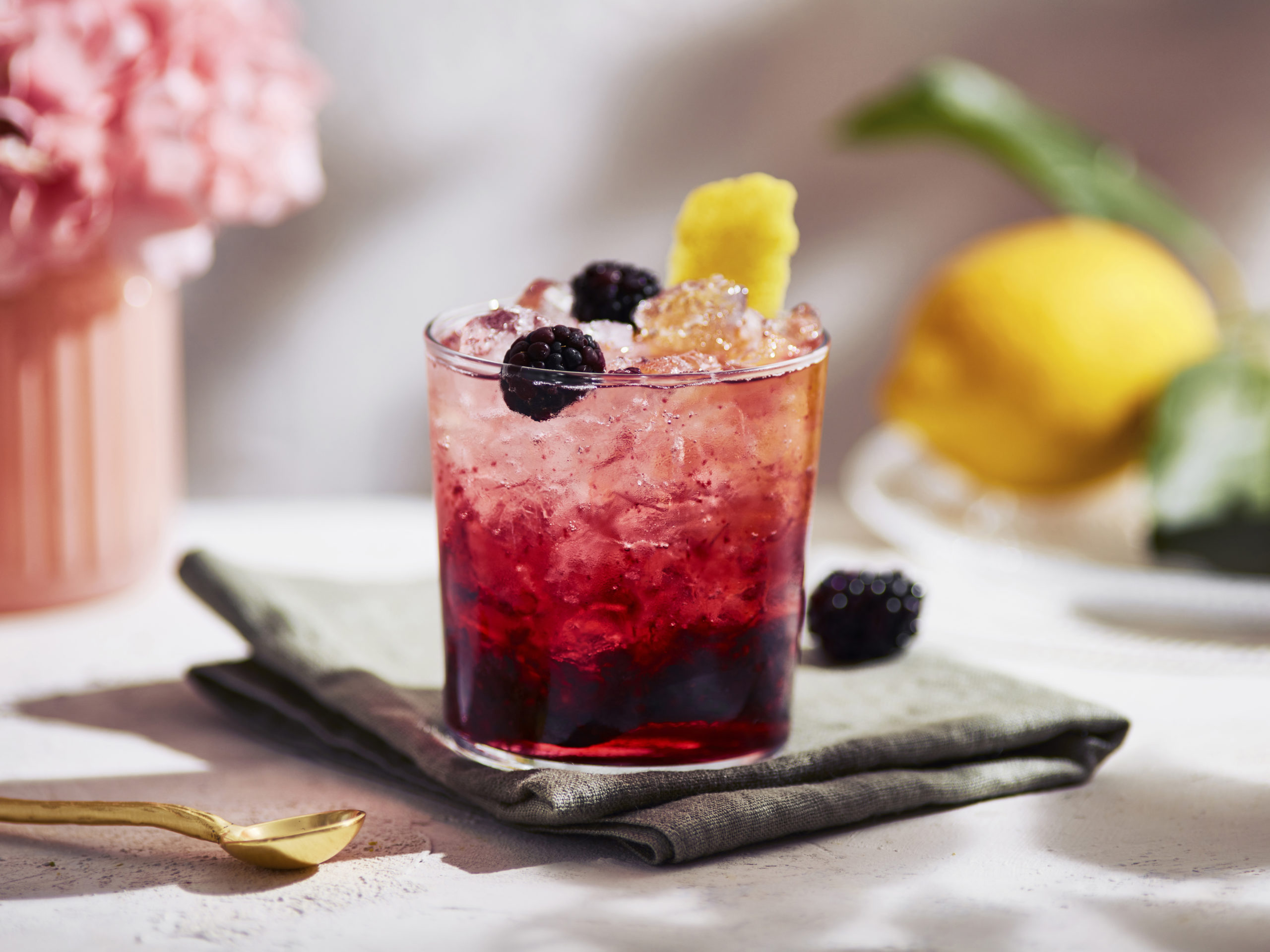 Ingredients
50ml gin
15ml fresh lemon juice
15ml sugar syrup (you can make by mixing boiled water with equal parts sugar and stirring until melted)
10ml Bottlegreen Bramble Cordial
3 fresh blackberries
Lemon twist
Crush your three blackberries into the bottom of your glass.
Fill cocktail shaker with ice and add the gin, lemon juice and sugar syrup.
Shake until well-chilled — after you seen condensation collect on the outside of the shaker.
Fill your glass with crushed ice and pour your shaken mixture.
Drizzle the bramble cordial over the top and watch as it seeps through the crushed ice.
Garnish with a lemon twist and a couple of blackberries for contrast.
Frozen bramble margarita
MAKES 2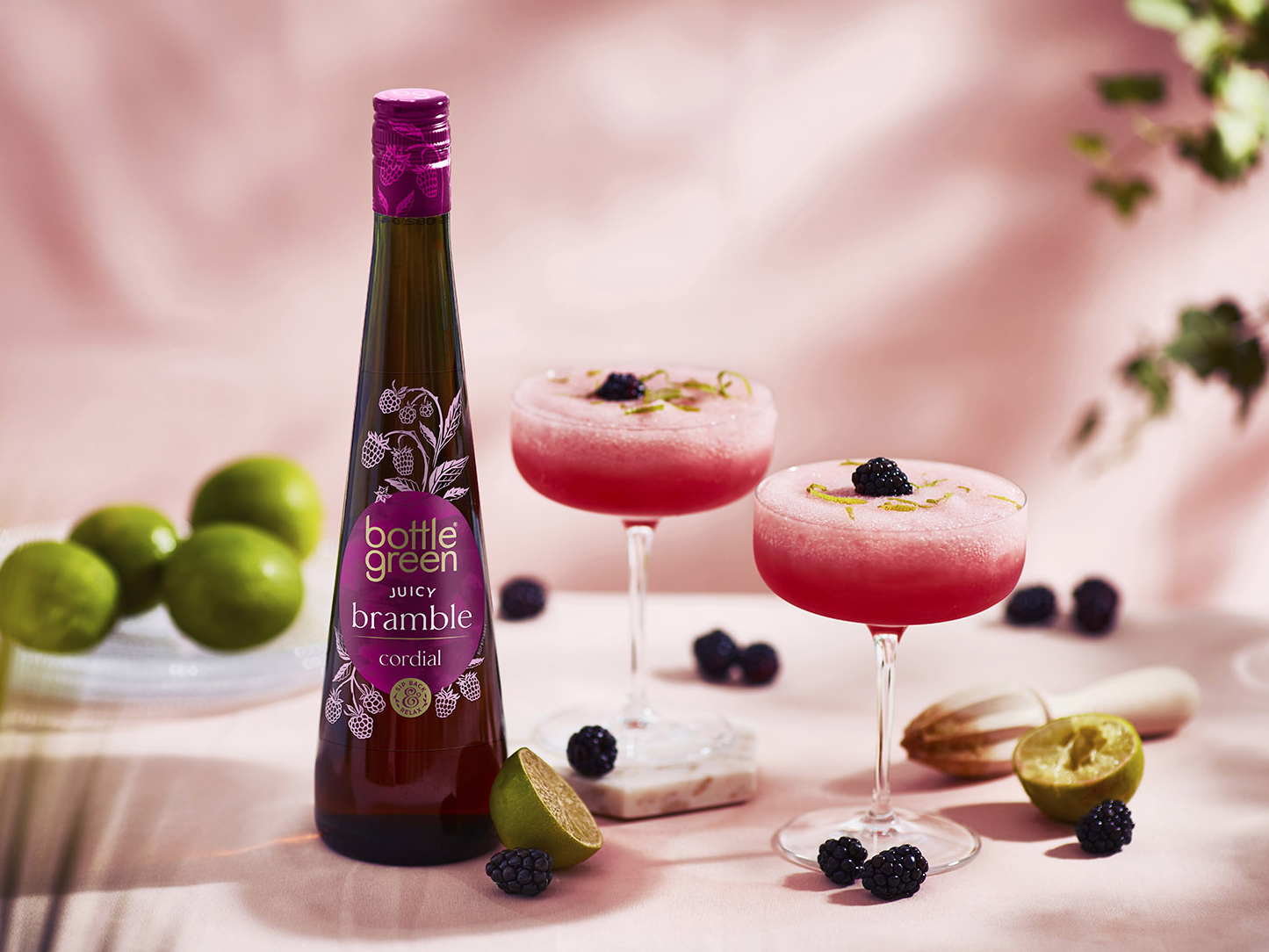 Ingredients
15ml Bottlegreen Bramble Cordial
60ml tequila
25ml lime juice (keep the zest for garnish)
10ml agave
150g ice
Fresh blackberries for garnish
Pop a handful of ice into two glasses and sit aside to let them frost up.
Mix bramble cordial, tequila, lime juice and agave.
Pour into blender with the ice until smooth a frothy — look for a deep pink colour on the bottom as the lighter baby pink froth collects at the top.
Garnish with a couple of blackberries and a sprinkle of lime zest.
Bramble Kir Royale
MAKES 2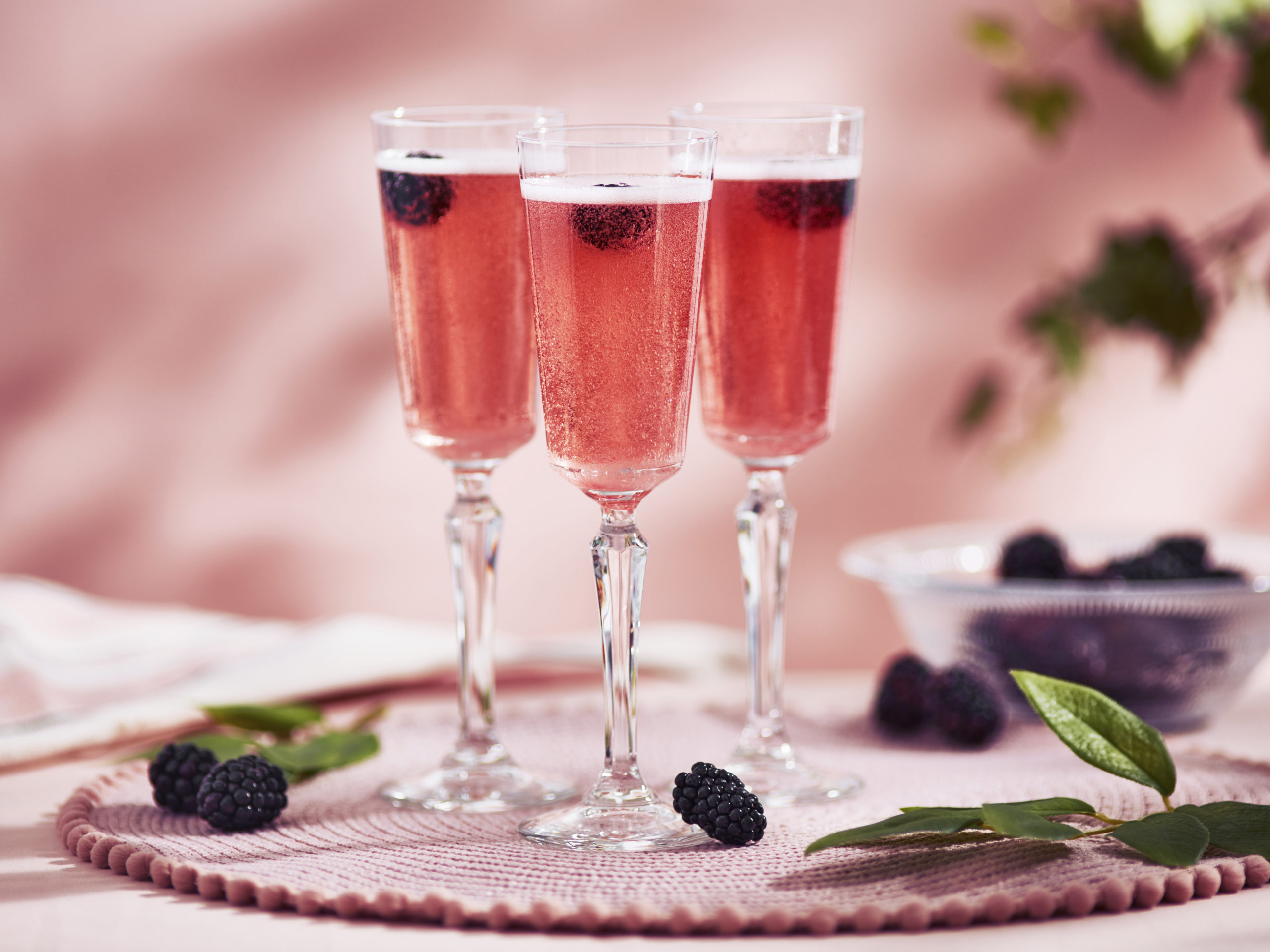 Ingredients
180ml champagne
20ml Bottlegreen Bramble Cordial
One sprig of fresh rosemary
Frozen blackberries
Fill three flutes with your choice of champagn
Drizzle in your bramble cordial lightly so that it mixes throughout the champagne, as opposed to settling thickly at the bottom — you don't want the last sip to be a syrupy slurp.
Sprinkle some rosemary over the top and add a blackberry.
Blackberry and basil mojito
MAKES ONE JUG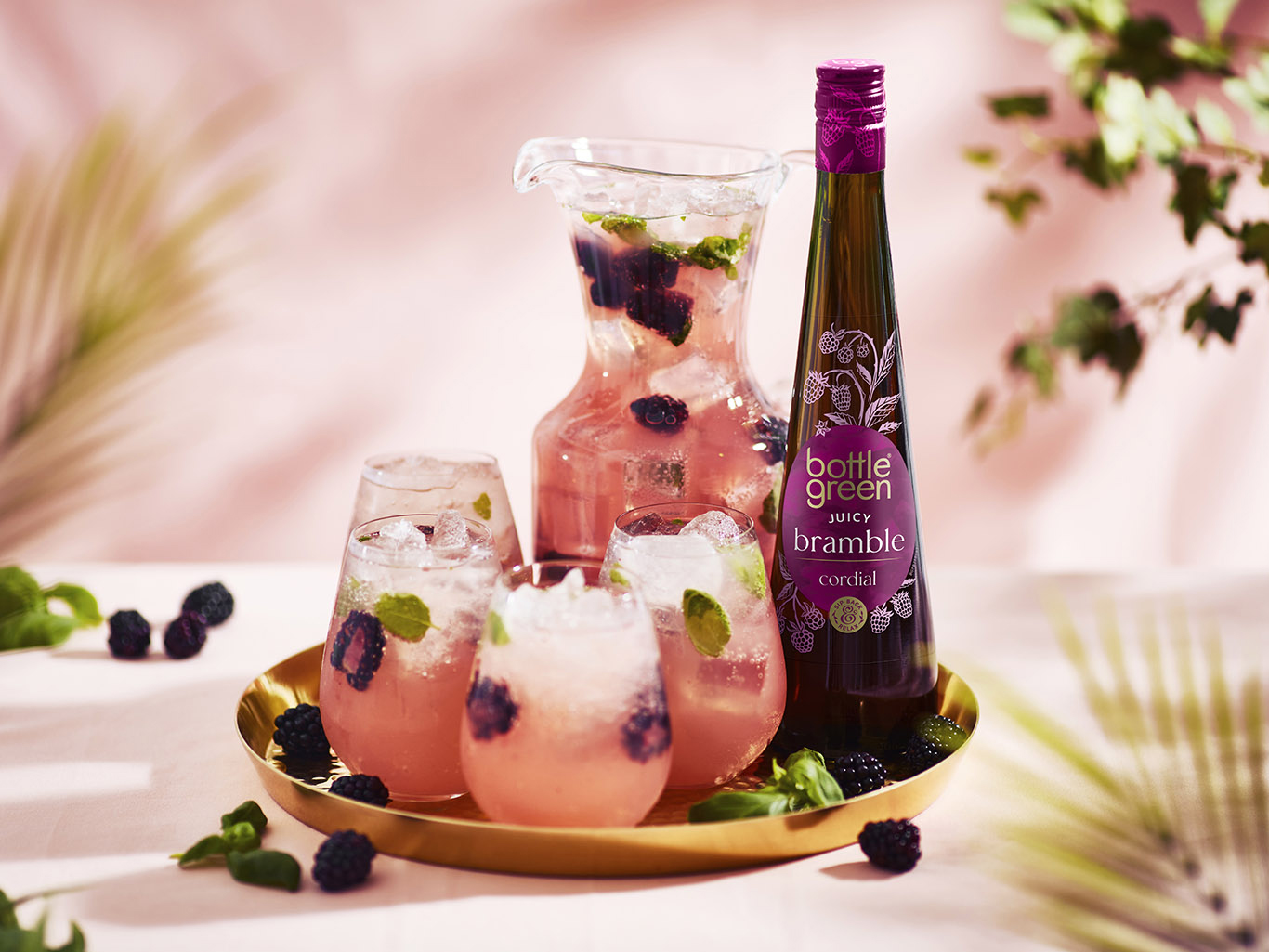 Ingredients
50ml white rum
20ml Bottlegreen Bramble Cordial
25ml lime juice
6 basil leaves
Fresh blackberries
Soda water
Fill jug with a handful of ice, the cordial, lime juice and a handful of fresh blackberries.
Sprinkle in the basil leaves and mix together to release flavours.
Add your rum and stir gently.
Fill your glasses — this jug will do around three portions — with crushed ice and pour your mix on top.
Add soda water to fill, then add more crushed ice if necessary.
Garnish with fresh basil and a squeeze of lime juice, if you feel so inclined.
Blackberry and hibiscus refresher
MAKES 2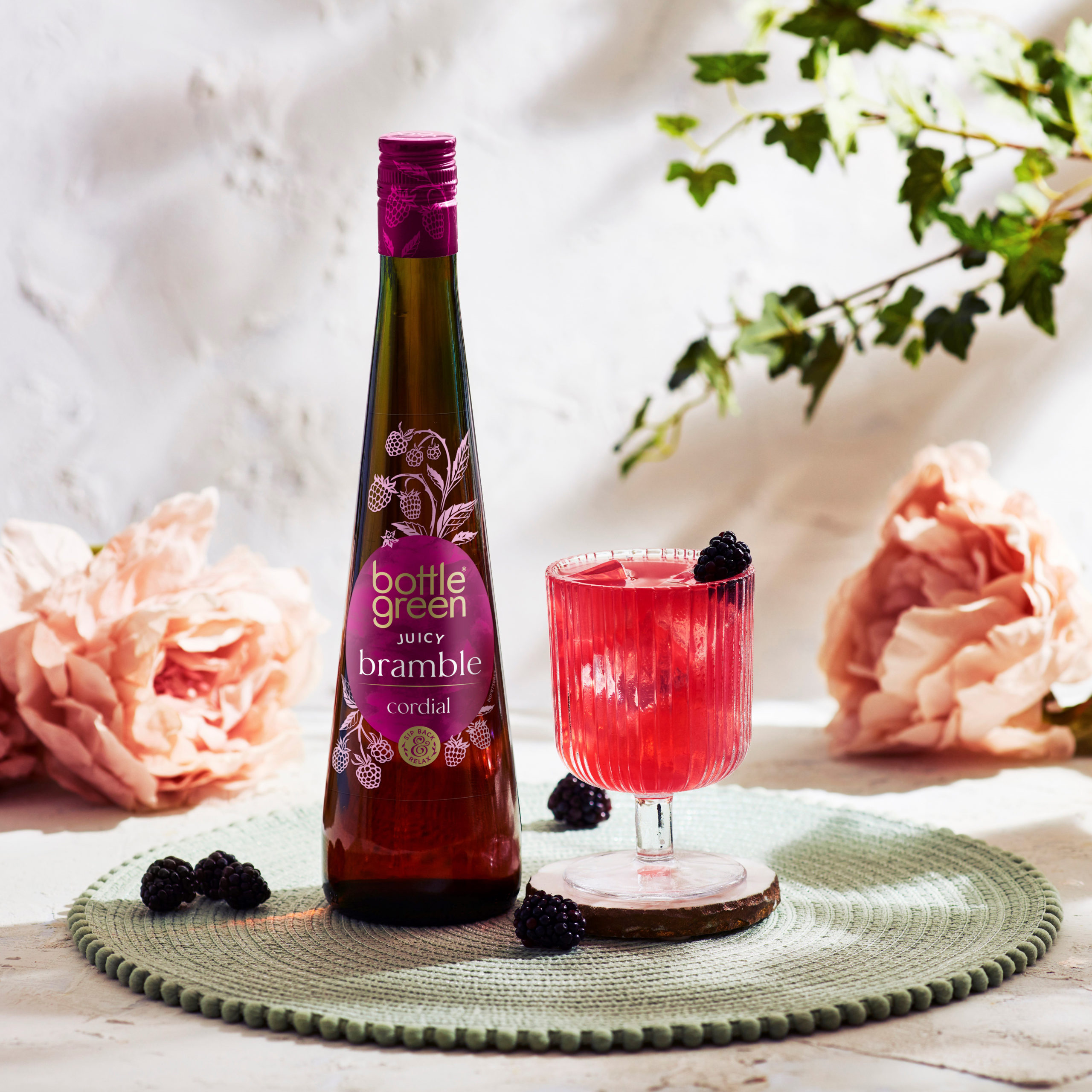 Ingredients
1 hibiscus teabag
15ml Bottlegreen Bramble Cordial
60ml lemon juice
Sparkling water
Pour the cordial straight into your glass and top with freshly boiled water.
Add hibiscus teabag and leave to infuse for about five minutes.
Allow to cool.
Now pour the contents of your glass into a cocktail shaker with lemon juice. Shake well and pour back into your glass.
Now top with sparkling water.
Ramble margarita ice lollies
MAKES 6
Ingredients
15ml Bottlegreen Bramble Cordial
60ml tequila
25ml lime juice
10ml agave
Fresh blackberries
Combine cordial, tequila, agave and lime juice into a shaker and top with one cup of water.
Shake vigorously and pour contents into an ice lolly mould, but leave a centimetre gap to avoid spillage in the freezer.
Add as many blackberries as you like.
Leave to set in the freezer and then serve immediately.
Subscribe to Platinum today and get every issue delivered to your door. Or find your local stockist, here. Head to our food and drinks archive for more recipes like our coffee-glazed doughnuts.