Leafy greens have never been so tempting. These recipes take culinary inspiration from around the world so that you never get bored of the same old wilted spinach and boiled kale meals.
Season these leafy green recipes well and cook with love for meals that really are as healthy as they are delicious.
Find more like these at Discover Great Veg.
Breakfast spinach shakshuka 
SERVES 2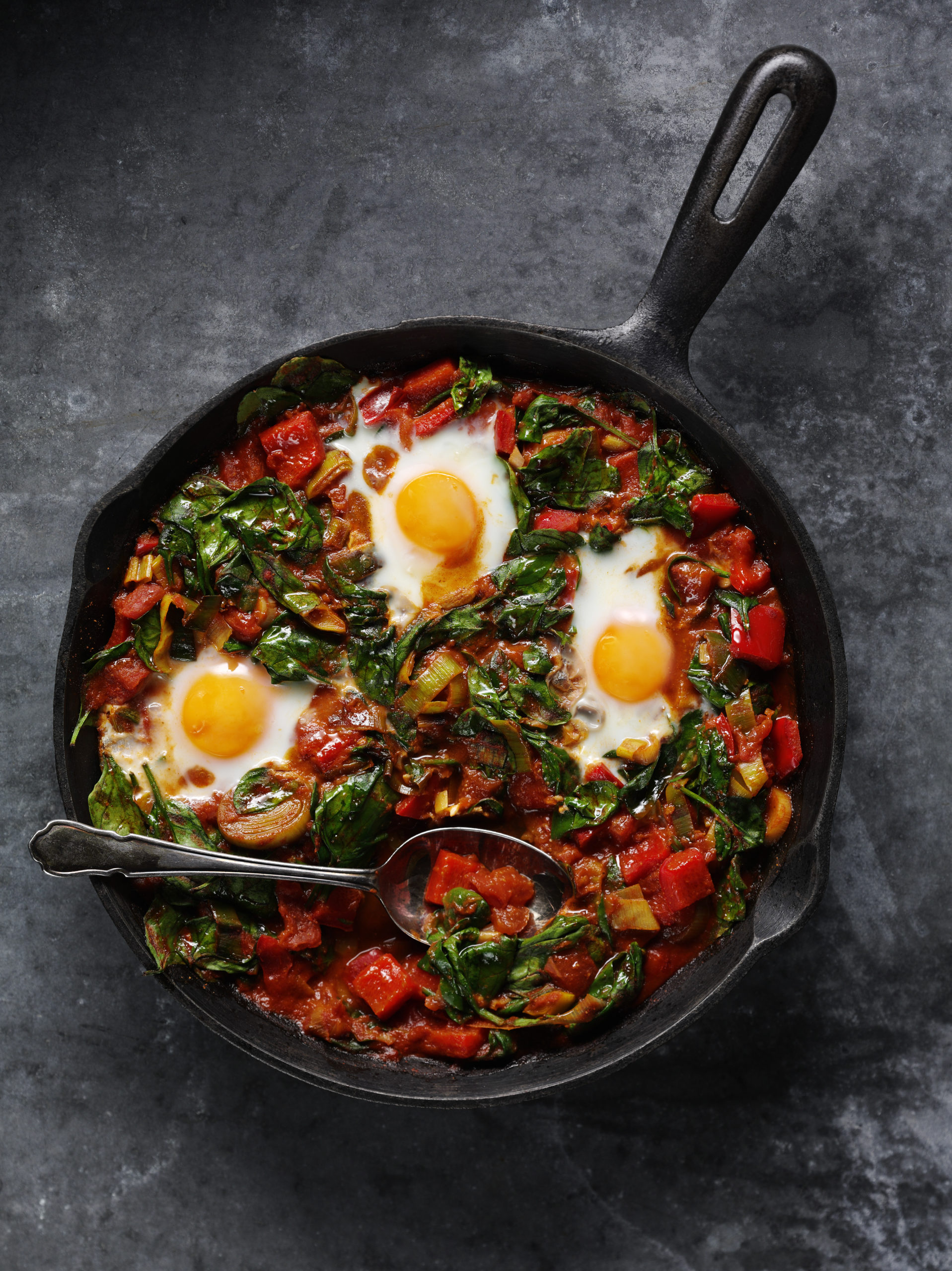 1 tbsp oil
1 leek, sliced (200g)
1 red pepper, diced (180g)
1 tsp smoked paprika
1 tsp ground cumin
400g can chopped tomatoes
200g Spinach
4 medium eggs
Heat the oil in a large sauté or frying pan and fry the leek and pepper for three to four minutes, add the spices and cook for one minute.

Season to taste.

Stir in the tomatoes and 100ml water, cover and simmer for two minutes.

Add the spinach and cook for a few moments until just wilted.

Make four indents in the mixture with the back of a spoon and crack an egg into each. 

Cover and cook gently for three minutes until the whites have set but the yolks are still runny. 

Serve immediately.
Cooks tip
For a spicier version, try using hot smoked paprika. Great served with warm flatbreads to scoop up the tomato sauce.
---
Japanese ramen soup
SERVES 4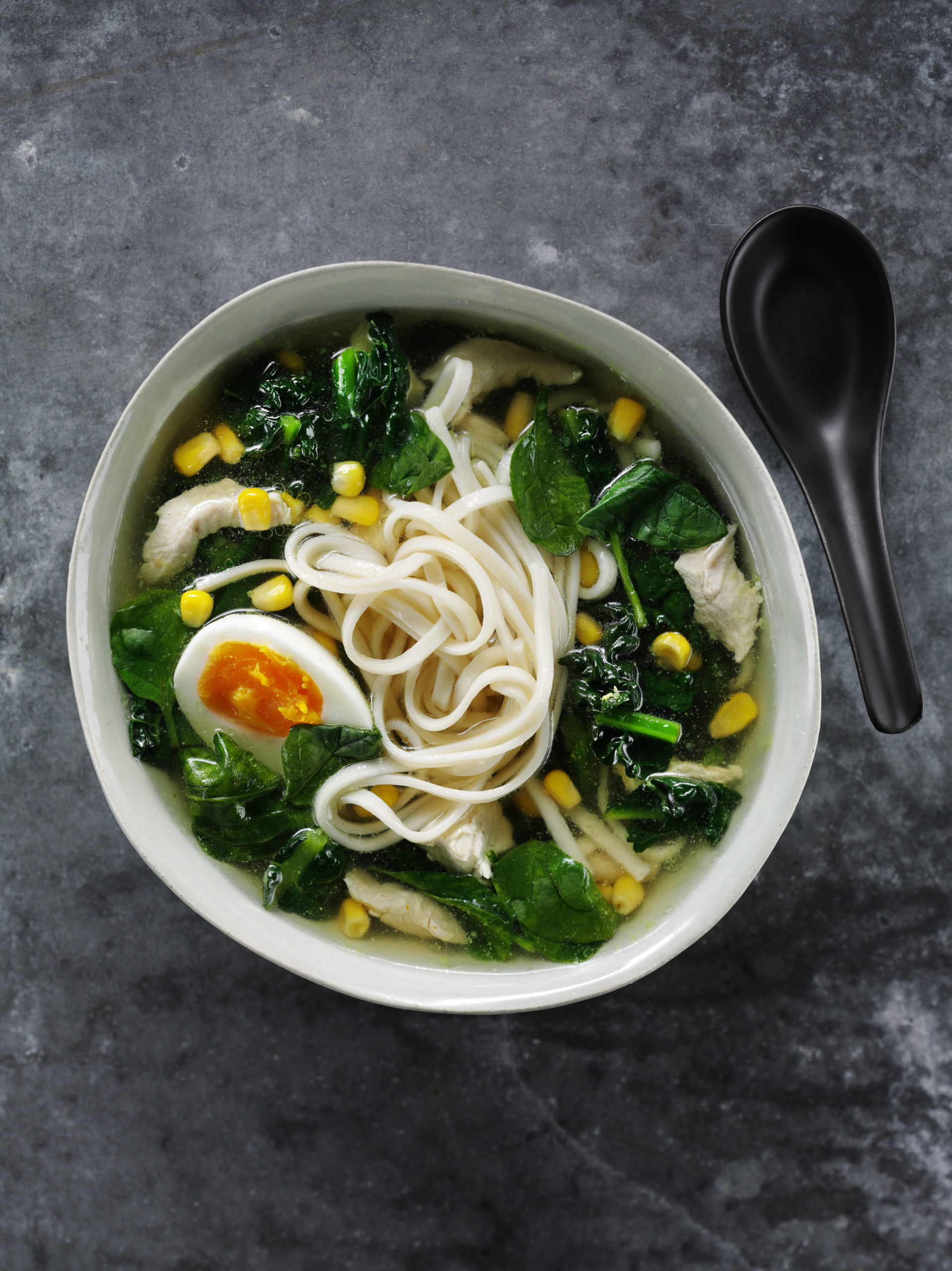 4 medium eggs
1 litre chicken stock
2 chicken breast fillets, thinly sliced (380g)
5cm piece ginger, peeled and grated
2 tsp light soy sauce
125g brown rice udon noodles 
100g frozen sweetcorn
200g pack sliced cavolo nero
100g spinach
Place the eggs in a small saucepan of cold water, bring to the boil and cook for two and a half minutes, drain and run under cold water. Peel and cut in half.

Meanwhile, heat the stock in a large saucepan with the chicken, ginger and soy, cover and simmer for five minutes.

Add the noodles and sweetcorn and cook for four minutes, covered.  

Stir in the cavolo nero and cook for a further four minutes.

Stir in the spinach for a few moments until just wilted and serve in four bowls topping each with two halves of egg.
Cooking tip
Egg noodles or thick rice noodles work well in this soup, too. Great for using up leftover roast chicken. Try replacing the chicken with pak choi, omit the eggs and use vegetable stock for a vegan option.
---
Kale and walnut pesto pasta
SERVES 4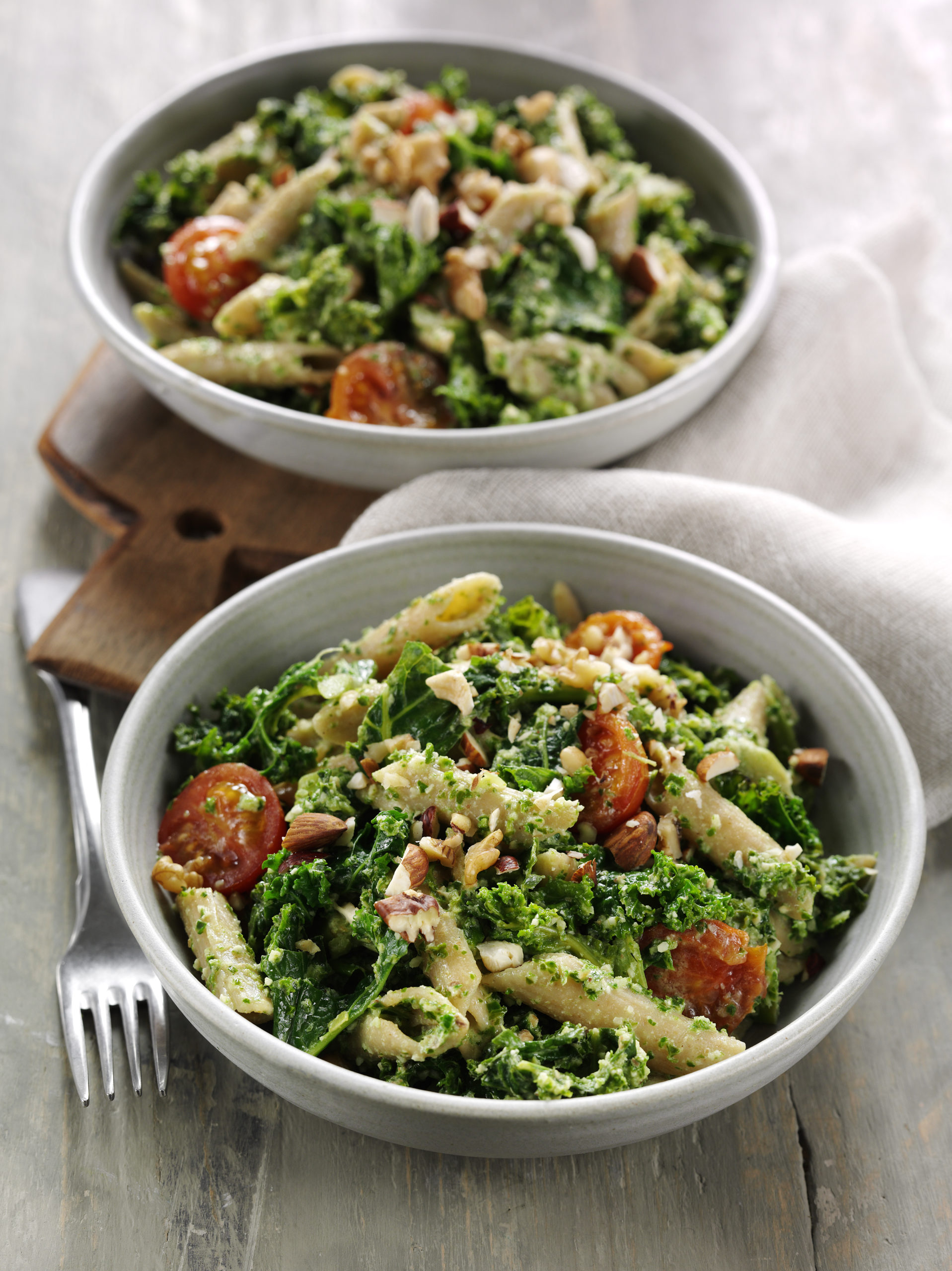 300g wholewheat penne pasta
500g pack Kale
250g cherry tomatoes, halved
150g walnuts
100g vegetarian Parmigiano Reggiano, g rated
2 cloves garlic
2 tbsp extra virgin olive oil
25g mixed nuts, chopped
Cook the pasta in a large saucepan of boiling water for 11 minutes, adding 300g of the kale for the last three minutes, drain, reserving 250ml cooking water and return to the pan with the tomatoes.

Meanwhile, place the walnuts, cheese, garlic, oil and the reserved cooking liquid in a food processor and blitz, adding the remaining kale in batches to give a paste and then season.

Add to the pasta and heat through for a minute or two. 

Sprinkle with chopped nuts to serve.
Cooking tip
Try other nuts like cashews or pine nuts instead of walnuts.
---
Korean spinach rice bowls
SERVES 4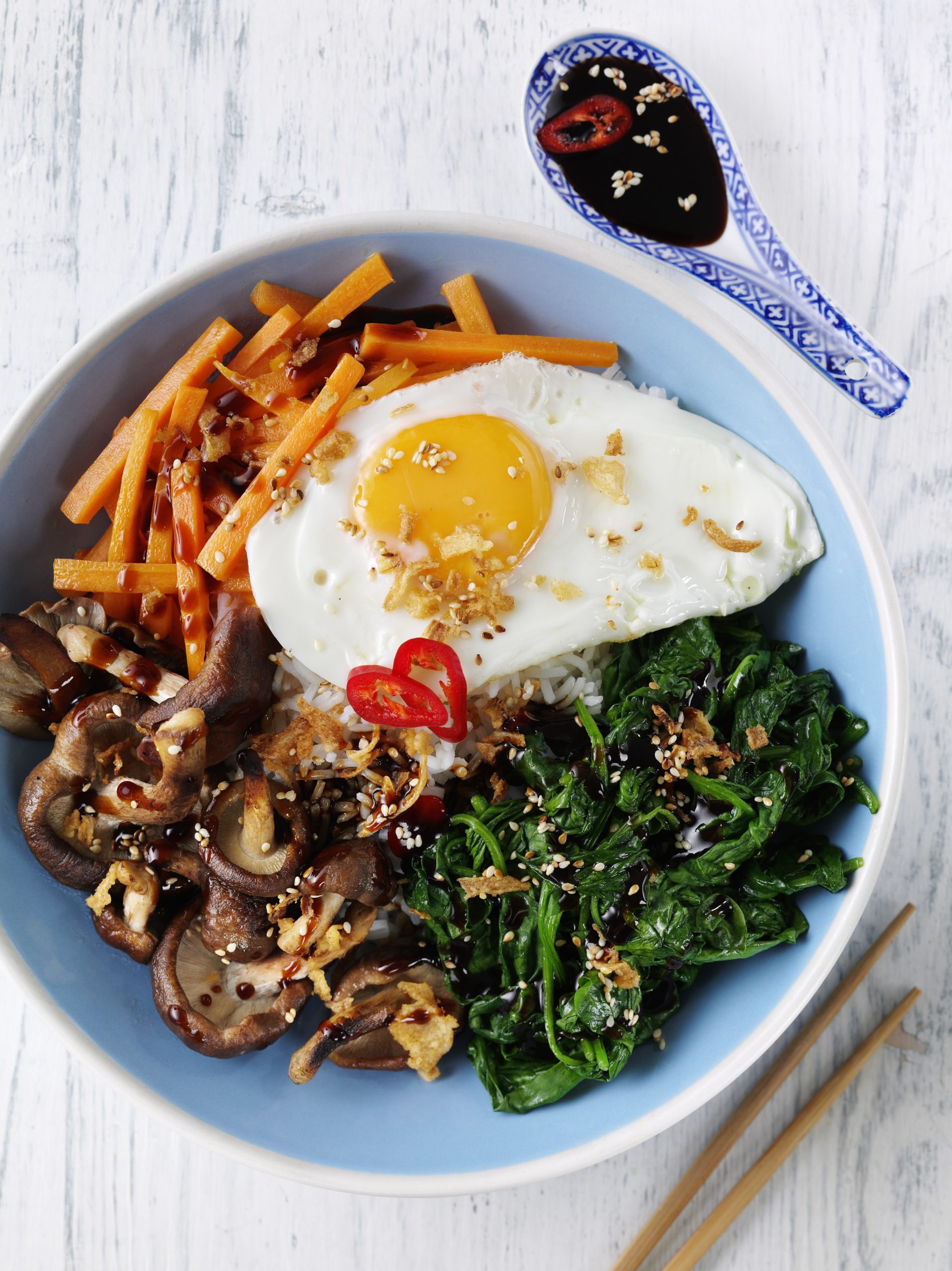 4 tbsp kecap manis (90g)
2 tbsp soy sauce
1 tbsp chilli sauce
250g basmati rice
3 tbsp toasted sesame oil
3 carrots, cut into matchsticks (430g)
300g shiitake mushrooms
450g bag spinach
4 medium eggs
2 tsp toasted sesame seeds
2 tbsp crispy dried onions (15g)
Mix together the kecap manis, soy and chilli sauce.

Cook the rice in boiling water for ten to 12 minutes. Drain well and keep warm.

Meanwhile, heat one tbsp oil and fry the carrots for five minutes until just tender, remove and set aside. 

Add a further one tbsp oil to the pan and fry the mushrooms for three minutes, remove and set aside.

Place the spinach in a large bowl, cover with cling film and microwave on high for four minutes until just wilted.

Place the rice in the centre of four bowls, place the carrots, mushrooms and spinach around the edges in separate piles.

Heat the remaining oil in the frying pan and fry the eggs according to taste.  

Spoon the sauce over the bowls and top with eggs. 

Sprinkle with sesame seeds, crispy onions and serve.
Cooking tip
Add prawns or cooked chicken for a meaty option, or swap the carrots and mushrooms for beansprouts and sliced peppers.
Subscribe to Platinum today and get every issue delivered to your door. Or find your local stockist, here. Head to our food and drinks archive for more delicious leafy green recipes and fabulous bakes like our vegan celebratory biscuit bakes.