We paired up with Coffee-Direct.co.uk to bring you an indulgent doughnuts recipe that proves Vganuary can be as sweet as it is healthy.
Since 2014, Veganuary has inspired over one million people in 192 countries to go vegan for January.
A lot of us have joined the trend as a way to feel healthier after an indulgent December. And yes, veggie-based meals, sides and dips are delicious and nutritious, but you deserve to put a little sweet treat in there, too.
Your diet doesn't have to be exclusively vegetables, hummus and cheese alternatives. These doughnuts are the perfect indulgence for a cosy night in — and very easy to make.
Fluffy doughnuts with coffee glaze
MAKES TEN
Brought to you by experts at Coffee-Direct.co.uk. The best part is that you don't have to fry — using a doughnut mould, just pop them in the oven.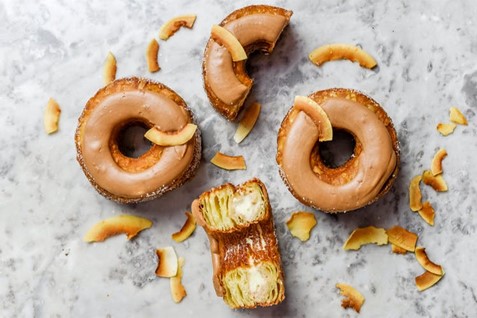 Ingredients for doughnuts
¾ cup of wheat flour
¾ spelt flour
¾ cup of plant-based milk such as almond milk
1 tbsp of apple cider vinegar
1/3 cup of sugar
1 tsp cinnamon
1 tsp baking powder
1 tsp baking soda
1 tsp vanilla extract
Ingredients for icing
½ cup sparkling water
¾ cup of icing sugar
Dissolve 2 tbsp of coffee such as Golden Crema into hot water and allow to cool
Method:
Preheat the oven to 180°C or gas mark 4.
Mix the milk and vinegar together and let sit for ten minutes.
Add all the ingredients in the bowl and mix well.
Grease a doughnut mould and pour the batter inside.
Bake for 20 minutes and allow time to cool.
Sieve the icing sugar into a bowl.
Slowly add the cooled coffee and dip the top of the donuts into the mix.
Allow to set and enjoy!
Subscribe to Platinum today and get every issue delivered to your door. Or find your local stockist, here. Head to our food and drinks archive for more recipes like our coffee-glazed doughnuts.