Suitable for all tastes, this recipe is soya, egg and nut free. The scone is perfect served with cream and jam as part of your afternoon tea.
These classic scones are easy to bake in just 15 minute, using organic plain white flour and baking powder. Equipment you will need is large baking tray, round pastry cutter and mixing bowl.
The classic plain scone
MAKES 8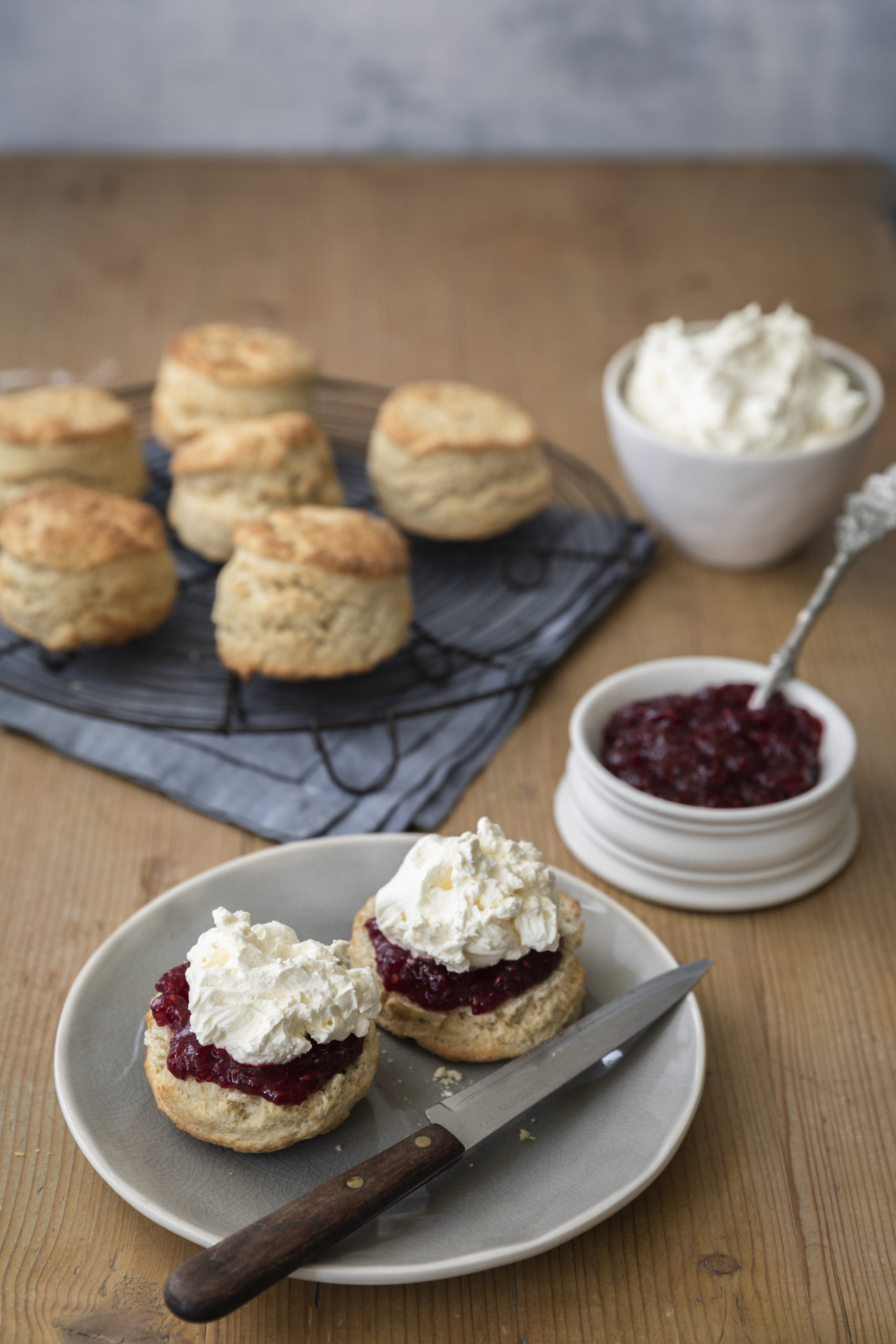 Scone ingredients
200g Doves Farm organic plain white flour
4tsp baking powder
1tbsp sugar
50g butter
150ml milk
Flour, for dusting
Milk, for brushing
Pre-heat the oven to 220˚C/Gas 7.
Dust a large baking tray with flour.
Measure the flour and baking powder into a bowl, stir to combine and sieve into a mixing bowl.
Stir the sugar into the bowl.
Add the butter and using a fork, blend everything together until the mixture resembles fine breadcrumbs.
Pour most of the milk into the bowl and stir to form a soft slightly sticky dough. If this does not happen easily, add the remaining milk.
Gather together the dough to form a soft, slightly sticky mass.
Lightly dust the worktop with flour, place the dough in the middle and lightly dust the top with flour.
Gently flatten the dough with your hands to about three centimetres thick.
Press a round pastry cutter or upturned coffee cup into the dough to cut out circles.
Gather the off-cuts into a ball of dough, gently flatten and cut out further circles.
Brush the top of the scones with some milk.
Lift the dough circles onto the prepared baking tray.
Bake for 12 to 15 minutes until golden brown.
Transfer the scones to a wire rack to cool.
For more delicious recipes, visit dovesfarm.co.uk Like on Facebook @dovesfarmfoods and follow on Instagram @dovesfarm.
Doves Farm products are available online at dovesfarm.co.uk, Ocado, all major retailers, traditional wholesalers, food service, independent health food stores and farm shops.