Treat yourself to this

 

cinnamon swirl apple cider cake with cider caramel sauce

 — 

a warming dessert and 

perfect for sharing

.
We teamed up with the much-loved cider brand Magners and award-winning foodie influencer Twigg Studios to celebrate the apple harvest season. 
Apple harvest is in full swing at the Magners orchard in County Tipperary, Ireland, where four million apples are harvested every week. 
This apple cider pound cake with a cinnamon swirl is drizzled with delicious apple cider caramel sauce. Putting a contemporary twist on the traditional Bundt cake recipe, it's sure to become a firm favourite to warm up cold days.  
A showstopping bake to impress friends, family and followers on Instagram, whether you're celebrating Apple Day on 21st October, a birthday or just because; bring a taste of autumn into your kitchen with Magners.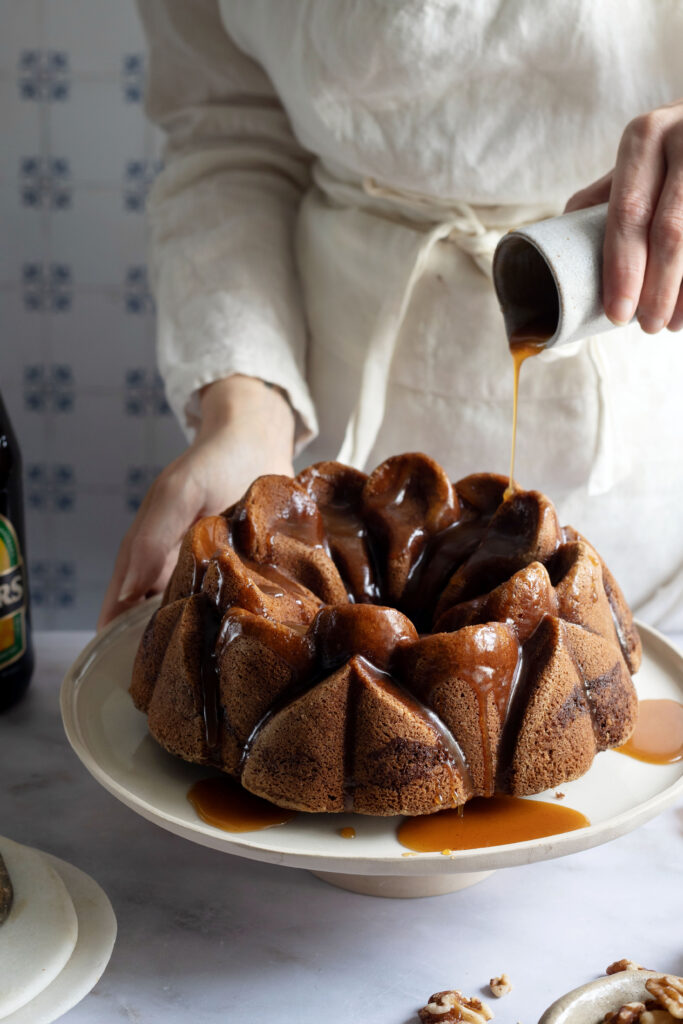 Ingredients  
The cake
25g grated Granny Smith apple  
250ml Magners Original Irish cider  
250g unsalted butter softened  
150g caster sugar  
100g soft light brown sugar  
4 large eggs  
370g plain flour  
1 tsp bicarbonate of soda  
1 ½ tsp baking powder  
Pinch of salt  
1 tsp vanilla bean paste  
Preheat the oven to 

180

°C

 / Gas mark 4.

 

First grease the bundt tin. An easy way to do this is to melt some butter and brush it inside the tin, then lightly dust it with flour. 

 

Tap out the excess flour by banging the tin. Place the tin in the fridge so the butter firms back up while you are preparing the cake mixture, or place to one side. Alternatively use Pan Spray. 

 

Warm the cider in a pan and set to one side, then grate the granny smith apples and weigh out 25g, then squeeze out any excess liquid and set to one side. 

 
In a bowl, beat the softened butter and sugar with an electric whisk until thick, pale and creamy approximately six minutes. Scrape around the sides of the bowl with a spatula and mix for a further two minutes. 

 

Add the eggs one at a time, scraping around the bowl before adding each one, sift together the flour, baking powder, bicarbonate of soda and salt together in a bowl. 

 

Once the cider and flour has been incorporated, add the vanilla bean paste and grated apples and fold in.

 
Mix the cinnamon swirl ingredients together in a bowl and place to one side. 

 

Pour half of the cake batter into your prepared tin, then evenly sprinkle over the cinnamon swirl ingredients and top with the remaining batter. 

 

Tap the tin and run a knife around the top in a circle. Then place in the oven, on the middle shelf and bake for around 45 to 50 minutes or until a knife comes out clean. 

 

Let the cake cool in the tin for 25 minutes, before turning over and tipping out the cake to finish cooling. 

 
The swirl  
25g soft light brown sugar  
1 ½ tsp cinnamon  
The cider caramel sauce  
150ml Magners Original Irish cider  
60g butter  
85g caster sugar  
50g brown sugar  
100ml double cream  
¼ tsp cinnamon  
Pinch at salt  
Add the cider in a pan and bring to a boil, then add the sugar and butter. Simmer over a medium heat until it reaches a rolling boil, then add the cream and mix in.

 
Be careful that it doesn't bubble up out of the pan. Stir over the heat until it starts to thicken. 

 

Remove from the heat and add the cinnamon and salt. 

 

Pour into a bowl and leave to cool. 

 

It will thicken more as it cools, so you can make this in advance. Then drizzle over the cake, or slice cake and pour some caramel over slices when serving.